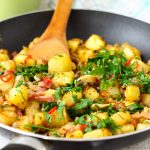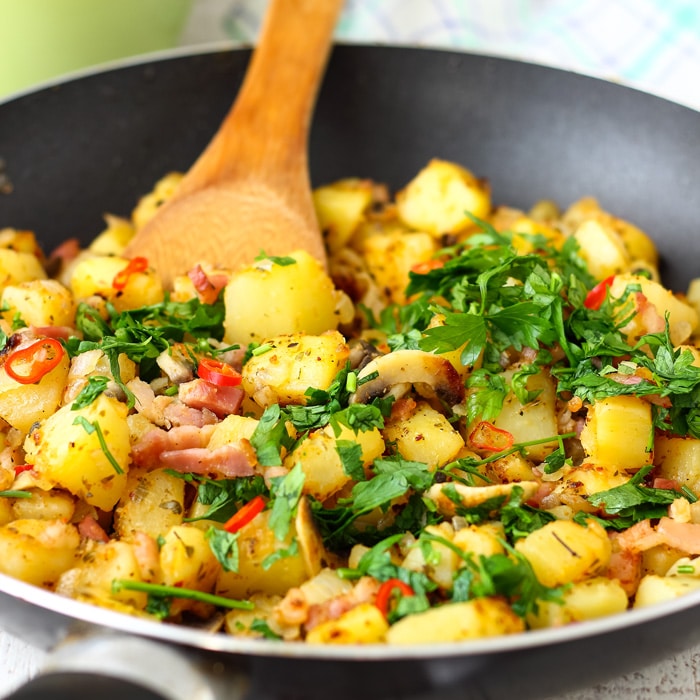 Print
Pan Fried Breakfast Potatoes
These pan fried breakfast potatoes are quick to make, filling and seasoned to perfection! Potatoes, mushrooms and bacon are turned into a delicious breakfast meal!
Rinse, peel and dice the potatoes. Throw them in a pot and pour in water, just enough to cover them. Add ½ teaspoon salt and bring to a boil. Cook until soft but not mushy.

Meanwhile: Clean and slice the mushrooms. Dice the onion and cut half of the chili into tiny slices. Take the largest frying pan you have and throw mushrooms, onion, bacon and chili pepper in. Cook on high heat for 5 minutes, stirring occasionally.

When the potatoes are ready, move the onion-bacon-mushroom mixture to one side and add drained potatoes. Add chimichurri seasoning and stir the potatoes around. Let them fry for 2 minutes before mixing all the ingredients together.

Fry until the potatoes have nice brown and crispy edges or until you are happy with the way they look.

Finish off with finely chopped parsley, cheese (optional) more chili (if using) and serve!

Enjoy!
Nutrition Facts
Pan Fried Breakfast Potatoes
Amount Per Serving
Calories 340
Calories from Fat 54
% Daily Value*
Total Fat 6g 9%
Cholesterol 9mg 3%
Sodium 142mg 6%
Potassium 2084mg 60%
Total Carbohydrates 60g 20%
Protein 15g 30%
* Percent Daily Values are based on a 2000 calorie diet.
** Happy Foods Tube is a participant in the Amazon Services LLC Associates Program, an affiliate advertising program designed to provide a means for sites to earn advertising fees by advertising and links to Amazon.com.