Make this gingerbread Christmas tree with your kids! It's a lovely Holiday decoration that will make a great centerpiece on your table!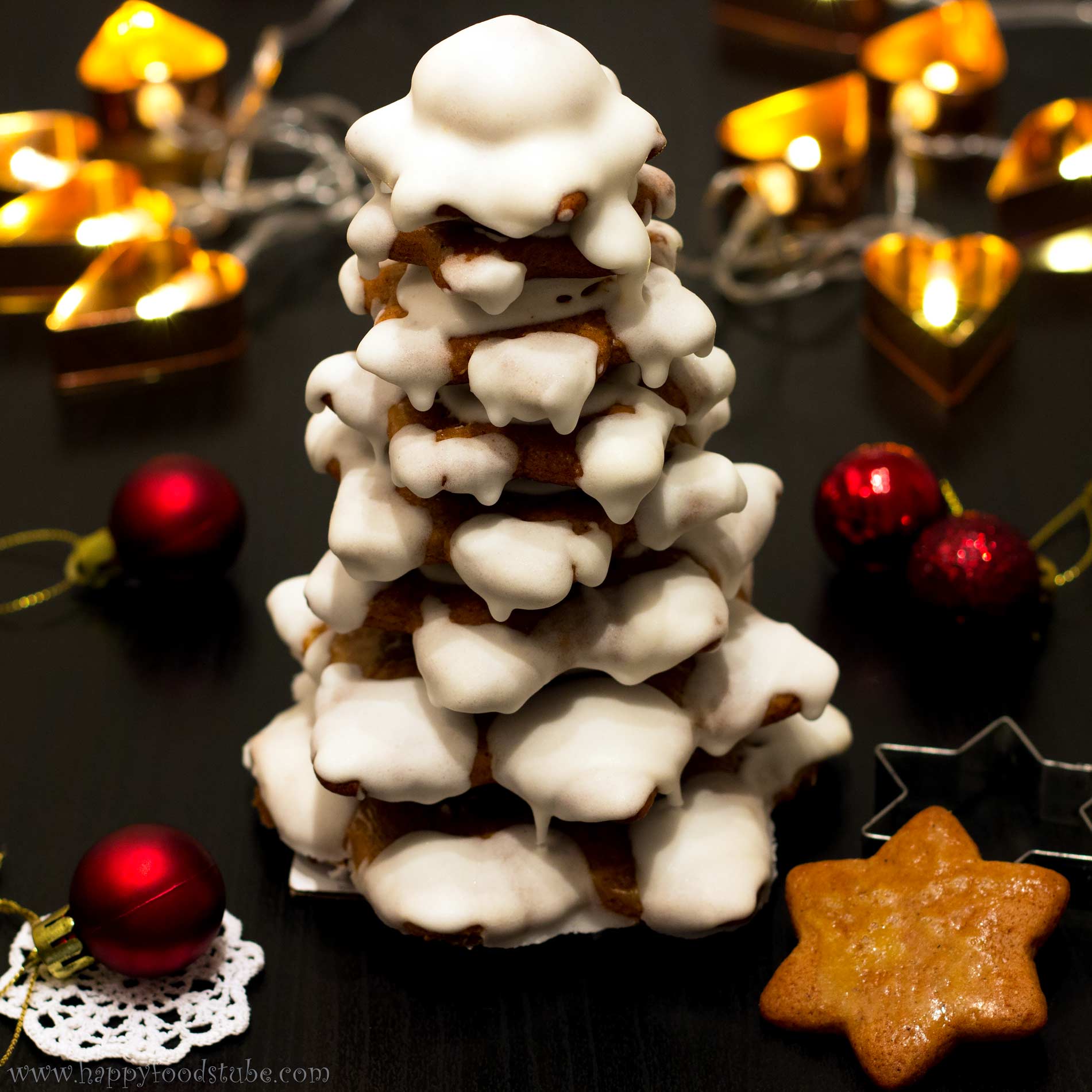 This "snow" covered gingerbread cookie tree is one of the first Christmas decorations I make – well, I mean I bake every year. It doesn't require any special tools. All you need is a skewer, a knife, royal icing and of course the cookie dough! Use your favorite gingerbread cookie recipe or have a look at our video here and get the recipe here.
I have included a detailed step by step explanation of the process. There is also a template for the stars but you can make your own, if you prefer. If you are still unsure about the difficulty level, you might find my video tutorial quite helpful.
HOW TO MAKE A GINGERBREAD CHRISTMAS TREE
Now you will need 8 – 9 star shaped templates of different sizes. Print it out!
Step 1:
Cut out the star templates. Roll out your gingerbread cookie dough. Dust with flour and put a template on top. Cut out the star around the template. Repeat with all 8-9 templates. Place them on a baking tray lined with baking paper.
Step 2:
Use a small round cutter (max 2.5 cm/1 inch in diameter) to cut 5 circles. Use a straw to make a hole into each one of these circles. Place them on a baking tray.
Step 3:
For the tip of the tree – take a piece of the dough and roll it into a ball. Place it on your worktop. Pressing down on one side of the ball and gently rolling back and forth create a cone like shape. You can make 2 or 3 and choose the best looking one after they are baked.
Bake the cookies according to your recipe instructions. Let them cool down completely before assembling.
Watch the video for this tutorial:
ASSEMBLING GINGERBREAD CHRISTMAS TREE:
You will need a skewer, a knife and royal icing.
Royal icing:
2 Egg Whites
300g Icing Sugar
Beat the egg whites until fluffy (not stiff or white, just fluffy). Sift in the icing sugar and mix until smooth. It should be quite thick.
Assembling:
Make a hole with the skewer in the largest star. Take it out and spread royal icing over it. Stick in the skewer. Take one round cookie and pierce it through the skewer. Push is down. Cover with royal icing. Take smaller star cookie and pierce it through the skewer, again pushing it down completely. Repeat until you have used all the star cookies. Trim off the skewer, leaving about a 1cm/0.5 inch sticking out. Spread more icing around and attach the tip.
NOTE:
Some of the round cookies may be too thick (especially closer to the top of the tree) so cut them in half (horizontally).
Straighten up the tree and let it set for about 30 minutes.
ICING GINGERBREAD CHRISTMAS TREE:
Place the tree onto a baking paper.
Thin the icing with lemon juice so it is runny and comes off of your spoon easily.
First cover the tip of the tree and then simply spoon the icing over the "branches" to get a snow covered tree effect. If you find the icing too thick, thin it again.
Once you are happy with the way it looks, let it set overnight.
Happy Baking with Happy Foods Tube!
Browse more Christmas Ideas.