Looking for easy weeknight dinner ideas? Try this air fryer chicken thighs recipe. With quick preparation and only 7 basic ingredients, this is the perfect dinner for busy families.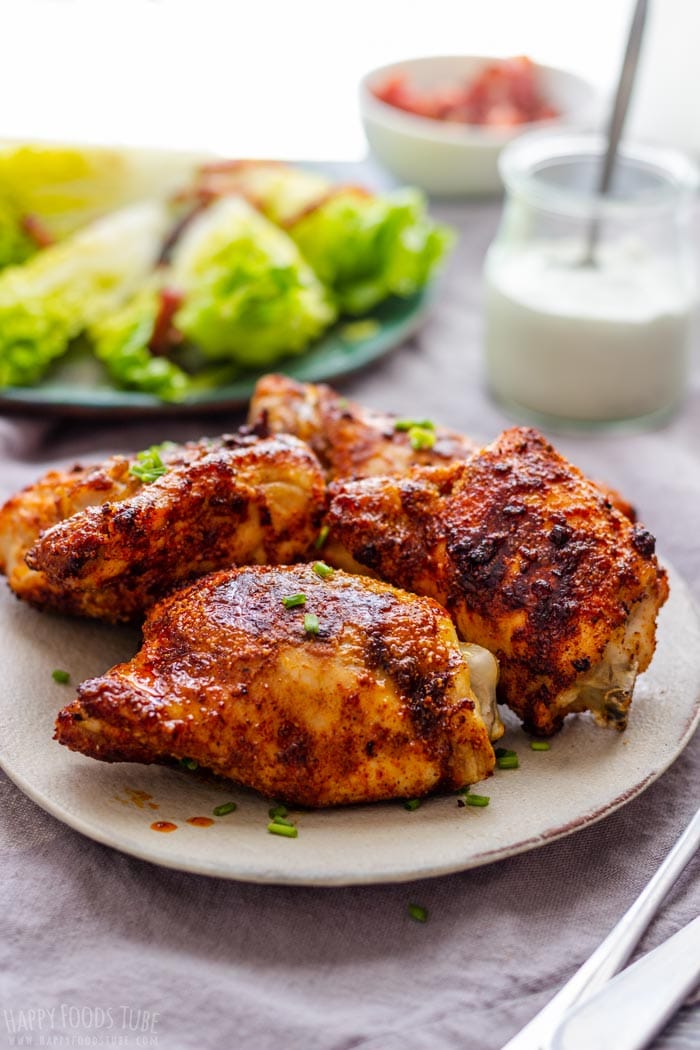 This air fryer chicken thighs recipe is one of the easiest ways to prepare a delicious weeknight dinner without having to be standing by the stove for ages. Serve these juicy chicken thighs with anything you like.
I have included some easy side recipes in the FAQ's section, in case you need some inspiration.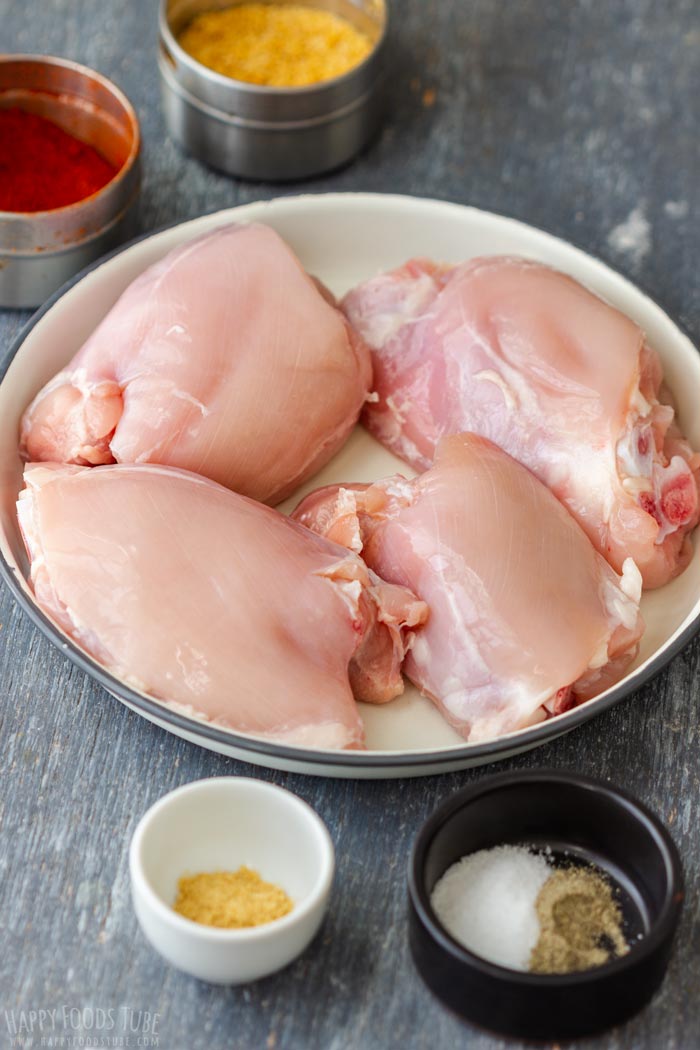 How to make chicken thighs in air fryer
You will need:
Chicken thighs – bone in, skinless (or skin on)
Salt
Pepper
Paprika
Ginger
Garlic powder
Oil in spray – this is not needed with skin-on thighs
Equipment and tools:
Air fryer
Small bowl & dessert spoon (or fork, knife…) – for mixing the spice rub
There are barely 3 steps to this recipe. First, mix all the seasoning in a small bowl. Then, coat each piece of chicken evenly with the mix (both sides). You should use all the seasoning for 4 thighs.
Air fryer chicken thighs are then cooked for 15-20 minutes. I also spray them with oil and turn them over halfway through the cooking time. The best temperature is 400°F (200°C).
If you are not sure that your airfryer chicken thighs are done (or any air fryer chicken recipes), I recommend using a food thermometer. Stick it in and if it reads 165°F (75°C) you can take them out and serve.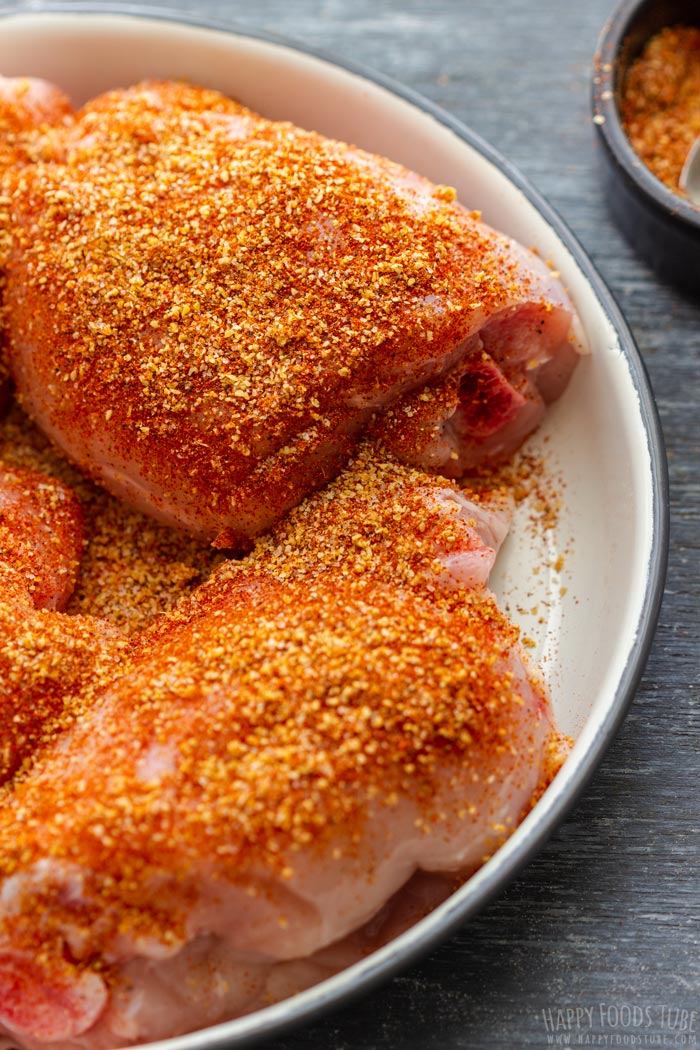 Can you stack chicken thighs in an air fryer?
Unfortunately, you can't. The important thing to remember when cooking in an air fryer is that the food you put it should have room around it so that the air can circulate and cook it evenly.
For this reason, you might need to cook your dinner/snack or appetizers in 2 or more batches when you have a large crowd to feed.
A 5.8-quart (5.5-liter) air fryer is able to cook 4-5 chicken thighs (when making these chicken thighs in air fyer I used 4 pieces but, could have fitted one more) or 3-4 chicken breasts, dependent on their size.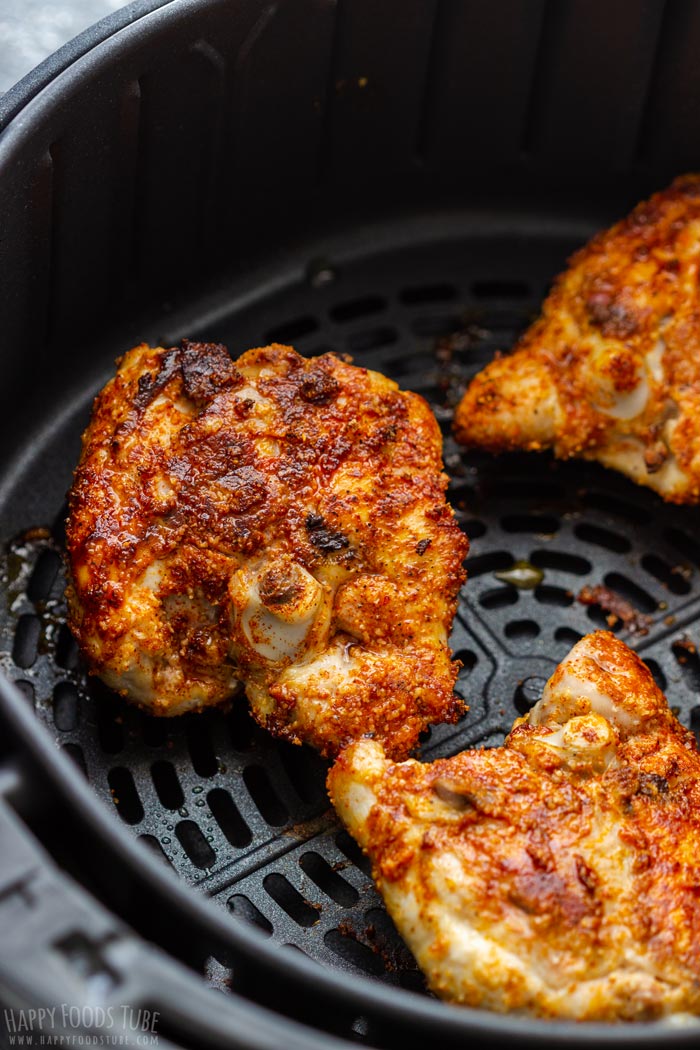 Frequently asked questions:
How long does it take to cook chicken thighs in an air fryer?
Cooking time will depend on the type of your air fryer as well as chicken thighs (larger will take longer than smaller).

Count with about 20 minutes (if you want to have a crispy skin, cook for longer).
Do you have to flip chicken in air fryer?
That depends. You don't need to flip if it has skin on (make sure to cook it skin-side up) but if it doesn't, then I do recommend turning it over around half-way through the cooking process.
Expert tips
Like I've already mentioned, it's important that the air fryer is not overcrowded with food so it can cook evenly.
I always pre-heat my air-fryer for 2 minutes by setting the time and temperature manually. You may have a model that does the preheating by pressing a button or maybe it's not required. Always read the manual for the best cooking results.
Seasoning – this is a simple recipe for air fryer chicken thighs using only a few ingredients. For this reason, I do not recommend omitting any of the ingredients.
If you are looking for air fryer dessert recipes, I have one for you: air fryer hand pies.
I also like ham & jalapeno air fryer pinwheels that are made with puff pastry so if you are planning on entertaining at home, you could give it a go. We love those!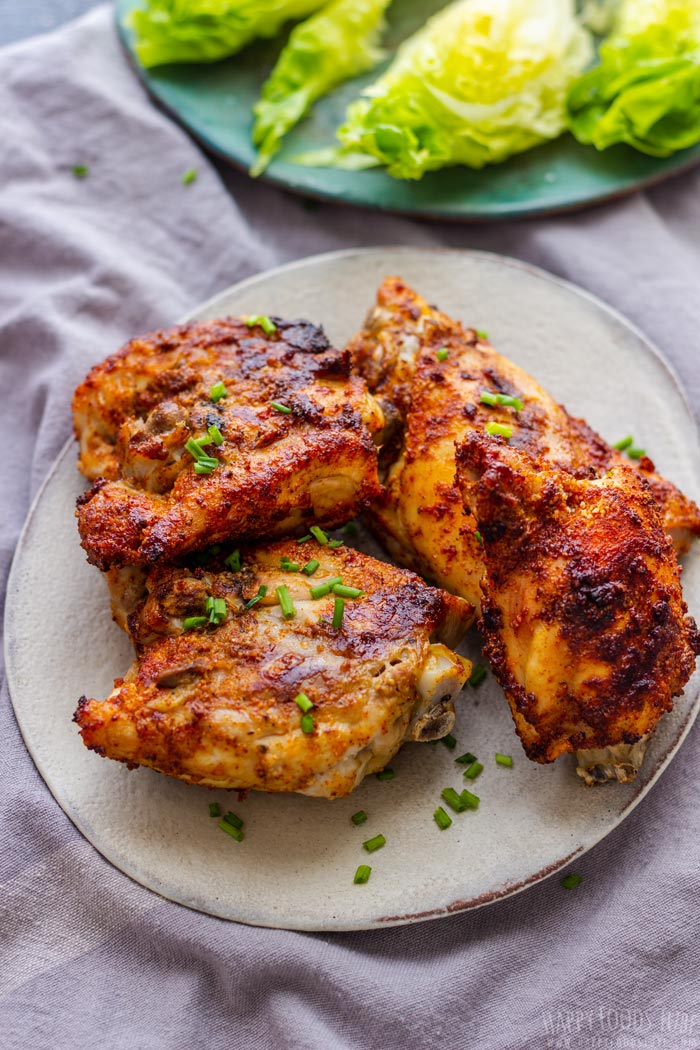 More chicken recipes you might like:
Watch how to make it
Air Fryer Chicken Thighs
Looking for easy weeknight dinner ideas? Try this air fryer chicken thighs recipe. With quick preparation and only 7 basic ingredients, this is the perfect dinner for busy families.
Instructions
In a small bowl, combine the salt, black pepper, garlic powder, paprika and ginger. Rub this onto each chicken thigh on both sides.

Place the chicken thighs into a pre-heated air fryer, spray with cooking oil and cook at 400°F (200°C) for 10 minutes, then turn them over and cook for a further 5 minutes or until the internal temperature reaches 165°F (75°C).

Serve with a side of your choice.
Notes
This recipe was developed for a 5.8 quart (5.5 liter) air fryer.
Always make sure the chicken is cooked through (the food thermometer has to read 165

°

F/75

°

C) and always check the thickest piece.
I used 4 chicken thighs that weighed 1.5 pounds (680 grams) in total.
The cooking time may vary slightly. This will depend on the size of the thighs as well as on the air fryer (different brands may have slightly different cooking times).
For more information on this recipe as well as tips about air fryers or if in doubt, I recommend reading the full post.
Nutrition Facts
Air Fryer Chicken Thighs
Amount per Serving
% Daily Value*
* Percent Daily Values are based on a 2000 calorie diet.
** As an Amazon Associate I earn from qualifying purchases.
LEAVE A COMMENT
Other recipes you might like: