Instant pot chicken risotto is a hassle-free alternative to the original Italian stove-top version. No need to be standing by the pot, stirring constantly!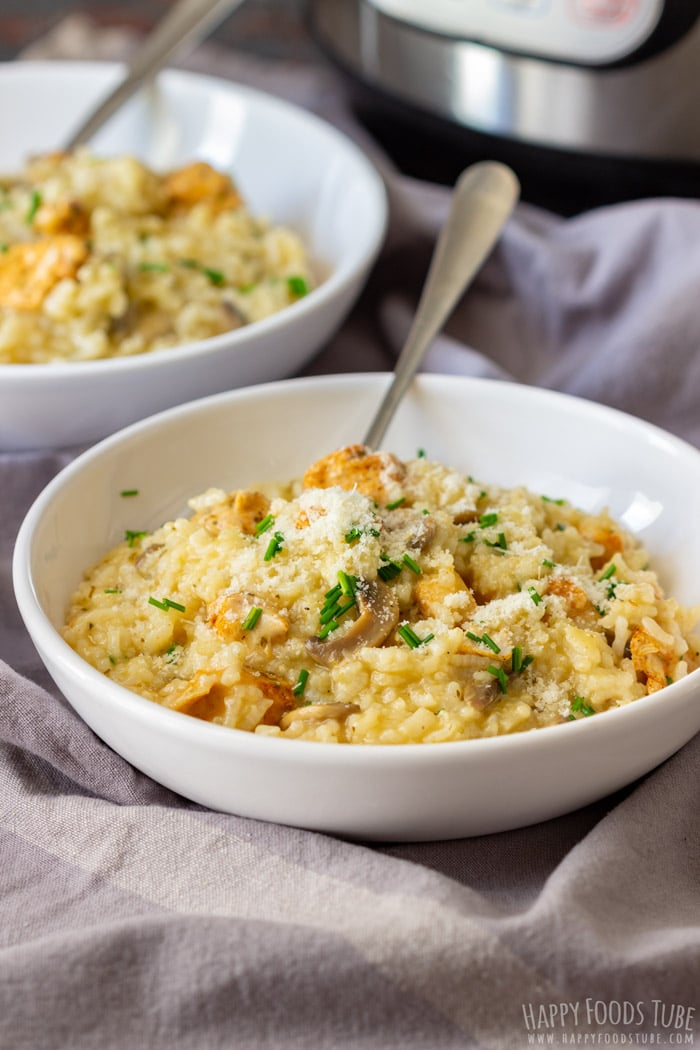 All you have to do is saute the veggies, brown the chicken quickly, add the rest of the ingredients and let the Instant Pot do its magic. It's that easy!
Now I am not sure whether you have noticed but I do cook with chicken a lot which means that I make a lot of pressure cooker chicken recipes as well. Here are some of them in case you are interested:
Did you know?
According to Wikipedia risotto is a northern Italian rice dish that is cooked to a creamy consistency. It does not really matter what kind of broth you use (chicken, vegetable, fish) but you have to use it to make it the Italian way. The key is adding it at stages, ladle by ladle while stirring constantly.
Well, this is not your traditional Italian risotto so there won't be any stirring and broth adding happening. Just to clarify things.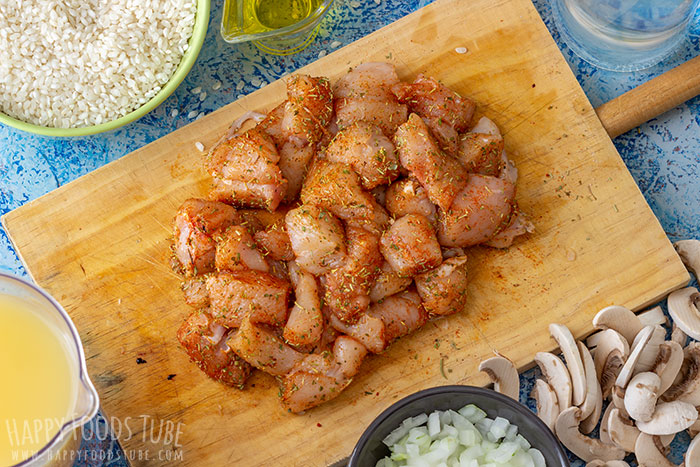 How to make Instant Pot chicken risotto
As I've already mentioned, the process is simpler than when making traditional Italian risotto but the result is pretty close to the original if not the same!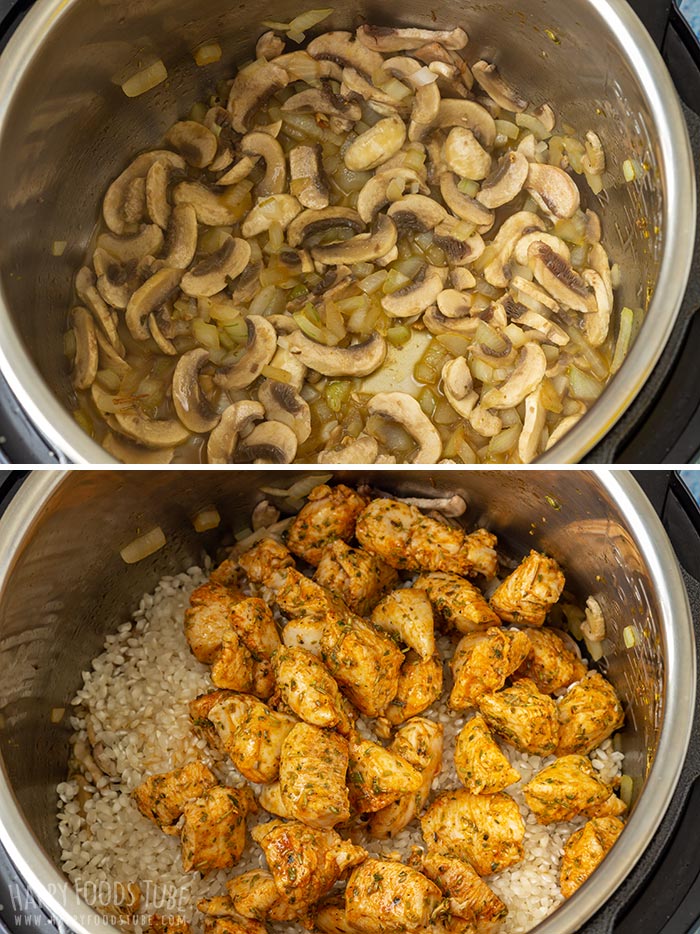 Start with sautéing the onions and mushrooms in your Instant Pot. Then quickly brown the diced and seasoned chicken.
You can leave the onions and mushrooms in just push them to the side/edge of the pot while browning the chicken. Or you can take them out so you have more space for the chicken pieces.
Just so you know, this can be done in reversed order too – brown the meat first, take it out, saute the onion and mushrooms), etc…
When done, turn off the saute function. Add the rest of the ingredients and give everything a good stir.
Lock the lid into its position and cook under pressure on manual mode for 3 minutes. When finished, wait 7 minutes before releasing the pressure manually.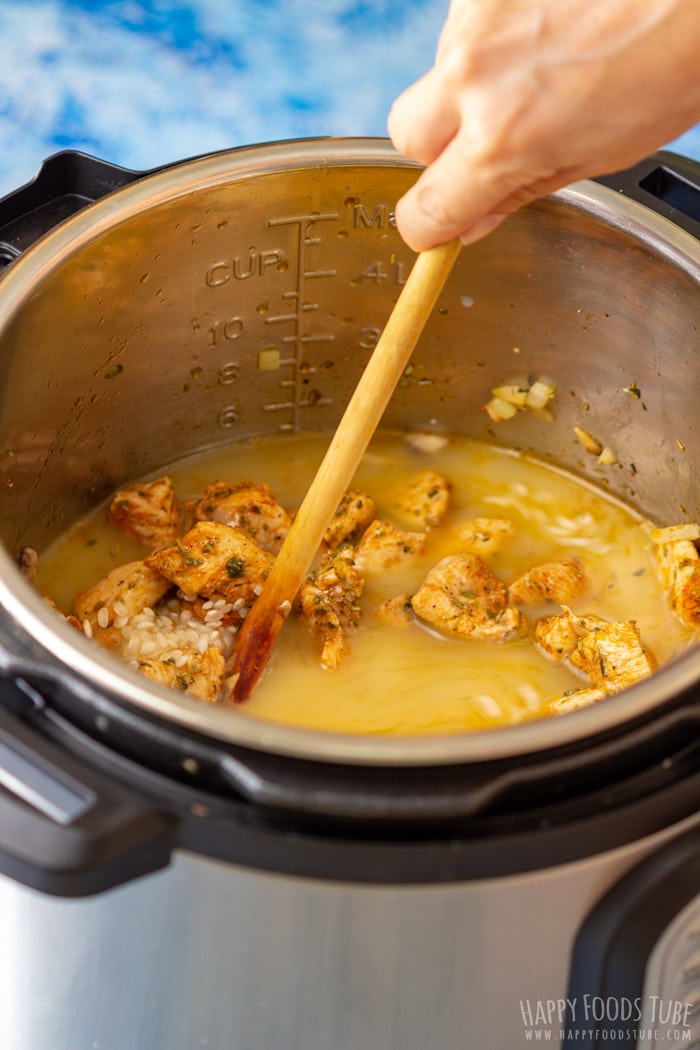 To make this pressure cooker chicken risotto as close to the Italian version, I stirred in butter and grated Parmesan cheese. Guys, those two ingredients should not be omitted as they give this risotto a ton of flavor.
At last, I also sprinkled some chopped chives over because I had some leftovers in the fridge. This is however, completely optional so if you don't have it, don't worry about it!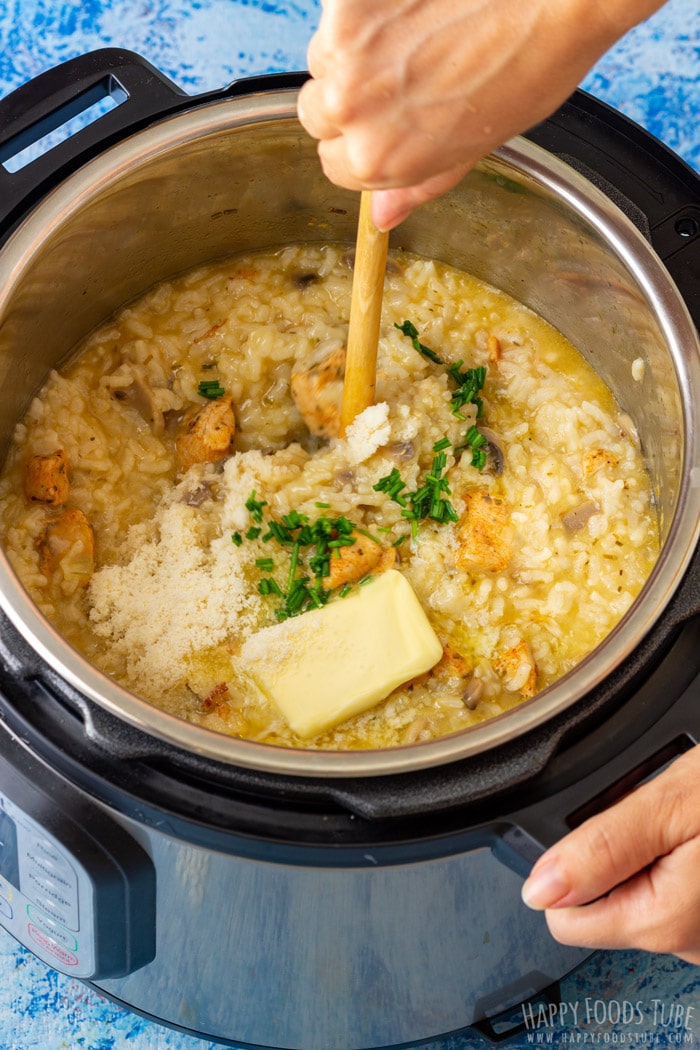 Which rice is good for risotto?
Now the Italian short-grain rice (such as Arborio) is the best option obviously. However,  I made this Instant Pot chicken risotto with paella rice (the same type I used to make paella valenciana) and I find this type of rice suitable for risotto as well. I also tried using sushi rice which turned out great as well.
All in all, try to look for short-grain rice in case you can't find any of the ones I mentioned above.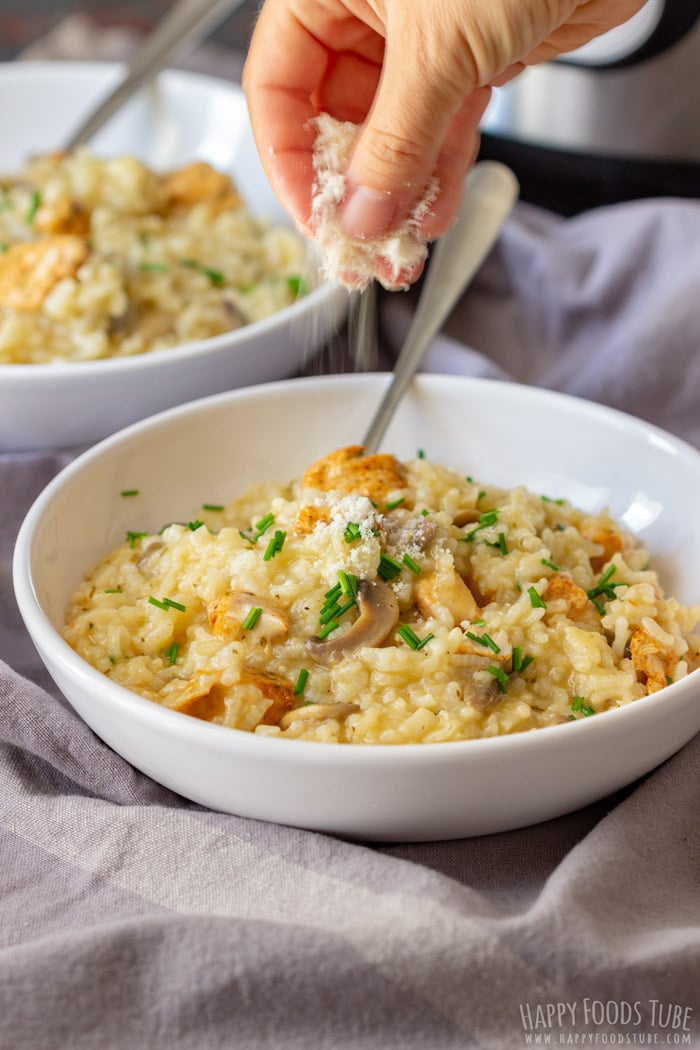 Tips for making Instant Pot chicken risotto:
You can use store-bought or homemade stock/broth (I have a recipe for instant pot chicken stock on the blog, if interested. Just note that it has almost no salt in it so the risotto will definitely need more seasoning). Bouillon cubes are also an alternative.
Note that every broth/stock (bouillon…) product is different and also has a different amount of salt added. For this reason, it's best to season this risotto after it is cooked and after the butter and Parmesan has been added. It's better to add more salt at the very end rather than end up with a dish that is way too salty. I also noticed that bouillon cubes make saltier stock than ready-made stock.
Don't overcook the meat when browning it. If you do, it will turn dry after you finish the whole cooking process.
You can use diced pork or turkey as well. Both needed 6 minutes to be cooked (and pressure released after 7 minutes).
This instant pot chicken risotto tastes best when eaten right away.
Guys, this is a very easy risotto recipe.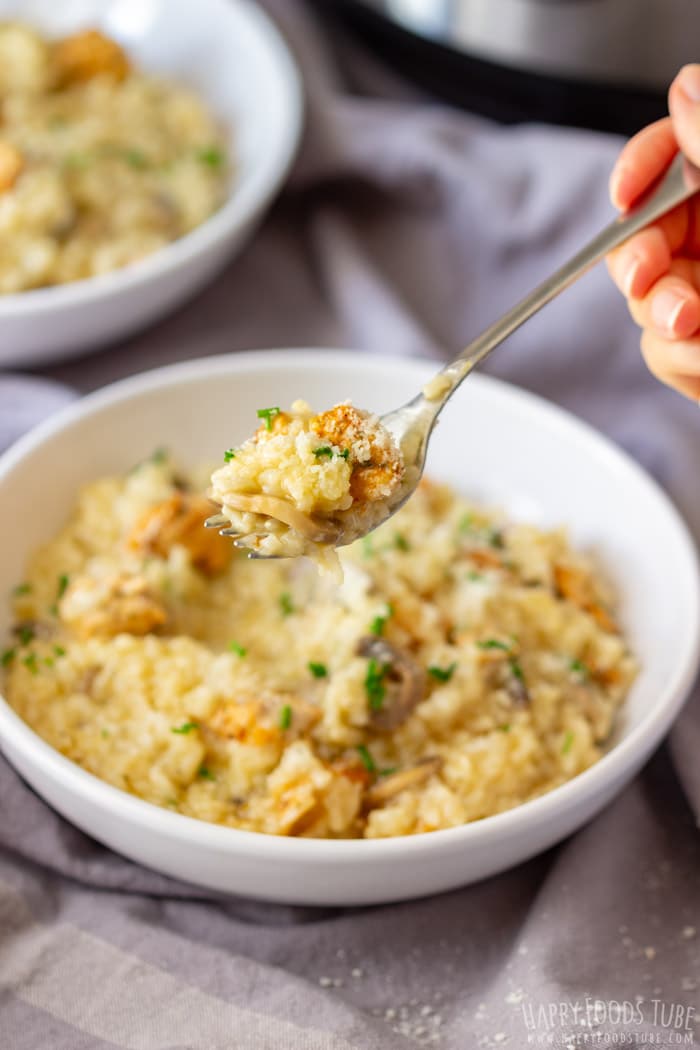 I have quite a few easy instant pot recipes on the blog so if you need some inspiration, have a look. They are all tried and tested!
Want to see how to make instant pot chicken risotto? Watch the video!
Instant Pot Chicken Risotto
Instant pot chicken risotto is a hassle-free alternative to the original Italian stove-top version. No need to be standing by the pot, stirring constantly!
Servings:
4
Portions (served as a main)
Ingredients
Risotto:
3

tablespoons

extra virgin olive oil

1

onion

(medium)

7

ounces

button mushrooms

(200 grams)

1

pound

chicken breast

, diced (440 grams)

2

cups

risotto rice

(400 grams). see note 1 & 2

4

cups

chicken broth

, see note 3
Other:
1.5

ounces

unsalted butter

(45 grams)

3

ounces

parmesan cheese

(90 grams), see note 6
Instructions
Finely chop the onion. Turn on the pressure cooker and press the SAUTE function. Adjust to high. Pour in 2 tablespoons of olive oil and add the chopped onion. Saute until translucent. Add cleaned and sliced mushrooms. Saute for about 5 minutes.

Meanwhile, dice the chicken. Combine all the seasoning ingredients and season the chicken pieces.

Take out the sautéed vegetables, pour in the remaining olive oil and add the chicken pieces in.

Quickly brown the meat. Turn OFF the saute function and deglaze the pot with some of the chicken stock. Throw the onions and mushrooms back in, as well as the chicken. Add the rice and chicken stock/broth and give everything a good stir.

Cover with the lid and lock it into its position. Turn the vent to the SEALING position. Press the MANUAL button (pressure cooking) and adjust the time to 3 minutes. When the cooking is finished, wait 7 minutes before releasing the pressure manually.

Stir in the butter and grated Parmesan. Taste it and add more seasoning if needed. Sprinkle with finely chopped chives (optional) and serve.
Notes
This recipe works also with sushi or paella rice. Each had a slightly different texture by the end of cooking. However, they all were cooked through so if you don't have risotto rice, they would both be a great substitution.
Two cups of risotto rice weighs about 14 ounces/395 grams.
Chicken Stock or broth (any will work just fine) might have different amounts of salt added so I recommend seasoning the risotto at the very end, after you have already stirred in the butter and Parmesan. It might or might not need more salt.
This recipe was developed for a 6-quart/6-liter Instant Pot pressure cooker.
The amount of time needed for the pot to come to the pressure and time needed to release its pressure is not included in the overall cooking time. Count with an extra 20 minutes.
Parmesan can be substituted with Grana Padano or Pecorino. The amount you add is simply up to you but I don't recommend omitting it – add at least 2 ounces/60 grams.
This recipe can be easily halved.
I used dry-ingredient measuring cups for all cup measurements in this recipe.
Make sure to cut the chicken breasts into same-size pieces. This will cook all of them equally without some being undercooked or overcooked.
Nutrition Facts
Instant Pot Chicken Risotto
Amount per Serving
% Daily Value*
* Percent Daily Values are based on a 2000 calorie diet.
** As an Amazon Associate I earn from qualifying purchases.
LEAVE A COMMENT
You may also like: