Are you looking for best Christmas cookie dough recipe without ginger? Here it is! Gingerbread cookies with honey, cinnamon and cloves! Done in 10 minutes!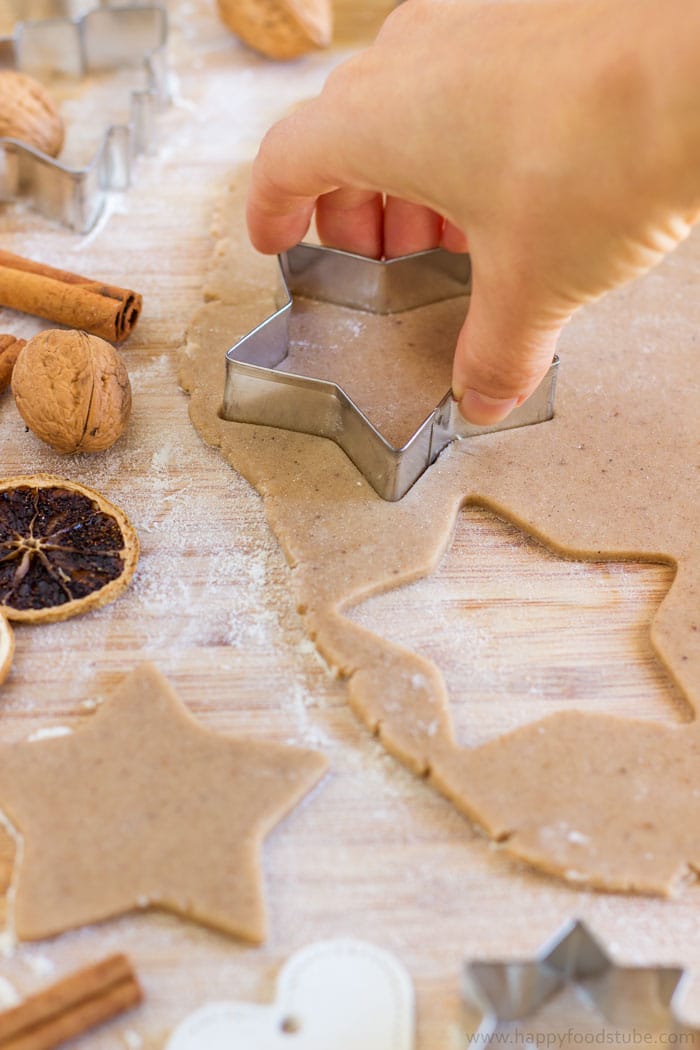 Do you feel like Christmas is coming pretty fast this year? Because I do! It's almost time for Christmas baking!
In my family, baking is very important part of preparation for Christmas and it already starts at the beginning of December. First, shopping for butters, flour, nuts, eggs, etc… need to be done. Then the actual baking starts. Cookies that last for several weeks are to be baked first. They are so called dry cookies. They are stored in airtight containers waiting patiently for the festive time so that they can be enjoyed with family and friends. Many times the temptation is stronger than the will to keep them untouched for such a long period of time and so more batches need to be baked to fill the empty containers! The next on the list are sugar cookies.
Then Gingerbread cookies are now decorated with white icing (mum is our master decorator). Cakes which last only a few days are for obvious reasons left to as late as possible. The week before Christmas Eve is the busiest one, finishing off cookies and cakes with various fillings, icing or ganache. The last one on the list is sweet bread similar to Jewish challah. This one is baked by my grandma on 24th December. Then nothing is being baked up until way after New Year because there is no need …. Now it's time to enjoy them with our friends and family!
So this is how Christmas baking looks in my family. What does it look like in your family?
How to make gingerbread cookie dough?
Easy peasy gingerbread dough
The whole gingerbread cookie dough preparation is very simple and can be done with kids around. They will be happy to help you not only doing the prep but cutting out gingerbread men or any other shapes.
This recipe does not contain ground ginger but if you feel like adding it in, feel free to do so. The best thing when mixing the spices is that each time your cookies will have a slightly different flavor.
You don't even need a bowl. The easiest way to form dough out of the ingredients is to do it on your work top. Just make sure the work top is clean.
Sift the flour. Add sugar, spices, baking soda and mix it well. What you are looking for is flour mix with no lumps of spices.
Make a well in the middle for butter (soften), honey and eggs. Start forming dough. There is no special technique needed here. Just knead until you get nice dough.
The dough needs to rest in the fridge for a day. I sometimes leave the gingerbread dough for 2 days.
Cutting out the shapes:
No rocket science here. Get your favorite cookie cutters (Christmas theme cutters would be perfect here) and start cutting. Now remember to roll the dough out thin. They will grow in the oven.
Baking gingerbread cookies:
Baking these cookies is a very fast process. It only takes about 10 minutes so make sure you don't leave the kitchen. If you do, you are risking burning them (been there several times).
To make them extra shiny I use egg wash. Brush each gingerbread cookie about 2 minutes before the end. Put them back in the oven and stay close. They will be ready any minute.
Let them cool completely on a wire rack before decorating them with royal icing.
The recipe:
I have this recipe from my mom who uses it all the time! She loves decorating Christmas cookies and each year she starts baking the cookies at the beginning of November so she has all her DIY Christmas Gifts ready for the Holidays! She makes gingerbread bowls, advent wreaths, jewelry chests that are all decorating with royal icing. They all look amazing we all are always admiring her work.
Gingerbread dough Christmas decorations
If you think that making gingerbread cookies is too easy a project for you why not try make this Gingerbread Advent Wreath or Gingerbread Christmas Tree instead? They are lovely decorations especially on your table but could be used as gifts as well!
What? Gingerbread cookies without ginger?
Yes! I make gingerbread cookies without ginger. However if you like this spice, simply add some to the mix of spices (make sure to use ground ginger). You can omit anise instead (or cinnamon or cloves).
Want to see how to make Christmas Cookie Dough without Ginger? Watch the video!
Best Christmas Cookie Dough Recipe without Ginger
Are you looking for best Christmas cookie dough recipe without ginger? Here it is! Gingerbread cookies with honey, cinnamon and cloves! Done in 10 minutes!
Servings:
35
Pieces, depending on the size and shape of your cutters
Ingredients
1.1

pounds

Plain Flour

(500 grams)

7

ounces

Icing Sugar

(200 grams)

4,4

ounces

Unsalted Butter

(125 grams)

4.4

ounces

honey

(125 grams)

0.25

ounces

Mix of Ground Spices

– cinnamon, anise & cloves (10 grams)

2

Eggs

(Medium)

1

teaspoon

Bicarbonate Soda
Instructions
Sift the flour & icing sugar onto your worktop. Add bicarbonate soda & spices and mix well.

Make a well in the middle and add the eggs, butter (soften) and honey. Using your hands mix all the ingredients together and form dough.

Place it in a clean plastic bag (zip lock bag or wrap in cling film) and keep in the fridge overnight.

The following day take the dough out. Roll it thin (3-4 mm) and cut out any shapes you like.

Bake at 180°C/350°F for 10 minutes.

Optional: To get a really shiny look on your gingerbread cookies, shortly before they are ready (about 8 mins into baking) take the cookies out & brush with egg wash.
Nutrition Facts
Best Christmas Cookie Dough Recipe without Ginger
Amount per Serving
% Daily Value*
* Percent Daily Values are based on a 2000 calorie diet.
** As an Amazon Associate I earn from qualifying purchases.
LEAVE A COMMENT
RELATED POSTS