This acoustic guitar was my biggest novelty cake project so far! I made it for my dad's 60th birthday party! It is a cake copy of his old guitar. I hope that this tutorial will help some of you if you ever decide to make such a cake!
My dad and guitar go hand in hand. When we were kids he would play and sing songs to us, he would take it with him (when possible) when going on holidays or to the nearest mountains for a quick family campfire get together.
I knew back then that making an acoustic guitar fondant cake would be a huge challenge and let me tell you it was indeed! CHALLENGE with lots of little cake dramas! Some of them were not that little though… My biggest problem (which I did not count on) was assembling the cake. There was no way I could have done it at home and got everything ready. My parents fridge was too small and the place the party took place had no space for cake of such size either. This meant coming in earlier (already dressed up) with an apron on and assembling it right at the venue. There would be nothing wrong about it but it was the hottest day with temperatures reaching 34 degrees Celsius and no a/c or a fan.
So it wasn't fun at all. I was in lot of stress mainly because I chose to copy my dad's old guitar so I wanted the cake to look almost identical!
Well, I think I succeeded – everyone liked it but I now know a few things I would have done differently…
Now if you ever decide to make an acoustic guitar fondant cake I hope you will find this post helpful.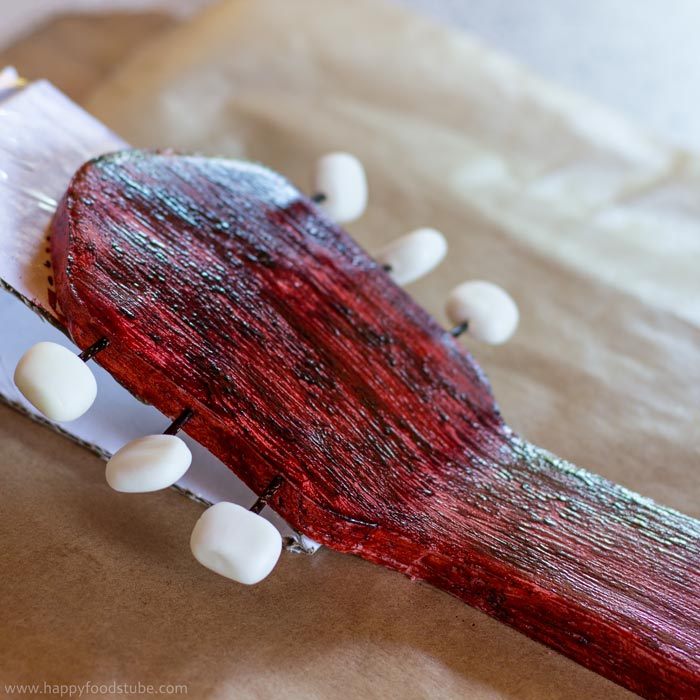 Here is quite detailed description of steps and some tips on what to do to make your life easier!
Before you start making your acoustic guitar fondant cake, check the size of your fridge and the size of your template. If it doesn't fit your fridge, make it smaller. At this point the size will not be as important as the fact that your cake needs to be stored in the fridge.
If it is necessary to keep the cake at some venue (other than your house), ask them if they are able to store it for you. The most important part is the body – which is the actual cake. If you can't fit the neck in – it's not a big deal – but you have to count on assembling the cake at the venue which may result in a few unexpected little dramas :) .
Boards – you will need to make 2 boards. One that will hold the whole guitar and another one that will act as a cake board and will support the cake body when moving it around. NOTE 1. I did this, but ended up putting the cake body onto a large tray that fit in the fridge.  The board that will hold the entire guitar must be larger than the cake body + neck.  Because the cake is pretty heavy, choose thick cardboard to work with. NOTE 2. I had pretty thick cardboard but just in case I decided to double it. Better be safe than sorry! If this is sorted, cover it with wrapping paper of your choice. If possible, choose a color that will not clash with the color of the cake.
Neck + Headstock – make all these well ahead to be sure the neck has time to dry out completely, otherwise you will end up with a broken one. NOTE – I made the neck out of fondant on Wednesday and the party was on Saturday. The neck was not set completely and when transporting it to the venue – it cracked and wouldn't hold its shape without a proper support (which we made out of cardboard and wrapped in the same color wrapping paper used for covering the large board). MAKE THE NECK + HEADSTOCK PART at least 7 DAYS AHEAD! ALTERNATIVELY USE TYLO POWDER WHICH HELPS THE FONDANT TO SET FASTER (I have never used it so don't know how much time is needed for the fondant to set).
Tuning pegs + the screws (not sure what these are called) – tuning pegs should be made at the same time as the neck of the guitar. Let them set for a few hours before painting them black and sticking into the headstock. Prepare the screws afterwards and let them dry completely. NOTE: MAKE  2 EXTRA JUST TO BE ON THE SAFE SIDE.
BRIDGE + PICK + PICKGUARD – I made these in advance as well. I think it's the best option. If something goes wrong, you still have time to change it. As for the pickguard – I copied (roughly) the colors of my dad guitar's pickguard (I simply dipped my finger in color and making circular moves I created smudges using red, dark brown and black color).
Watch the video for this tutorial:
THE GUITAR BODY – THE CAKE
Use any cake recipe you like or you know and you have already tried before. It will save you a lot of time.
The cake was made by my mum – she used the largest cake sheet pan she had (28cm x 40cm/11 x 15inch) and baked 3 cake "bases".
Bake it 3-4 days in advance and store wrapped in the fridge or pantry.
Fill it with any filling you like but bear in mind you will need quite a lot. NOTE: Put the cake on a cake board that has the same shape and size as your body template. If you don't do so, you will find it impossible to move the cake around.
When filled, using your template (put in on the top of the cake), simply cut out the guitar shape. If for some reason the template is larger than the cake, use the cut off pieces to fix this little problem.
Afterwards, crumb coat the cake. You have 2 options: use ganache or buttercream. Originally, I wanted to use ganache but for some reason I didn't and opted for buttercream which I colored with a mix of red and dark brown gel color.
Let the buttercream set in the fridge until completely firm.
Instead of applying a second layer of crumb coat, I applied the buttercream only to places that needed to be fixed. However, if you feel that your guitar cake needs another layer, do so. Use a spatula to get a smooth finish. Place back in the fridge and let it set completely.
To paint the buttercream I used red and dark brown food coloring. I did not mix these two much, I was after uneven mahogany kind of color. I poured about ½ tablespoon vodka in a cup and dipped my flat brush in red color, then brown and then in vodka. The color was just right – exactly what I was looking for but you can use just dark brown instead.
NOTE: make sure you work fast as the buttercream starts melting and then you can't paint it. You will have to chill it again for a while before applying more color.
TIP: Use the top of the cake to check the color, you can remove it later with a paper towel or simply cover it with fondant so no one will see this area.
CAKE'S TOP – SOUNDBOARD
For this you will need fondant. I colored mine using cream gel color mixed with a tiny bit of red (start with small amount – red is quite strong color). I eyeballed it.
I used a special mat for rolling the fondant but this is not necessary. You can roll out your fondant between 2 sheets of baking parchment.
Use guitar body template (which has to be smaller by about 1 cm/0.4inch than the original body template) cut out the soundboard.
Because I used a special mat for rolling the fondant, it was really sticky as I did not use any icing sugar for dusting. When I transferred it onto a sheet of baking paper, it stuck to it and made it easy to transfer onto the cake.
You can also roll out the fondant without the mat or baking paper. This way you will need icing sugar for dusting. Afterwards, simply transfer it using your hands.
CAKE'S TOP – SOUNDHOLE
SOUNDHOLE – cut a large circle out of black fondant. This will be the soundhole aka the hole in the guitar.
I used a large cup that I simply placed over the area where the soundhole was going to be (the soundhole has to be smaller than the cup) and draw a line with a very thin paintbrush. Follow the cup – it's your guide to draw a nice round line. Keep touching the cup while drawing, like if you wanted to paint the bottom edge of the cup. Remove the cup. Now place the "soundhole" = fondant circle inside the painted circle.
STRINGS
The strings! Originally I bought wires for sugar flowers! I thought it was an easy job! Well, it wasn't. They were not long enough for my guitar cake. They also wouldn't hold straight for some reason.
So I improvised: To make this acoustic guitar fondant cake as close to the original guitar as possible I decided to attach the wires to the headstock only (I threaded them through the holes in the tiny screws and stuck them to the nut).
Then I stretched 6 sewing threads from the nut to the bridge. To do this you will need 2 pieces of floral wire (around 10cm/4 inch long). Watch the video for more detailed explanation! It is quite easy if you know how to do it.
What I have learned when making this acoustic guitar fondant cake:
Check the size of your template with the size of your fridge
Ask at the venue when you can bring the cake and if they can store it for you (the bigger the cake the more difficult to store it)
Make sure you allocate enough time to make it
Think + Improvise – many cake "disasters" can be fixed
Keep calm at all times
Tools used to make acoustic guitar fondant cake:
A Sharp Knife
Rolling Pin
Baking Parchment
Cake smoother (optional)
Water + Icing Sugar
About 6 Toothpicks
Black Gel Food Color
2 Skewers (optional)
Red Gel Food Color
Cream Gel Color
Dark Brown Gel Food Color
Larger Flat Paint Brush – about 3cm/1.2inch wide
Small Round Paint Brush – not sure about the size maybe 6 or 10?
Paper Kitchen Towels
Bulbous tool
Silver Dust Color
Small Paint Brush
Tiny Round Cutter (roughly the size of a thicker drinking straw)
Icing Sugar for Dusting
Large Round Cookie Cutter (or a mug/cup) – size:  9.5cm/3.7inch
Smaller Round Cookie Cutter – size: 8cm/3inch
1.7kg (3.7lb) White Fondant
250g (0.55lb) Black Fondant
4 Silver Wires for Sugar Flowers
Grey/Silver Thread for Sewing
Piping Bag
Long Spatula
A Few Tablespoons of Vodka (for gel colors)
+ a lot of patience :)
Other bits and pieces:
Scissors
Large Board (thick cardboard) strong enough to hold the cake
Wrapping Paper or anything to cover the Board
Sello-Tape
Cardboard to make support under the fondant neck
Template for the body, body's soundboard, bridge, neck, pick, pickguard and headstock