These cookie monster fondant cupcake toppers are easy to make and are perfect for any Sesame Street party or cookie monster lovers! To make them you don't need any special tools but round and fluted cookie cutters are a must!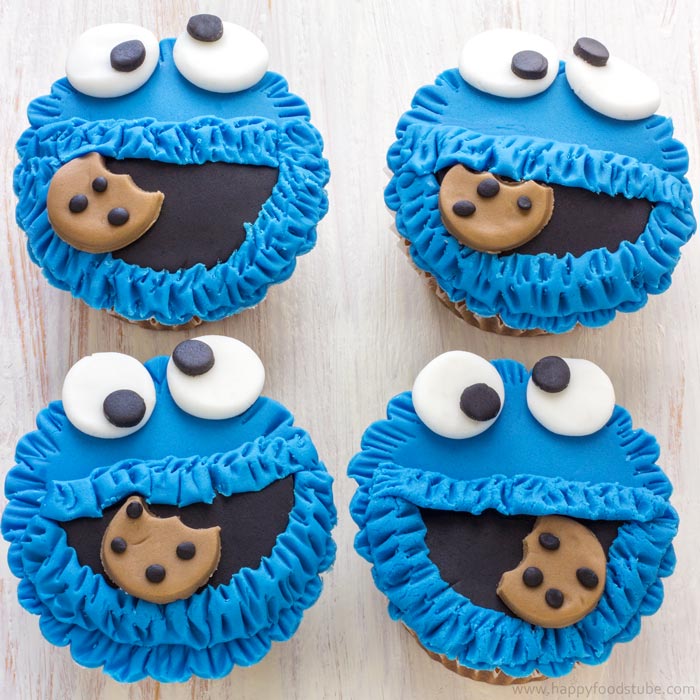 To make cookie monster fondant cupcake toppers you will need:
Tools used:
Leaf Shaping Tool (Dresden Tool)
1 Drinking Straw
Water
Paint Brush (optional)
6.5cm (2.5 inch) Fluted Shape Cookie Cutter
4.5cm (1.8 inch) Round Cookie Cutter
Small Round Cutter (e.g. a bottle cap, food color cap)
Icing Sugar for Dusting
A Knife
A Sheet of Baking Paper
To see how I made these cute Cookie Monsters made out of fondant simply watch this video:
Fondant (for 12 toppers):
Blue – 220g (7.8oz)
Black – 60g (2.1oz)
Brown – 30g (1oz)
White – 40g (1.4oz)
The leaf shaping tool can be substituted for a toothpick, if necessary. If you have no paint brush don't worry! Use paper kitchen towel or your finger instead!