This is an easy weeknight dinner made with bacon wrapped chicken thighs and pearl barley. It's a one skillet dinner with a quick prep. If you like juicy chicken thighs baked in the oven, then you will love this one!
Preparation only takes 10 minutes. In fact, you can prep the whole dish in less than that, especially when you get the hang of it.
This bacon wrapped chicken dinner does take some time cooking though, mainly due to barley used as it needs quite some time to absorb all the liquid.
However, the final result is so worth it! And, you don't need to worry about the chicken pieces drying out as wrapping them in bacon prevents them from getting dry!
This post contains a ton of useful information to help you achieve the best results and make the whole process easy for beginner cooks.
How to make bacon wrapped chicken thighs
In a large skillet or oven-proof dish combine pearl barley, bell pepper chunks, rosemary, and chicken stock (broth or vegetable stock will also work).
Next, season the chicken with salt, pepper, and cayenne pepper and wrap 2 slices of bacon around. Transfer to the skillet and your prep is ready.
All you have to do now is put it in the oven and bake until it is ready. I like to turn the thighs about 40 minutes into cooking time, and I also stir the barley around so that it cooks evenly.
Like you can see, it is an easy recipe for chicken thighs, but it may need some adjusting when it comes to cooking time.
What texture should barley be?
Cooked barley will be chewy and almost like "al dente", but it should not be hard that you have a hard time chewing.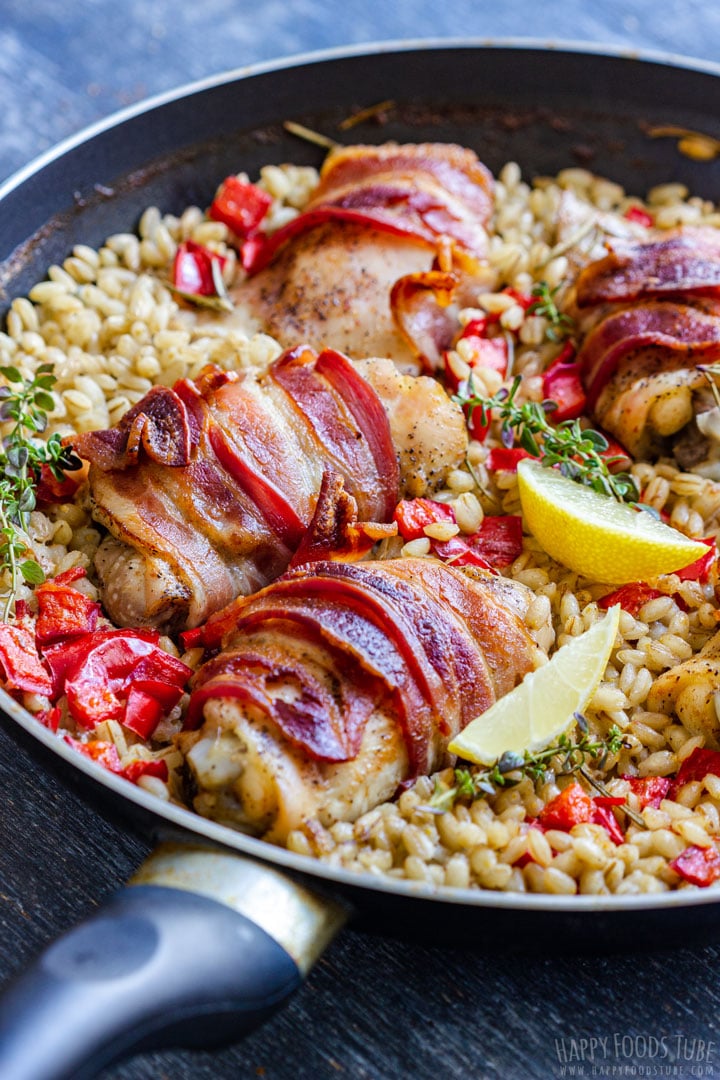 Useful tips for making bacon wrapped chicken thighs
Keep in mind that barley takes some time to cook. Count with about an hour. If still too hard, just cook it longer or until you are happy with the texture.
If you don't want to wrap the thighs in bacon, you could use thighs with skin on (and bone-in). However, bacon adds a ton of flavor to this chicken thighs dinner.
The barley does not need much seasoning – rosemary, salt, and pepper are enough. Plus, the juices from chicken and bacon make this side dish extra flavorful.
When the barley is ready, but there is still a lot of liquid in the casserole, remove it with a ladle or spoon. If it absorbed all the juices but it is still not cooked, add more water or stock.
Vegetable stock/broth can be substituted with chicken or turkey. I like using my homemade instant pot chicken stock, when I have it on hand, but as it is very low in sodium, the bacon wrapped chicken thighs recipe will need more seasoning.
Make sure to use a skillet/frying pan that is suitable for the oven – you can also put it in any other oven-proof dish you have on hand.
I do not recommend using chicken breasts as a substitution.
More chicken dinner recipes you might like:
Bacon Wrapped Chicken Thighs
This is an easy weeknight dinner made with bacon wrapped chicken thighs and pearl barley. It's a one skillet dinner with a quick prep.
Ingredients
1

cup

pearl barley

(200 grams), see note 1

1

cup

red bell pepper chunks

, see note 2

1

teaspoon

dried rosemary

1

teaspoon

salt

1/8

teaspoon

black pepper

, or to taste

1.5

– 2 cups

chicken stock

, see note 3

4

chicken thighs

, bone-in, skinless (24 ounces/700 grams in weight)

8

slices

uncooked bacon strips

(2 per chicken thigh)

1/8

teaspoon

cayenne pepper

(optional)
Instructions
Preheat oven to 355° Fahrenheit/180° Celsius.

In a large oven-proof dish (or skillet), combine rinsed barley, chunks of pepper, rosemary and a pinch of salt and pepper. Pour in stock and mix.

Season each chicken thigh with the remaining salt, pepper and cayenne pepper and wrap it in 2 bacon strips. Place them in the pan and transfer this into the oven.

Cook at 355° Fahrenheit (180° Celsius) for 1 hour or until ready (see note 4).

When ready, take out and serve!
Notes
There are 2 types of barley. Pearl barley is the one that cooks faster, so please choose that one. However, from my experience, it does need a good 60 minutes in the oven, which is way longer than the package instructions state. If you have quicker barley, then keep an eye on it. It should absorb most of the liquid.
Peppers will turn very soft but they will have nice flavor and texture – almost like roasted peppers. If you don't like pepper chunks over-cooked, add them in 30 minutes into cooking time. If you don't mind, add them in at the beginning.
Either chicken stock, broth, or vegetable stock can be used. I used regular stock.
Cooking time may vary slightly. This will depend on your oven, the size of your chicken, and also the type of barley. Always make sure your chicken is cooked through – internal temp should reach 165 Fahrenheit/73 Celsius.
For more tips or if in doubt, please read the full post above this recipe card.
This recipe can be easily doubled – you will just need an oven-proof dish large enough to hold all the ingredients.
Nutrition Facts
Bacon Wrapped Chicken Thighs
Amount per Serving
% Daily Value*
* Percent Daily Values are based on a 2000 calorie diet.
** As an Amazon Associate I earn from qualifying purchases.
LEAVE A COMMENT