This is a recipe for blueberry turnovers made with puff pastry and homemade blueberry filling. These delicious pastries can be enjoyed for breakfast or as an afternoon treat.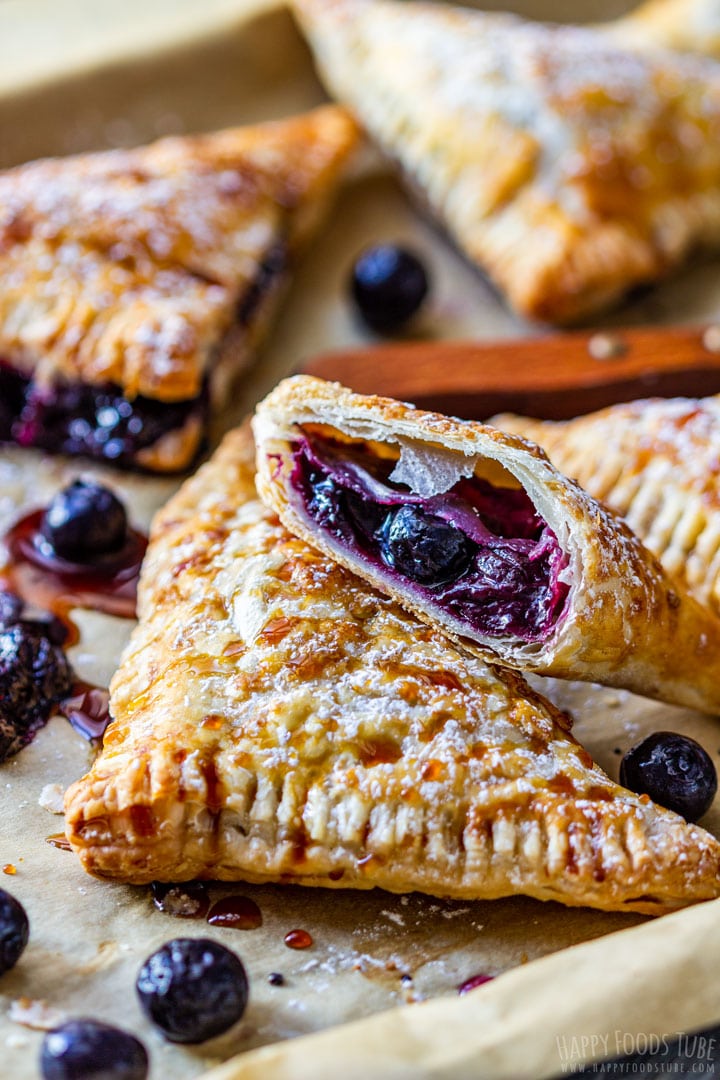 It's an easy blueberry turnovers recipe so it makes the perfect baking project for kids, beginner bakers or anyone who likes freshly baked pastries.
The whole process of making puff pastry turnovers is simple. You will find detailed instructions in the recipe card below this post. However, if in doubt or making them for the first time, I suggest reading the full post.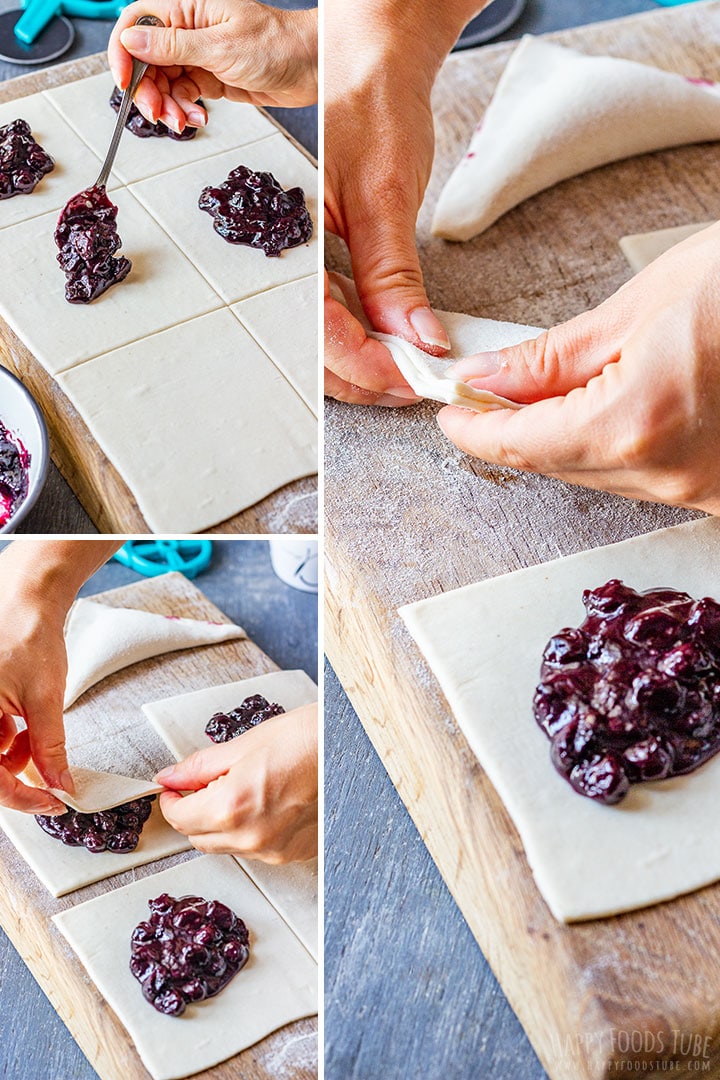 How to make blueberry turnovers
Cut your pastry into squares – I ended up with 6 of them, each of them 4-inch (11-centimeters) wide.
Spoon about 2 generous teaspoons of blueberry filling in the middle of each square and fold to for a triangular shape. If the pastry does not stick, use water.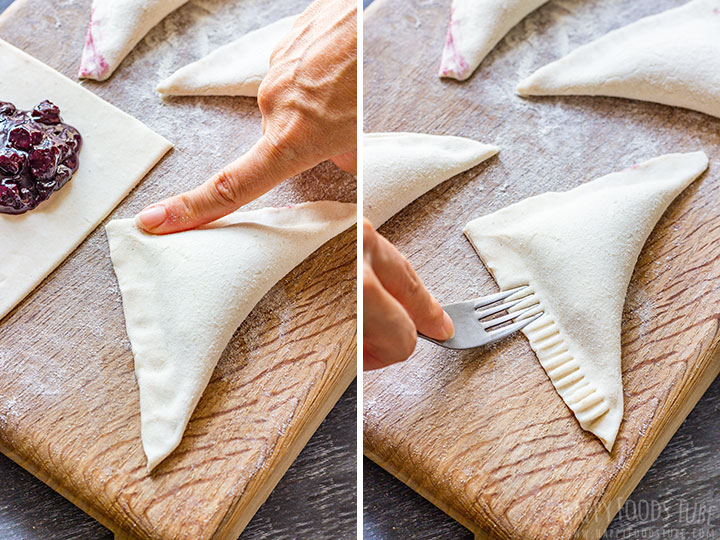 Transfer them onto a baking tray and brush them with egg wash and sprinkle with sugar.
Bake until puffed and golden brown!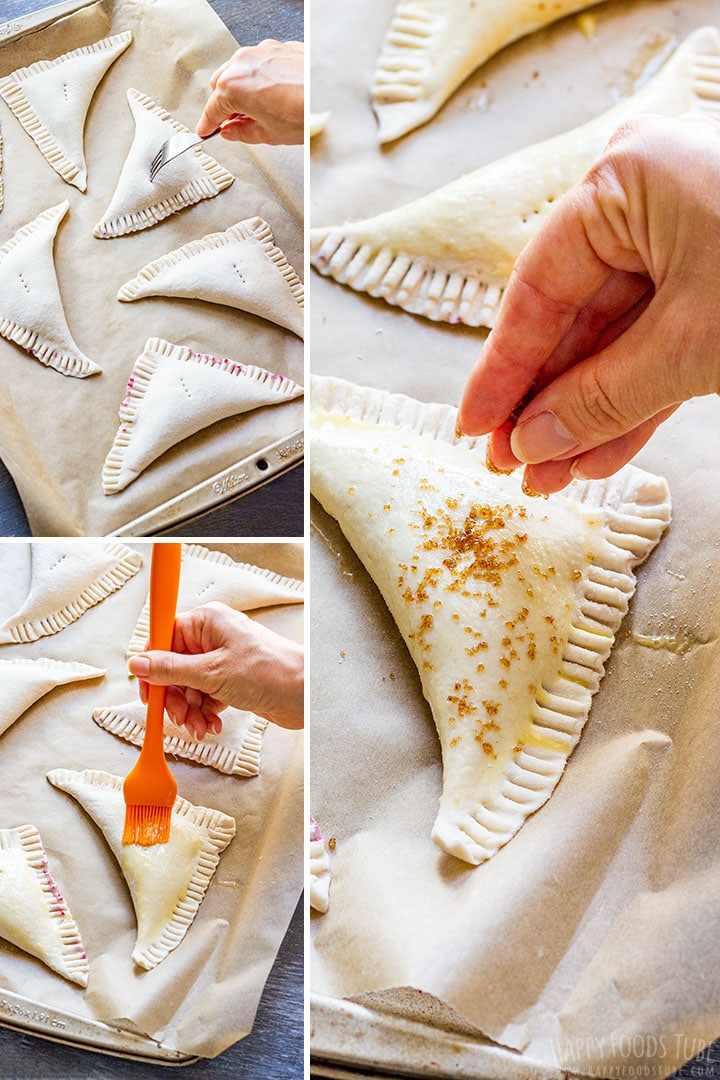 How to make blueberry filling for turnovers
For the filling, I like to use my homemade blueberry sauce recipe as a base. It's a simple sauce for pancakes, waffles, ice cream or anything you like which I simply turn into filling as well. It works great!
I add cornstarch slurry to this sauce and cook it until it thickens. It only takes about 12 minutes to prepare and it taste so good.
Note: the sauce has to be cooled down to room temperature before using it as filling.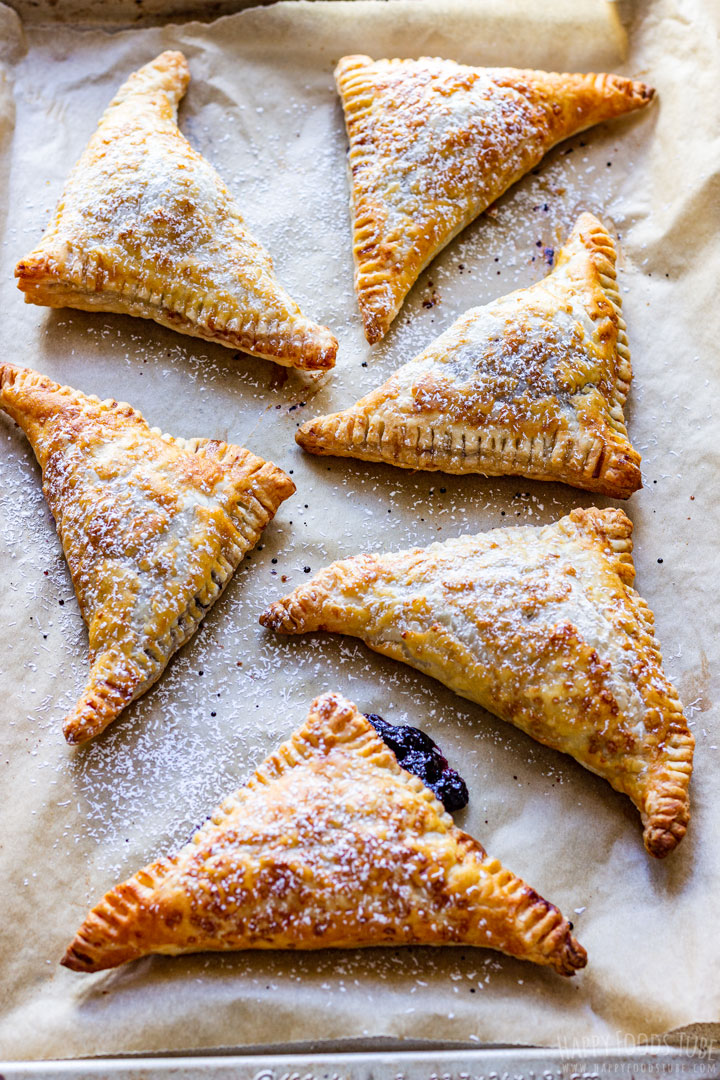 Tips for making blueberry puff pastry turnovers
Cooking time may vary slightly. This will depend on your oven as well as the puff pastry you are using. They have to be puffed and have nice golden-brown color both on the top as well as bottom.
Egg wash can be omitted. Just bear in mind they will be paler in color after being cooked.
Sprinkling them with sugar is also completely optional.
You can drizzle them with a glaze made of sugar and milk, if you like. I used coconut syrup.
What puff pastry to use?
Either fresh or frozen (thawed) will work. I like buying ready-rolled fresh pastry because all I have to do is unroll it and use it. While I use frozen pastry a lot, I have noticed that this does not give me such consistent result as the fresh one.
Thawed is usually folded and so it should be rolled out as it is still way too thick for making these puff pastry turnovers with blueberries. Rolling can be uneven and so some parts can be thicker than others (which can lead to uneven baking).
Now that being said, I always recommend using a pastry that you have experience with to achieve the best results.
If you like baking with blueberries, you might also like some of these blueberry desserts:
Blueberry Turnovers
This is a recipe for blueberry turnovers made with puff pastry and homemade blueberry filling. These delicious pastries can be enjoyed for breakfast or as an afternoon treat.
Ingredients
For Homemade Blueberry Filling, see note 1
2

cups

Frozen Blueberries

(300 grams)

⅓

cup

brown Sugar

, see note 2

1

tablespoon

Lemon Juice

2

ounces

Unsalted Butter

(60 grams)

2

teaspoons

Cornstarch
For Blueberry Turnovers
1

Sheet Puff Pastry

, thawed or fresh, see note 3

all-purpose flour

, for dusting

1

Small

Egg

, beaten (optional)

1

teaspoon

brown Sugar

for sprinkling (optional)
Instructions
Blueberry filling: In a saucepan, combine blueberries, sugar and lemon juice and simmer for 10 minutes. Stir in butter. In a cup, dilute cornstarch in 1 tablespoon of water. Add some of the blueberry sauce in and stir. Pour the cornstarch slurry into the saucepan and stir the sauce until it thickens. When ready, pour it into a bowl and set aside to cool for 30 minutes.

Blueberry turnovers: Preheat oven to 400° Fahrenheit (200° Celsius). Unroll/unfold puff pastry and roll it out if not pre-rolled. Cut into squares (I divided the pastry into 6 squares, each 4-inch/11-centimeters wide). Spoon 2 heaped teaspoons of the blueberry filling in the middle of each square.

Dip your finger in water and run it alongside the edges/sides of each square. To fold, lift one tip of the pastry and fold it over the filling towards the opposite tip to form a triangle. With your fingers, press down the edges to seal them. Double-seal the edges with a fork.

Place turnovers onto a baking tray/sheet lined with baking parchment. With the fork, pierce each turnover so the steam can escape. Brush with egg wash and sprinkle with brown sugar.

Bake in a preheated oven at 400° Fahrenheit (200° Celsius) for 15 minutes or until puffed and golden brown on top as well as on the bottom of each pastry.

Enjoy warm!
Notes
One batch of my homemade blueberry sauce recipe is enough for about 8 turnovers (when using 4-inch/11-centimeter pastry squares).
Either brown or white (granulated or fine) sugar can be used.
I used about ½ pound (225 grams) of pastry dough to make 6 turnovers.
To speed up the whole process, you can make blueberry filling in advance and use it when ready to bake the turnovers. (when stored properly, it should last 3 days in the fridge).
More tips and useful information can be found in the post above this recipe card.
Nutrition Facts
Blueberry Turnovers
Amount per Serving
% Daily Value*
* Percent Daily Values are based on a 2000 calorie diet.
** As an Amazon Associate I earn from qualifying purchases.
LEAVE A COMMENT