Carrot cake pancakes with raisins and walnuts are everyone's favorite sweet breakfast. Packed with walnuts and raisins and served with cream cheese pancake topping they are hard to say no to!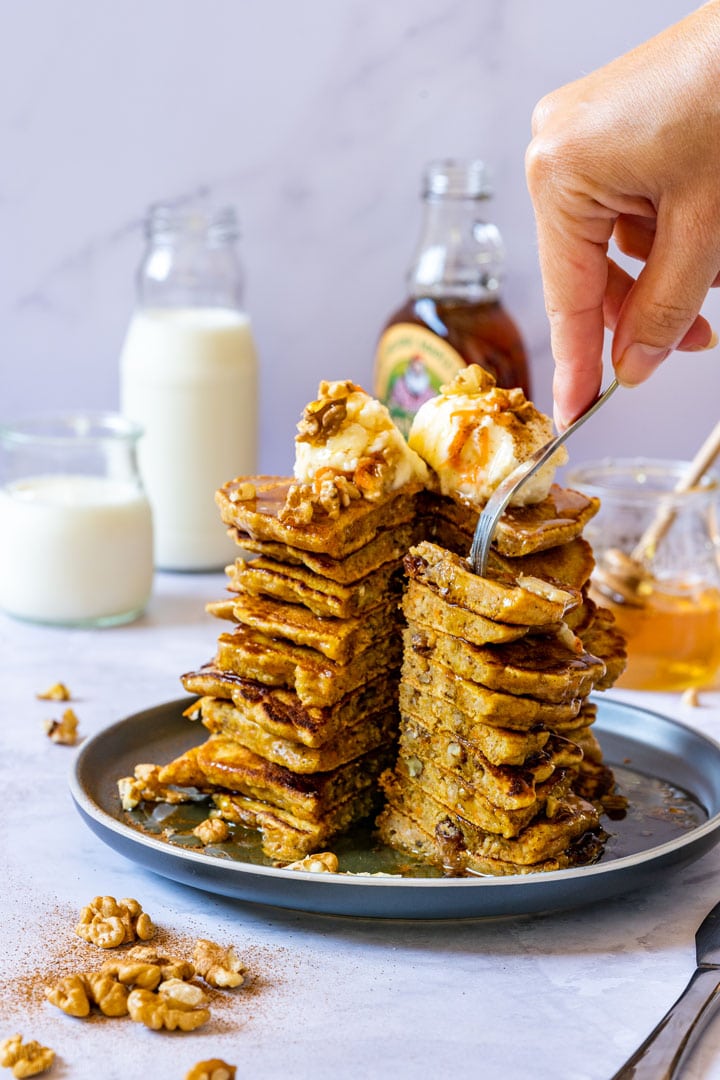 No blender needed to make these carrot pancakes. Simple tools like a spatula and mixing bowl work just fine for mixing all the ingredients!
Breakfast or brunch, these are the perfect spring morning treat.
This post includes topping ideas, instructions on how to freeze pancakes as well as more tasty breakfast recipes you might like to try.
How to make carrot cake pancakes?
Gather all your ingredients. Finely shred carrots and roughly chop walnuts. Then, combine all of them in a bowl.
I like to mix flour, spices, and baking soda first. This helps avoid uneven distribution of cinnamon and nutmeg as well as soda. Next, add the rest of the ingredients and mix well.
The quickest way to cook pancakes is to use a griddle. However, if you don't have one, use the largest skillet/frying pan you have on hand so you can fit in 2 or 3 at a time.
Cook on low-medium heat to avoid burning them and be patient with them.
Optional toppings:
Cream cheese frosting & walnuts – If you want an authentic carrot cake experience, this is the way to go!
Butter & maple syrup – a simple yet delicious option
Whipped cream, berries, and honey – perfect for brunch or special occasion
Syrups of your choice – any kind from chocolate, caramel to strawberry
How many calories in pancakes?
Nutritional information will vary from recipe to recipe. The calorie will depend on what you use in pancake batter.
In this recipe, count with 176 calories per pancake.
Storing leftover pancakes
Pancakes are best enjoyed right away. Now that being said, you can store them either in the fridge or freezer, if necessary.
For both options, place them in a Ziploc bag. They will last 2 days in the fridge and up to 3 months in the freezer. However, I do recommend consuming the freezer ones within several weeks from the date you made them.
Also note, they will never taste the same as freshly made ones!
When ready to eat, thaw them and reheat on a stove (in a skillet/frying pan with a little oil).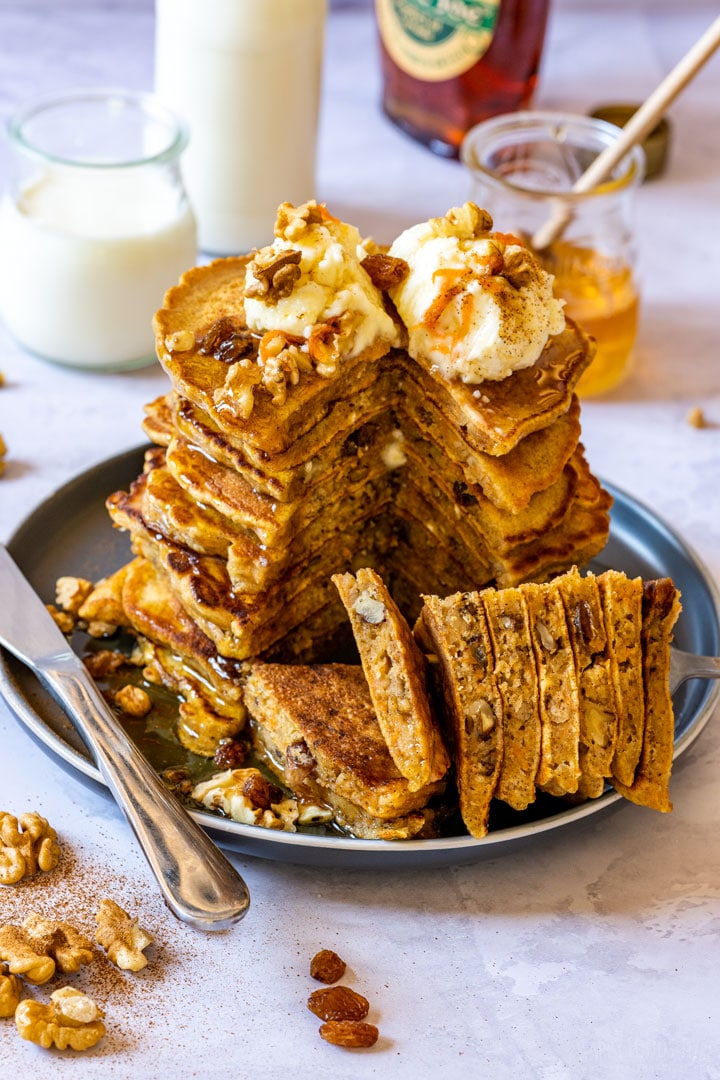 More breakfast or brunch recipe ideas for you:
Carrot Cake Pancakes
Carrot cake pancakes with raisins and walnuts are everyone's favorite sweet breakfast. Packed with walnuts and raisins and served with cream cheese pancake topping they are hard to say no to!
Servings:
9
pancakes (3 servings)
Ingredients
Carrot cake pancakes:
1.5

cups

all-purpose flour

(220 grams)

½

teaspoon

baking soda

2

teaspoons

ground cinnamon

⅛

teaspoon

ground nutmeg

5

tablespoons

soft brown sugar

, see note 1

½

cup

carrot

, finely grated, packed, see note 2

¼

cup

walnuts

, roughly chopped, see note 3

¼

cup

raisins

1

cup

milk

1

egg

, large

1

tablespoon

oil

+ extra for cooking, see note 4
Cream cheese topping:
4

ounces

cream cheese

, at room temperature (120 grams)

3

tablespoons

vanilla sugar

½

cup

heavy cream

(120 milliliters)
Instructions
For pancakes: In a medium mixing bowl, add flour, baking soda, cinnamon, nutmeg and sugar. Stir. Add grated carrot, walnuts, raisins, milk, egg, 1 tablespoon oil and mix until well combined.

On a griddle or large skillet/frying pan, heat a little oil and pour a 1/3 cup of the batter per pancake in. Cook on low-medium heat. When you see bubbles appear on their surface, turn them over and cook until ready (see note 5).

For cream cheese topping: In a bowl, combine all the ingredients together until smooth, preferably using electric mixer.

Serve with cream cheese frosting or anything you like
Notes
Brown sugar can be substituted with fine granulated sugar.
You will need about 1 large carrot to get 1/2 cup grated.
Walnuts can be substituted with pecans.
Either regular cooking olive oil, sunflower, or vegetable oil can be used.
Cooking time will vary. If you use a griddle, you might only need 3-4 minutes per whole batch. If you use a small skillet where you can only fit 1 pancake at a time, you will need almost 30 minutes for cooking, when counting with about 3 minutes per pancake.
You should get 9 pancakes out of this recipe when using a 1/3 cup (for measuring dry ingredients).
Nutrition Facts
Carrot Cake Pancakes
Amount per Serving
% Daily Value*
* Percent Daily Values are based on a 2000 calorie diet.
** As an Amazon Associate I earn from qualifying purchases.
LEAVE A COMMENT