This tutorial will show you how to make edible sand in 4 simple ways, without any food coloring! Pretty simple and ready within a few seconds! Great for sand castle cakes, beach themed cakes and cupcakes or any cakes where sand is used as decoration!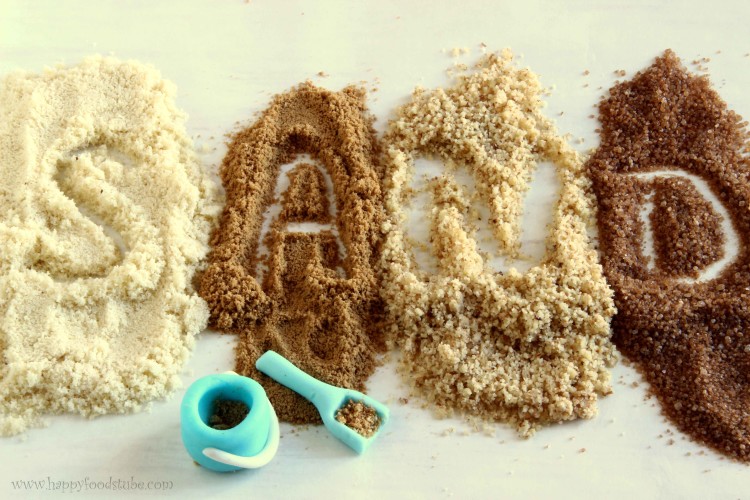 Have you ever wondered how to make edible sand for your cakes, cupcakes?
If yes, you are at the right place!
Have a look at these 4 simple ways to make edible sand:
Almonds
Ground almonds or almond meal are perfect for creating sand effect. They are quite pale so if you are after a darker color, then this might not be the option for you.
Biscuits/Cookies
To make edible sand out of these you don't even need a food processor. You could crush them using a ziploc bag and a rolling pin.
Walnuts
I recommend using a food processor to get fine sand effect. However, bear in mind that almonds and walnuts might not be suitable for everyone (especially those with nut allergies).
Brown Sugar
There are various types of brown sugar on the market. Some of them are darker, some of them lighter in color. Also their texture may vary. Have a look at them and decide which one you prefer.
I personally like the "biscuit sand" the most for several reasons:
It is easy to prepare – ziploc bag + rolling pin will do the trick.
I like the color.
The taste – if you cover cupcakes with almonds/walnuts – some people might not enjoy it as much as the cookie sand.
Price – it is the cheapest option.
I hope you will find this post helpful and if you ever decide to make a project using edible sand let me know! Send me a picture and tell me what you have used!
Watch the video for this tutorial: