Looking for Halloween cupcake decorating ideas? Look no more! These Halloween fondant cupcake toppers are so easy to make! Ghosts, witches, grave stones & pumpkins …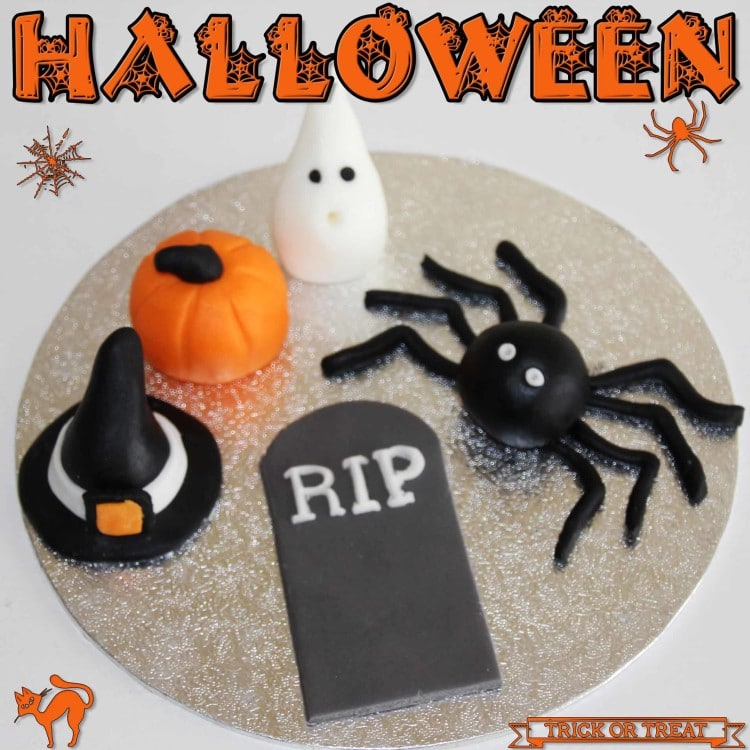 In this video you will see how to use fondant to make 5 different cupcake toppers for your Halloween party.
Halloween is coming… Halloween is coming… Halloween is coming…
Yes! The craziest holiday of the year when everything and anything is allowed! Isn't that just fun? If you are looking for a simple Halloween project to do with your kids this is the way to go!
To make these Halloween toppers can't get any easier! If this is not exactly the Halloween project you are looking for you might want to check out these easy R.I.P. Dessert Shots I made or these royal icing Spider Web Cupcake Toppers. Do you like Jack Skellington from the Nightmare before Christmas? Yes? Well, then check out these Halloween Jack Skellington Cupcakes.
Tools used to make these Halloween fondant cupcake toppers:
Rolling Pin
Sharp Point Tool
Knife
Paint Brush
Round Cookie Cutter
Fondant Letter Cutter
Square Cutter (optional)
Ball Tool (optional)
+Water
+Icing Sugar
Fondant:
Tool Substitutions:
Are you wondering how to make Halloween fondant cupcake toppers without some of the tools I used? Do not worry about that! Many of them can be easily substituted for something you have in your house.
Rolling Pin
If you like baking chances are that you have at least one rolling pin. If you do, use it – no matter what size it is. It is not important to have small fondant rolling pin.
Those of you who don't have a rolling pin, I suggest you use a wine bottle. Just make sure you remove the label.
Sharp Point Tool
Now you can use the end of your brush instead.
Round Cookie Cutter
Try using a round glass or a cup preferably with not very thick rim.
Square Cookie Cutter
This cutter is optional. If you don't have one, use a knife instead.
Paint Brush
If you are planning on making more fondant projects in the future you should get yourself one or two paintbrushes. However, if you don't have one, it's not the end of the world! Use your fingers to wet the fondant with water.
Icing Sugar
I always use icing sugar for dusting my work top. However, corn flour can be used instead of icing sugar.
Fondant Letter Cutter
I know that these types of fondant cutters are quite expensive and I always think twice before I buy new fondant tools. If you think you will be using these more often, then by no means buy this letter cutter. If not, then you have two options: either you simply omit making this R.I.P. topper or you just roll a tiny piece of fondant into a sausage and shape it into letters. This option will take a while so I am guessing it would not be a good cupcake topper to make with kids. They might get bored after a while. However, in some shops you can buy colored icing in a tube with a tip so you could use this to write the letters instead.
Notes:
These easy Halloween fondant decorations can also be used on cakes or on their own. They would make lovely table decorations as well.
Make them any size you like.
If you are planning on using a paint brush for cake decorating, make sure you buy a brand new one that you will be using only for fondant projects!
Some of these Halloween cupcake toppers might need some time to set (like the spider or the grave stone) before you place it onto cupcakes/cakes. You could place the spider onto a piece of fondant (round one) and let it set for a day or so.
I hope you found these instructions helpful. If you decide to make them let me know or send me a picture!
Happy Halloween!
Want to see how to make Halloween Fondant Cupcake Toppers? Watch the video!