These RIP Halloween dessert shooters are perfect for your Halloween party! Oreo pudding soil, chocolate grave stones & royal icing RIP inscription!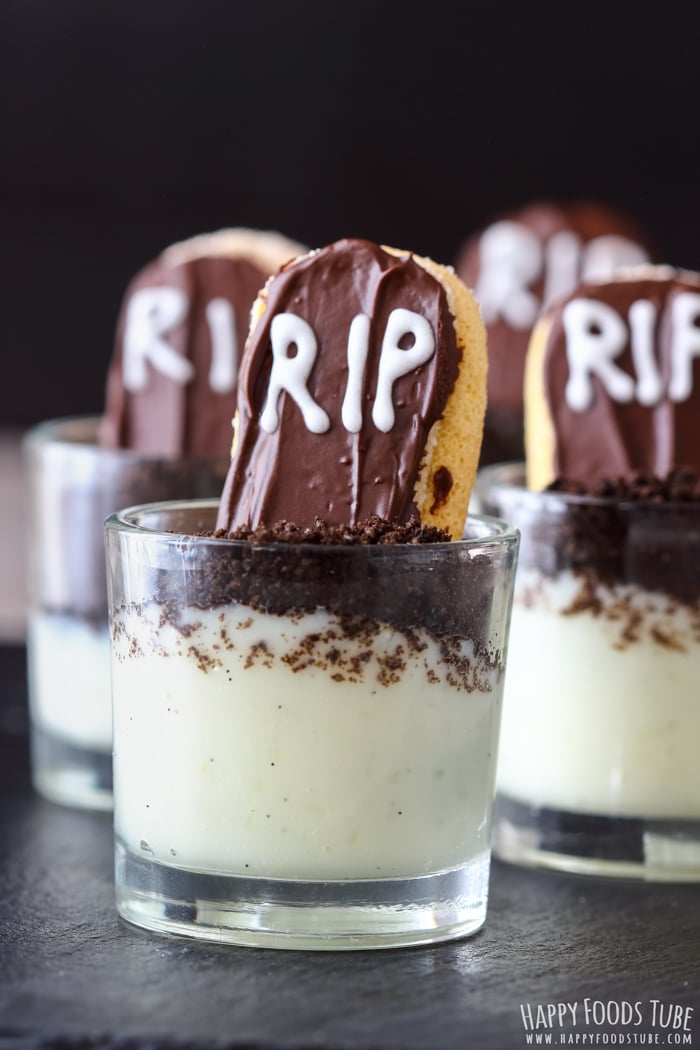 Are you throwing a Halloween party this year? If you are, then these easy Halloween dessert shooters should be on your TO DO list!
If you are looking for some more Halloween dessert ideas check out my Jack Skellington Cupcakes or these royal icing Spider Web Cupcakes. To see some more fondant pumpkins and ghosts you might want to check this Easy Tutorial out!
Now I know that some people create amazing looking dishes for this crazy holiday! Oh and not only amazing dishes but they turn their house into proper Halloween fun! Are you one of those people? If so, let me know what crazy Halloween party decorations you make! I would love to know!
OK now let's talk about these easy RIP Halloween dessert shooters:
This is an old post that I have updated recently. Originally I used rectangular cookies that I dipped into melted chocolate. Some stores also sell cookies that are half covered in chocolate so those can be also used to make these min desserts.
Now this time I wanted to use ladyfingers for the gravestones. I figured they would go well with pudding and Oreo mix as well so why not.
Step by step – How to make RIP Halloween dessert shooters
Make crumbs (a.k.a. the black soil) out of Oreo cookies. I use a food processor – it takes seconds and you get nice fine crumbs. If you don't have a food processor, just place them in a zip-lock bag and smash them with a rolling pin.
Before you turn the cookies into crumbs save the white filling for later. You will add it to the pudding mixture.
Now make the pudding. You can use homemade pudding or simply buy pudding in powder. When ready, mix in the Oreo filling until smooth.
Pour into mini dessert glasses or shot glasses and transfer into the fridge (fill only ½ of each glass so you have enough space left for the Oreo "soil" and ladyfinger gravestones).
Meanwhile: Melt the chocolate with butter. Cut every single ladyfinger in half and simply spread the melted chocolate onto each lady finger with a spatula.
For the RIP inscription I used royal icing. Royal icing is very easy to make but if you want to save that extra step, buy white chocolate or royal icing from a store. Just make sure you wait until the chocolate has set before writing on it.
Assembling these Halloween dessert shooters is easy – top the pudding with some Oreo crumbs and stick a ladyfinger in. That's it.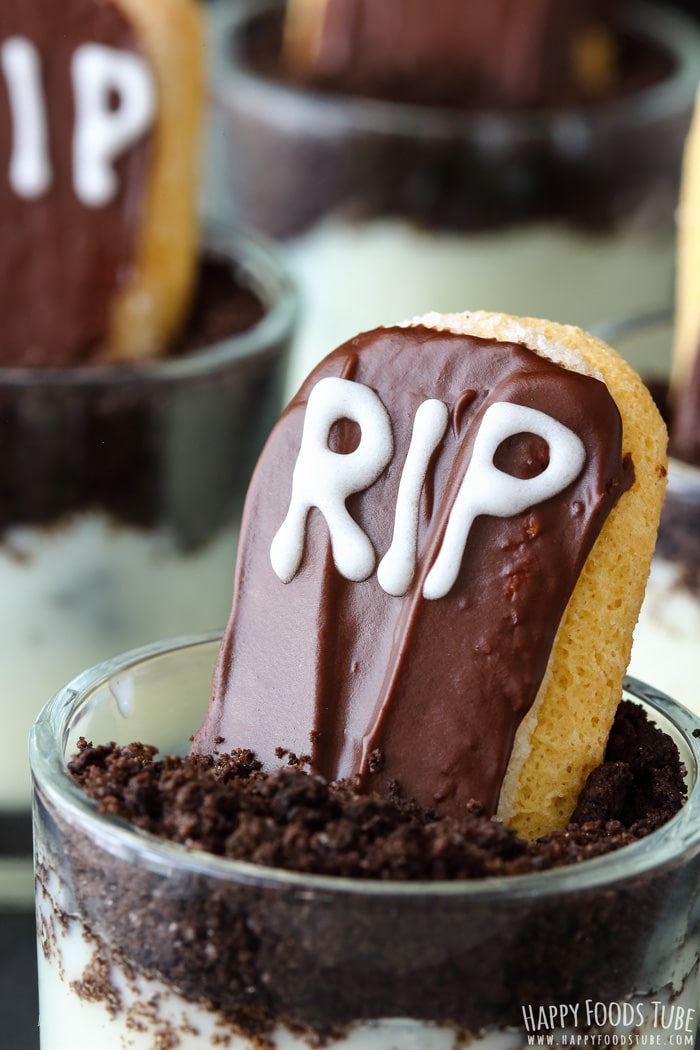 Keep these mini Halloween desserts in the fridge before serving.
Happy Halloween!
P.S. One of my favorite Halloween party food ideas are Hot Dog Mummies! So easy to make and so popular with crowds!
RIP Halloween Dessert Shooters
These RIP Halloween dessert shooters are perfect for your Halloween party! Oreo pudding soil, chocolate grave stones & royal icing RIP inscription!
Ingredients
For the soil:
12

Oreo Cookies

1

packet

Pudding Powder

of your choice (1.4 oz/43 g)
For the Gravestones:
2.1

oz

Semisweet Chocolate

or Dark Chocolate (60 g)

3

tablespoons

Unsalted Butter

12

Ladyfingers

1

tablespoon

Egg White

5

tablespoons

powdered sugar

, sifted
Instructions
Scrape the white filling from each Oreo cookie and place it in a bowl. Set it aside. Now put all the Oreo's in a food processor and process for a few seconds to achieve crumb like texture.

Prepare the pudding using packet instructions. While still hot, stir in the Oreo filling. Mix well. Let it cool down a bit before pouring into small glasses. Fill only ½ of each glass – you will need space for the Oreo crumbs and gravestone which will push the pudding up. Place the glasses in the fridge.

Meanwhile: Melt the chocolate and butter over a pot of simmering water. Cut each ladyfinger in half. Using a spatula, spread the melted chocolate over each ladyfinger. Place them onto a sheet of baking paper. Let the chocolate set.

For homemade royal icing/frosting mix egg white with sifted powdered sugar until smooth. To do this use a fork (for best results, beat the egg white with the fork first. This will take only a few seconds. Your egg whites will look foamy). Transfer the icing into a ziplock bag and cut a tiny hole in one of the corners. When the chocolate is set, write RIP on each ladyfinger.

Once the pudding has set a bit, top it with Oreo crumbs and stick the ladyfinger inside. Store in the fridge until ready to serve.
Notes
The capacity of the glasses used for these dessert shooters is 1.5 oz/45 ml.
Nutrition Facts
RIP Halloween Dessert Shooters
Amount per Serving
% Daily Value*
* Percent Daily Values are based on a 2000 calorie diet.
** As an Amazon Associate I earn from qualifying purchases.
LEAVE A COMMENT