Easy recipe for instant pot broccoli cheese soup. It has a simple preparation and quick cooking time. Only 1-minute active pressure cooking! Recipe with process photos and video!
This pressure cooker broccoli cheese soup can be customized to everyone's liking, so you can easily experiment with the quantities of all ingredients.
It does not call for a ton of cream and cheese. On the contrary, only a little amount is used for flavor. This makes it a lighter and more nutritious soup, but If you prefer a richer soup, feel free to add as much cheese and cream as you like.
Simple recipe directions, useful tips and FAQ's as well as serving suggestions are part of this post.
How to make broccoli cheese soup in instant pot
Start by sauteing leeks in a pressure cooker with some butter. When done, add garlic and stir it around until it releases its aroma. Add broccoli florets, carrots, broth and seasoning. Stir well and cook under pressure for 1 minute.
It's important to release the pressure manually right after the time is up. While waiting for the pin to drop, prepare a soup thickener on the stove. This literally takes about 2 minutes. Add the thickener to the pot and cook for a minute or two before you stir in cheddar and you are ready to serve.
How to thicken a soup?
Flour (all-purpose) is a common soup thickener that works best. Add it to a saucepan with melted butter and stir. Lumps will form, but this is ok. They will dissolve once you pour some liquid and whisk until they dissolve. Then, just pour in the ready soup and cook for a while until thickens. Note that this broccoli cheese soup will thicken more once cooled down.
Gluten-free flour also works.
Cornstarch is another option and works well. However, it's important to remember that a cornstarch slurry should be also mixed with some liquid from the soup before you pour it all into the pot.
My mom's favorite thickener is instant potato flakes, so if you are familiar with these, you can use them. However, I have not tried using them myself, so not sure about the quantity nor process.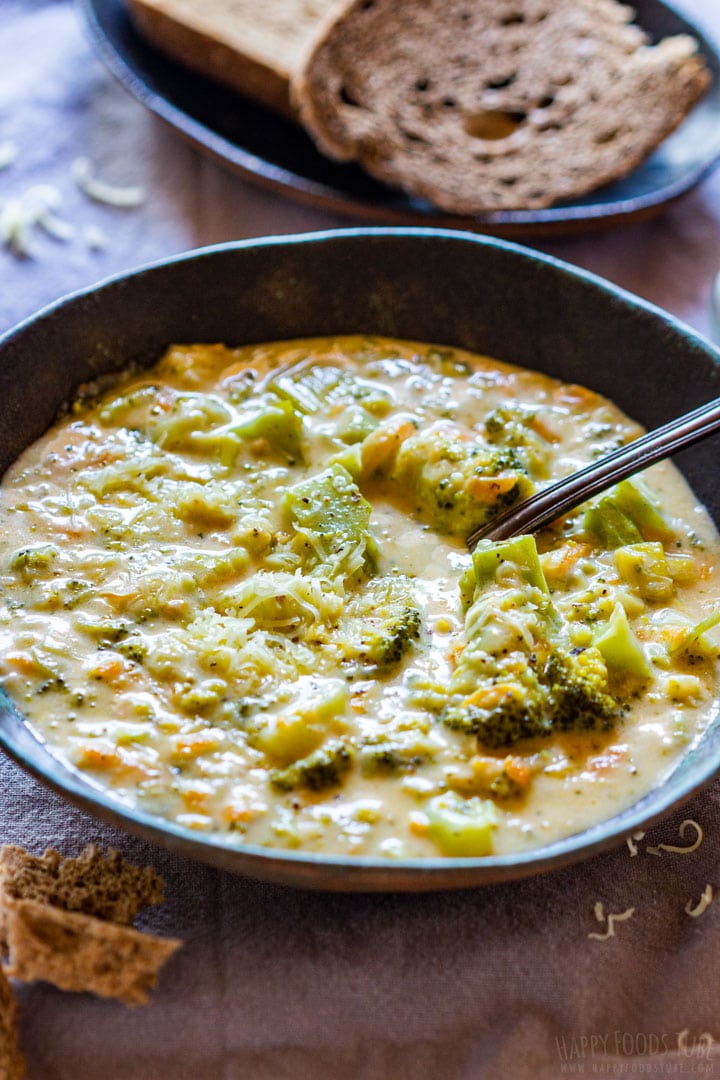 What can I substitute for cream?
This pressure cooker broccoli cheese soup calls for heavy cream (double cream). If you don't have it on hand or prefer a lighter soup, use half and half (about ¾-1 cup) or milk (of any fat level).
Substitutions will affect the thickness of the soup, so if it turns out thinner than you like, use more thickener.
Serving suggestions
This creamy cheese soup could be served in a bread bowl or simply with bread on side. We like potato bread or freshly baked dinner rolls with this soup.
Buttered toast is also delicious!
Add crispy bacon or a sprinkle of fresh chives as a garnish and serve warm.
Storage:
Once cooled, store any leftovers in an airtight container in the fridge. It should last up to 3-4 days when stored properly. Always reheat as much/as little as you need.
Useful tips when making broccoli cheese soup in pressure cooker
Vegetable broth can be substituted with chicken or beef stock. If using low sodium one, you might need to add more salt. Stock cubes are also great substitutes. Simply use as much as needed for 4 cups of water.
Instant pot broccoli cheddar soup takes literally 1 minute to cook (under pressure). The broccoli will come out perfectly soft but after adding the rest of the ingredients and stirring a lot, some might completely dissolve in the soup. If you prefer chunks, leave the florets larger and set the pressure cooker timer to 0 minutes.
If you bought whole broccoli, make sure to use up all of it – including the stems (dice them or chop them into small pieces).
Cheddar cheese adds a ton of flavor to this instant pot broccoli cheese soup, so I don't recommend substituting it with other types of cheese. For best results, buy a block and grate it yourself.
To keep broccoli and cheese soup warm, simply transfer it into a slow cooker and keep on low until ready to serve. However, instant pot has also a KEEP WARM function!
More instant pot soup recipes for you to try:
Instant Pot Potato Soup – this is a simple recipe with pantry ingredients.
Instant Pot Split Pea Soup – the perfect soup for winter. It's not only delicious but also filling and hearty.
Instant Pot Minestrone Soup – An Italian classic that is so easy to make in a pressure cooker!
Instant Pot Tortellini Soup – This rich soup is everyone's favorite.
Check out our video for how to make instant pot broccoli cheese soup:
Instant Pot Broccoli Cheese Soup
Easy recipe for instant pot broccoli cheese soup. It has a simple preparation and quick cooking time. Only 1-minute active pressure cooking!
Servings:
5
portions, see note 5
Ingredients
2

tablespoons

butter

, see note 1

1.5

cups

leeks

, sliced, see note 2

2

garlic cloves

, crushed

3

medium

carrots

, shredded

4

cups

fresh broccoli florets

(about 18 ounces/500 grams)

3

cups

vegetable broth

(or chicken, beef stock) (750 milliliters)

½

teaspoon

salt

½

teaspoon

black pepper

3

tablespoons

butter

¼

cup

all-purpose flour

½

teaspoon

paprika

1

cup

vegetable broth

or water (250 milliliters)

½

cup

heavy cream

(120 milliliters), see note 4

1

cup

grated cheddar cheese

heaped, see note 3
Instructions
Turn on instant pot and press SAUTE function. Add butter and leeks and sauté for about 3 minutes. Add garlic and stir until it releases its aroma, about 1 minute.

Add shredded carrots, broccoli florets, vegetable broth, salt and pepper. Stir well.

Close with lid and lock it into its position. Turn the steam release valve to SEALING. Press PRESSURE COOK (or MANUAL) and set timer to 1 minute.

When the time is up, release the pressure manually by turning the steam release valve to VENTING. Be careful, the steam is hot.

Meanwhile: In a saucepan, melt butter. Add flour and paprika and stir well. Add 1 cup vegetable broth (or water) and stir until smooth. Turn off the heat.

Once the pin dropped, remove the lid. Press SAUTE function. Pour the flour thickener in the soup and stir until smooth and well combined. Add heavy cream, stir again and cook for about a minute.

Finally, stir in cheese and taste. Add more seasoning if needed.

Enjoy!
Notes
You can use either salted or unsalted butter. For best results use real butter, not butter substitutes.
About 1 medium leek.
You can use more cheddar if you like.
Alternatively, use 2/3 to 1 cup half and half instead of heavy cream or milk for a lighter version.
This recipe yields 5 portions when counting 1.25 cups of soup per person.
This recipe was developed for a 6-quart/6-liter instant pot pressure cooker.
To double the recipe, simply double all the ingredients. Cooking time will stay the same. It will easily fit in a 6-quart/6-liter instant pot.
The overall cooking time does not include the time the pot needs to come to pressure. Count with about 10-13 minutes for a 6-quart/6-liter instant pot for the original recipe. When doubling the recipe, the pot might need more time for pressurizing.
Nutrition Facts
Instant Pot Broccoli Cheese Soup
Amount per Serving
% Daily Value*
* Percent Daily Values are based on a 2000 calorie diet.
** As an Amazon Associate I earn from qualifying purchases.
LEAVE A COMMENT