This homemade potato bread is light, fluffy and stays soft for several days. It's a foolproof bread recipe that contains no eggs, milk or butter.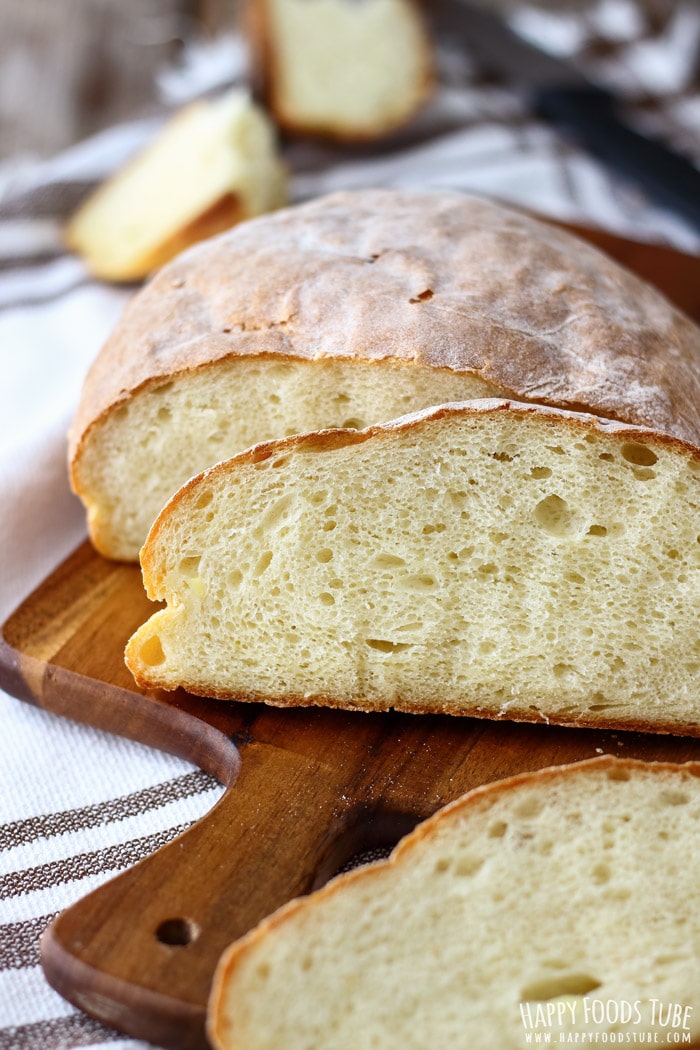 Guys, this homemade potato bread is my favorite bread. I'd say I am a bit obsessed with potatoes lately so I've been using them everywhere. Jalapeno Mashed Potato Croquettes, Mashed Potato Flatbread and this potato bread are so far my most favorite potato recipes. They are all fool-proof and so easy to make!
Now of course this bread takes some time to prepare but it is only take about 35 minute to bake! Also most of the prep time is actually just waiting until it rises. This is passive time during which you are free to do anything you like.
What I love about this homemade potato bread:
Easy recipe – I highly recommend this recipe to any beginner baker – give it a go and you'll be in for a treat!
Stays soft for several days (up to 6 days).
No butter, no eggs, no milk – only simple ingredients.
Guys, I've been making this homemade potato bread at least 2 times per week for over a month now and I can't stop myself. It's so fluffy and soft. Like a cloud!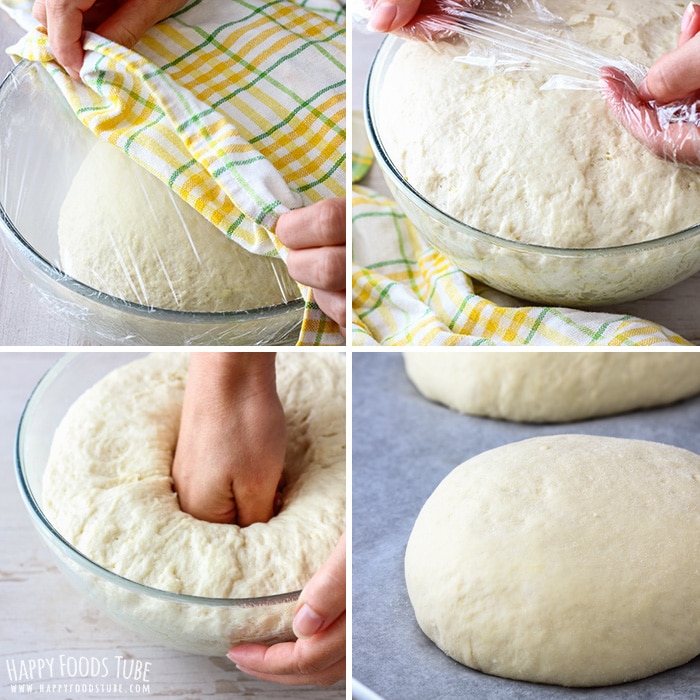 What are the ingredients of potato bread?
Mashed potatoes
Bread flour
Salt
Yeast
Olive oil
Water
Sugar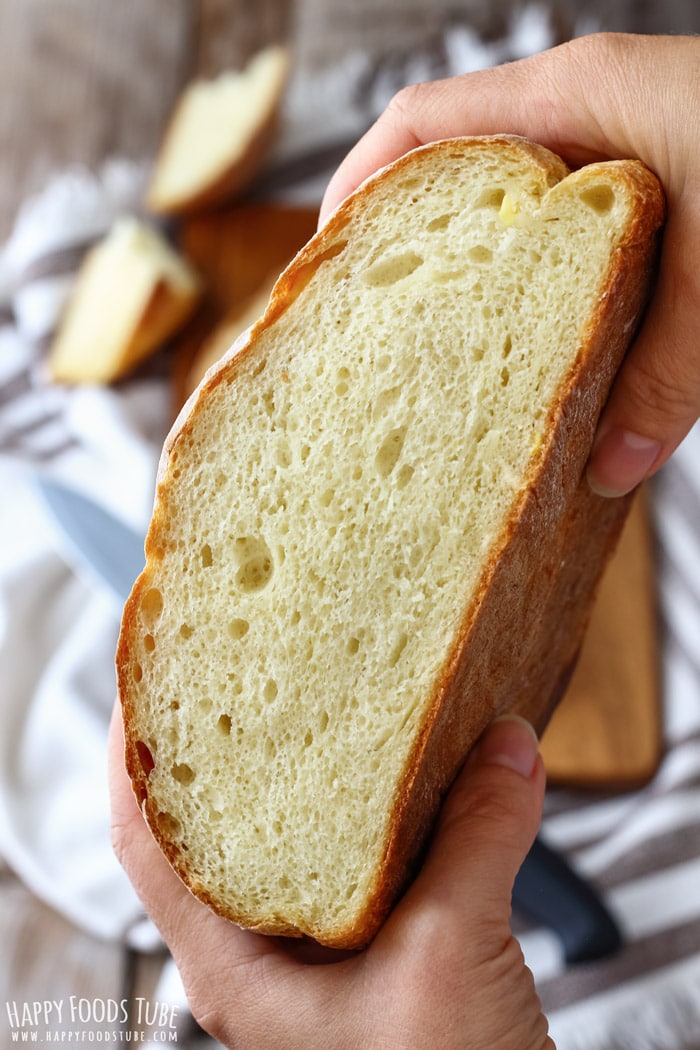 How to make homemade potato bread:
First pour lukewarm water into small bowl and sprinkle the yeast over. Stir with a spoon and set aside for 5 minutes.
Then combine flour and salt and add mashed potatoes. Mix together and add yeast. Knead either by hand or in a stand mixer. Right before end add a splash of olive oil and knead again until well combined.
This dough will need to rise so place it in a grease bowl and cover with cling film. Make sure the bowl is large enough so the dough has enough space to rise. This might take somewhere between 40-60 minutes. The length of time will depend on the room temperature so don't be surprised if one time it will take 40 minutes and other 60 minutes. I've made this bread several times and every time it needed different amount of time to rise.
When you see the dough has doubled in size, transfer it onto a well-floured surface and knead for a several times. You can divide it in half and make 2 small loaves instead of 1 large. This is up to you but I personally prefer baking 2 small loaves. Place them onto a baking tray and cover with kitchen towel. Let them rise for the second time for about 10 minutes – while you are waiting for the oven to heat up.
Baking should take somewhere between 35-45 minutes.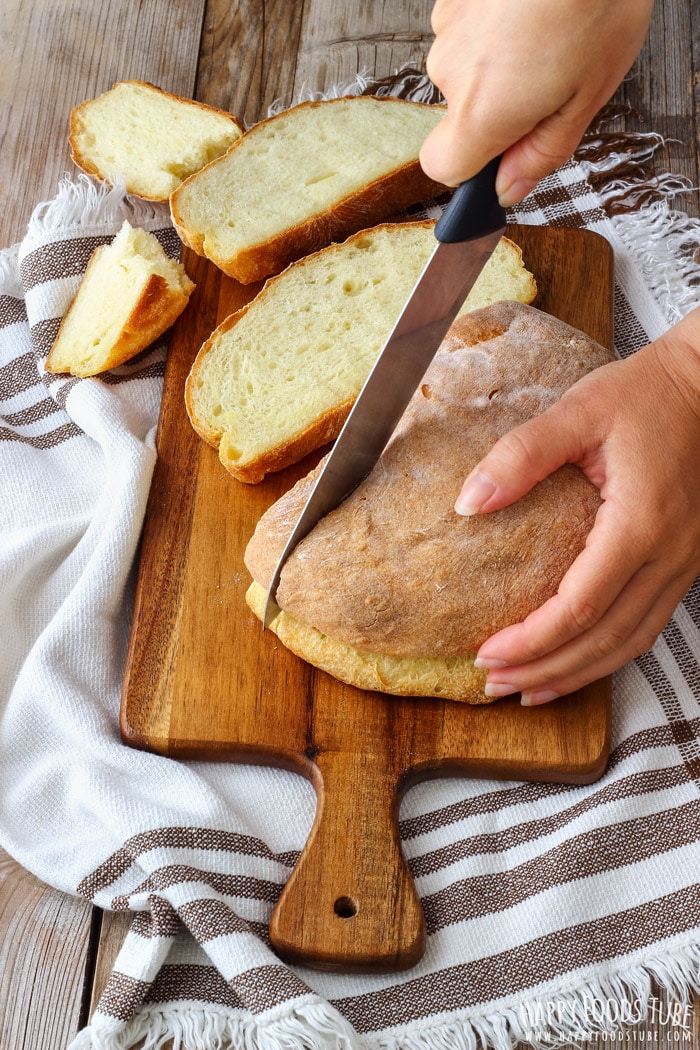 What do you eat potato bread with?
Guys, this homemade potato bread goes so well with soups and stews. Toast it and spread butter and jam over or make an open sandwich. There are endless possibilities, especially when you are a bread lover.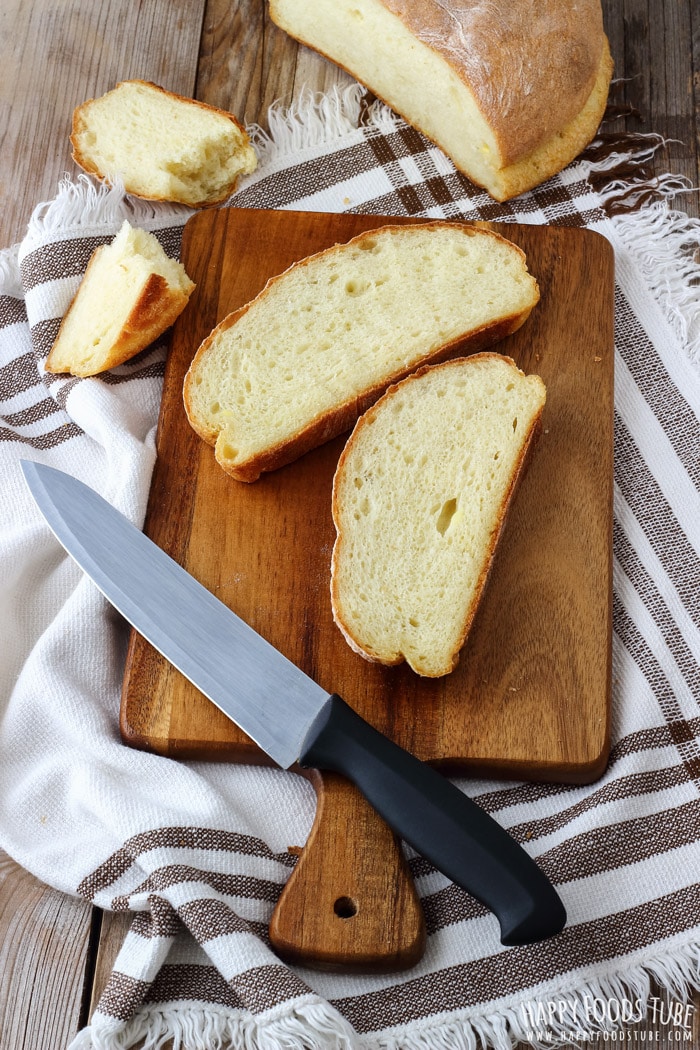 Is potato bread better for you than white bread?
Potato bread is better than white bread when it comes to the amount of nutrients it contains. It also contains more fiber and a good amount of potassium that helps lower our blood pressure. Also any homemade potato bread is better than the shop-bought one.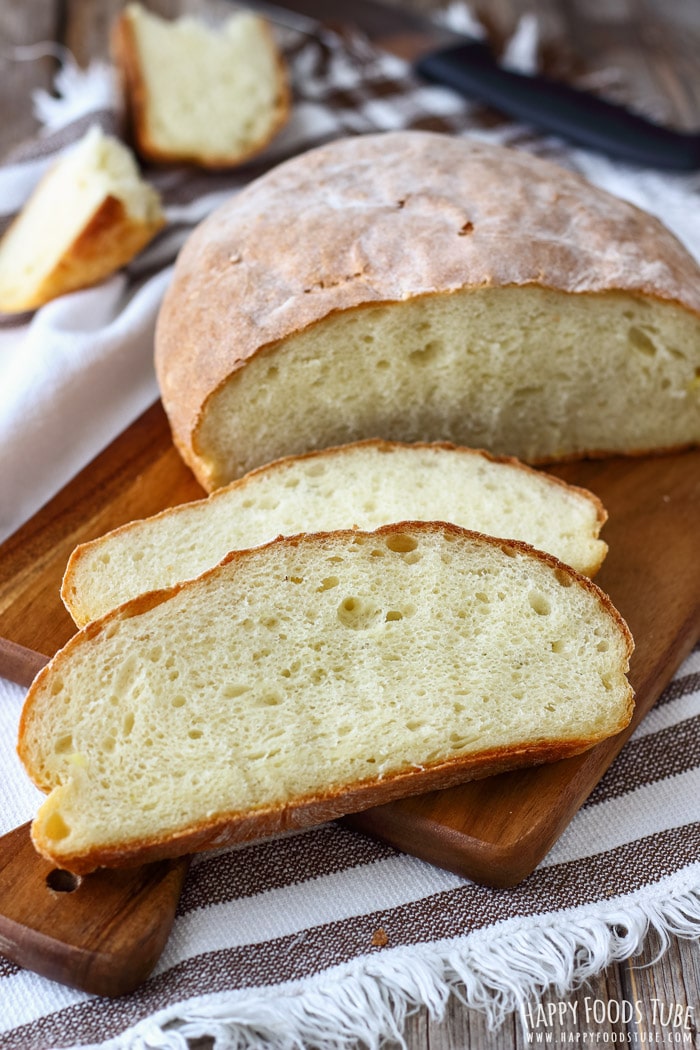 Good to know:
This can be made with or without a stand mixer. If you decide to go the old-fashioned way (I use this method more often than the mixer), then knead the dough for 5-7 minutes.
This easy homemade potato bread is so easy that work well with dried or fresh yeast (0.7 ounce/20 grams).
The hard crust will get soft when cooling down.
Adjust the amount of salt to your liking (I use Himalayan salt that is not as salty as ordinary one. But make sure not over-salt it).
This is a fool-proof recipe! No matter how it turns out it will always taste amazing! So don't worry if your bread looks a bit different (say flatter) because it will not affect its taste.
Guys, if you like bread, check out more Easy Homemade Bread Recipes!
Homemade Potato Bread
This homemade potato bread is light, fluffy and stays soft for several days. It's a foolproof bread recipe that contains no eggs, milk or butter.
Servings:
2
Small or 1 Large Loaf
Ingredients
⅓

cup

Water

1

tablespoon

Sugar

0.25

ounce

Dry Yeast

(7 grams)

3

cups

Strong Bread Flour

1½

teaspoon

Salt

2

cups

Mashed Potatoes

(about 1.7 pounds/800 grams raw potatoes)

2

teaspoons

Olive Oil

, optional
Instructions
Pour lukewarm water into small bowl and add sugar. Sprinkle the yeast over and stir with a spoon. Set aside for 5 minutes.

For stand mixers with dough attachment: Add flour and salt in the mixer bowl. Combine with a spatula. Add mashed potatoes and turn on the mixer for a minute. Add the yeast mixture and turn the mixer back on. Pour in the olive oil. Knead for 3 minutes or until well combined.

For hand kneading: Combine flour and salt (in a large bowl or on a work top). Add mashed potatoes. With your hands, combine these together until crumb like texture. Now add the yeast mixture and knead until you form dough. Knead for a further 5 minutes.

Cover with cling film and let it rise for 40-60 minutes. It should double in size (the length of proofing will depend on the temperature in your room so try to find the warmest place in your kitchen).

Once the dough is doubled in size, turn the oven on (430°F/220°C). Divide the dough into 2 equally looking parts and knead each by hand for several seconds. Shape them into loaves.

Place both loaves onto a baking tray (leave enough space between them) lined with baking paper and cover with clean kitchen towel. Let them rise while waiting for the oven to reach the above stated temperature.

Bake for 35 minutes or until the crust is hard, has nice brown color and if you knock on the bottom of each loaf you hear a hollow sound.

Let the bread cool down completely before slicing.
Notes
Storage – this bread keeps well for several days (up to 5-6 days) when stored in a bread bag or container.
Crust – the crust should be hard when you take the bread out from the oven but will soften when cooling down.
Yeast – Active dry yeast works just as good as fresh yeast. For fresh yeast follow the same instructions. 0.25 ounce/7 grams of active dry yeast can be substituted with 0.7 ounce/20 grams fresh yeast.
No eggs, milk or butter – this recipe does not contain any dairy products. However, you can use your leftover mashed potatoes where you might have already added some of the mentioned ingredients.
Salt – I used Himalayan salt to make this bread. This salt is not as salty as table salt so you might need to use less, if using table salt. However, your potato mash can also be seasoned so the best is just bake the first batch and adjust the amount for the next ones (if making in the future).
Nutrition Facts
Homemade Potato Bread
Amount Per Serving (100 g)
Calories 232
Calories from Fat 34
% Daily Value*
Fat 3.8g6%
Sodium 403mg18%
Potassium 195mg6%
Carbohydrates 42g14%
Protein 6g12%
Vitamin C 10.8mg13%
Calcium 9.8mg1%
Iron 0.5mg3%
* Percent Daily Values are based on a 2000 calorie diet.
** As an Amazon Associate I earn from qualifying purchases.
LEAVE A COMMENT
RELATED POSTS