A slice of freshly baked homemade potato bread is the best! Soft and fluffy on the inside with crust that softens once it cools down makes it perfect for kids as well.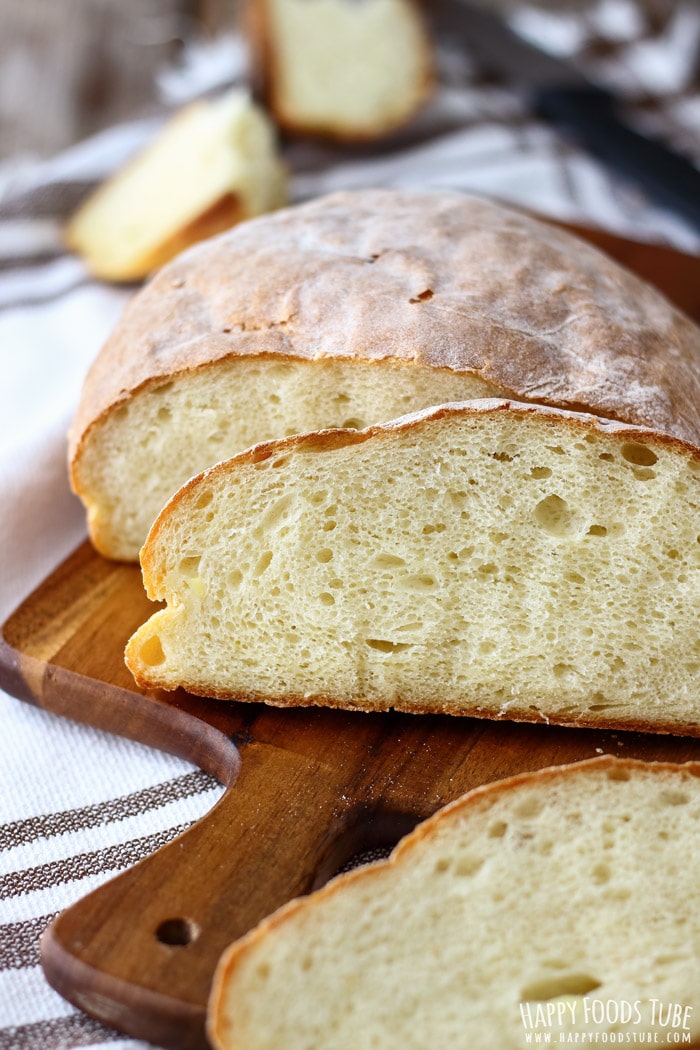 This is our favorite homemade bread recipe that we make often. It is a dairy-free bread recipe unless leftover mashed potatoes are used (more info below).
Stays soft for several days!
Serving ideas: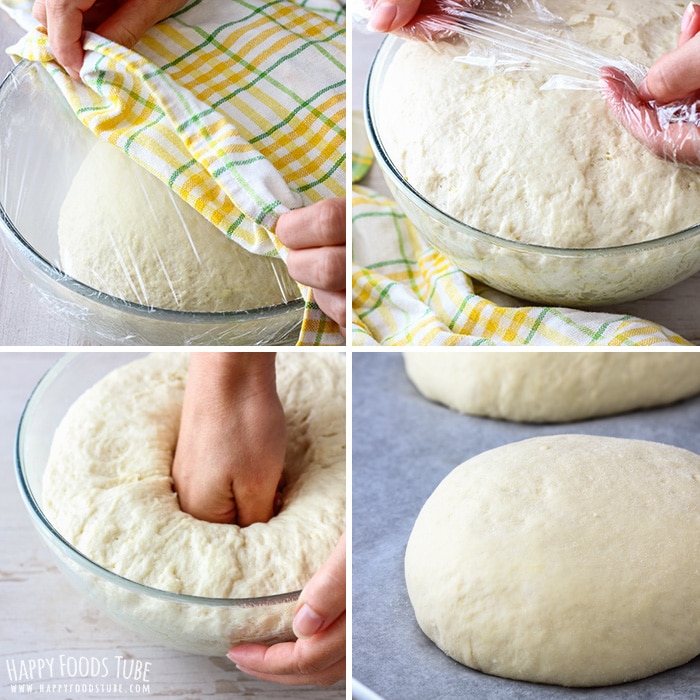 Potato bread frequently asked questions:
Is potato bread gluten-free?
No. This recipe is developed and tested with regular all-purpose flour.
How long does potato bread last?
This is one of the bread recipes that guarantee you a soft loaf after several days. In fact, if it is stored well, it can last up to 5 days.
How many calories in potato bread?
A slice contains about 106 calories. Please, take this number as a guide only as each slice can have a different thickness and size.
Is potato bread better for you than white bread?
Yes, it is when it comes to the amount of nutrients it contains. It also contains more fiber and a good amount of potassium that helps lower our blood pressure.
My loaf looks different than your photos. Why?
Please do not worry about this much. It can turn out airy or thicker on the inside (but still it will be soft), darker or lighter in color, the dough can feel softer or dense,… The difference can be caused by a different moisture level, hand or machine-kneading, quality of ingredients…

In general, no matter what it looks like it will come out great.

This is a very forgiving recipe, but there are things that can an occasional bread baker find challenging or start questioning. Below, I tried to explain it all in detail.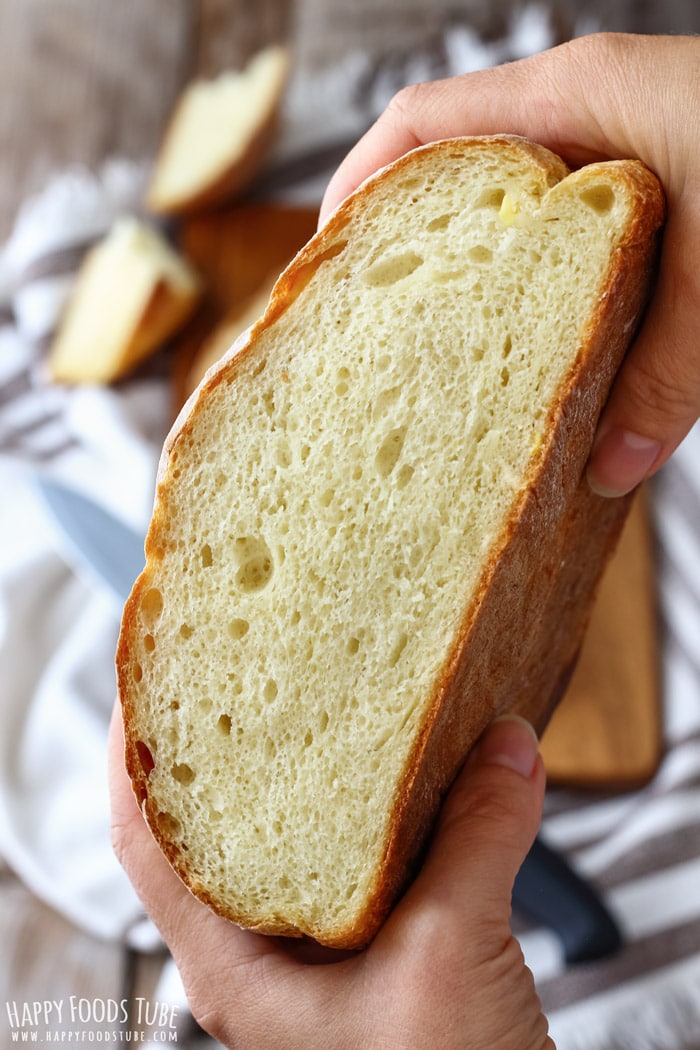 How to make potato bread
I have included a list of things to help you make the best potato bread. These are the things I have learned over the time making this bread:
Hand-kneading vs machine-kneading
I have made this homemade bread by hand, in a Kitchen Aid mixer as well as food processor with dough attachment.
I learned that my powerful food processor needed only a few seconds to form a dough. When left longer on (unattended) it was unworkable as it would turn too soft to work with.
The stand mixer needed a longer time and more water for kneading on a low setting (2-4). Now, with the water here, it is important not to add too much as the bread dough will come together eventually, and if too much liquid was added this will result in a very soft dough… When kneading it, you will need to add more flour to the surface to keep it from sticking.
Hand kneading should take about 5-7 minutes and it always gives me the best-looking dough before proofing. It does not change how the bread tastes though.
How much water to add?
Flour, potatoes and the environment you live in all contain some moisture (some more, some less). This affects the amount of liquid (in our case water) we need to add to the dough.
Because for every person this is different, it is almost impossible to say the right quantity.
However, this potato bread recipe calls for 1/3 cup water. This is the minimum that works well. More liquid should only be added after you let the dough knead in your mixer for several minutes. If it does not come together, add a splash (a tablespoon) and mix again.
Kneading by hand or using a food processor does not seem to require any additional liquid.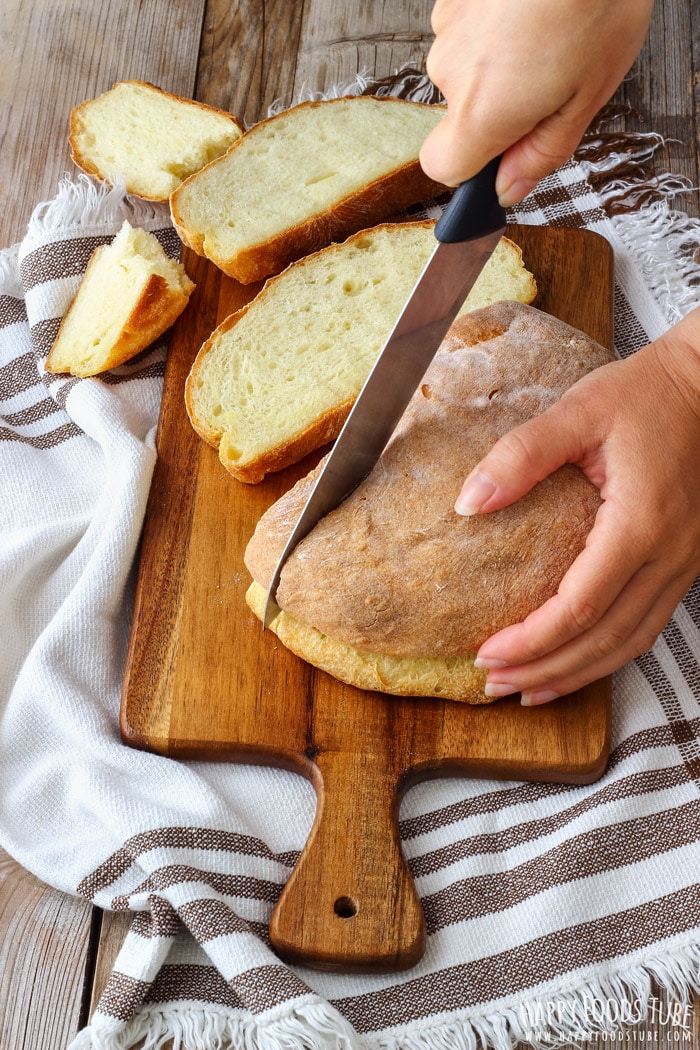 Loaf size
My original potato bread recipe stated that you could form the dough into 2 small loaves instead of having 1 large. You can still do it, but I recommend baking them at a slightly lower temperature.
This homemade potato bread is an old post that has been recently updated with more detailed instructions and useful tips.
Using leftover mashed potatoes
You can use leftover mashed potatoes to make this homemade bread, but here are a few things to remember:
If your mashed potatoes are well seasoned, it's better to reduce the quantity of salt in the recipe. If they are thin/too liquidy, you might need to reduce the quantity of liquid in the recipe.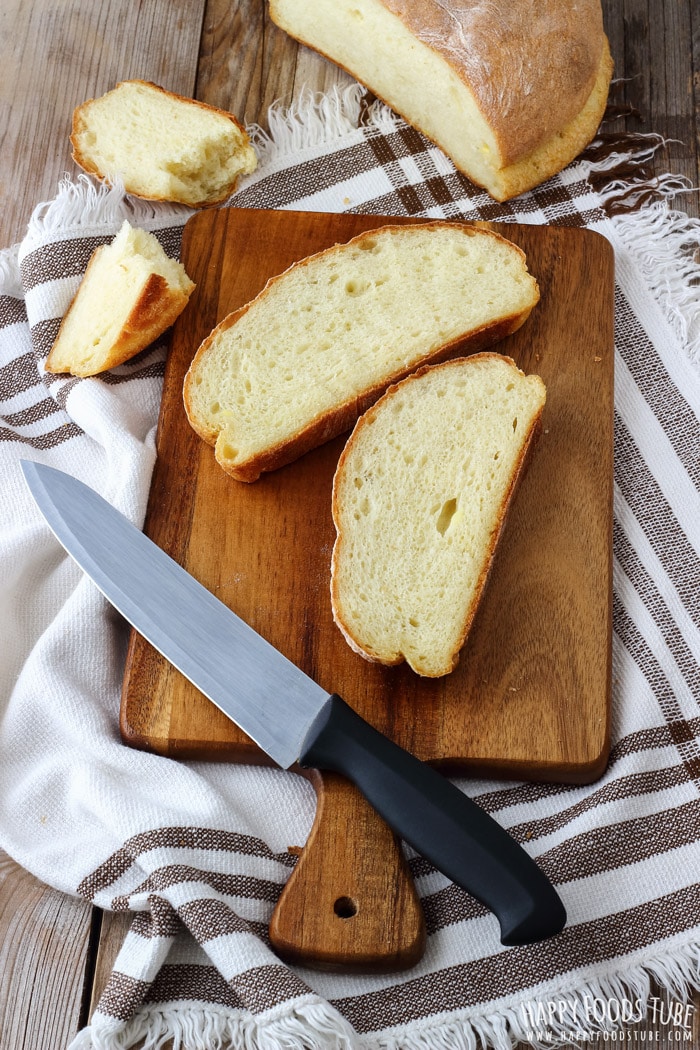 Baking time and temperature
After taking into account readers comments I reduced the original cooking time to 400 Fahrenheit (200 Celsius).
I have a smaller oven, so I bake on the bottom rack. The crust becomes dark brown after about 20 minutes so if you prefer a paler color, reduce the temperature slightly after 20 minutes.
Every oven is different so the baking time may vary. Your bread is ready when the crust is hard to touch, it sounds hollow when you knock on it and the bottom is browned.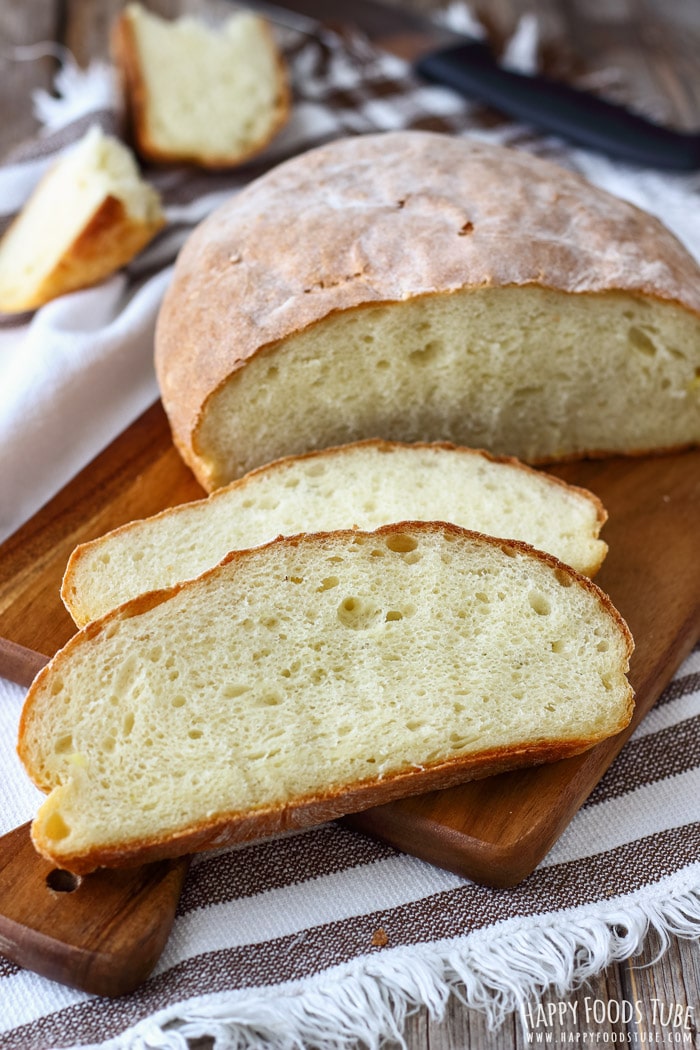 Extra tips:
Storing bread: Make sure the loaf is completely cooled down before you store it in a bread tin or cover it in a clean dry kitchen towel – fabric, not the paper kind. A wet towel or humid environment can reduce its shelf life and mold can form inside (I have been making this homemade bread for years. Only once I experienced mold after being left on the kitchen counter for 4 days. The humidity levels in our house reached 70%).
This potato bread recipe works well with instant yeast, active dry yeast as well as fresh yeast.
The hard crust will get soft once cooled down.
A few more bread recipes you might like to try:
Flatbread – again, made with mashed sweet potatoes, this flatbread is easy and our readers love it!
Homemade Potato Bread
A slice of freshly baked homemade potato bread is the best! Soft and fluffy on the inside with crust that softens once it cools down makes it perfect for kids as well.
Servings:
1
large loaf (or 2 small loaves)
Ingredients
3

cups

strong bread flour

, spooned & leveled, see note 1 (420 grams)

1

tablespoon

granulated sugar

1½

teaspoons

salt

, see note 2

2¼

teaspoons

instant yeast

, see note 3 (7 grams)

2

cups

mashed potatoes

, see note 4

1

tablespoon

olive oil

, see note 5 (optional)

⅓

cup

lukewarm water

, see note 6 (70-80 milliliters)
Instructions
For stand mixer with hook attachment: In a bowl of your stand mixer, add flour, sugar, salt and yeast. Mix well with a wooden spoon. Add mashed potatoes and turn on the mixer for a minute. Slowly, pour in water and oil. Knead for about 3-4 minutes, or until well combined.

For hand-kneading: In a large bowl, combine flour, sugar, salt and yeast. Mix well. Add mashed potatoes. With your hands, combine everything together, until you get crumb-like texture. Add water and oil and form into a dough. Transfer the dough onto a clean, lightly-floured work top and knead for 5-7 minutes. Spray the same bowl with some oil and place the dough back in (no need to wash it).

For both: Cover the bowl with a plastic foil and a clean kitchen towel. Transfer it to the warmest place in your house and let it rise (proof) until doubled in size, about 60 minutes (see note 7).

When ready, transfer the dough onto a well-floured work top and knead several times to get a smooth loaf. Shape the loaf into a long sausage.

Place it onto a baking tray lined with baking parchment. Make several cuts with a knife on top and sprinkle with flour. Cover with a clean kitchen towel and let it rise for about 20 minutes. At the same time, turn on the oven and preheat it to 400 Fahrenheit (200 Celsius).

Bake for 35 minutes or until the crust is hard, has nice brown color and if you knock on the bottom of the loaf you hear a hollow sound.

Cool down before slicing.
Notes
Strong flour can be substituted with all-purpose (plain flour) without a problem.
Salt – I used classic table salt. If using leftover mashed potatoes, you might need to reduce the salt as the mash is more likely already well-seasoned.
Yeast – Active dry yeast can also be used and so can fresh yeast. Both should be activated in water (use the 1/3 cup + sugar). You will need 2¼ teaspoons of active dry yeast or with 0.7-ounce/20-grams fresh yeast.
Potatoes – 2 cups are about 1.5-pounds (700-grams) of potatoes (uncooked). Use any you have on hand. You can also use less than 2 cups (i.e. 1.5 cups, but slightly more liquid will be needed). Always add a little at a time, like a tablespoon of water. Then mix and add more only if needed.
If you omit olive oil, add an extra tablespoon of water.
You may or may not need to add slightly more water to the dough. This is because the moisture in the flour, potatoes, and area you live in can vary. At first, it may look to you that the dough is dry and way more water is needed. Be careful, and wait a bit until the kitchen mixer mixes the dough for a while before you decide to add some more. The potatoes should make the dough very pliable, in fact, with 1/3 cup of water, it will be quite sticky.
The proofing time can vary depending on how warm your house is. In general, count with 60 minutes, but it can take from 40 (extremely warm places) up to 90 minutes (cold places – especially in winter).
Storage – this potato bread keeps well for several days (up to 5 days) when stored in a bread bag or container. Make sure to let it cool down completely before storing!
Crust – the crust should be hard when you take the bread out from the oven but will soften when cooling down.
No eggs, milk, or butter – this recipe does not contain any dairy products. However, you can use your leftover mashed potatoes where you might have already added some of the mentioned ingredients.
To troubleshoot or if in doubt, please read the detailed post above this recipe card.
Nutrition Facts
Homemade Potato Bread
Amount per Serving
% Daily Value*
* Percent Daily Values are based on a 2000 calorie diet.
** As an Amazon Associate I earn from qualifying purchases.
LEAVE A COMMENT
You may also like: