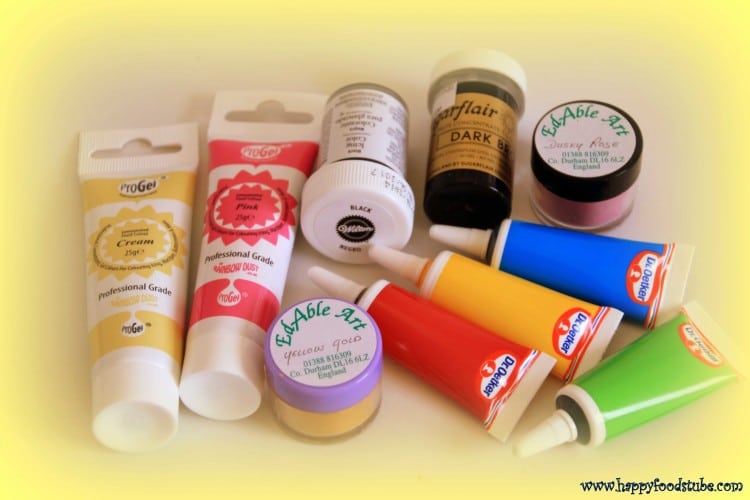 There are 3 types of food colors:
Liquid Food Colors
These are sold in every larger supermarket and are reasonably priced. I would use them for coloring icing or batter. When coloring my first fondant cakes I used liquid colors only because of their price and availability. Bear in mind that you might not get the shade you are looking for, especially when you need dark shades. Also the more color you add the soggier the fondant gets and towards the end it will not have the consistency you want it to have. Also be careful with this type of coloring and use gloves, if possible as I find it very hard to get rid of the color! By the way, the worst color to get right is the BLACK one. You need to use a lot of it to get really black color & you will spend a lot of time incorporating the color into the fondant. Also your fondant will end up really soggy so I do not recommend using black liquid color to dye your fondant. However, if you need a shade of grey – then go for it!
Conclusion:
An OK coloring for icing, batter, not that good for fondant
When coloring fondant – Red coloring will give you nice shade of pink, black will give you grey, dark blue will give you light blue
Avoid using too much of the coloring (The more liquid coloring you add, the soggier, softer the fondant gets)
Gel Food Colors
These colors are usually sold in special shops selling bakery products/tools/equipment. They are more expensive than liquid colors but way more suitable to color fondant. Also the final result will be much better. Add small amount first, knead & decide what shade you want to get. If darker, keep adding the coloring in small amounts until you are happy with the outcome. They are easy to use, store and you can't end up spilling them accidentally. There are a few brands out there so just find the ones you like!
Conclusion:
The best choice for coloring fondant
Easy to use & store
Powder Food Colors
Also this type of food colors is mostly sold in specialty shops. They are the best when it comes to storing them. You can use them to color fondant or mix with a bit of alcohol and apply the color with a paintbrush on the desired fondant area.
Conclusion:
A very good option for coloring fondant
Easy to use & store
Versatile use
And then there are NATURAL FOOD COLORS which are made from natural & plant sources such as beet, turmeric, carrot, saffron, cocoa, squid ink, spinach, etc. I have heard about these but never ever tried. You can make your own food colors at home. That would be the best way to color any food products. No artificial additives. I think it would be great for coloring icing or batter. However, I don't know if it works with fondant as well. So if anyone has some experience with Natural Food Colors let me know!