These 5 household items are your quick guide to efficient food photography! Save precious time and get yourself organized when taking food photos!
Guys! I don't know about you but sometimes when I take pictures of my dishes I feel like it takes me FOREVER! Why, you wonder? Well, sometimes it is the set up that doesn't work for me, sometimes it is the dish that doesn't look on camera as I expected and sometimes I just can't figure out what to do to make a photo look good!

So obviously I need to take more time. More time to think, more time to re-style and re-shoot.
But spending too much time preparing, styling and thinking takes its toll! Especially in food photography! I am sure many of you have experienced that most dishes go dry, salads wilt, soups can change consistency, ice creams melt…
So we know that food photography is quite challenging when it comes to time! It requires us to be pretty fast and efficient in order to get mouth-watering photos!
But how to be efficient in food photography?
Look at the meaning of the word EFFICIENT:
(of a system or machine) achieving maximum productivity with minimum wasted effort or expense.
(of a person) working in a well-organized and competent way.
I like merging those 2 definitions into one sentence:  working in a well-organized and competent way while achieving maximum productivity with minimum wasted effort or expense.
I like this definition and more importantly I like being efficient. And that is why I have these simple tips for bloggers who are at the beginning of this photography journey or those who struggle (like I did) to organize their time.
So I am going to share with you some basic food photography tips that help you being more efficient as well as a few household items that could also be called behind-the-scene-type-of-items – the invisible helpers that do great job!
Efficient food photography tip:
Keep all these items on hand – get them ready before you start shooting, the same way as you get your props ready! It will save you a lot of time – nothing is worse than running up and down the stairs to get this and that – this is a lot of time wasted!
5 household items for efficient food photography:
1. Q-tips
Q-tips are handy for getting rid of unwanted food marks or for cleaning soup bowls. They get to places where kitchen paper towels don't get! They make your life easier!
2. Paper kitchen towels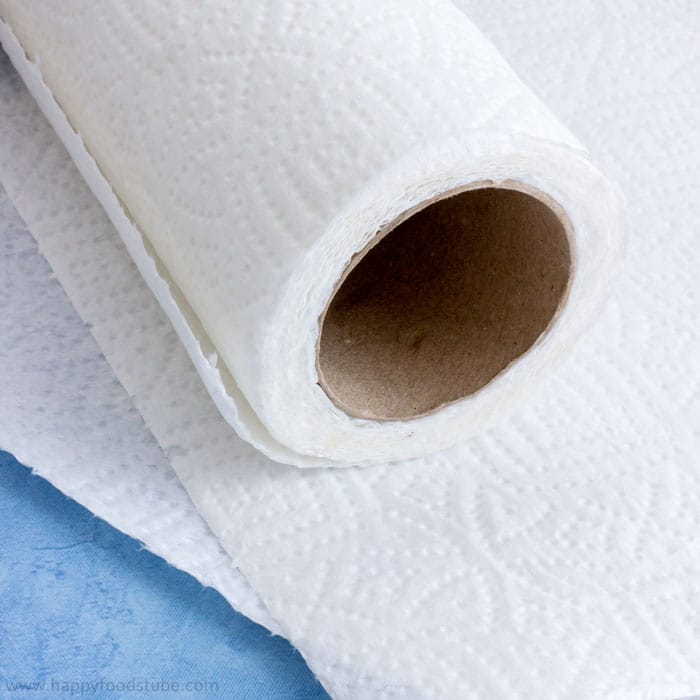 As much as I prefer using textile kitchen towels, for food photography paper ones are a must! Well, if not a must they are pretty handy! Wet hands, dirty table top, oily plates they have got it all covered! If you need to wipe something fast, they are your best friends! They are great for cleaning large areas where Q-tips won't help you much. I also use stick them under my uneven wooden planks to stop them from wobbling/moving.
3. Pegs
You might be wondering why pegs but these are an ideal help for holding things together. I mostly use it when I need to diffuse the light coming through our bedroom window. We have a light voile curtain but it is not enough. What I do is I simply take a white bed sheet and secure it to the voile curtain using pegs. The simplest thing ever! Saves me a lot of time – no need for climbing a chair and somehow securing the sheet so it holds until I finish the shots!
4. Apron with a pocket
Yes! Apron with a pocket is my favorite food photography time-saver! It helps me A LOT when taking food photos. Why? Well, I carry remote control, paper kitchen towels, pegs, a pen (sometimes), Q-tips, and anything I need for the shot! I also use it for wiping my wet or (sometimes) dirty and many times sticky hands. Especially when I ran out of paper kitchen towels! So yeah, this is my best time-saving item I have been using so far! No need for the constant (yup, constant) missing of the remote control coz I can't find it among all those pots and pans and bowls that literally cover every single empty space of our tiny kitchen.  Everything is on hand and I just grab what I need! This is definitely the best item for efficient food photography!
5. A bowl of water
I know this might be a bit weird for you but if you don't take pictures in your kitchen then you might have already been in a situation where you need to wash your hands because you just tried to plate your dish with your hands or needed to restyle something. Sometimes, especially when working with chocolate or ice cream I need to wash my hands like million times simply because I move, touch, take away, put back something sticky, wet, oily… Running to the bathroom/kitchen every single time is a night mare! Keep a bowl of water next to you and rinse your fingers + use the apron to dry them!
So these are the items I find really helpful in food photography. They are simple to find (I bet you own most of them if not all) and simple to use. They definitely are mine food photography time-savers!
And what are yours? Do you have any? Let me know what they are!