This is your ultimate guide to food photography props with tips, tricks & money saving ideas! Find out how to save money when looking for food props!
Guys, guys, guys! On my food photography journey (even though it's pretty short) I have seen many beautiful photos taken by amazingly talented people – bloggers and photographers. These pictures have been my inspiration and I love looking at them whenever I am stuck for ideas or simply when I feel like it!

What I love about food photography is the art of using the right props in order for the picture (and the food) to stand out and tell its story.
Sometimes I find myself thinking that one day – when my prop budget will (rapidly) increase from like 5 euro a month to… say…100 euro a month then I will buy all the beautiful pieces of cutlery, plates, cups, glasses, mugs, napkins, bowls ( … oops I got a bit carried away there) and I will use them especially  for food photography! I can't help myself I love them all! And I want them all!
The question is: Do I need them?
The answer is pretty simple: NO!
Now because I have a very tight budget I think twice (sometimes 3 or 4 times) before I buy a new prop! But let me tell you it was not like that at the beginning! I have a decent collection of various props…that I haven't even used yet!!!! What a waste of money!
So here is my biggest advice:
If you are starting a food blog or want to learn food photography I really recommend you try to use what you have at home before going out buying stuff. There are so many items around your house that could be used as props:
Bottles
Napkins, tablecloths
Glass Jars from jams, pickles, honey, yogurt
Placemat
Cake tins, cookie cutters
Question: Where to find food photography props aside from your house?
Answer:
Family, friends, neighbors
Antique shops
Flea markets
Second hand shops
Household shops
Beach – drift wood, shells
Souvenir shops – some of them are stock with amazing pieces and if you are after unique items you might want to have a look in one of these shops next time you are holidays
TIPS for buying props for food photography:
Think before you buy! (Don't just go to shop without a vision! Try to figure out what you need beforehand. This way you will save a lot of money!!!)
Don't buy everything you see (believe me I know what I am talking about)
Buy small plates, bowls, glasses (This was one of the first lessons I learned – of course the hard way – we bought really nice plates that were not cheap at all. We used them maybe twice!!! They are too big to photograph and also you need a lot of food to fill one plate! Have a look at this Zucchini Soup picture using small white ramekins instead of large bowls!)
White is the best color – you can't go wrong with white plates, bowls (Shepherds Pie) or cups!
I thought (we both thought) that various food photography props will make our pictures look better. Now we know it's not quite like that. When we started being serious about photographing food we would try use the props we had previously bought for this purpose. Well, we ended up replacing these with props that we found around the house instead. Do you know why? Not everything that looks cool in the shop or on the Internet automatically looks great on the picture.
It had taken quite a while and (quite a lot of money) to come to the conclusion that we (or at this point I) need to stop buying food photography props! We needed to start shooting pictures using simple and available props!
So I started using ingredients as props! To be honest they are the best props to begin with! Look at this picture of my Rustic Pear Frangipane Tart. I used only pears and almonds as my food photography props. I kept it simple and I like the shot. It didn't need any additional prop to make it better. What do you think?
Question: What if I don't have any props at home?
Answer: I am sure you do! But if for some reason you are not happy with those then ask your friends, family, neighbors if they could lend/give you some. (I got this old enamel milk mug (No Churn Chocolate Cherry Ice Cream) from my grandmother and I have one more from my mum. They both didn't understand why I needed exactly those old, ugly looking ones, with paint gone from some places. I love them!)
Question: What are the cheapest food photography props to use?
Answer: The cheapest props to use are those ones that you have available at home. Also any ingredients that go in the recipe you are about to shoot. When buying the ingredients, buy some extras so you could use them as props.
And what is the most used prop I use when photographing food for our blog?
Well, I went through quite a few pictures of mine and realized it was … baking paper!!! I used it in Dark Chocolate Rocky Road picture, Garlic Soldiers picture, Focaccia, Plum Tart with Ricotta & Greek Yogurt and  many many more! I wouldn't have guessed it myself! Of all those cool looking plates, bowls and other bits & pieces I have gathered so far, I have been using baking paper the most! A pretty simple prop that changes your somehow boring photos to great shots! Isn't it ironic?
Happy blogging & food photography props "hunting" from HappyFoods Tube!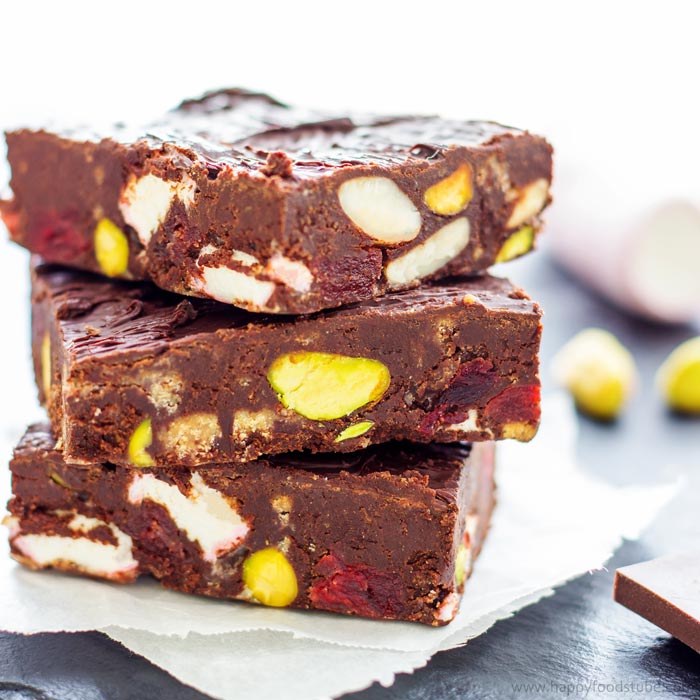 P.S.
I am no pro when it comes to food photography and I still have a long way to go but I have been learning (mostly from my own mistakes) what works and what doesn't and also what is and is not that important. Like I've mentioned I love food props and I could talk about them all day long! This is also the reason for this post!
I hope this post will inspire or help some of you to save some money by not buying all the food photography props that are out there! Put the money aside. You might be surprised how much you could save. And remember – think twice before buying!
Let me know what props you use most and where did you get them from!