The tastiest brioche bread pudding made with French sweet bread, raisins and chocolate chips and served with plenty of bread pudding sauce. Pro tips, substitutes and add-ons are included.
This is a simple bread pudding recipe with brioche best enjoyed for breakfast or dessert.
Brioche bread pudding is the perfect recipe for a leftover brioche. Easily customizable and very easy to make!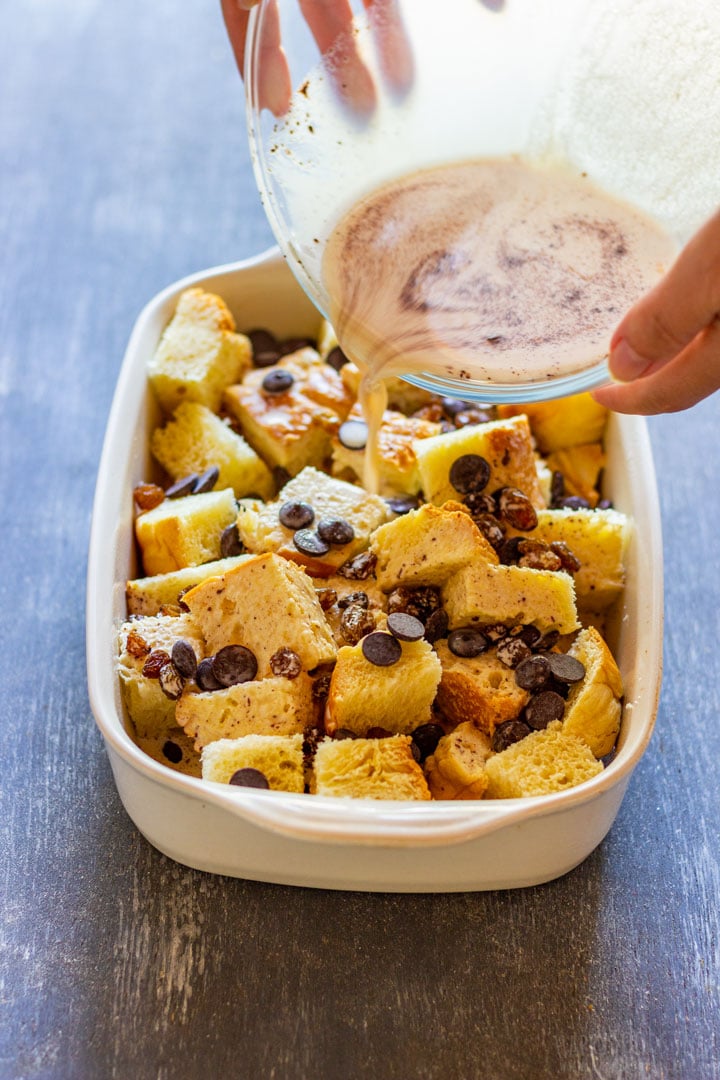 How to make bread pudding with brioche?
Prep brioche for baking by slicing it into chunks, about 1-inch wide. Transfer them into an oven-proof dish greased with butter or oil. Add raisins and chocolate chips and pour over custard mixture which is a combination of eggs, milk, cream, sugar, and spices.
The brioche bread pudding will expand (puff up) once the custard mixture is set which is the best indicator to know that it is ready. Baking time may vary. This will depend on your oven, on the size of your dish on what rack the brioche bread pudding is cooked on.
For better understanding: In a smaller dish, the bread pudding will more likely be crumped together, so it will need more time in the oven.
On a top rack, the brioche bread pudding will brown faster than on the bottom one, but it does not mean it will be cooked through.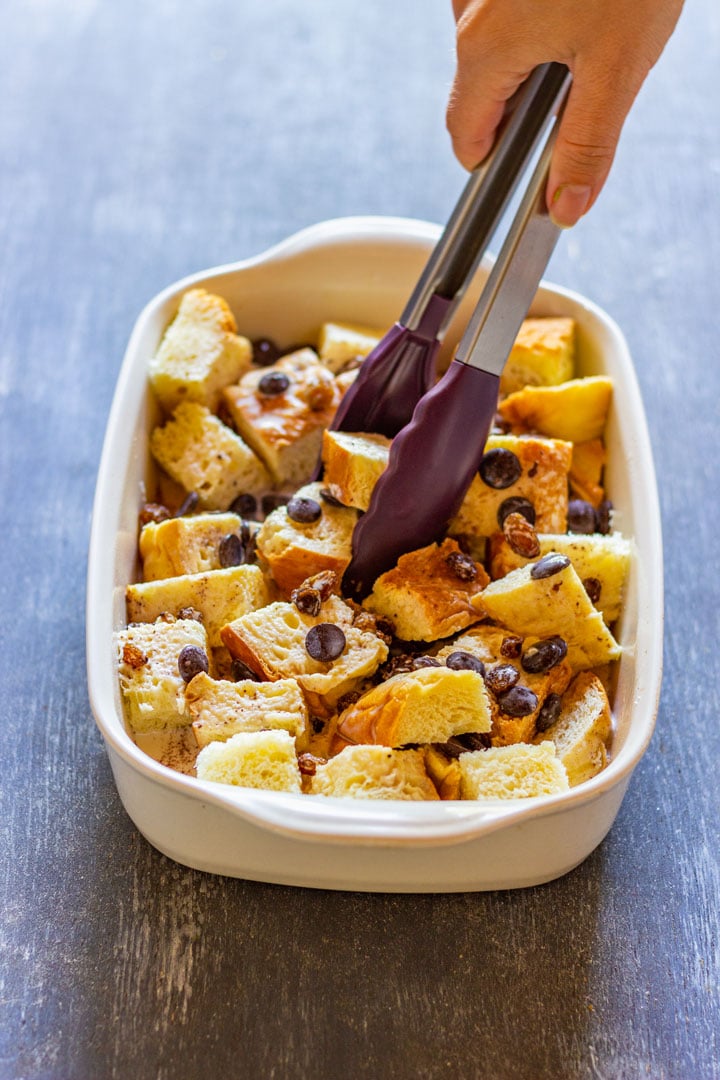 What is a good substitute for brioche bread?
The best substitutes for brioche are challah or Hawaiian sweet bread. Both are sweet and have a similar texture to brioche bread, which makes them the best options.
You can also use panettone or a combination of these (perhaps you have some ends or leftovers on hand so using those to make brioche bread pudding would work well).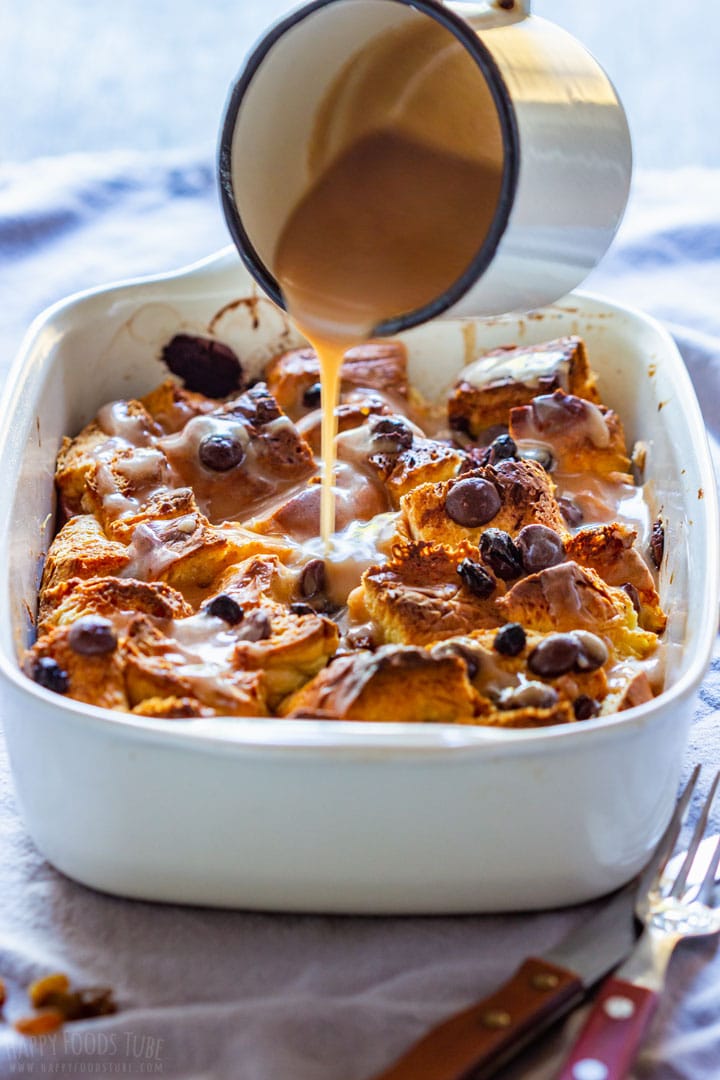 Tasty bread pudding add-ons:
Pecans – either whole or roughly chopped.
Sliced banana served on top or alongside bread pudding makes this breakfast more filling which means you should be able to feed more people from one batch.
Fresh blueberries – use them as a topping after brioche bread pudding is being cooked or add them in before cooking.
Possible substitutions:
Blueberry sauce instead of cinnamon sauce (or together).
White sugar – brown sugar is a great option.
Dried cranberries are an excellent substitution to raisins.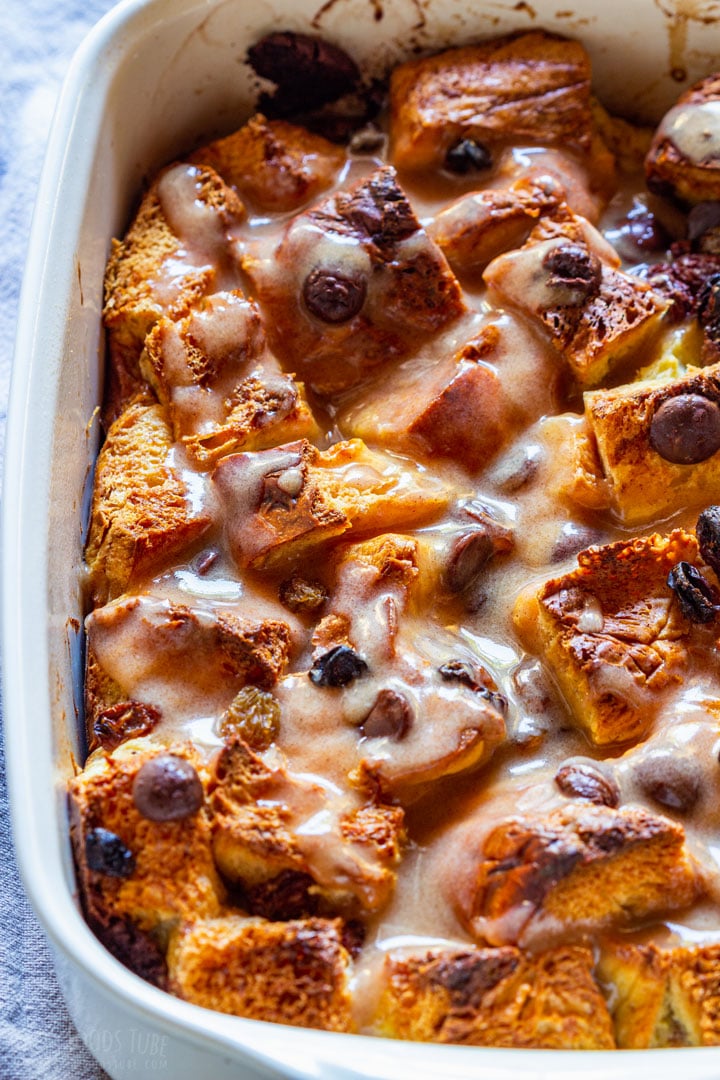 Pro tips for making brioche bread pudding
Brioche bread is sweet as is, so the bread pudding needs only a little sugar to sweeten it. Also, the cinnamon sauce is rich and complements the pudding well and adds more sweetness to brioche bread pudding. Simply pour it over before slicing (or afterwards). When serving this without any sweet topping, more sugar can be added to the custard mixture.
It's good to push the dried fruit down. That way it will stay juicy and won't dry out.
Note that brioche bread pudding will start shrinking once taken out from the oven and cooling.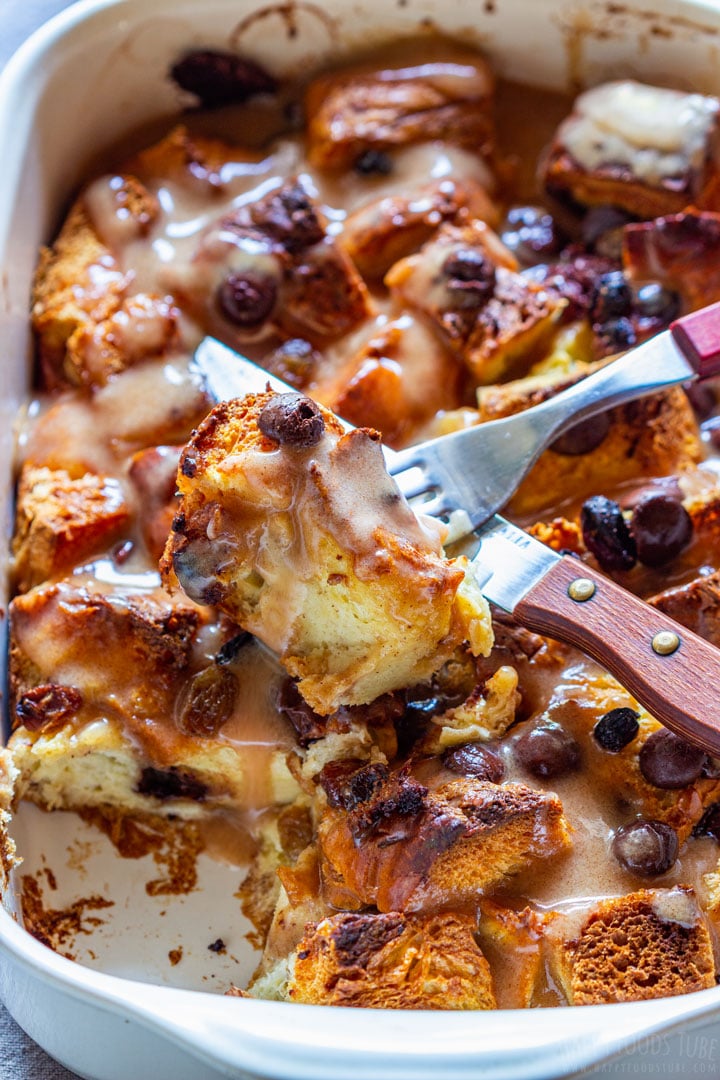 Other sweet breakfast recipes for you to try:
They are all perfect for lazy Sunday breakfast or sweet brunch and serving them with a cup of hot chocolate just makes it an extra special way to start a day.
Brioche Bread Pudding
The tastiest brioche bread pudding made with French sweet bread, raisins and chocolate chips and served with plenty of bread pudding sauce.
Ingredients
For the brioche bread pudding:
½

pound

brioche bread

, a day (or two) old, see note 1

¼

cup

chocolate chips

¼

cup

raisins

, see note 2

3

medium

eggs

, see note 3

2

tablespoons

sugar

¼

cup

milk

(60 milliliters)

½

cup

heavy cream

(120 milliliters)

½

teaspoon

cinnamon

a pinch of

nutmeg

or ground cloves, see note 4
Instructions
Brioche bread pudding: Preheat oven to 350 Fahrenheit (175 Celsius).

Meanwhile: Grease a 9×7-inch (24×19-centimeter) oven dish with butter (or spray with oil). Cut brioche bread into chunks (about an inch/2.5-centimeter thick) and transfer into the oven dish. Add chocolate chips and raisins.

In a bowl (or jug), whisk together eggs, sugar, milk, heavy cream, cinnamon and nutmeg. Pour this mixture over the brioche pieces. To make sure every single one is covered in the liquid, use kitchen tongs (or a spoon) to move the bread around. Also, push the raisins down so they won't get burnt during cooking.

Bake in a preheated oven for 30 minutes or until the egg mixture is set and nicely puffed.

Cinnamon sauce: In a saucepan, melt the butter (on low heat). Add cinnamon, honey, and lemon juice. Stir until smooth. Pour in heavy cream and increase the heat to medium-high. Stir until you bring it to a boil. Reduce the heat to low and cook for a minute before turning the heat off. Note: If you find the sauce too thin, thicken it with cornstarch slurry (1 teaspoon of cornstarch dissolved in 1-2 teaspoons water). You will need to bring it to a boil again in order for the sauce to thicken.

Pour the warm sauce over your baked bread pudding and serve.

Best enjoyed warm!
Notes
½ pound (225 grams) = ½ loaf.
Raisins can be substituted with cranberries.
Large eggs will also work.
You can add more spices if you like. Just note cloves and nutmeg are quite strong so a little goes a long way.
I needed ½ medium lemon to get 2 tablespoons out of it. This can vary depending on lemons.
This brioche bread pudding recipe can be easily doubled, tripled…
If in doubt or looking for more tips, serving suggestions and add-on ideas, please read the full post above this recipe card.
Nutrition Facts
Brioche Bread Pudding
Amount per Serving
% Daily Value*
* Percent Daily Values are based on a 2000 calorie diet.
** As an Amazon Associate I earn from qualifying purchases.
LEAVE A COMMENT