This 3-ingredient slow cooker hot chocolate is the perfect drink for a crowd. Make it ahead and keep it on the warm setting until you are ready to serve!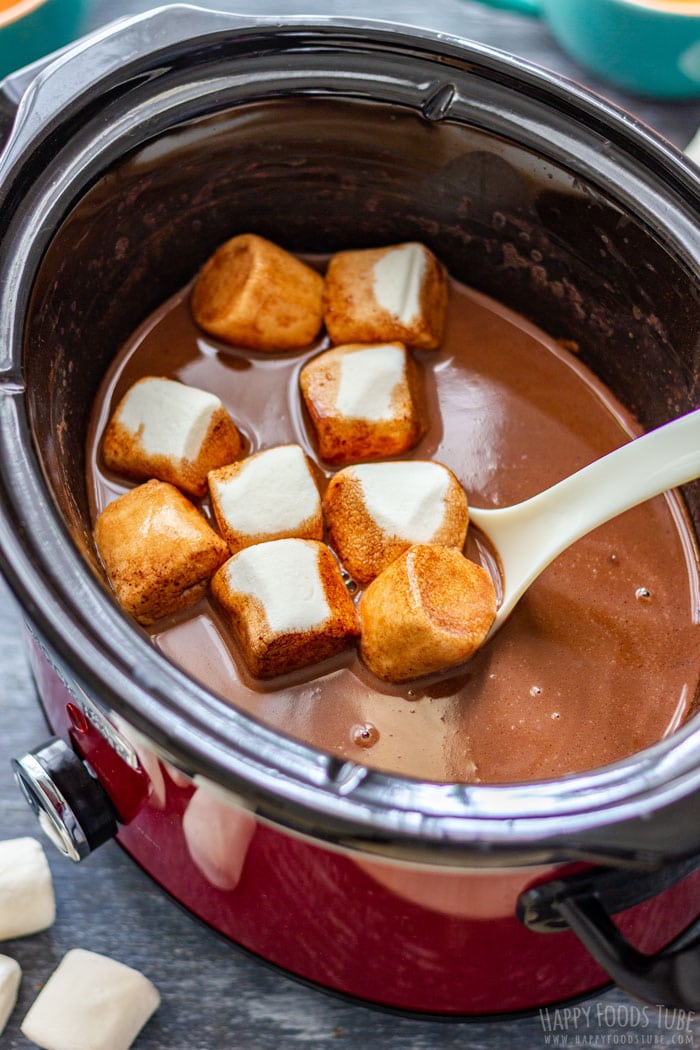 If you are planning on having visitors or just feel like enjoying a cup of hot chocolate after dinner with your family, this slow cooker hot chocolate is the perfect way to end a day.
Throw all the ingredients in the slow cooker and come back later for a perfect cup of hot chocolate.
I made this slow-cooker hot chocolate using only 3 ingredients. There is no need to add sweetened condensed milk nor heavy cream to my hot chocolate recipe. Chocolate chips and cocoa add enough flavor, sweetness and creaminess to this slow cooker hot chocolate without having to add extra calories to this delicious drink.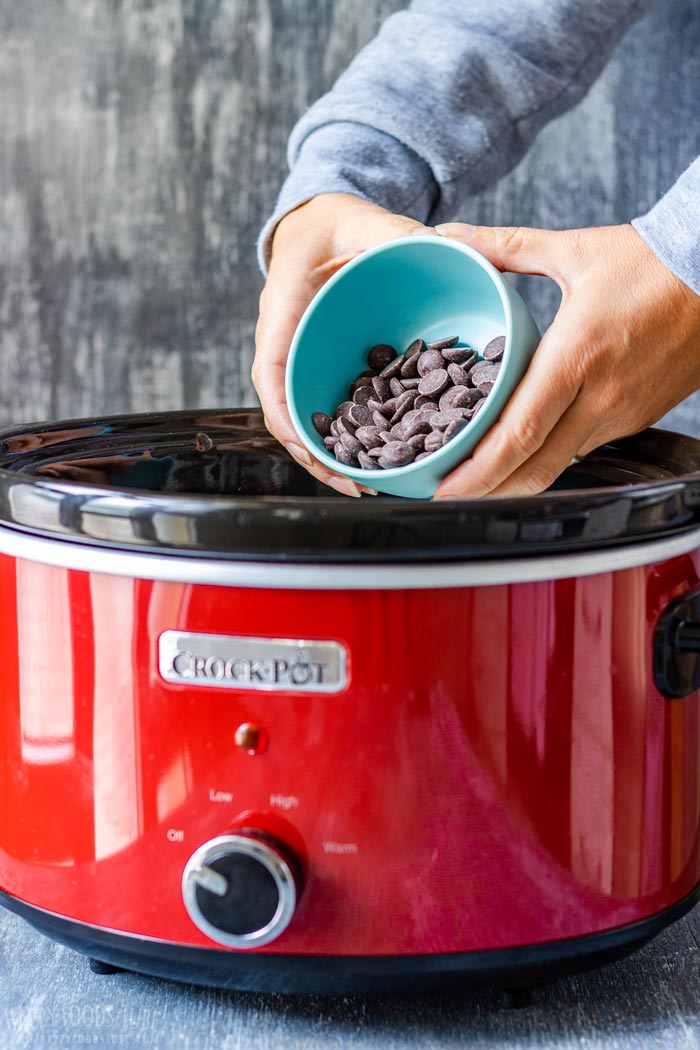 How to make hot chocolate in slow cooker
Turn the slow cooker on low and pour in milk. Add chocolate chips/callets and unsweetened cocoa powder. Mix everything well until the cocoa has dissolved in the milk.
Cover with a lid and let it cook for 1.5 hours. I like to mix it about an hour into cooking. It helps the chocolate chips melt evenly.
If you don't want to serve this homemade hot chocolate right away, then set it on KEEP WARM until you are ready.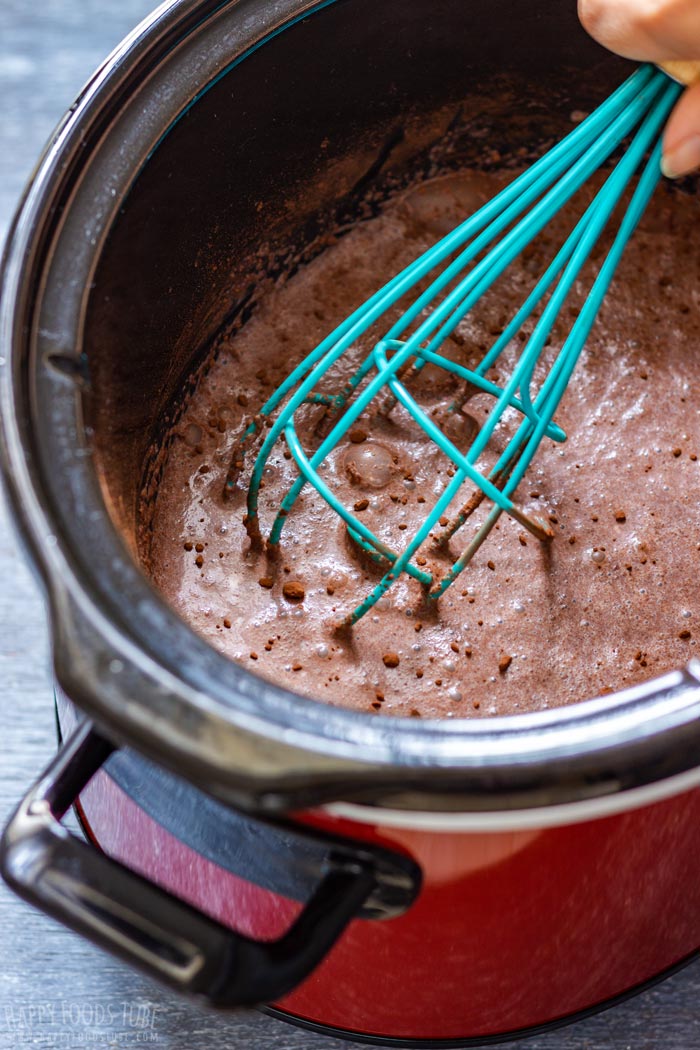 Tips for making slow cooker hot chocolate:
Milk – you can use any milk you like. Milk drinks will also work well, if you like them.
I used Belgian chocolate callets (this is my favorite brand: Callebaut, but you can use semi-sweet chocolate chips or finely chopped dark chocolate instead.
This recipe can be easily doubled, tripled, etc. You can also change the amount of each ingredient, if you prefer it sweeter, more chocolate-y.
Add some cinnamon or ground cloves to make it a festive drink!
What are good toppings for hot chocolate?
There is no right or wrong when it comes to toppings for a cup of hot chocolate. Use what you/your family/friends like.
Here are some ideas for you:
Marshmallows
Crushed or whole candy cane
Whipped cream + Gingerbread syrup or chocolate shavings
Caramel sauce
Coarse sea salt
Finely chopped almonds (if you have vegan friends, they would surely appreciate this hot cocoa with almond milk
Adults will surely appreciate a cup of spiked hot chocolate so why not serve it with some alcohol on the side so everyone can help themselves if they wish? Or perhaps you would like to try Baileys hot chocolate?
Why not host a hot chocolate bar party? The holiday season is the perfect time to do it! Plus, making hot chocolate in the slow cooker is so easy. Just set it up and let it do its magic while you prepare the toppings and other snacks.
And what about serving this crock pot hot chocolate on Christmas morning with freshly baked panettone French toast casserole or banana French toast roll ups? For a quick breakfast or dessert, I recommend air fryer cinnamon rolls. They are ready in no time and thanks to using puff pastry they are also hassle-free.
3-Ingredient Slow Cooker Hot Chocolate
Slow cooker hot chocolate is smooth, creamy, and can be held on the warm setting for hours – perfect for parties or a cold snowy day!
Instructions
Pour milk into your slow cooker. Add chocolate chips and cocoa powder and mix well for about 2 minutes or until the cocoa powder has dissolved in the milk.

Close the lid and set it on low. Let it cook for 1.5 hours. After 1 hour, I recommend stirring the hot chocolate to help it melt evenly.

Serve right away or keep warm until ready to enjoy!
Notes
Instead of Belgian chocolate chips, you can use classic chocolate chips, semi-sweet chocolate chips or dark chocolate finely chopped. The richness and sweetness of your hot chocolate will depend on the type of chocolate you use (Belgian, dark, semi-sweet …).
This recipe will yield 4 portions when using 8-ounce cups (250 milliliters).
You can double this recipe easily.
Use any milk you like.
Nutrition Facts
3-Ingredient Slow Cooker Hot Chocolate
Amount per Serving
% Daily Value*
* Percent Daily Values are based on a 2000 calorie diet.
** As an Amazon Associate I earn from qualifying purchases.
LEAVE A COMMENT
Related posts