This is the simplest recipe showing how to make roasted carrot soup from scratch. To enhance the flavors, carrots are roasted with honey and olive oil. Ready in 30 minutes from start to finish!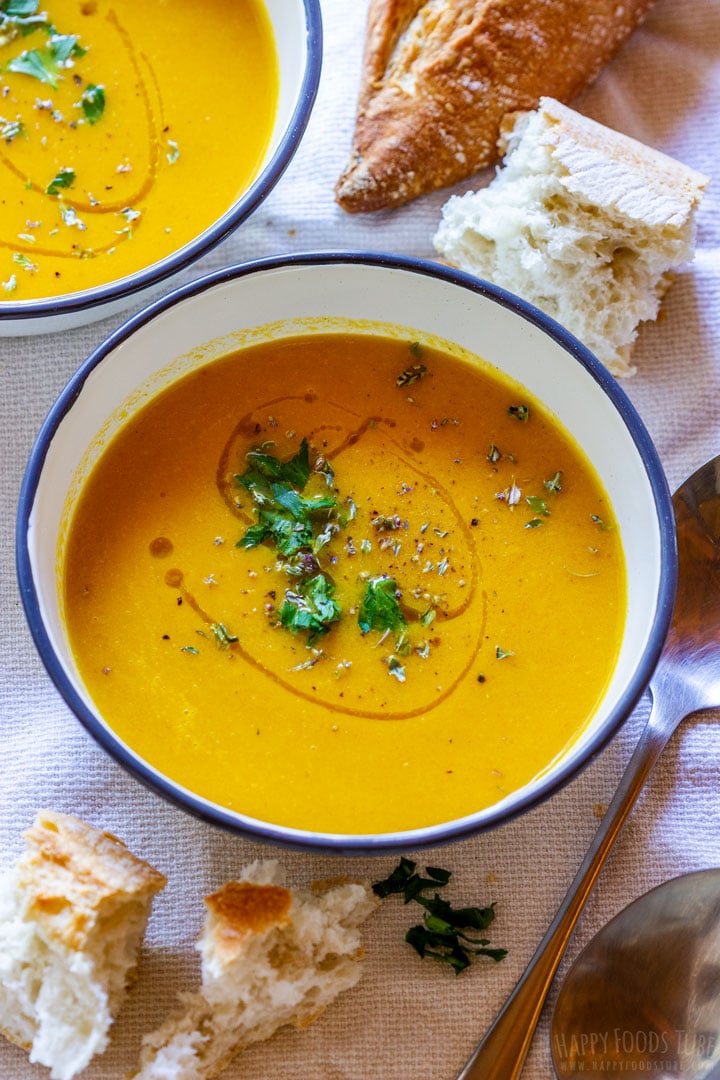 There is no cream used, so this roasted carrot soup is dairy-free. It is also gluten-free and if you are vegan and eat honey, then this soup is great for you as well.
Roasted carrot soup is one of the budget-friendly soup recipes for using only a handful of pantry ingredients.
It's perfect for the winter season and makes for a tasty entrée/starter before your main meal or a light lunch. It's a nutritious soup, perfect for a healthy lifestyle.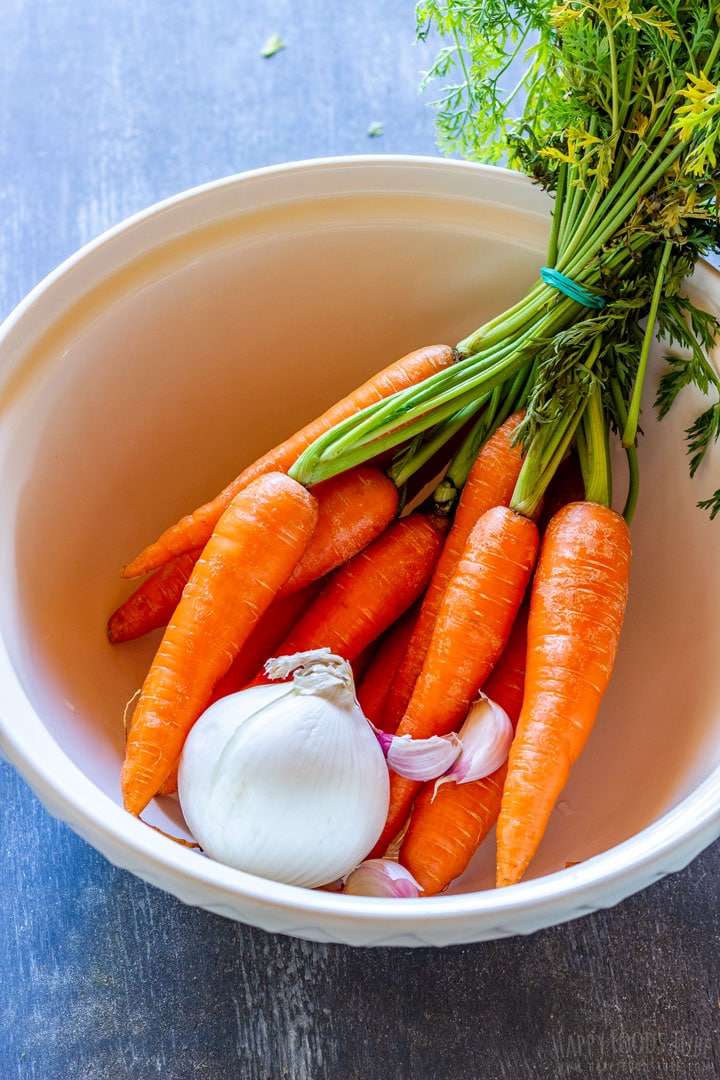 How to make a roasted carrot soup
Roast carrots with honey and olive oil. Meanwhile, prep the rest of the ingredients if you haven't done so and start with sauteing the onion. Make sure it is translucent before you add garlic in.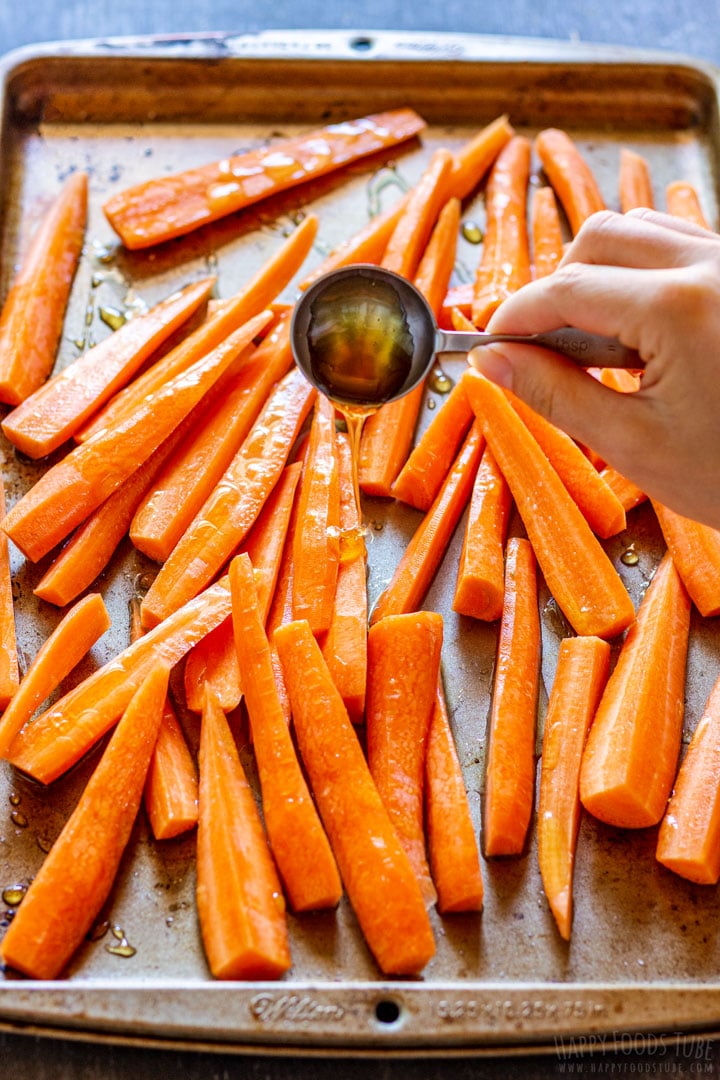 Next, pour in stock and add carrots. Cook for about 5 minutes.
Now you pour in 1.5 cups of cold water. This will reduce the temperature of the soup which means you can blend it right away in your blender.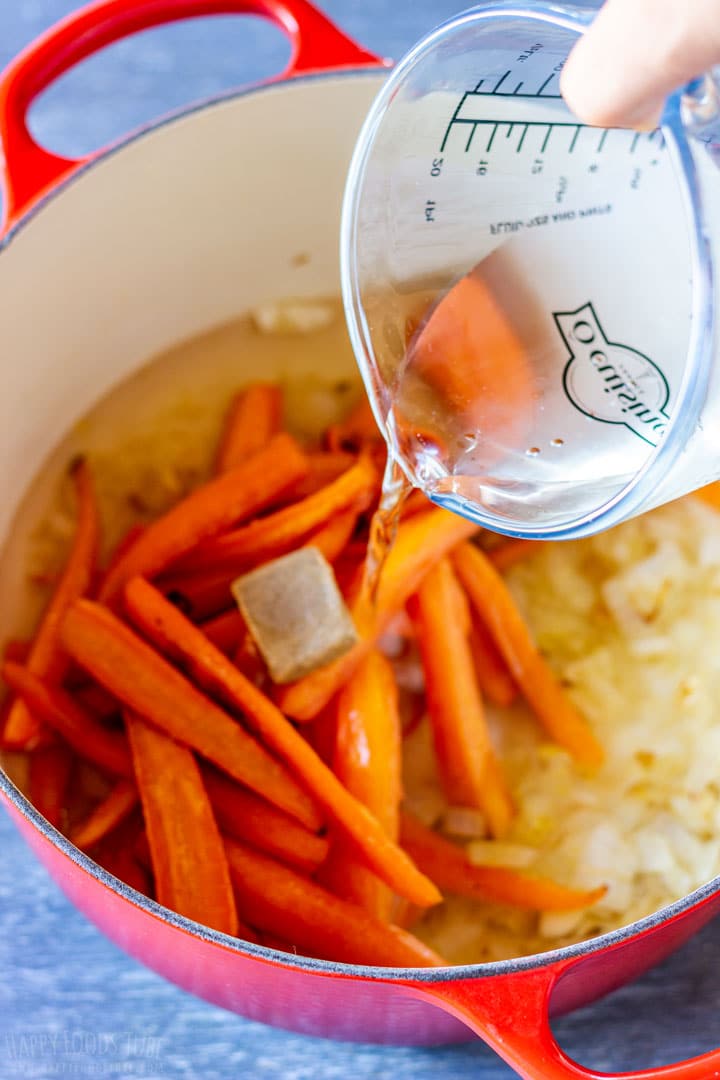 The pureed carrot soup goes back into the pot. You have to bring it to a boil again because you added cold water to it. It might spit so it's best stirring it at this stage. Now it's time to taste it. You can add more salt (I don't usually need to add any as it is flavorful enough) and water if needed. When happy with its taste, turn off and you are ready to serve.
I also have a simpler carrot soup recipe on the blog that is even quicker than this one, if you want to omit the roasting part.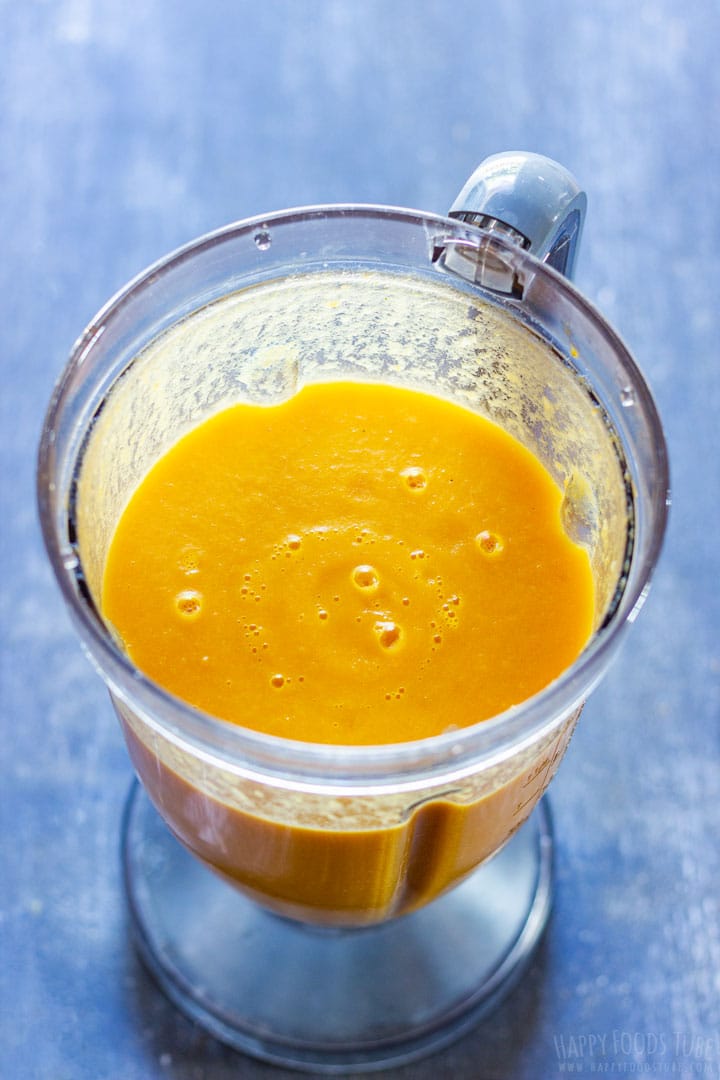 What to serve with this lightened-up carrot soup?
Because this creamy carrot soup is light, it's good to pair it with another dish of your choice that will be your main. Any dinner will go well with this soup and it only depends on the person's preference.
Here are some ideas:
How to store roasted carrot soup
Store it in an airtight container in the fridge for up to 3-4 days. It can be put in the freezer and thawed when needed. For best results, re-heat on a stovetop.
Useful tips for making the best roasted carrot soup
Make sure to stir the carrots a few times during cooking to avoid burning. It still can happen that some of them (especially the ones with thin tips) can get burnt. Please discard those.
Old carrots will need a longer roasting time so please pierce the largest ones with a fork to see if they are done before you take the tray out from the oven.
Also, the thinner you slice the carrots the shorter their cooking time!
If you want to turn this soup into a 100% vegan carrot soup, then omit the honey and perhaps use a drizzle of maple syrup instead.
For a thinner carrot soup, feel free to add more water. For a thicker, use less.
The soup contains only a few ingredients so it's important they are of good quality and they are cooked well.
To get a nice creamy carrot soup without lumps, use a stand blender!
Possible variations or add-ons:
Fresh flat-leaf parsley as a garnish – or a sprinkle of another fresh herb like marjoram or lemon thyme.
Coconut milk (not milk drink) – for extra creaminess. Add this with stock (as much as you like – start with about a half cup, taste and see if you like it).
Croutons.
Freshly cracked black pepper.
Half and half will also work – the amount depends on your liking (try with 1/2–2/3 cup).
More soup recipes for you to try:
Roasted Carrot Soup
This is the simplest recipe showing how to make roasted carrot soup from scratch. To enhance the flavors, carrots are roasted with honey and olive oil. Ready in 30 minutes from start to finish!
Ingredients
Instructions
Preheat oven to 375° Fahrenheit (190° Celsius).

Meanwhile: Slice the carrots in quarters lengthwise. Place them onto a baking tray. Drizzle them with about 1 tablespoon of olive oil and honey. Sprinkle some salt over and mix using kitchen tongs or your hand.

Roast the carrots until soft (about 20 minutes), stirring them 2-3 times during cooking.

Meanwhile: Peel and mince the onion and garlic clove. In a pot, heat the oil and add onions. Saute on low-medium heat until translucent, stirring occasionally so they don't get burnt. When ready, add minced garlic and stir until it releases its aroma. Add vegetable stock and bring to a boil.

When the carrots are ready, throw them in the pot and cook for 5 minutes. Remove from heat and pour in 1.5 cups of cold water.

Pour the soup into a blender and blend until smooth.

Pour the soup back into the pot and place it on the stove. Bring to a boil – you will have to stir as it will spit due to its thickness. Taste it and add more salt if needed. Add the rest of the water if the soup is thick to your liking. Bring to a boil and turn off.

Enjoy!
Notes
This roasted carrot soup can be easily doubled, tripled,…
It's perfect for meal prep. It stores well in an airtight container in the fridge for up to 4 days, but it can also be frozen if needed.
Roasting carrots can take longer than 20 minutes. This will depend on their size, on your oven as well as how fresh they are (older take longer to cook).
For more useful tips or if in doubt, please read the full post above this recipe card.
Nutrition Facts
Roasted Carrot Soup
Amount per Serving
% Daily Value*
* Percent Daily Values are based on a 2000 calorie diet.
** As an Amazon Associate I earn from qualifying purchases.
LEAVE A COMMENT