Everything you need to know about food photography backgrounds. What to get? Where from? How much? What size?
Have you ever seen all those beautiful food pictures shot on amazing backgrounds with interesting backdrops? Have you ever wondered what they are and where you could get them from?

I have… I still find myself wondering where some cool looking backgrounds come from but what I know now is that you can easily get your own unique collection of food photography backgrounds! And guess what the best thing about this it? You don't need to spend a lot of money!!!
If you are interested to know more, read on!
Where to find food photography backgrounds if you are on a budget?
My biggest advice so far is walk with your eyes opened! You would be surprised how many backgrounds/backdrops you can gather this way.  I reuse and recycle first and then – only then I would go for shop bought backgrounds, if you really need them. If you are learning food photography (like I am), try to avoid excessive and unnecessary spending. Try to prioritize. I would rather save up money to buy a better lens/camera/tripod… than spending it all on background or backdrops.
Here are a few places where you could get food photography backgrounds for free:
Your garage/attic/shed – check these places out first. You might not even know what those places have been hiding. Some of them hide real food photography "treasures"! For example my dad's attic and garage – oh my! There is so much stuff I could use for pictures but unfortunately because of living thousands of kilometers far from this place, I cannot take or use what I would love to. I wouldn't fit it in my suitcase.
Your kitchen – chopping blocks, baking trays – one day I was planning on taking pictures and needed black background but couldn't find one. A few days later I found it – my baking tray!
Your family's/neighbor's/friend's garage/attic/shed – Ask them! You could get some really cool pieces!
Your surroundings (one's trash is other person's treasure – and no I don't encourage you going through garbage bins but some cool backgrounds I got when on my walk. Whether it is some piece of wood, one or two tiles (yes – I got 2 blue tiles – Strawberry Banana Frozen Yogurt) and a few grey ones (Homemade Fruity Red Wine Sangria) when walking in an area that has not been developed yet. Some people prefer throwing stuff away onto grass rather than in bins. Or maybe they just wanted me to find it! I do more walking now specifically browsing the same area for more tiles, but no luck since (don't laugh at me, OK?)
If you have tried the above options without any luck then check out these ones:
DIY stores (great place to find some reasonable priced wooden planks that with a bit of paint will look like a great table top – also it's like 2 in 1 because you can use both sides. Paint one white and the other side black and you are good to go!)
Craft shops
Household stores
What can I use as a background for food photography?
This is just a guide to show you what you can use, but if you look around your home, you might find other cool backgrounds or backdrops.
Chopping boards (Kiwi Mint Infused Water – Plastic purple chopping board used as backdrop)
Linens (napkins, tablecloths, table runner,…)
Wooden planks (Rustic Pear Frangipane Tart)
Tiles
Slate cheese board (Quail Egg Goat Cheese Pinchos Bites)
Tables, chairs, chest of drawers
Bedding
Baking trays
DIY table tops (I used an old kitchen unit door – No Bake Banana Banoffee Pie) that I painted white – rustic style and this has been my favorite "table top". The only disadvantage is that it's pretty small which makes it sometimes really challenging (mostly when making videos, buy wood planks & color of your choice and get to work, if you can get your hands on a wooden palette, then you can create a table pretty fast)
Craft paper, multicolored paper boards
Burlap
Rustic crates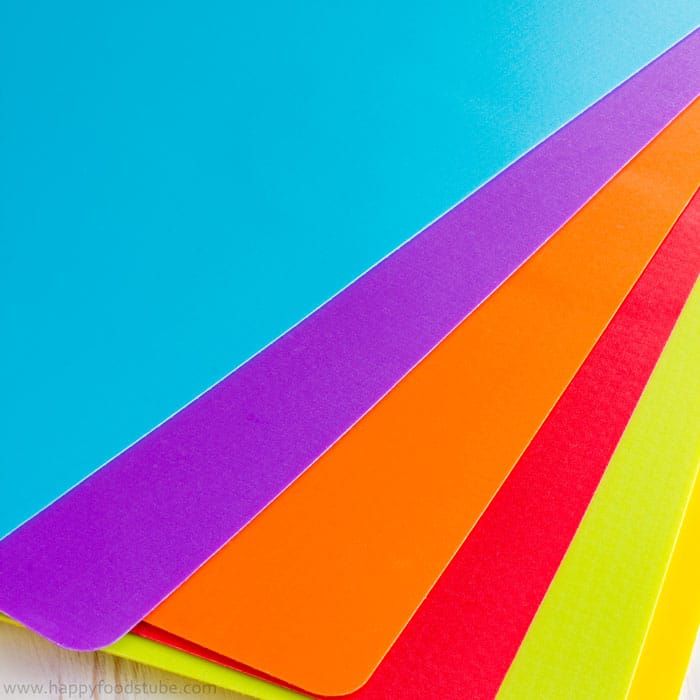 What is the ideal size?
Is there actually an ideal size of backgrounds and backdrops for food photography?
My white food photography background a.k.a table top made from old kitchen unit door is 45 cm (18inch) tall and 37cm (14.5inch) wide. Like I have mentioned above, I have been using it the most (over a year now). I've used it for making YouTube videos and I am really happy with it. However, its small size means that I can only record/shoot from certain angle and distance, if I don't want to have anything else (such as the kitchen door, fridge, bin etc…) on the picture.
Later on we bought a black table in IKEA that is larger and I sometimes use it as a backdrop or background but not as much as I would have expected (Here you can see it as backdrop: Red Wine Chocolate Raspberry Cake).
One day I came across 3 old wooden planks (again found thrown in the grass) so I brought them home, cleaned them, washed them, removed a few old nails and sanded them a bit. I also painted one side black but I haven't used the black side in any picture yet.
These are roughly 90 cm/3 feet in height and (when all three put one next to another) 45cm/1.5 foot wide. This gives me more freedom when it comes to distance, angles and the number of things I can fit in the shot.
So I would say 90cm/3 feet x 45cm/1.5 foot is a good size for food photography backgrounds. As for the backdrops they don't need to be that long, maybe 45cm/1.5foot x 45 cm/1.5 foot is a workable size.
That being said, I have a range of pretty small backgrounds such as tiles, wooden chopping boards, wooden place mats or bright colored plastic chopping boards, paper cards or chalkboard. I use everything no matter what size these are. It's just more challenging using them.
Guys, there are unbelievable options when it comes to gathering affordable food photography backgrounds. I have chosen to save money and make DIY backgrounds as well as use what I have available.  They are not perfect but suit my current needs.
What about you? What background do you use and where did you get them from?