Instant pot cranberry chicken is a flavorful dish, perfect for a family dinner. Whether you are looking for quick weeknight dinners or tasty Sunday lunch, this cranberry recipe will become your family's favorite!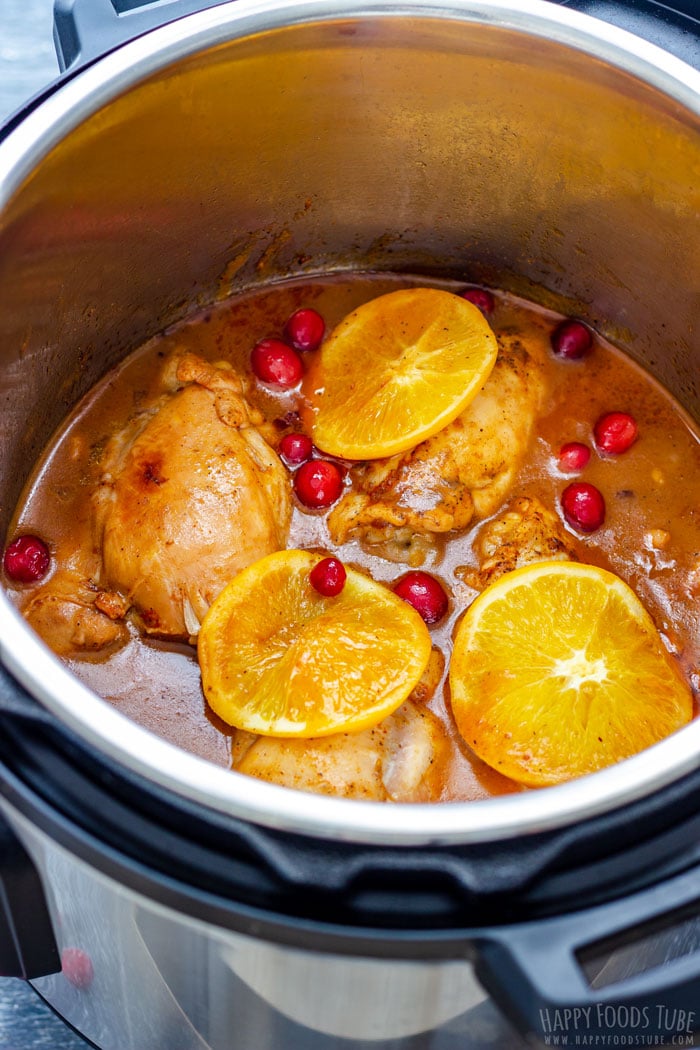 This pressure cooker cranberry chicken is nothing like any other cranberry chicken recipe. This one has plenty of rich cranberry sauce and chicken thighs are fork-tender thanks to cooking under pressure.
The whole preparation is easy and pretty quick so you can enjoy this cranberry chicken dinner in 30 minutes which makes is a great weeknight meal for busy families.
It's also the perfect recipe to use any leftover cranberry sauce you might have after Thanksgiving dinner.
If you are not sure or if in doubt, you can watch a recipe video for instant pot cranberry chicken that we made to help you visualize the whole cooking process or read this post to find more tips, serving suggestion or substitution ideas.
How to make cranberry chicken in instant pot
In your instant pot, saute onion until translucent, then add bacon and fry it for about 2 minutes before pushing it altogether with the onion to the sides to make room for chicken thighs. These you have already seasoned with salt, pepper and little red paprika.
Cook them for about 2 minutes on both sides before you push them aside and deglaze the pot with stock. Then, add cranberry sauce and frozen cranberries. You can add these after you have pressure cooked this easy cranberry chicken, if you prefer them tart or if you want them to hold their shape well).
Pressure cook for 6 minutes, then wait 5 minutes to release the pressure and finish it off by thickening the sauce.
If you haven't added cranberries, now it's time to do it. (Full recipe is in recipe card below).
What to serve with pressure cooker cranberry chicken?
This chicken with cranberry sauce goes well with rice (what about making Instant Pot Coconut Rice?), quinoa, egg noodles or mashed potatoes.
If you prefer some low carb side dish, then you might like Steamed Broccoli Cooked in Instant Pot.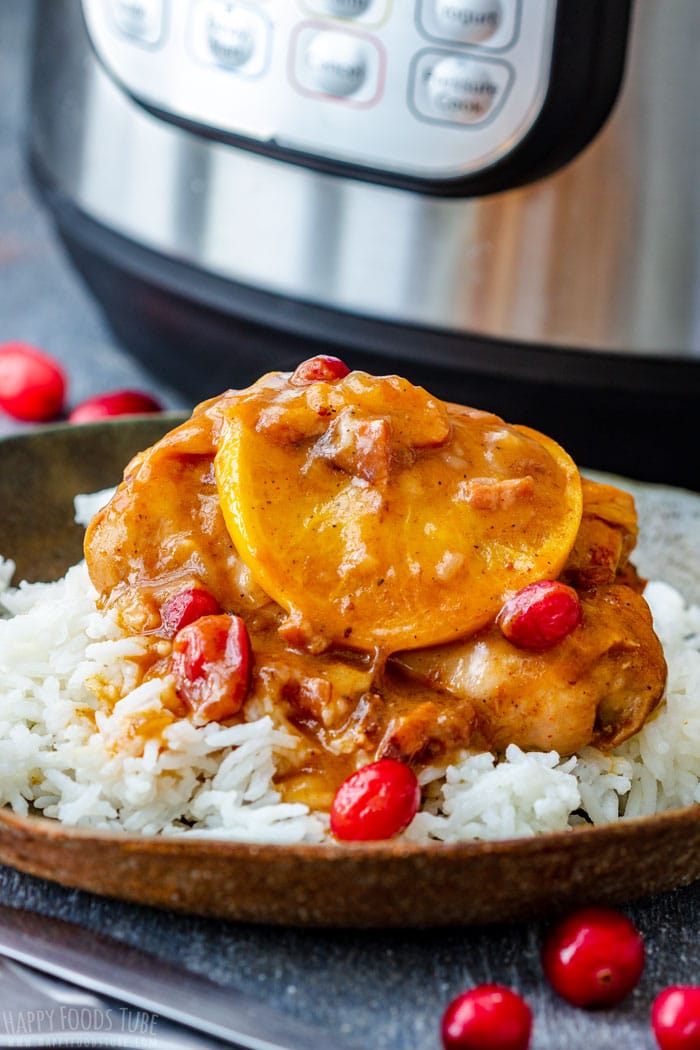 Useful tips when making this cranberry chicken recipe
I like using either chicken stock or vegetable broth. You can choose which one you prefer. Use a brand that you are familiar with. This instant pot cranberry chicken recipe was developed using ordinary stock. If you use low-sodium one, then you might need to add more salt. I suggest doing this at the very end to avoid over-seasoning your meal.
Sliced orange is completely optional. Before you add it to your dish, note that it might make your sauce slightly bitter so if you are not sure about it, just omit it. The bitterness will depend on individual oranges.
Bacon/pancetta works really well in this cranberry recipe, so I highly recommend using it and not omitting this ingredient.
Add cranberries either before closing the lid or after the cooking cycle is finished or add half of them before and the rest after. My husband likes when he can taste the tartness so if you are like him, add them right before the end so they won't over-cook.
You will get a lot of sauce so you can add 2 more thighs without having to double the sauce. I had no cornstarch, so I thickened it with 2 tablespoons of flour. For thicker sauce go with 3 tablespoons.
We have more delicious chicken dinner recipes for instant pot on the blog, if you were interested. Here are a few of them:
Want to see how to make Instant Pot Cranberry Chicken? Watch the video!
Instant Pot Cranberry Chicken
Instant pot cranberry chicken is a flavorful dish, perfect for a family dinner. Whether you are looking for quick weeknight dinners or tasty Sunday lunch, this cranberry recipe will become your family's favorite!
Ingredients
2

tablespoons

olive oil

1

Small

Onion

, minced

2

ounces

Pancetta

, see note 1

4

Chicken Thighs

, skinless, bone-in (1.7 pounds/790 grams in weight), see note 2

½

teaspoon

paprika

1.5

teaspoon

Salt

black pepper

to Taste

⅔

cup

Vegetable Broth

, see note 3

½

cup

Cranberry Sauce

1

cup

Frozen Cranberries

, see note 4

3

Orange Slices

, optional, see note 5

2

tablespoons

all-purpose flour

, see note 6
Instructions
Turn on instant pot. Press SAUTE and pour olive oil in. Meanwhile, peel and cut the onion. Add it to the pot and saute until translucent (about 2 minutes).

Add bacon/pancetta pieces and fry for 2 minutes.

Meanwhile: season the thighs with paprika, salt and black pepper. Make a space in the pot by moving the onion and bacon to the edges. Add the chicken in and cook for 2 minutes per side.

Turn off SAUTE function (press CANCEL) and deglaze the pot with broth (no need to take out the chicken. Just move it to a side to make some space for deglazing).

Stir in cranberry sauce until well combined. Add half of the cranberries (see note 4) and 2-3 orange slices (see note 5) Close the lid and lock it into its position. Turn the steam release valve to SEALING and adjust timer to 6 minutes.

When the time is up, wait 4-5 minutes before releasing the pressure manually. When the pin drops, remove the lid.

Turn on SAUTE. Add cranberries (if you haven't added all of them before cooking) and thicken the sauce with flour (mix 2 tablespoons of flour with about about 4 tablespoons of water or more if needed). Let it cook for 1-2 minutes before turning off the pot.

Serve with rice or anything you like!
Notes
Either pancetta or bacon of your choice can be used. You can use up to 3 ounces, if you like bacon-rich sauce.
Chicken thighs, bone-in are the best option for this recipe. You can also use skinless, boneless thighs. If you do, omit the browning and pressure cook them for 5 minutes only.
Instead of vegetable broth you can use chicken stock or broth. If you use low-sodium stock, you might need to add more salt. Do this at the very end of cooking and after you taste the sauce.
Cranberries can be added before or after pressure cooking or half before and half after pressure cooking like I did. The difference will be in their taste so if you don't like them tart, add them before pressure cooking.
Some orange peels taste bitter than others. This will affect the taste of your sauce so if you don't like a hint of bitterness, please, omit the orange slices completely. Also, 3 slices are plenty here so don't add more.
I used flour (All-Purpose = US, Plain = UK) to thicken the sauce, but you can use cornstarch instead. You might need more than 2 tablespoons though.
This recipe was developed for a 6-quart/5.7-liter instant pot.
The overall cooking includes the 6-minute pressure cooking + sautéing of onion, bacon, chicken and final thickening. It does not include time that the pot needs to come to pressure and time needed to release its pressure. Count with extra 12 minutes (the total time needed to make this dinner is about 30 minutes from start to finish, including passive time).
Nutrition Facts
Instant Pot Cranberry Chicken
Amount per Serving
% Daily Value*
* Percent Daily Values are based on a 2000 calorie diet.
** As an Amazon Associate I earn from qualifying purchases.
LEAVE A COMMENT
RELATED POSTS