A tasty Instant pot rabbit recipe made easy with pressure cooker. Rabbit with bacon and mushrooms cooked in a rich creamy sauce and served over pasta! Delicious and easy dinner recipe.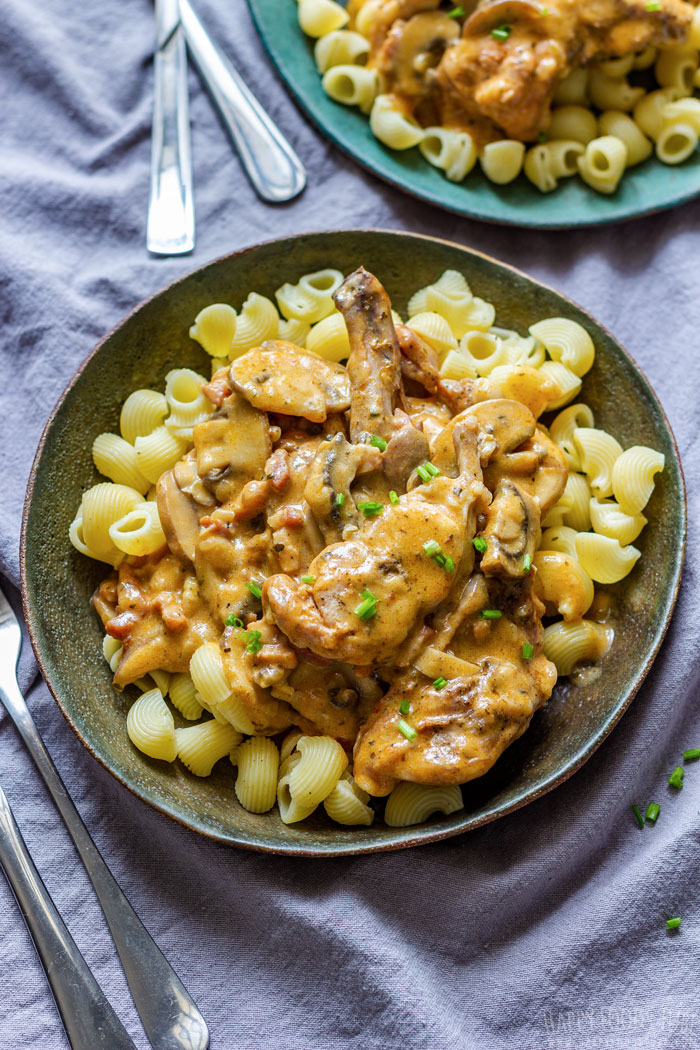 Cooking with rabbit is quite popular here in Spain, so you can find many rabbit recipes on the Internet. One of the most popular ones is conejo al ajillo (rabbit with garlic) and rabbit stew.
When you visit Valencia (the birthplace of paella), you will learn that the traditional Paella Valenciana is made with a combination of chicken and rabbit meat as well.
Now this instant pot rabbit has nothing to do with traditional Spanish cuisine, but because this meat is available in our local store, I decided to give it a go and develop a recipe for pressure cooker rabbit with bacon and mushrooms.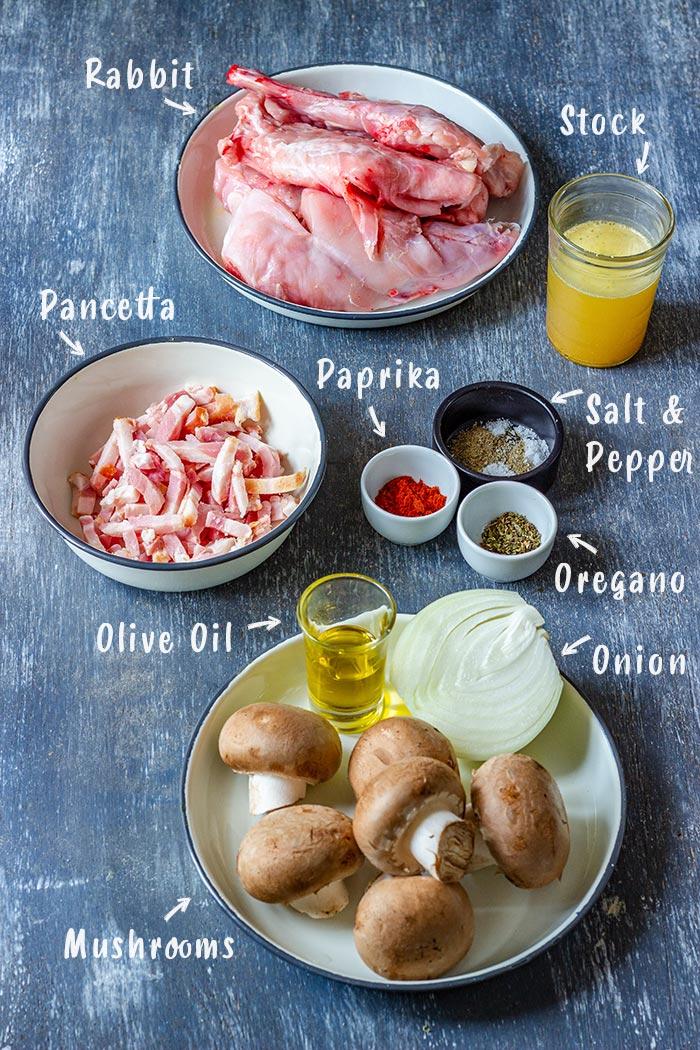 How do you cook rabbit in an instant pot?
If you are wondering how to pressure cook rabbit, let me show you how I do it.
First, heat oil in instant pot. When hot, add seasoned rabbit and brown all the pieces on both sides. If you are using more than 1.5-2 pounds of meat, you will need to do it in 2 batches. You don't want to steam the rabbit.
When ready, take out the pieces and add in onions, mushrooms and bacon. You can do this in stages or add everything at the same time. Sauté them for about 5 minutes.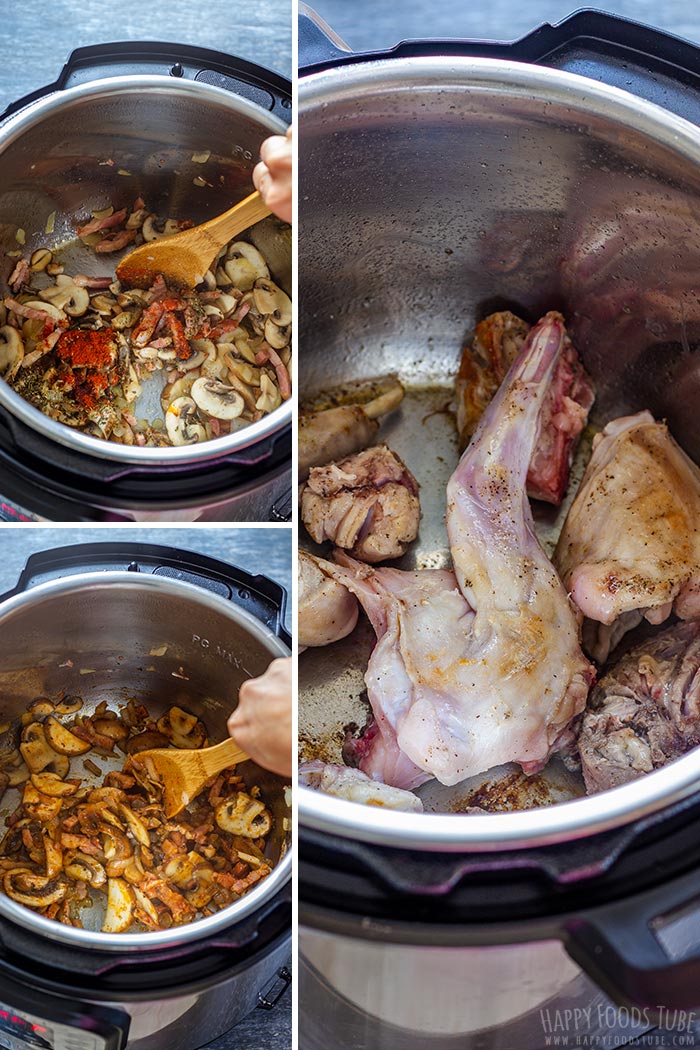 Note: The mushrooms will release their juices so use the juice to deglaze the pot. If you feel that it is not enough, add a little water.
Next, add paprika and oregano, mix it around and add chicken stock and rabbit. Cook it under pressure for 4 minutes, then manually release the pressure.
Last thing to do is add half and half (or heavy cream) and thicken the sauce with flour or cornstarch slurry to your desired thickness. For this instant pot rabbit recipe, I usually use about 2 tablespoons of flour.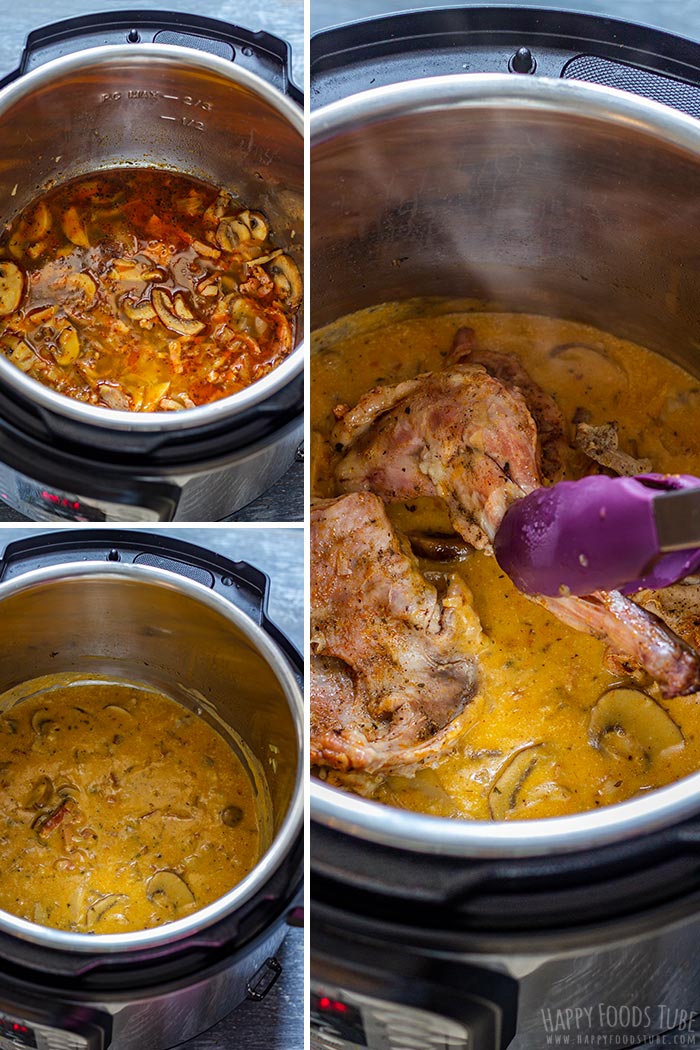 How long does a rabbit take to cook?
The pressure-cooking time may vary slightly. This will depend on the size of the chunks and parts of the meat. Cooking a rabbit in instant pot (1.5 pound of whole rabbit, cut up) will take about 4 minutes.
If you have a whole rabbit that weighs 2.5-3.5 pounds and you are just cutting it up without deboning it – meaning that all your pieces will be larger than mine, I suggest adding an extra 1 minute to the active pressure cooking time.
Note that, if using boneless pieces the size of a golf ball, you might be fine with 3 minutes (no matter how much meat you use).
If not sure, please use a food thermometer to check the internal temperature of the largest chunks. If not ready, you can just cook it on sauté at this stage as it should not take long. Do not pressure-cook anymore! If you wanted to pressure-cook the rabbit after, it would more likely turn dry.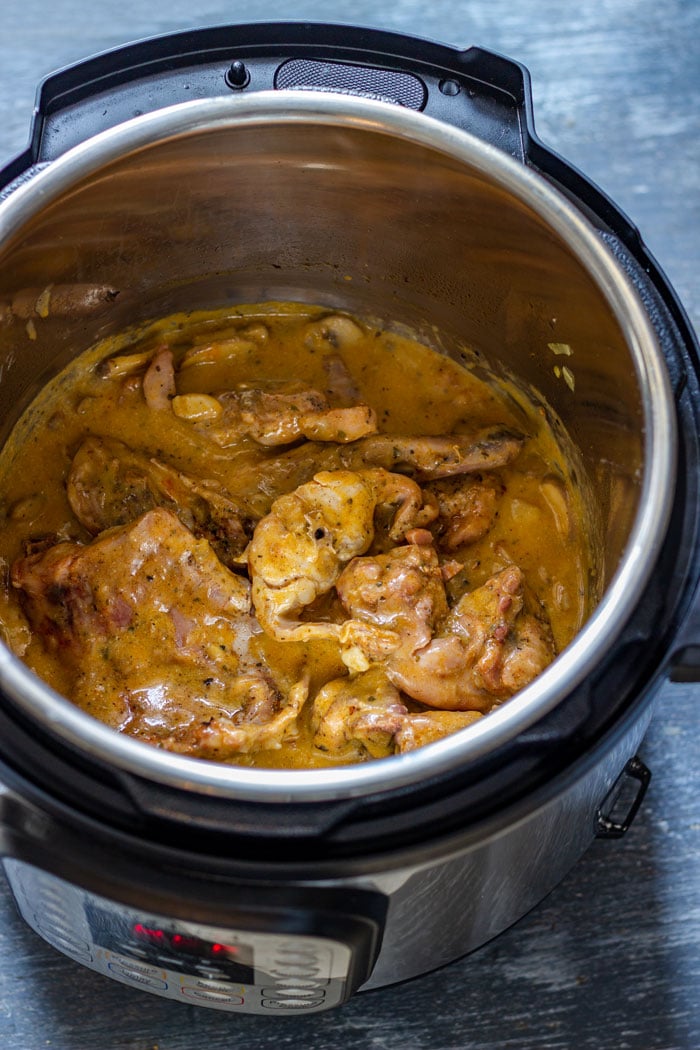 What goes well with rabbit?
This tasty rabbit dinner is best served with small pasta-shapes (i.e. elbow pasta), but you can serve it over mashed potatoes or rice, couscous or orzo if you prefer.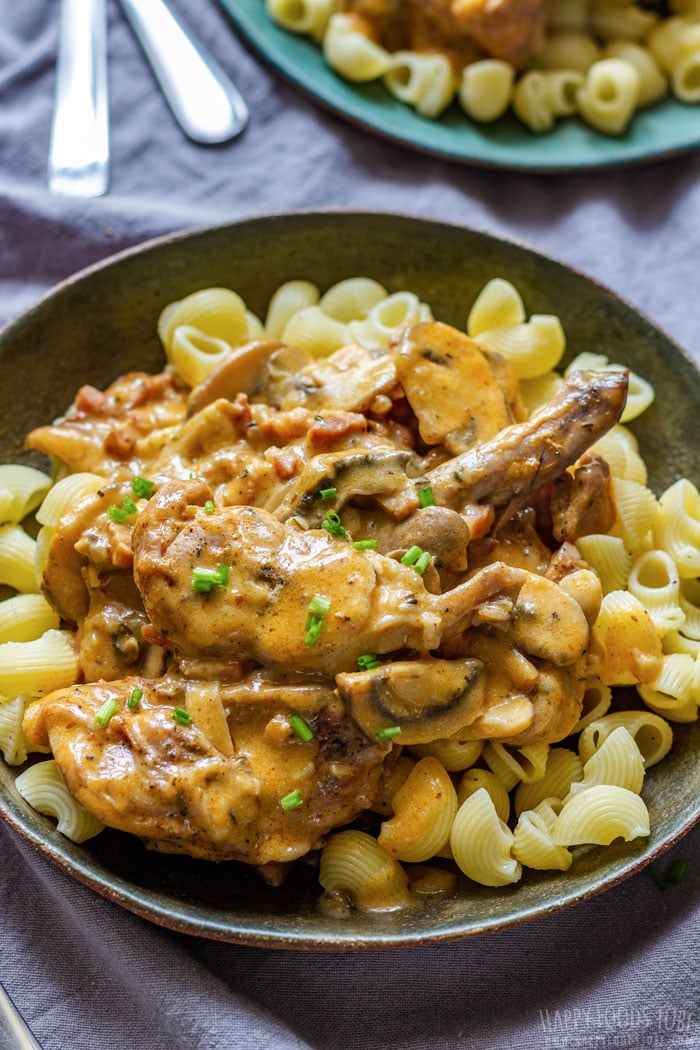 Tips for making the best pressure cooker rabbit:
To make sure your rabbit does not dry out (or to reduce the possibility of drying out), you have to brown the meat first. I wanted to simplify this instant pot rabbit recipe and omit the browning part, but in this recipe it is a must! If you omit this step, you will end up with dry meat.
You can buy whole rabbit and cut it into chunks yourself (if you need help, you might find this article helpful: How to Cut a Rabbit) or you can ask butcher to do it for you. I used 1.5 pound of ready-cut whole rabbit, but if I had a choice, I would prefer using deboned meat only as it would feed more people.
5 ounces of button mushrooms are plenty for this instant pot rabbit recipe, but you can add more, if you like. If you want to make a double portion of this easy rabbit recipe, just increase the quantity of mushrooms to 8 ounces (I found that 10 ounces was way too much).
Don't like or can't buy rabbit in your local store? Use chicken thighs instead!
More easy instant pot recipes: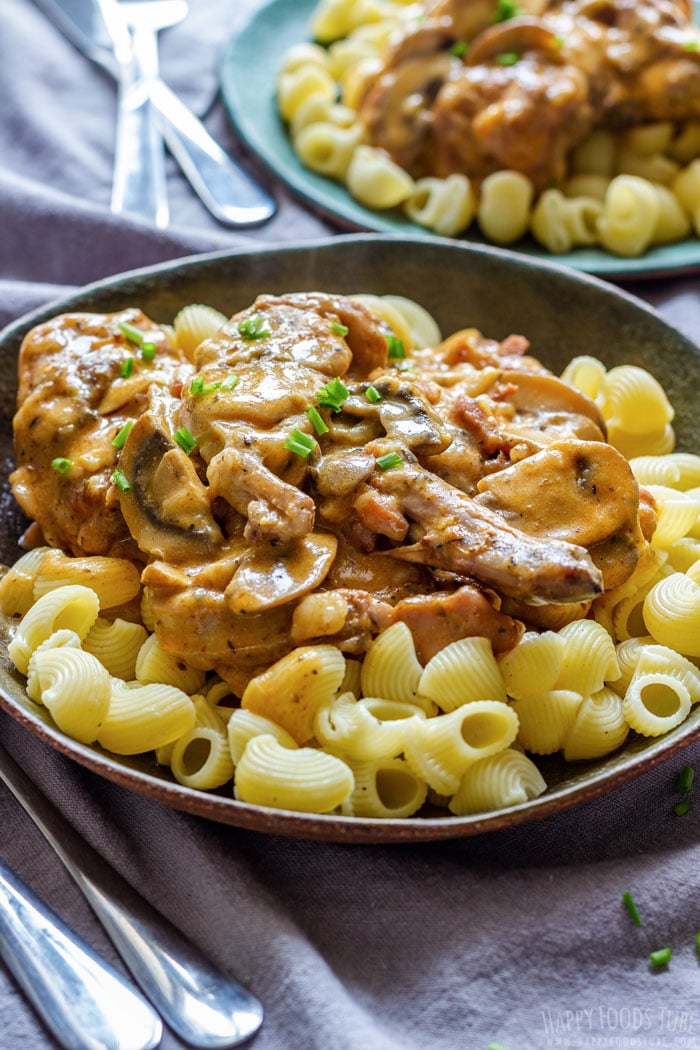 What parts of rabbit do you eat?
You can eat all parts of rabbit, including heart, liver and kidneys, if you like (I didn't use them to make this instant pot rabbit).
Heart, liver and kidneys can also be used to make a rabbit pot pie recipe, but make sure to debone the rabbit first.
Instant Pot Rabbit
A tasty Instant pot rabbit recipe made easy with pressure cooker. Rabbit with bacon and mushrooms cooked in a rich creamy sauce and served over pasta!
Ingredients
2

tablespoons

Olive Oil

, see note 1

1

Rabbit

(1.5 pounds/700 grams), see note 2

1

teaspoon

Salt

¼

teaspoon

Black Pepper

or to taste

1

Medium Onion

, see note 3

5

ounces

Button Mushrooms

(150 grams), see note 4

3

ounces

Pancetta Cubes

(90 grams), see note 5

1

teaspoon

Dried Oregano

1

teaspoon

Paprika

either smoked or normal

¾

cup

Chicken Stock

, see note 6

1/4

cup

Half and Half
Instructions
Pour olive oil in the inner pot of your pressure cooker. Press SAUTE and wait until the pot and oil are hot.

Meanwhile: Season the rabbit pieces with salt and pepper and transfer into the pressure cooker. Brown on both sides. Take out the meat and set aside.

Meanwhile: Chop the mushrooms, onion and pancetta. Add these to the pot once you have taken out the rabbit meat and saute for a few minutes. There will not be need to deglaze the pot with water or stock as the mushrooms will release their juices shortly afterwards. Saute for 5 minutes before adding paprika and oregano.

Pour in stock and rabbit. Cover with lid and lock it into its position. Turn the steam release valve to SEALING and press PRESSURE COOK (or MANUAL). Set timer to 4 minutes.

When the time is up, release the pressure manually by turning the valve to VENTING (carefully – the steam is hot).

Take out rabbit and pour in half and half. Turn on SAUTE and cook for a minute before thickening the sauce with flour or cornstarch slurry (thicken to your liking. I used 2 tablespoons of flour, mixed with 4 tablespoons of water).

Serve warm with short-shaped pasta, couscous, rise, mashed potatoes or anything you like.
Notes
Olive oil can be substituted with sunflower or vegetable oil.
Rabbit – please check the post section: How long Does a Rabbit take to Cook? It has detailed explanation, if your rabbit weighs more than 2 pounds. Also, rabbit can be substituted with chicken thighs.
Onion can be substituted with leek
Mushrooms – you can use white or brown button mushrooms. Dried wild mushrooms are also great choice, but you have to re-hydrate them in boiled water in advance for about 10-15 minutes prior to using.
Pancetta – any uncooked bacon will work here. Just make sure to cut it into thin strips.
Stock – use any stock or broth you want – either vegetable or chicken. If you use the low-sodium one, you might need to add more salt to the sauce.
If you want to double this recipe, simply add more rabbit and increase the stock to 1 cup. There is no need to add more pancetta, onion. However, if you like, you can increase the mushroom quantity from 5 ounces to 8 ounces. The cooking time will stay the same.
You can add more than 1/4 cup of Half and Half if you like, but I wouldn't go over 1/2 cup.
This recipe was developed for a 6-quart/6-liter instant pot pressure cooker.
The overall time does not include time the pot needs for coming to pressure nor time needed to release its pressure. Count with extra 10 minutes.
Nutrition Facts
Instant Pot Rabbit
Amount per Serving
% Daily Value*
* Percent Daily Values are based on a 2000 calorie diet.
** As an Amazon Associate I earn from qualifying purchases.
LEAVE A COMMENT
RELATED POSTS