This is a healthy snack for kids. They can enjoy it as an afternoon snack or in a lunch box. Use toppings your kids like while introducing a few new ones too!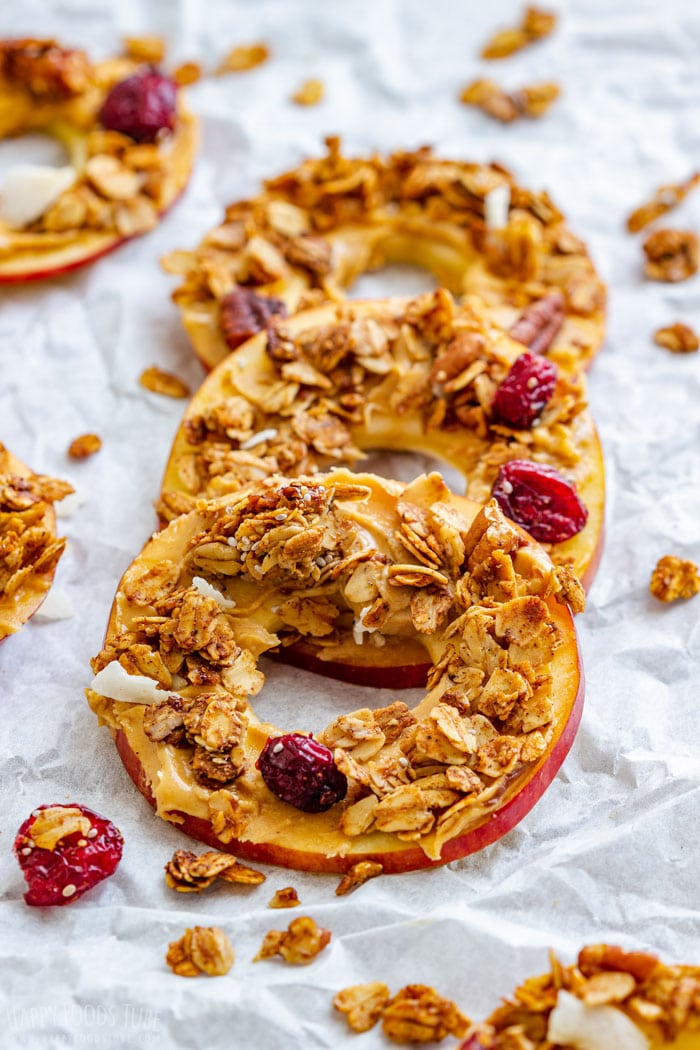 If you are looking for new kids' lunchbox ideas that are good for them, try these healthy apple snacks.
Tip: You can easily turn these healthy apple donuts into "sandwiches" by placing another apple slice on top (covered in a thin layer of peanut butter).
Also, if your kids preferred peeled apples, then go ahead and remove the skin.
Optional toppings:
Nutella – homemade Nutella is a great choice, but the store-bought one is fine as long as you use it in a moderation.
Almond butter – only if you kids like it! Perhaps try first with one slice to see what they think.
Chocolate chips.
Coconut flakes.
Seeds.
Dried fruits small in size like raisins or cranberries.
Fresh berries.
A dash of cinnamon.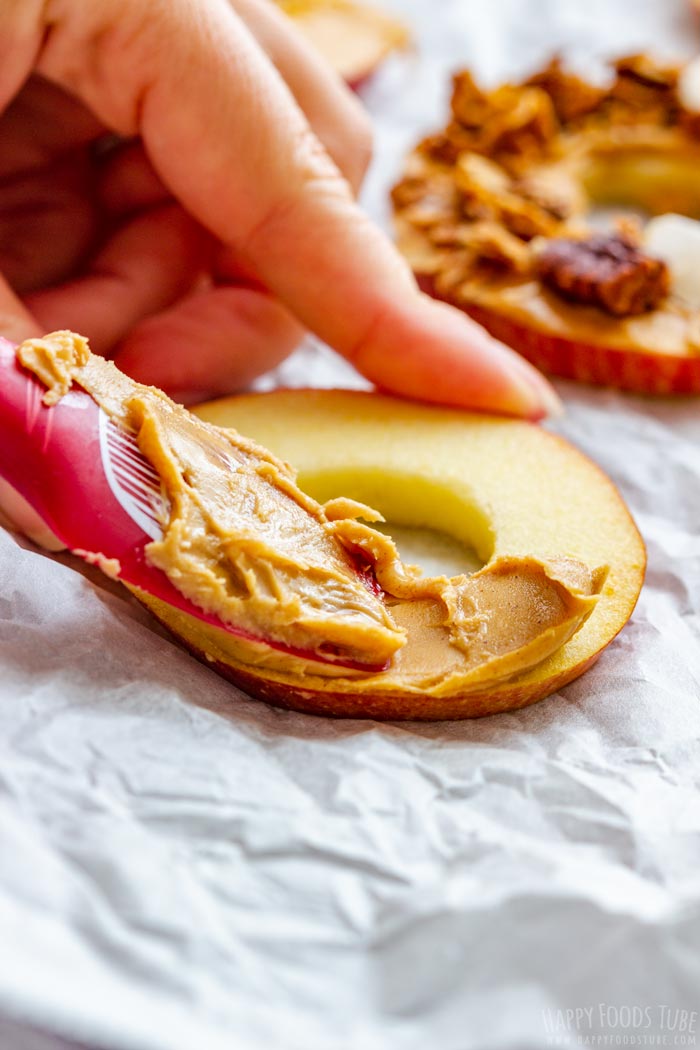 Tips for making healthy snacks for kids
Making snacks for kids can be challenging. They have foods they like and foods they don't. So incorporate new healthy foods to their diet can be tricky. Try preparing snacks that they enjoy, but add a little bit of something different – try to hide it if it is necessary at first. If you see your kids did not notice or did not mind, you can slowly increase the quantity.
You can also substitute apple with banana. Slice it in half lengthwise and top it with peanut butter or make these Banana Roll Ups. They are filling and good for them. I love them too and enjoy them as a healthy afternoon snack because I find eating plain bananas boring.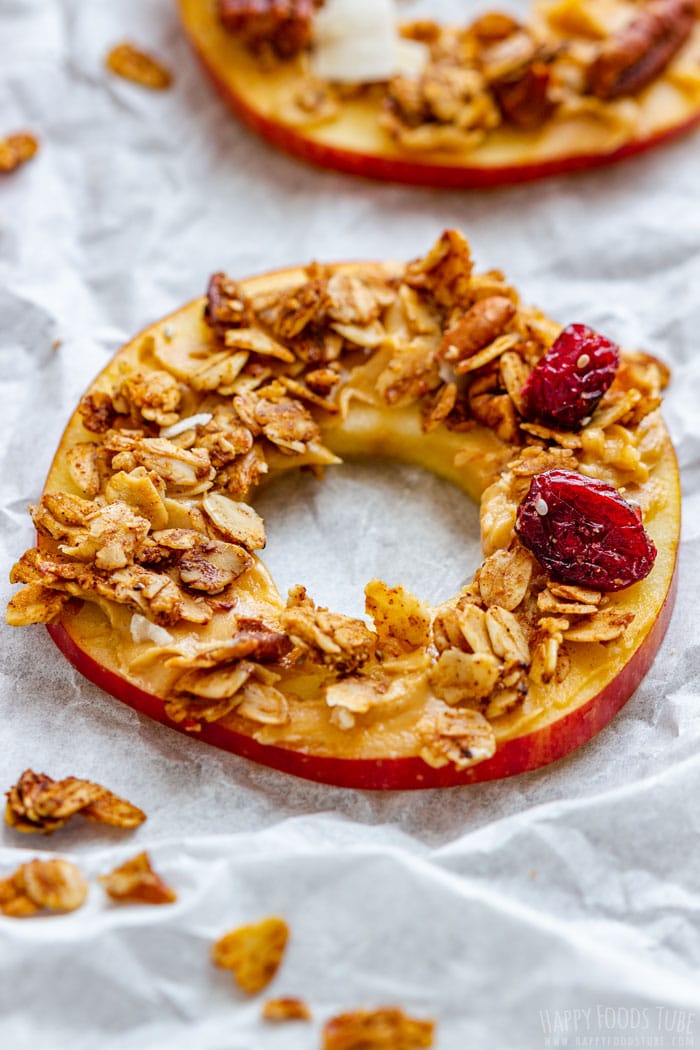 Or what about making Vegan Peanut Butter Brownies? They are so addictive! Don't be put off by the word vegan in title. Once you try them yourself you will love them! Plus there are no eggs nor refined sugar in them. They are rich so a small piece goes a long way, especially with kids.
Chocolate Covered Dates are an absolute treat and I can't express how good they are. Especially, when enjoyed right from the freezer. They are easy to make and can be prepped ahead and kept in the freezer. I highly recommend them for anyone!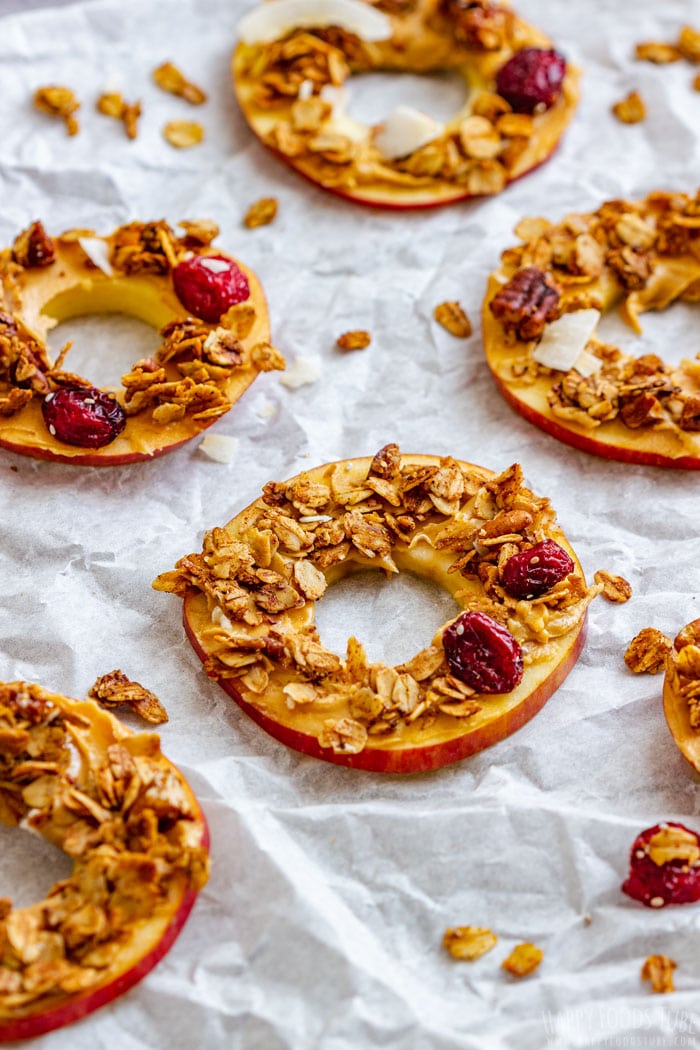 Apple Snacks
This is a healthy snack for kids. They can enjoy it as an afternoon snack or in a lunch box. Use toppings your kids like while introducing a few new ones too!
Ingredients
1

Apple

, see note 1

Peanut Butter

, see note 2

Granola

, see note 3
Instructions
Wash the apple thoroughly under warm running water. Pat dry with a clean kitchen towel. Cut it into thin slices and using a small cookie cutter/piping tip cut out the core from each slice.

Top with peanut butter and granola.
Notes
Use any apples you have on hand or those that your kids prefer.
You don't need to use a lot, but if your kids like it and you want to add a little bit more of protein, then add as much as you wish. Also, it does not matter if it is creamy or crunchy. Peanut butter can be also substituted with Nutella.
If you don't have granola on hand, use crushed nuts and raisins or dried cranberries.
Tip: Feel free to peel the apple, if your kids prefer them without peels.
Nutrition Facts
Apple Snacks
Amount per Serving
% Daily Value*
* Percent Daily Values are based on a 2000 calorie diet.
** As an Amazon Associate I earn from qualifying purchases.
LEAVE A COMMENT
RELATED POSTS