Love comfort food? Try this instant pot chicken paprikash! Easy-to-pull-apart chicken thighs cooked in plenty of creamy sauce are ready in less than 30 minutes.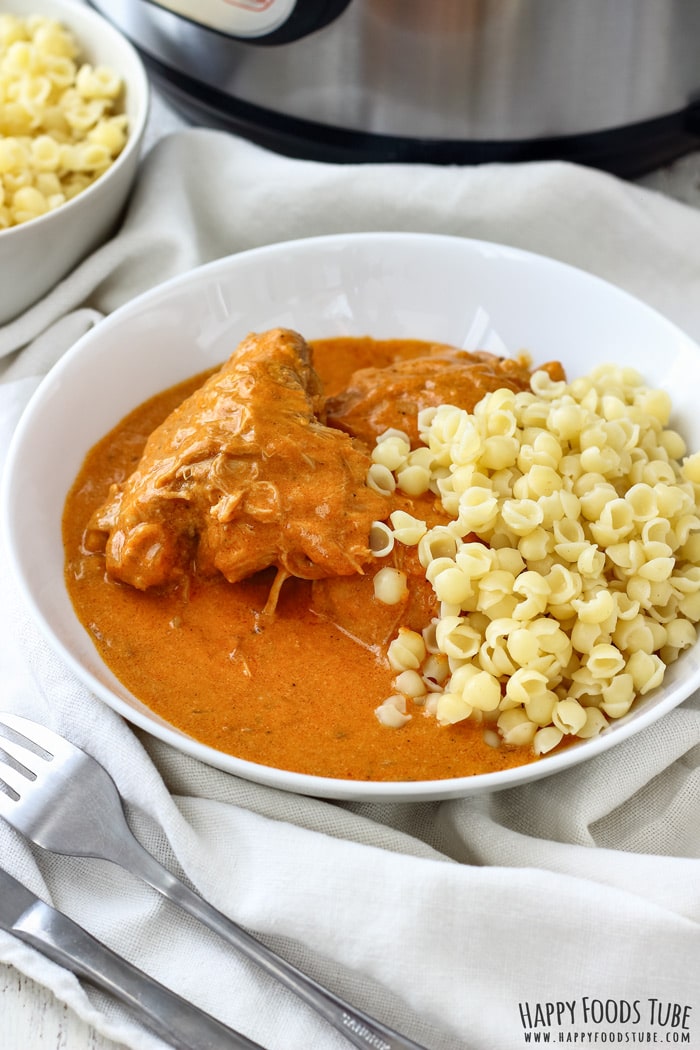 Chicken paprikash is one of my favorite dinners. My mom and grandmother have been making this dish for years and we all love it!
This instant pot chicken paprikash is my pressure cooker version of their recipe with some minor changes. Guys, if you haven't tried this easy dish, you gotta do it soon! It will become your family favorite meal!
Making instant pot chicken paprikash is easy and quick. You can enjoy this delicious dinner in about 30 minutes and that my friends, is pretty cool!
By the way, since I bought Instant Pot I've been using it like crazy! I made few easy instant pot meals, so if you wanna check them out, here they are: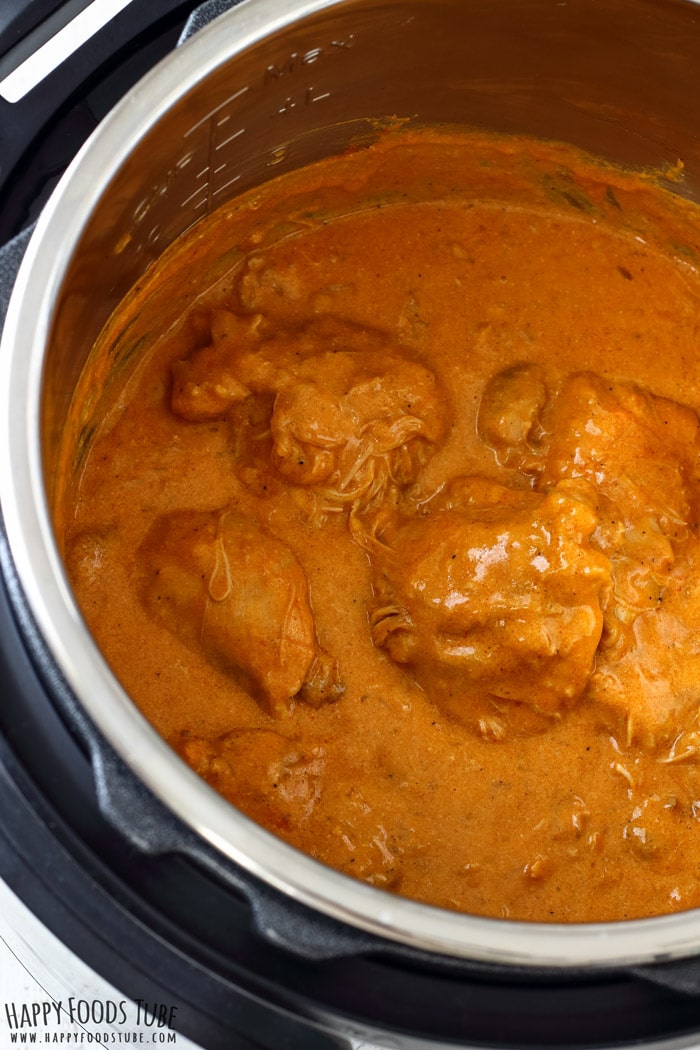 Step-by-step how to make Instant Pot Chicken Paprikash
Turn on instant pot and press the SAUTE function. Pour in olive oil and add diced onion. Sauté for about a minute before adding minced garlic. Now stir this frequently. You don't want the garlic get burnt. When the onion has translucent color, add in the chicken pieces.
Sauté these on both sides. You don't want to cook them much, all you are after is locking the juices inside the chicken.
When this is done, season them with salt, pepper and the most important ingredient – paprika. Without paprika chicken paprikash wouldn't be paprikash! So be generous!
Now what I do is I give everything a good mix with a wooden spoon. I want my chicken pieces coated with the seasoning before I add the chicken stock in.
After all the ingredients are in the pot, you just lock the lid and set the MANUAL function to 5 minutes.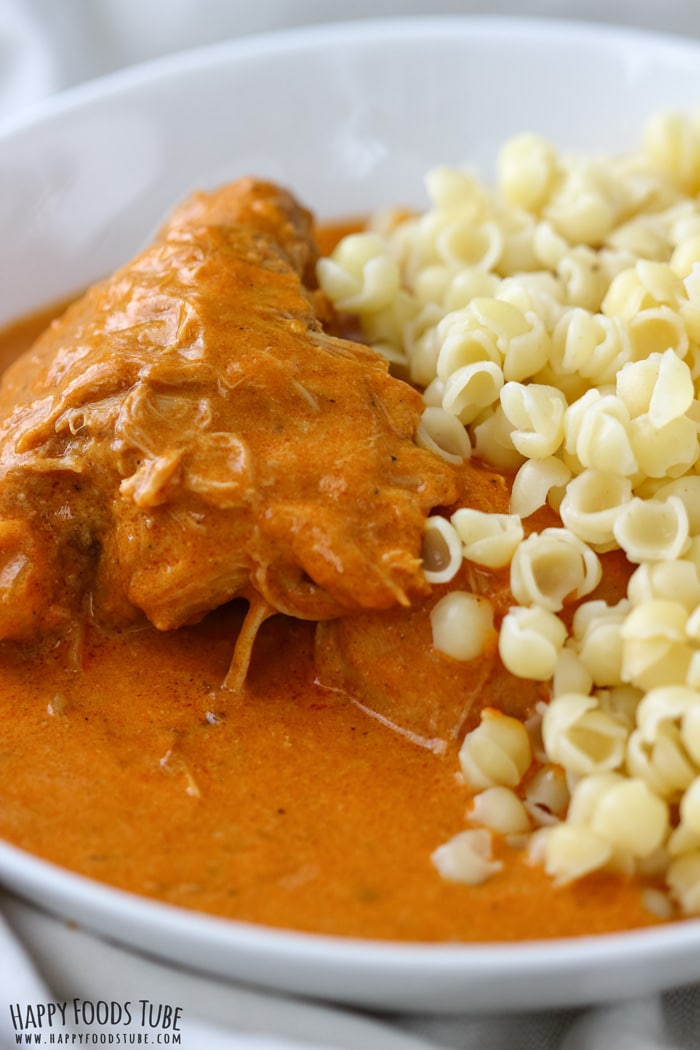 You can do 10 minute natural pressure release or wait completely until the pin drops down itself – you will not overcook the chicken.
The last stage of this Instant Pot chicken paprikash is simple. Press SAUTE again and pour in whipping cream and give it a stir. To make the sauce extra creamy I added corn starch diluted in water. So bring the sauce to a boil and you can now turn off the pot. It should still be cooking for about 2 minutes which is exactly all you need here.
Now the last and most important ingredient is lemon juice. The juice gives the sauce nice flavor and cannot be omitted. Without it, you will have bland sauce, unless you increase the amount of seasoning. However, the lemon juice is as important as the paprika.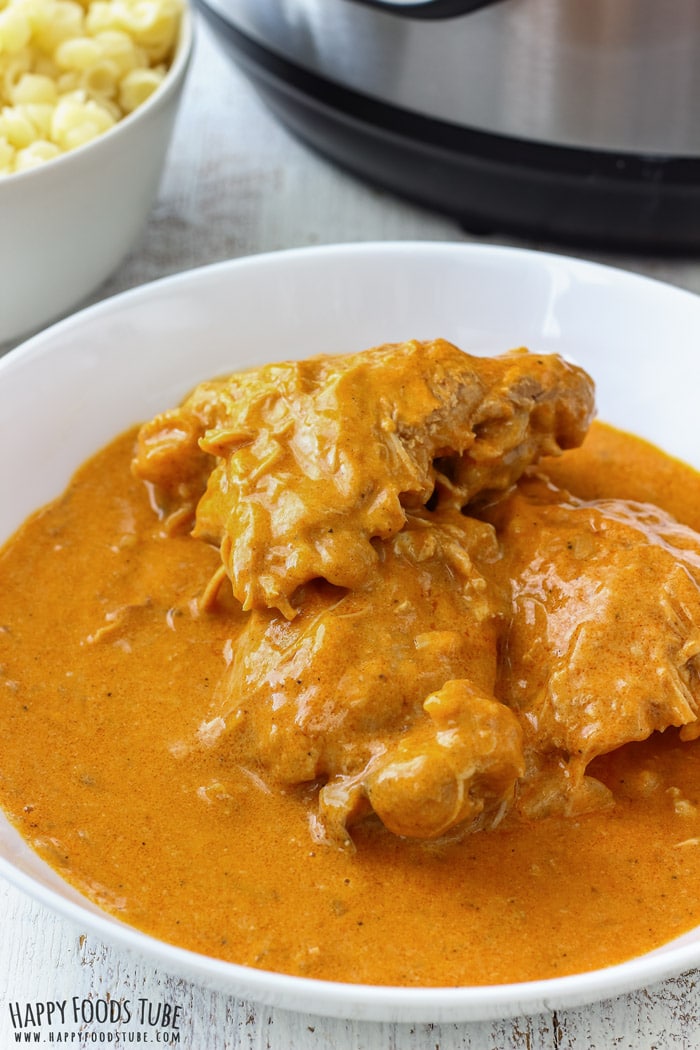 Ingredient substitutions
Chicken stock – vegetable stock can be used as well as chicken broth.
Olive oil – If you don't have olive oil, use butter or vegetable/sunflower oil.
Whipping cream – sour cream is another delicious option.
Chicken thighs, bone in – chicken thighs, boneless are fine to use, chicken drumsticks as well and so are chicken breasts. Cooking time could vary slightly. This would depend on the type and size of the pieces as well. If you are not sure, I suggest increasing the cooking time by 1 minute or letting the pressure drop naturally – which will prolong its cooking time slightly.
So guys, if you are looking for Easy Instant Pot Recipes, this pressure cooker chicken paprikash is definitely one of them!
Want to see how to make chicken paprikash? Watch the video!
Instant Pot Chicken Paprikash
Love comfort food? Try this instant pot chicken paprikash! Easy-to-pull-apart chicken thighs cooked in plenty of creamy sauce are ready in less than 30 minutes.
Ingredients
1

Large

Onion

2

Garlic Cloves

, minced

3

tablespoons

Olive Oil

2

pounds

Skinless Chicken Thighs

, bone in (900 grams)

1

teaspoon

Salt

¼

teaspoon

Black Pepper

2

tablespoons

Sweet Paprika

1

Bay Leaf

1½

cup

Chicken Stock

1

cup

Heavy Cream

2

tablespoons

Sour Cream

5

tablespoons

Corn Starch

½

Lemon

or more to taste
Instructions
Dice the onion and mince garlic.

Press "SAUTE" function on your Instant Pot. Pour 3 tablespoons of olive oil in the inner pot. Add the onion and garlic. Sauté this for a few minutes. Stir frequently to avoid burning the garlic. In about 3 minutes, add the chicken thighs. Cook them on both sides for a few minutes. All you need is to lock the juices inside.

Add salt, pepper and sweet paprika. Stir everything around with a wooden spoon so the thighs are coated with the seasoning.

Throw in bay leaf and pour in the chicken stock. Close and lock the lid, set the steam release to "SEALING" position. Press "MANUAL" and adjust the time to 5 minutes.

After the cycle is finished, wait for 10 minutes before releasing the pressure manually.

Press "SAUTE" and pour in heavy cream, sour cream and corn starch diluted in little water.

At last, squeeze in the juice of ½ lemon and taste. Add more seasoning or lemon juice, if needed.

Serve with dumplings, or pasta of your choice.
Notes
Chicken thighs are the best to use here, but you can also use drumsticks or chicken breasts (bear in mind the cooking time might vary slightly).
Cream can be substituted with sour cream (to achieve smooth and creamy sauce, take about a cup of the juice from chicken and mix with sour cream before you pour this mixture into the inner pot).
If you don't have chicken stock, use vegetable stock or chicken broth instead.
If you prefer thicker sauce, add more corn starch (always dilute this in a little water first).
This recipe was made in a 6 quart/6 liter Instant Pot.
The cooking time does not include time needed for the pot coming to the pressure and also time needed to release the pressure. Count with extra 15 minutes.
Nutrition Facts
Instant Pot Chicken Paprikash
Amount per Serving
% Daily Value*
* Percent Daily Values are based on a 2000 calorie diet.
** As an Amazon Associate I earn from qualifying purchases.
LEAVE A COMMENT
RELATED POSTS