Lemon posset is a simple yet delicious dessert anyone can make. Ready in minutes, it is perfect for parties, family gatherings, or any kind of celebration! Only 3-ingredients!
It's the perfect make-ahead dessert but can also be whipped in minutes when looking for a last-minute treat.
No-bake individual desserts are great for all kinds of get-togethers. They look good and are easy to throw together.
This lemon posset recipe is egg free and contains no nuts. Because it has heavy cream in it, it is not suitable for those allergic to dairy, lactose, or cow's protein.
Ingredients:
Heavy cream
Sugar
Lemon – juice only
Kitchen tools you will need:
Measuring cups or a scale
Saucepan/small pot
Spatula
Knife and lemon juice squeezer
Something you will serve the dessert in (see below ideas)
Plastic foil – to cover each individual posset when stored in the fridge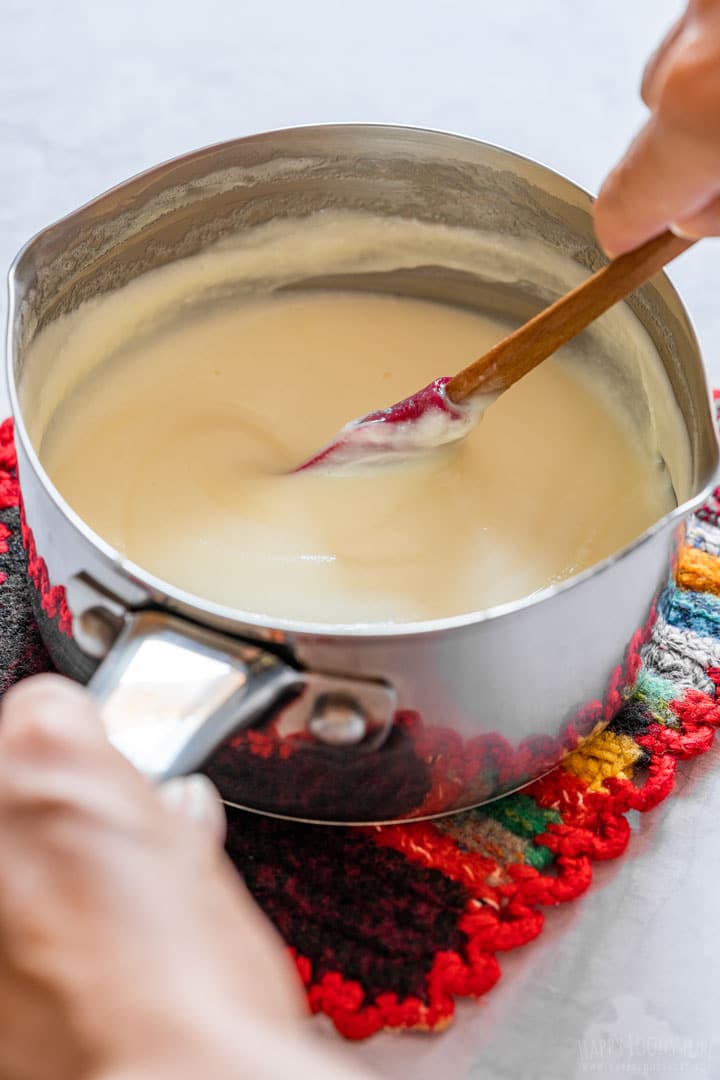 Serving ideas:
Wine or champagne glasses – Impress your guests at your next dinner party!
Ramekins
Shot glasses – perfect for parties, weddings,
Mini glass jars
Small glasses
Note: This dessert is quite rich so less is more and that is why it's best to serve it in small glasses/ jars.
Making lemon posset is straightforward. Cream and sugar are cooked together for a few minutes, then cooled down, and finally, lemon juice is stirred in (full printable recipe at the bottom of this post).
Tips for making the best lemon posset
For garnish, grate lemon zest on top (make sure to use organic lemons), chocolate or add one or two mint leaves. Topping the glasses with berries is also an option. Or serve it with a piece of shortbread cookie.
Heavy cream can easily over-boil so keep an eye on it. I prefer stirring it regularly for the duration of 3-minutes rather than having to deal with the mess afterward (when I turn around for a split second and cream is all over my stovetop).
Make sure to cool down the cream and sugar mixture before you add lemon juice. This prevents it from curdling.
You cannot substitute heavy cream for milk or half and half/single cream!
Lemon juice is not optional. It is a must if you want this simple dessert to set.
Chilling time and setting time: This can vary depending on the shape and size of the glasses you use. Mine set after 1-hour, but to enjoy them perfectly chilled they needed 3-hours in the fridge!
Frequently asked question
What is the consistency of lemon posset?
It is similar to panna cotta – the Italian dessert. It's smooth and creamy and melts in your mouth. It should not be runny!
Why doesn't my lemon posset thicken?
This could happen if not enough acid (in this case lemon juice) is added, or the lemon is milder. To fix this, add more juice.
Can you freeze this dessert?
I have read that you can. However, I have not tried it and would not recommend doing so. It is an easy recipe with a quick prep so why not make it fresh? It sets very quickly so it only requires a bit of chilling in the fridge. 3 hours is best but you can easily reduce this time down to 2 hours.
More ideas for individual desserts:
Lemon Posset
Lemon posset is simple yet delicious dessert anyone can make. Ready in minutes, it is perfect for parties, family gatherings or any kind of celebration! Only 3-ingredients!
Ingredients
1

cup

heavy cream

(250 milliliters), see note 1

¼

cup

granulated sugar

, heaped (60 grams), see note 2

1.5

tablespoon

lemon juice

, see note 3
Instructions
Add cream and sugar into a saucepan. Bring to a boil and reduce to simmer for 3 minutes.

Turn off the heat and let it cool before stirring in lemon juice (see notes 4 and 5).

Pour into wine glasses and chill before serving.
Notes
Use heavy cream/double cream or whipping cream. I tested this recipe with soy cream but it did not set.
Sugar – I use superfine sugar/caster sugar. It has small sugar granules similar to fine salt. Granulated tend to have very large granules but can be used as well. I have not tested this recipe with powdered sugar/icing sugar so don't know how much of that should be added.
You will need 1 to 2 tablespoons of lemon juice. I suggest adding one and tasting first. If too sweet, add more juice. Also, the more juice you use, the thicker the posset will turn out.
Once the lemon is added, the cream thickens. It needs to be refrigerated but the amount of lemon can be adjusted – you can add more if you like.
I let it cool for 20 minutes, stirring from time to time to get rid of the skin and help the cooling process. It does not have to be cold but not hot.
Chilling – to best enjoy, chill it in the fridge. Allow 1-3 hours. Note that lemon posset will set completely in the fridge.
Nutrition Facts
Lemon Posset
Amount per Serving
% Daily Value*
* Percent Daily Values are based on a 2000 calorie diet.
** As an Amazon Associate I earn from qualifying purchases.
LEAVE A COMMENT