A quick romaine salad recipe with 8 ingredients, including seasoning! Ready in 10 minutes, it's easy to make and perfect for summer.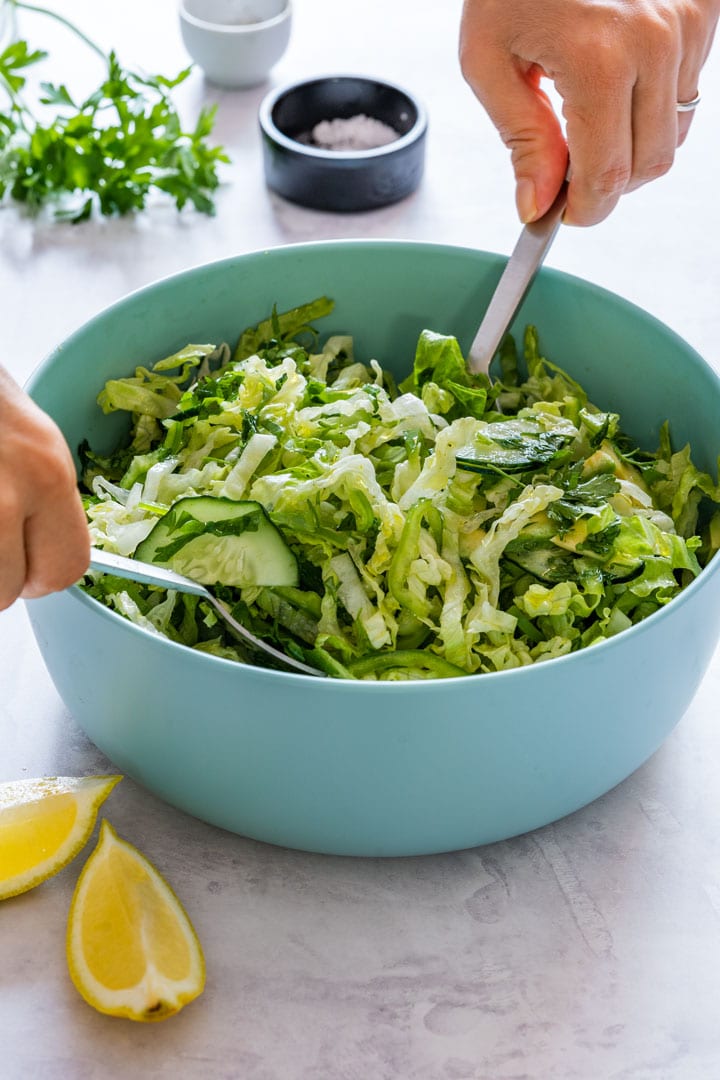 Find below tips, possible add-ons, substitutes, and serving ideas!
This romaine lettuce salad is also suitable for vegans and those with lactose intolerance or cow's protein allergy as it does not contain any cheese.
How to make romaine salad
Tools
Knife and a chopping board
Large bowl
Salad spoon and fork for mixing
There is nothing else you need. You could use a mandoline slicer to slice the majority of the ingredients, if you have one and like using it.
Ingredients
Cucumber
Green pepper
Romaine lettuce
Extra virgin olive oil
Salt and pepper
Avocado
Fresh parsley
Process
The whole prep is simple and quick. In 10 minutes you are ready to serve! All you need to do is get a large bowl and chop all the ingredients. Add olive oil and seasoning, toss and you are good to go!
Substitutions
Romaine lettuce can be substituted with iceberg or baby romaine lettuce.
A great alternative to fresh parsley is fresh dill weed. Don't substitute with dried herbs!
Olive oil – Because this romaine salad has only the simplest "dressing", it is important to use a good quality oil – extra virgin is the best. You can use regular olive oil if that is what you usually buy but please do not use other vegetable varieties.
Optional add-ons:
Olives – A delicious add-on.
Arugula – If I have it on hand, I add it to this salad as well.
Tomatoes
Feta – Completely optional! If using, I would recommend omitting the salt. Or, taste first and add salt only if needed. Feta is very salty so keep this in mind.
Nutritional yeast – Sprinkle some over to add extra nutrition and flavor!
Salad Dressing:
I am using good quality extra virgin olive oil, and salt and pepper only. The salad does not need anything else but if you would like to add something more, a splash of lemon juice or balsamic vinegar are great options. To elevate your salad to the next level homemade parmesan vinaigrette can be added.
Serving suggestions
Romaine salad is the perfect side for a summer barbecue or any kind of outdoor entertainment. It also goes well with pizza, homemade lasagna. Have you tried zucchini lasagna or grilled meats?
We like it with grilled boneless chicken thighs and grilled corn.
Frequently asked questions
What's the healthiest lettuce?
Romaine. It has a ton of nutrients in comparison to other varieties. Most of them are to be found in its green parts. Now that being said, it does not mean you can't eat the white parts!
Is romaine lettuce good for salads?
Absolutely!
How long will romaine salad keep fresh?
This salad is best enjoyed right away. Any leftovers can be stored in an airtight container in the fridge and consumed within 24 hours. Keep in mind that the salad will wilt and turn soggier. It might not look the best but it is OK to eat.
If you want to make it ahead, I recommend adding the oil and seasoning just before serving!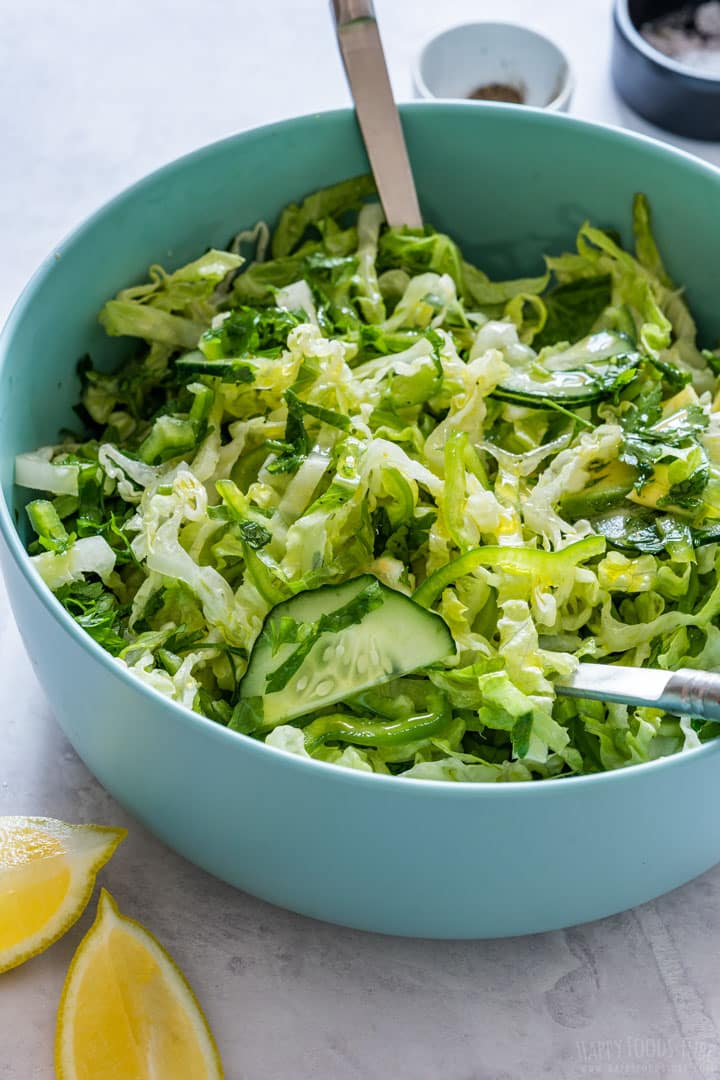 More salad recipes
Romaine Salad
A quick romaine salad recipe with 8 ingredients, including seasoning! Ready in 10 minutes, it's easy to make and perfect for summer.
Ingredients
1

Romaine lettuce

, see note 2

½

English cucumber

, see note 3

1

green Italian pepper

(large), see note 4

2

avocados

(ripe, medium size), see note 5

fresh parsley

, see note 6

3

tablespoons

extra virgin olive oil

, see note 7

salt

to taste

pepper

to taste
Instructions
Thinly slice the lettuce, cucumber, and avocados. Finely chop the parsley.

Transfer to a serving bowl (see note 8). Pour in the oil and season with salt and pepper.

Mix everything well and serve!
Notes
Make sure to rinse all the vegetables before cutting!
Romaine lettuce is also known as cos lettuce. You can use either 1 head when using the classic variety or several baby ones (4-6 maybe, depending on their size). Iceberg is also a great alternative.
English cucumbers are a large variety. I use what I have on hand. This time it was a large pickling cucumber.
Green Italian pepper can be substituted with bell pepper of any color.
Medium or large, it doesn't really matter. If you don't like avocados, omit them!
In this case, I suggest using more rather than less. ½ cup of chopped or more – you want to taste it in the salad! Dill can also be used instead of parsley.
You might need to add more, depending on how large the lettuce head will be. I suggest adding 3 generous tablespoons first and giving everything a mix. Taste and you'll see whether you prefer more or not.
It should be at least a 3-quart/3-liter bowl or bigger.
This is a simple salad that requires only a few ingredients. You can add a dressing of your choice or balsamic vinegar as well.
Nutrition Facts
Romaine Salad
Amount per Serving
% Daily Value*
* Percent Daily Values are based on a 2000 calorie diet.
** As an Amazon Associate I earn from qualifying purchases.
LEAVE A COMMENT