This is a shortcut recipe for blueberry Danish pinwheels made with puff pastry. It's the perfect option for busy families. These breakfast pastries can be also enjoyed for brunch or as an afternoon treat!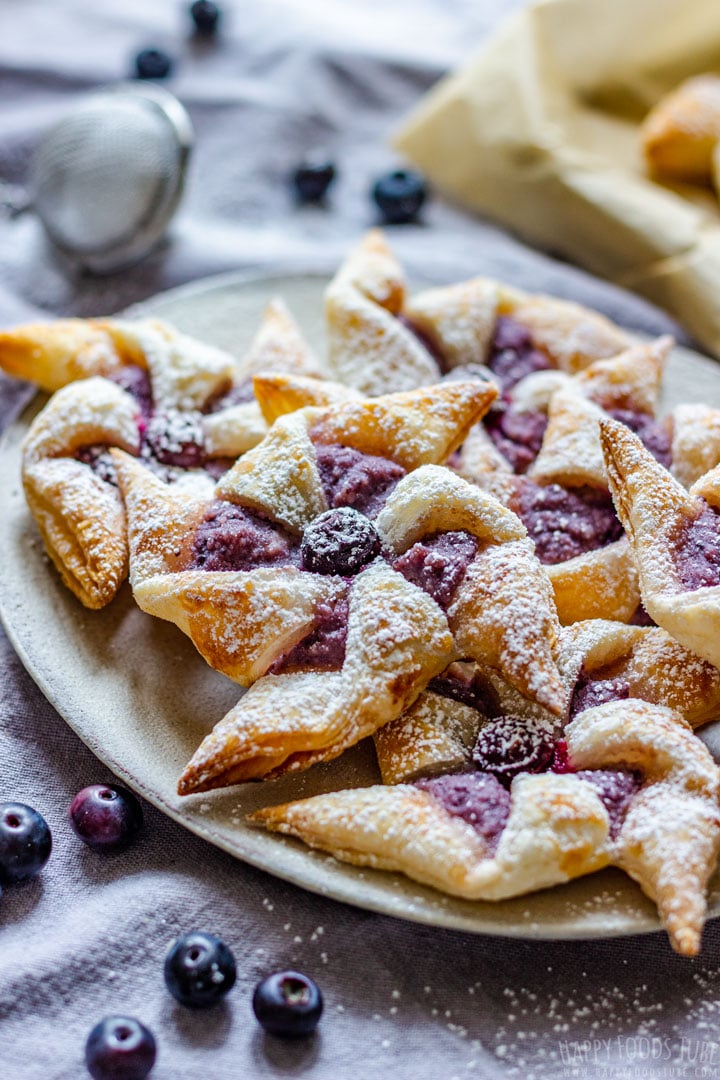 Plus, you only need 5 ingredients to make them!
They are delicious warm or cold. If you prefer eating blueberry pinwheel pastries warm, then simply re-heat them in a microwave.
This blueberry Danish pinwheels recipe has been updated recently. The post contains process photos, a new step-by-step video on how to make these blueberry Danish pastries as well as useful tips and possible substitutions.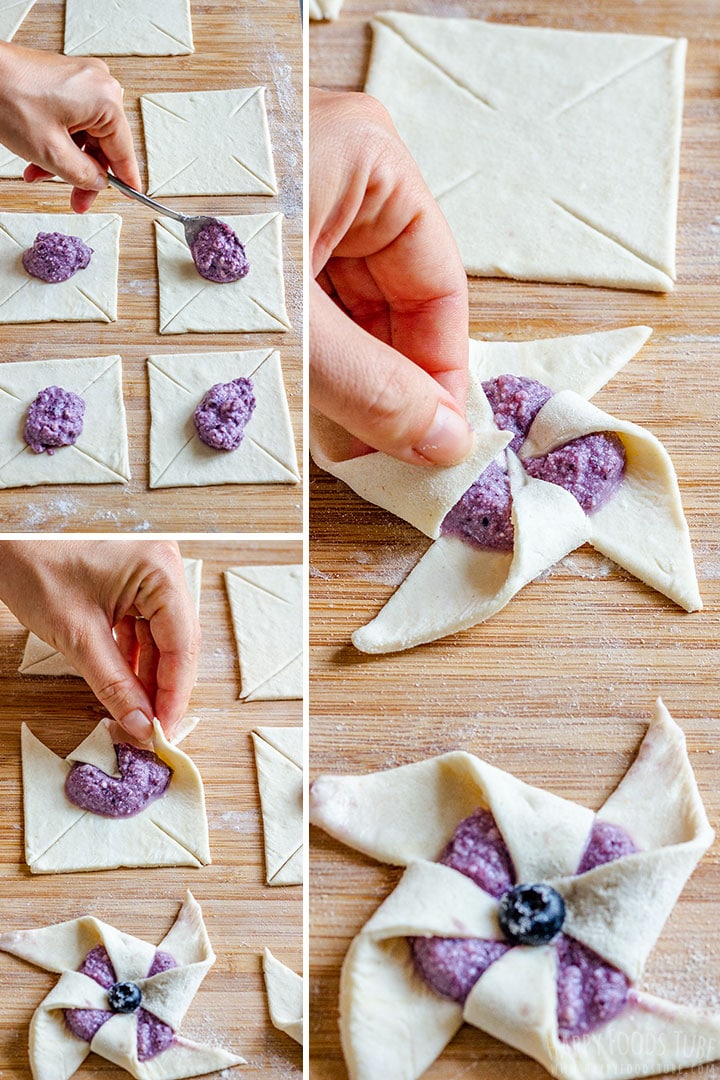 How to make blueberry danish pastries with puff pastry?
The whole process is pretty easy. First, prepare the filling by mixing ricotta with jam. Set this aside and move onto the next step.
Cut pastry into about 3-inch (8-centimeter) squares, then make a 1-inch (2.5-centimeter) diagonal cut at all 4 corners. When ready, spoon some of the ricotta filling in the center and bring every other pastry corner (tip) towards the center. Secure with a blueberry and repeat with the rest.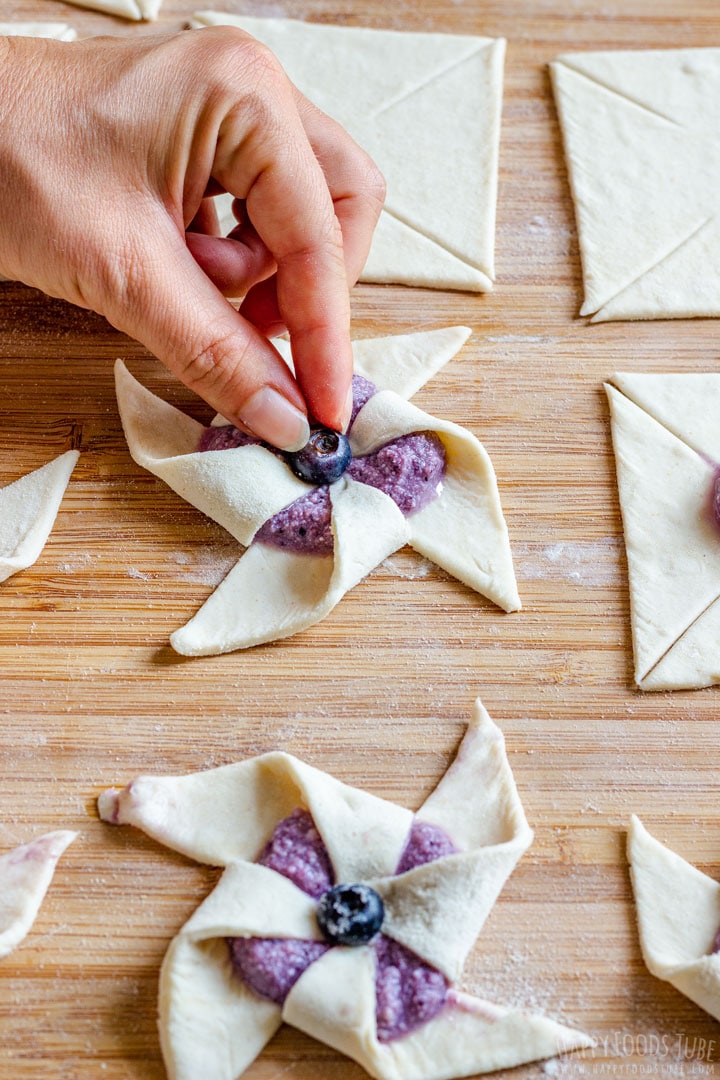 Bake these shortcut Danish pinwheels until nicely puffed and golden brown.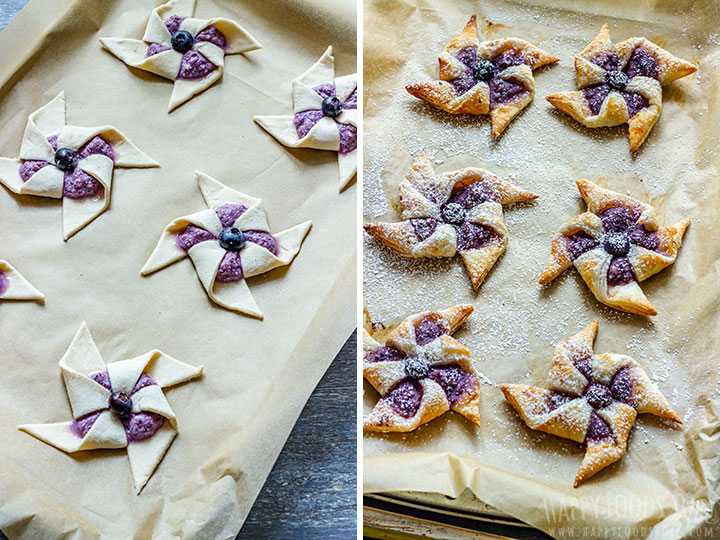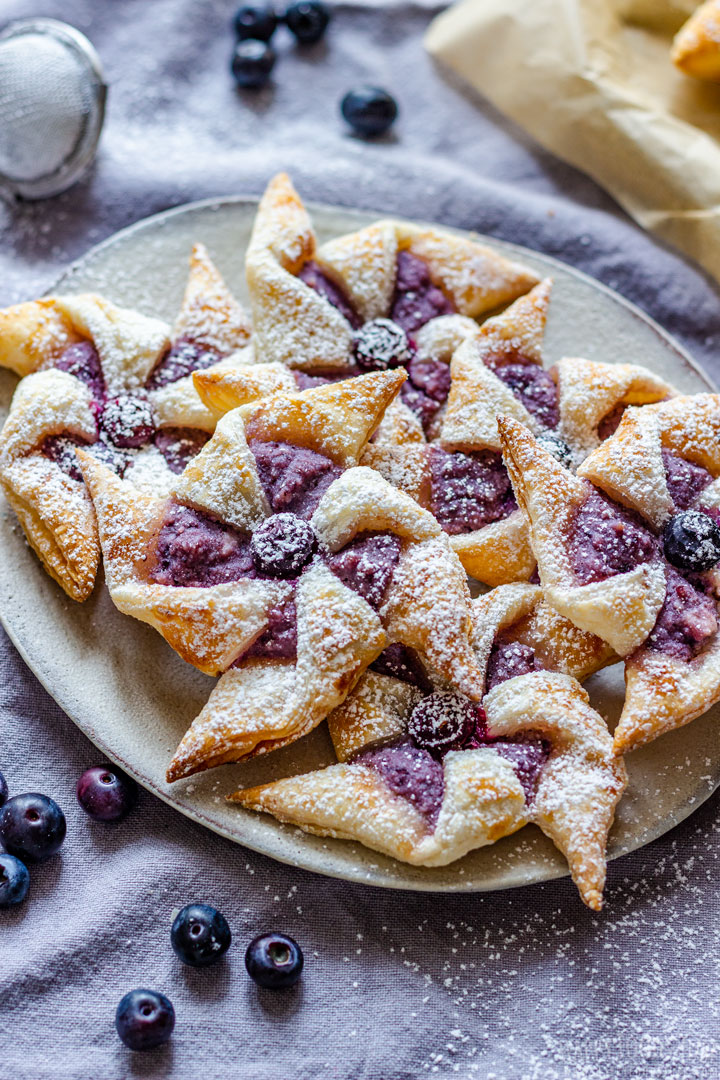 What puff pastry should I use?
To make these blueberry Danish pinwheels you can use either frozen or fresh puff pastry.
The fresh one is usually pre-rolled so you don't need to do anything, just un-roll it.
Frozen pastry needs to be thawed, unfolded and rolled out.
When I can, I prefer working with fresh pastry as it gives me better results (it puffs up nicely) and I can work it right away without having to roll it out. I'd recommend using your favorite puff pastry brand that you have good experience with.
Note: These blueberry pastries are a simplified version of the buttery Danish pastries. If you like, you can make them with Danish pastry dough. Here are the differences between the two pastries.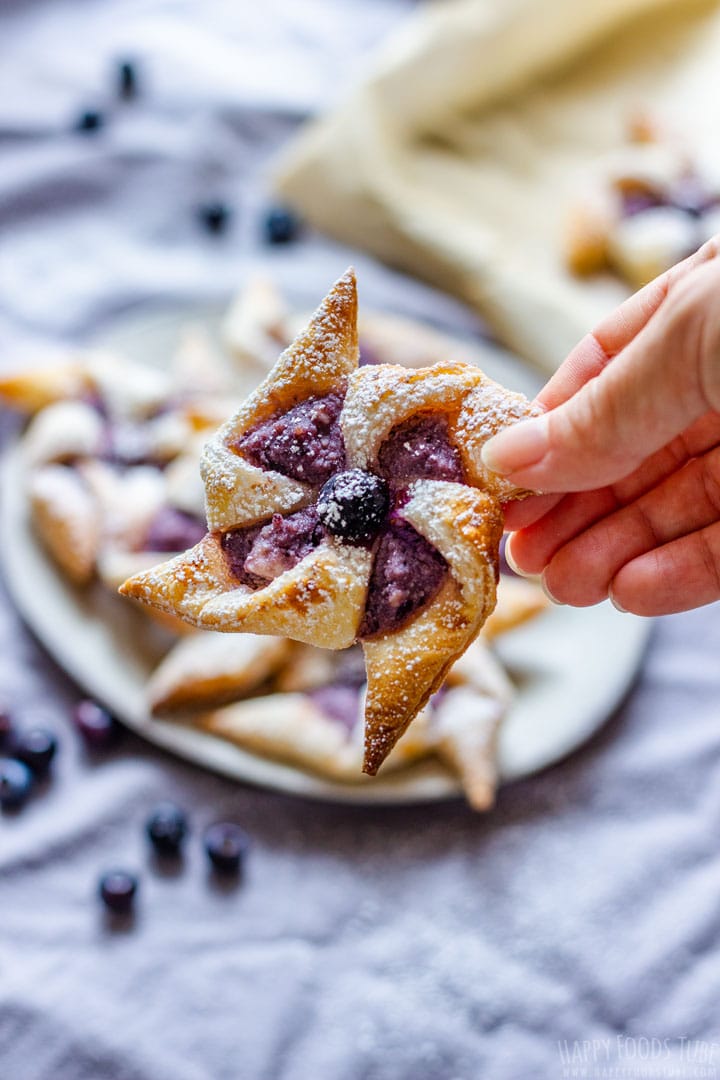 Tips for making the best puff pastry
A flat spatula make transferring these blueberry pastries easier. If you don't have it, I recommend assembling these puff pastry pinwheels right on a baking tray. That way, you don't have to worry about them sticking to the worktop nor you need to move them around.
I used blueberry jam, but you can use other flavors as well (i.e. Mixed Berry Jam or Strawberry Jam).
Fresh blueberries can be substituted with other berries or sliced dates. Small nuts like hazelnuts or almonds will also work.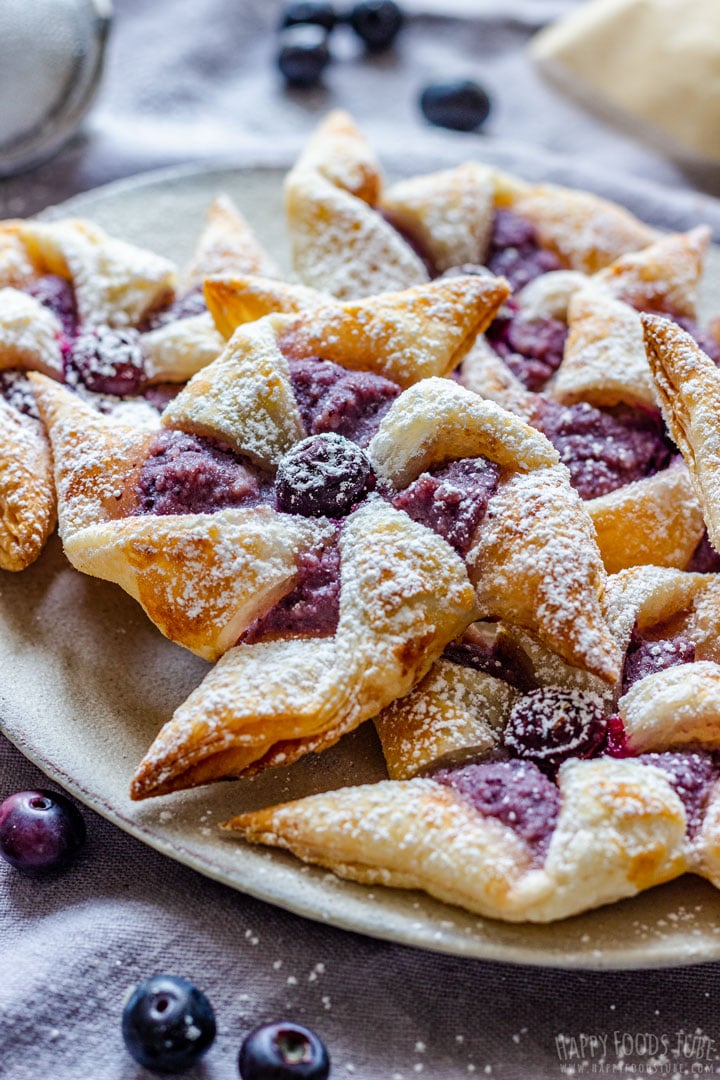 If you are looking for more puff pastry recipes, whether they are sweet or savory, I have a good collection on the blog. Here are a few of them:
Want to see how to make Blueberry Danish Pinwheels? Watch the video!
Blueberry Danish Pinwheels
This is a shortcut recipe for blueberry Danish pinwheels made with puff pastry. It's the perfect option for busy families. These breakfast pastries can be also enjoyed for brunch or as an afternoon treat!
Ingredients
½

cup

Ricotta Cheese

4

tablespoons

Blueberry Jam

, see note 1

1

Puff Pastry Sheet

, see note 2

12

Blueberries

, see note 3

powdered sugar

, for dusting
Instructions
Preheat oven to 400° Fahrenheit (200° Celsius).

In a bowl, mix ricotta with jam and set aside.

Using a knife or pizza cutter, cut puff pastry sheet into same size squares (about 3-inch/8-centimeter wide).

Take one square and make diagonal cuts in all 4 corners (check my photos or video if needed), about 1-inch (2.5-centimeters) long toward the center. Repeat with all squares.

Spoon about a heaped teaspoon of ricotta mixture in the center of each puff pastry square. Take one corner of the square and fold it towards the center. Repeat with every other corner/tip to form a pinwheel shape. Secure the center with a blueberry by pressing it down.

Repeat with the rest of them. When ready, transfer them onto a baking tray lined with baking parchment. Reduce the oven temperature to 370° Fahrenheit (190° Celsius) and bake them for about 12 minutes or until they are puffed and browned.

Let them cool down before dusting them with powdered sugar.

Enjoy!
Notes
Blueberry jam can be substituted with any jam of your choice. If you can, choose one with a thicker consistency so that the ricotta filling is not too runny.
I used ½ pound of frozen puff pastry that I thawed and rolled out prior to using. I got 12 squares out of it. You can use fresh pre-rolled puff pastry too. The number of blueberry pastries you get may vary. This will depend on the size of your pastry.
Instead of blueberries, you can use slices of dates or raspberries.
You will need to use a large baking tray/sheet i.e. a 10×15-inch (22×33-centimeter) tray fits 6 pinwheels.You don't need to leave very wide spaces in between them so you might be able to squeeze in more.
More tips, process photos and step-by-step video on how to make these shortcut blueberry Danish pastries can be found in the post above this recipe card.
Please note that every oven bakes differently, so keep an eye on them when making them for the first time.
Nutrition Facts
Blueberry Danish Pinwheels
Amount per Serving
% Daily Value*
* Percent Daily Values are based on a 2000 calorie diet.
** As an Amazon Associate I earn from qualifying purchases.
LEAVE A COMMENT