Salmon in puff pastry is a delicious meal that has a quick prep and requires only a few ingredients. Topped with herbed cream cheese and wrapped in rich flaky pastry, these salmon puff pastry pockets are everyone's favorite!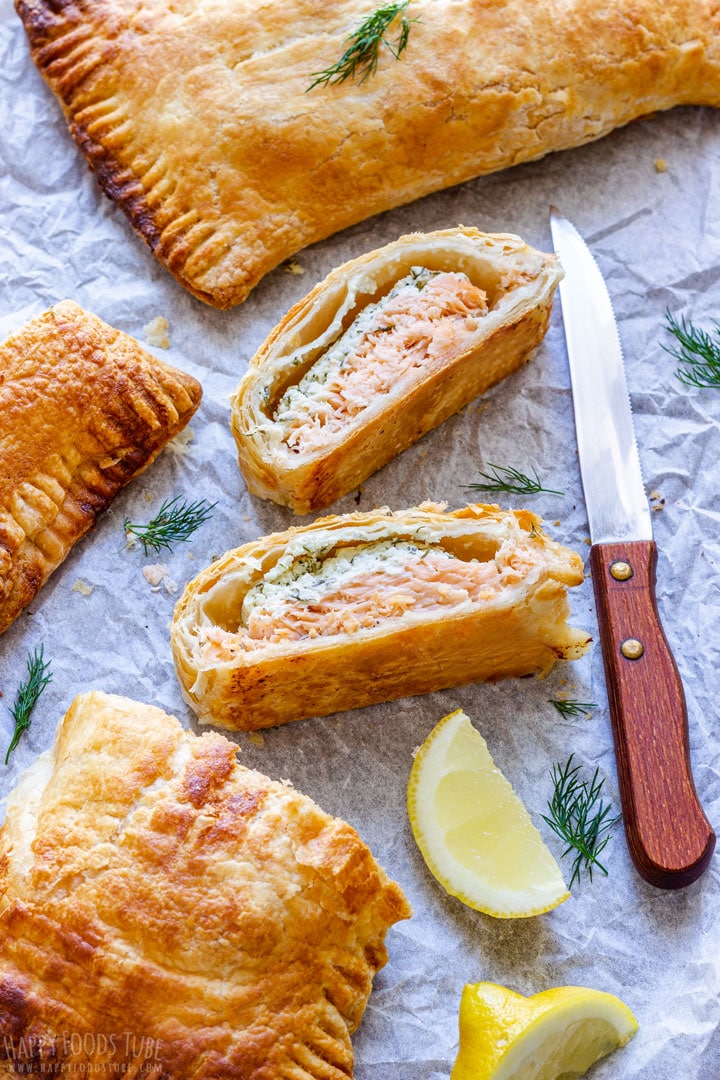 This post includes answers to FAQ's about making baked salmon in puff pastry for easy understanding as well as serving suggestions and more salmon recipe ideas.
After seeing frozen salmon in puff pastry in our local supermarket, I couldn't wait to get home to try it. Believe it or not, salmon wrapped in puff pastry is very easy to make, but for better understanding I included some process photos as well.
By the way, you might know this dish under a different name – salmon en croute, puff pastry salmon or salmon wellington.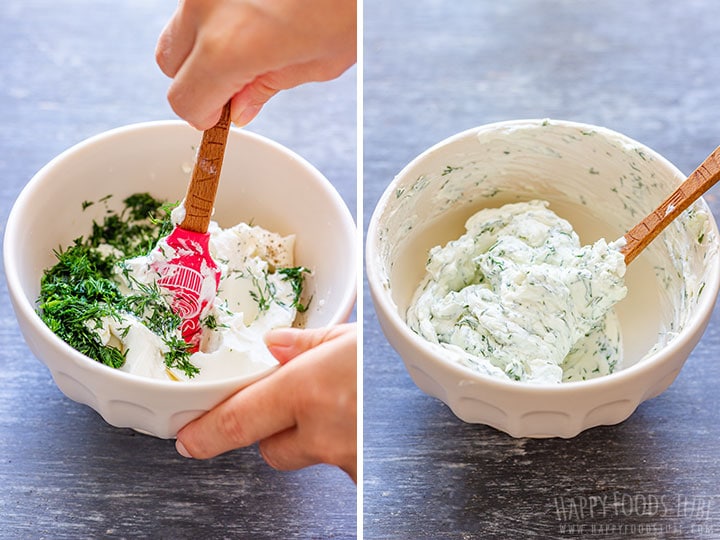 How to make salmon in puff pastry with cream cheese
Prep is relatively quick once you gather all the ingredients. Pat the fish dry and season each fillet on both side with salt and pepper. Don't over-season the fish as the cream cheese contains some salt already.
Some frozen fillets are ready salted so make sure to check this. If they are, I'd suggest you omit the salt completely.
Then, mix the cream cheese filling with dill and a pinch of black pepper. You can add lemon (optional) as well.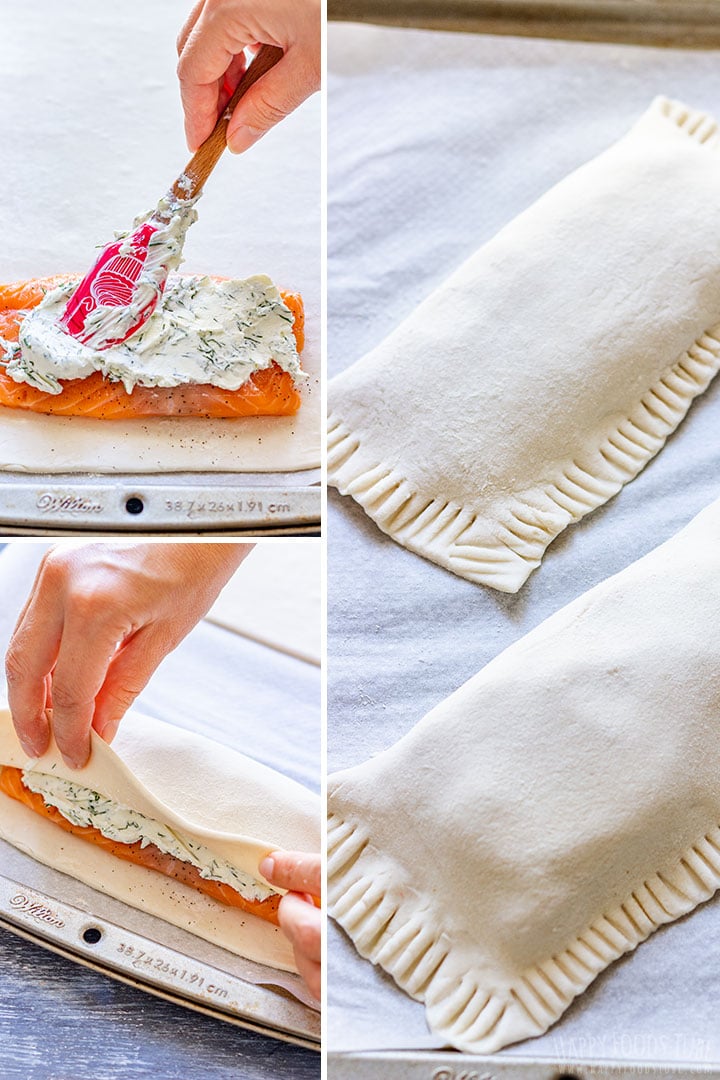 Place a fillet onto a sheet of rolled-out puff pastry, spread half of the cream cheese mixture over and cover with the remaining puff pastry. Repeat with the second salmon fillet.
You have to seal the edges well with a fork – it's like making hand pies. There is no need to pierce the pastry.
Brush some melted butter with milk over and they are ready to go in the oven.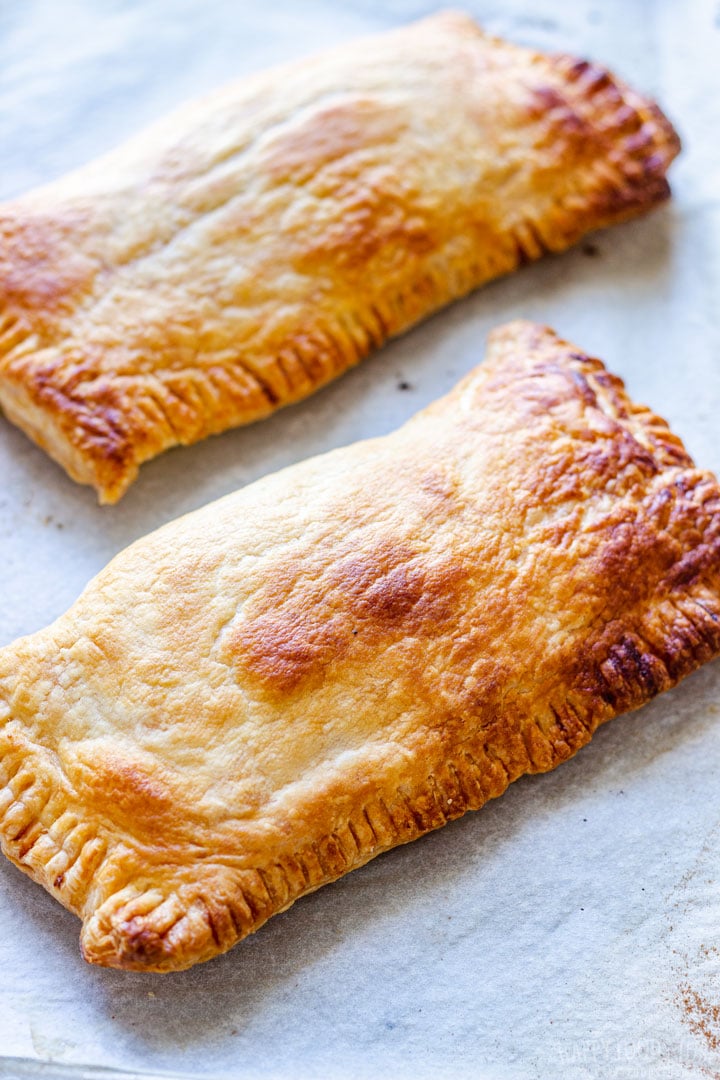 How long to bake salmon in puff pastry?
The baking time for these puff pastry salmon pockets can vary. This will depend on many things. A few of them are the thickness of the fillets, your oven, and type of puff pastry you use (they may vary from brand to brand).
For that reason, please take the cooking time as a guide only. You will have to check it during cooking to see if it is ready, especially when making it for the first time.
I normally bake them at 400° Fahrenheit (200° Celsius) for about 20 minutes. If you are not sure whether your salmon is cooked through, use a food thermometer to check its internal temperature (it should be minimum of 145° Fahrenheit/63° Celsius in the thickest part of the fish).
Don't take them out, if you see that the pastry is not puffed and flaky. It should look golden brown on top as well as on the bottom.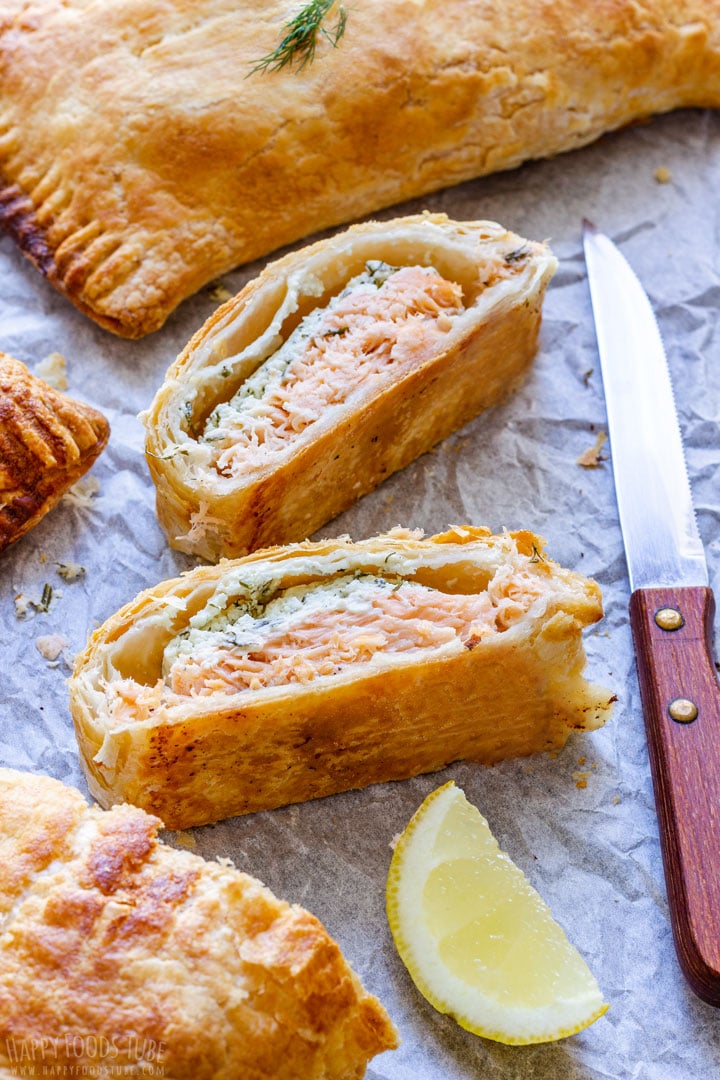 What to serve with salmon in puff pastry?
There are many options that go well with baked salmon. Here are a few:
Steamed Veggies (We love Instant Pot Broccoli with olive oil and seasoning, but you can use other vegetables).
Tossed salad – it's refreshing and together with one of the below mentioned side dishes you will create a complete and filling meal.
Quinoa – Cooked quinoa (any color) work well with these salmon wellington pockets.
Couscous or orzo.
Potatoes – Parmesan Roasted Potatoes are my favorite.
Roasted vegetables like Asparagus with Parmesan.
Tips for making the best puff pastry salmon
You can use any puff pastry available in your local store (or the one you have experience with and works well for you). It can be fresh or thawed. Either way it should be well chilled. If it is not pre-rolled, you will need to roll it out so it is not way too thick.
For 2 salmon fillets (weighing 4.5-ounce/125 grams each) you should count with ½ pound (225 grams) of pastry. For extra large fillets you might need more.
This salmon in puff pastry recipe can be easily doubled/tripled or halved. Note that the pockets will be quite large and I usually fit 2–3 on my tray. This means you might need to bake them in 2 batches when doubling or tripling the recipe.
You can substitute fresh dill with fresh chives.
I used a mixture of milk and butter which I used to brush my salmon wellington with. You can use egg wash instead (1 egg should plenty for up to 4 pockets).
Each salmon in puff pastry pocket is quite large once filled and baked, so it should feed 2 people.
The salmon I bought comes from a farm (unfortunately, there is no other option to buy in our local supermarket). If you can, try buying wild salmon. If you would like to read more about the difference between the two, here is an interesting article: Wild salmon versus farmed salmon, that you might find helpful.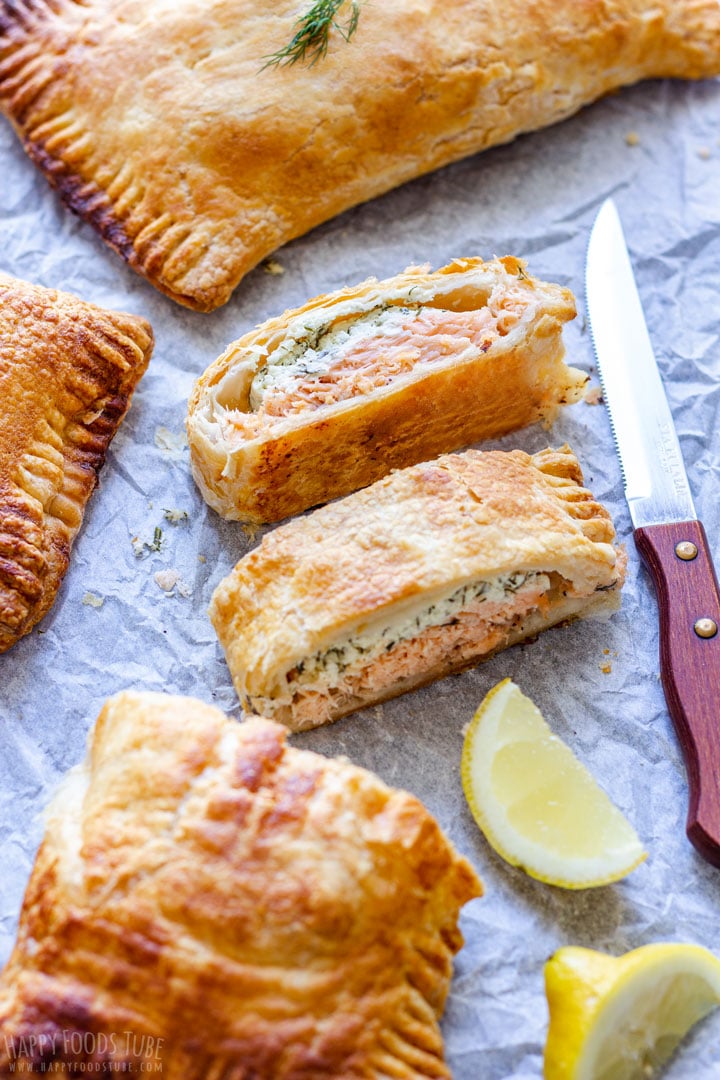 If you liked this salmon in puff pastry, you might also like some of these Salmon Recipes:
Salmon in Puff Pastry
Salmon in puff pastry is a delicious meal that has a quick prep and requires only a few ingredients.
Ingredients
2

Salmon Fillets

(4-ounce/125-gram each), see note 1

Salt

, to taste

black pepper

, to taste

4

ounces

Cream Cheese

(110 grams)

1/8

cup

Fresh Dill

, finely chopped

Lemon juice

, a drizzle (optional)

1/2

pound

Puff Pastry

, thawed or fresh (225 grams)

1

tablespoon

Unsalted Butter

, melted

1

tablespoon

Milk
Instructions
Preheat oven to 400° Fahrenheit/200° Celsius.

Pat each salmon fillet dry with paper kitchen towels and season with salt and pepper and set aside.

In a small bowl, mix together cream cheese, chopped dill and lemon juice (optional).

Unfold puff pastry and roll it out thin-ish. You need enough pastry to wrap each fillet in it. Cut the pastry in half and place one fillet close to one of the edges (make sure there is enough left over for folding). Spread cream cheese mixture over and fold over the remaining pastry. With your fingers, Seal the 3 edges by pushing the pastry down, first with fingers, then with a fork. Repeat with the second fillet.

Transfer both salmon puff pastry pockets onto a baking tray lined with baking parchment.

Mix melted butter with milk and brush this over each puff pastry pocket.

Bake in a preheated oven at 400° Fahrenheit/200° Celsius for 20 minutes or until the pastry is golden brown and puffed and salmon is cooked through.

Let it rest for about 10 minutes before serving.

Enjoy!
Notes
I used frozen salmon fillets, but you can use fresh ones. Make sure the fillets are thawed completely. Pat them dry to get rid of any excess water. Some of them might already be pre-salted, so make sure to check this. If they are, omit the salt or use only a little.
For best results use fresh dill!
Lemon juice can be completely omitted.
Butter and milk can be substituted with egg or omitted completely. If you decide not to use any of these, please note that the pastry will come out paler – this is completely fine as long as it is nicely puffed and flaky.
Please note that you might need more/less pastry as your salmon pieces might be bigger/smaller.
The baking time may vary slightly. This will depend on your oven, the thickness of the fillets as well as the puff pastry, so it's best to keep an eye on the salmon especially when you make them for the first time.
Nutrition Facts
Salmon in Puff Pastry
Amount per Serving
% Daily Value*
* Percent Daily Values are based on a 2000 calorie diet.
** As an Amazon Associate I earn from qualifying purchases.
LEAVE A COMMENT