Ham and cheese jambon pastries are puff pastry pockets sold at deli counters all over Ireland. They are perfect for breakfast on the go or as a snack.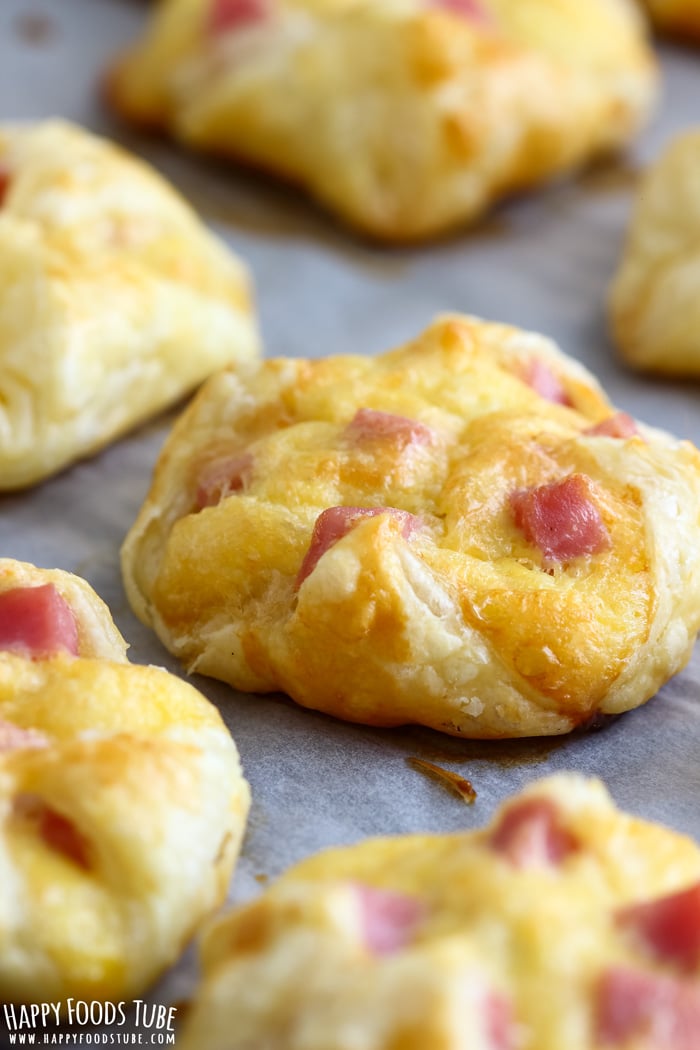 Ham and cheese jambon pastries are one of the breakfast-on-the-go-foods at every deli counter in Ireland.
Guys, these ham and cheese jambon pastries are also perfect for picnics, lunch boxes or entertaining at home!
Now I have a confession to make: It had taken me a good while getting used to traditional Irish breakfast foods and snacks. Potato wedges, sausage rolls and ham and cheese jambon pastries were one of them. However, when I got the courage to try them I soon realized why there were long queues every morning at the hot deli counter.
People queue at the deli counter of their local shops to get freshly baked ham and cheese pockets for breakfast. If they are lucky they can buy them in the afternoon as well, but not all shops sell them after lunch time.
Well, no wonder! They are the perfect snack/breakfast food in a cold rainy country. They were warm, filling, reasonably priced and tasted amazing!
Because there is no chance of buying Irish jambon pastries in Spain I decide to make them! I figured they should be easy to make and they were! After a few batches I knew what would work best here.
Puff pastry is the key here. It's such versatile dough. You can use it in so many ways! Check out these savory puff pastry recipes for the inspiration: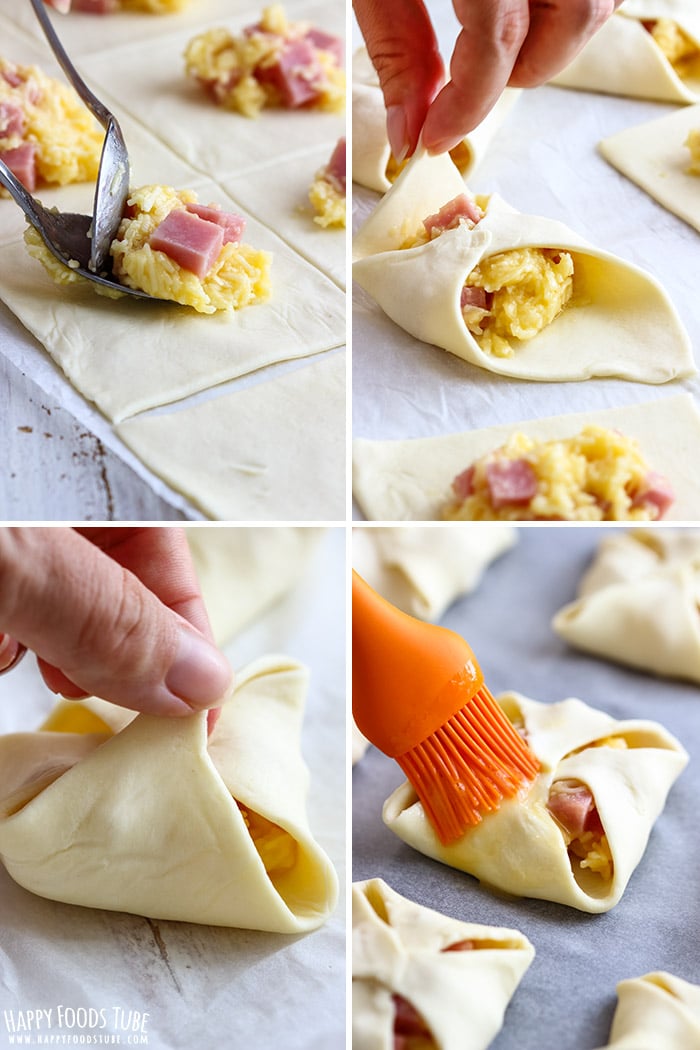 How to make ham and cheese jambons
To make these savory puff pastry pockets you will need 4 simple ingredients: ham, cheese, eggs and puff pastry. Leftover ham is perfect for this recipe!
Start with beating the eggs. Now pour about a tablespoon into a small bowl/cup. You will need this for brushing the pastry.
Diced ham, grated cheese and beaten eggs are then combined in a bowl. I usually mix the beaten eggs with cheese first and then add the ham.
Get your pre-rolled puff pastry sheet (keep it in the fridge until I have everything ready). Cut the sheet into squares. The number of squares will depend on the size of the sheet. I got 15 squares out of my pastry, each square measuring about 3 inch/7.5 cm.
Using two teaspoons (check the recipe for instructions) place some of the mixture in the middle of each square. Once done, you will need to close each sheet. This is simple – take each corner of the pastry and bring them toward the center. Slightly press down so they stay together.
Now they will open up during baking but this is completely OK. This is what these ham and cheese jambon should look like.
Brushing each jambon parcel with egg wash is the last step before placing them in a preheated oven. Now all you have to do is wait for them to bake. This will take about 20 minutes. It should not take longer but best is check after 15 minutes. They are ready when the pastry is puffed and golden brown.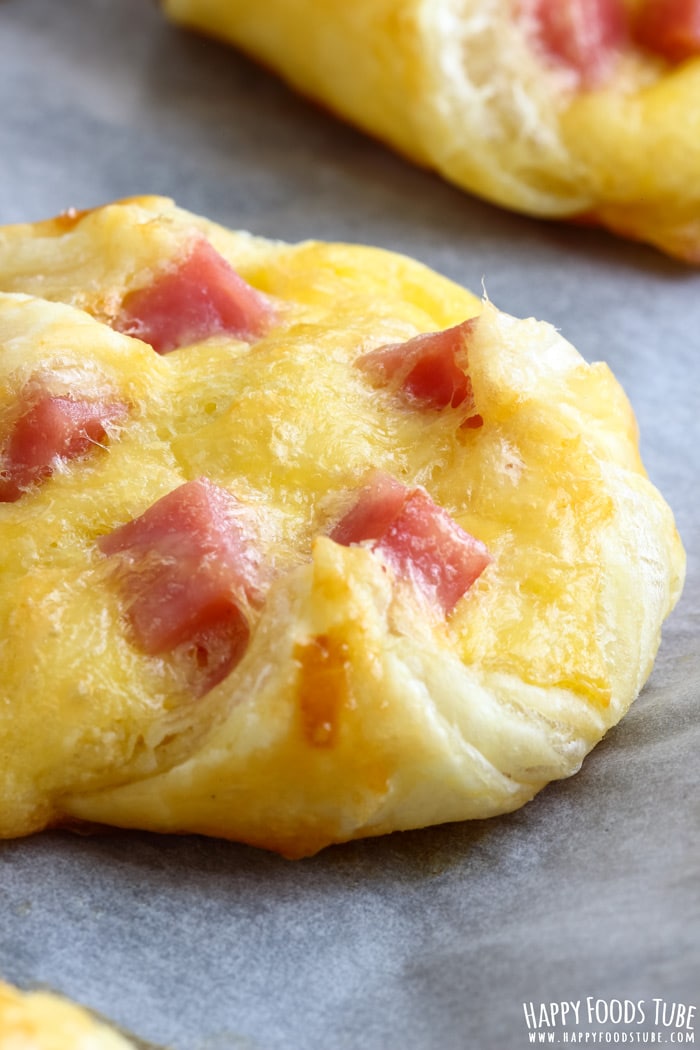 Why should you make ham and cheese jambon pastries?
These ham and cheese parcels are perfect for kids lunch boxes, parties, picnics or those days when you need to use your leftover ham.
They are quick and easy to make (15 ham and cheese jambon pastries will be on your table in 30 minutes. This time does also include the prep, in case you were wondering).
Because they are a crowd's favorite snacks!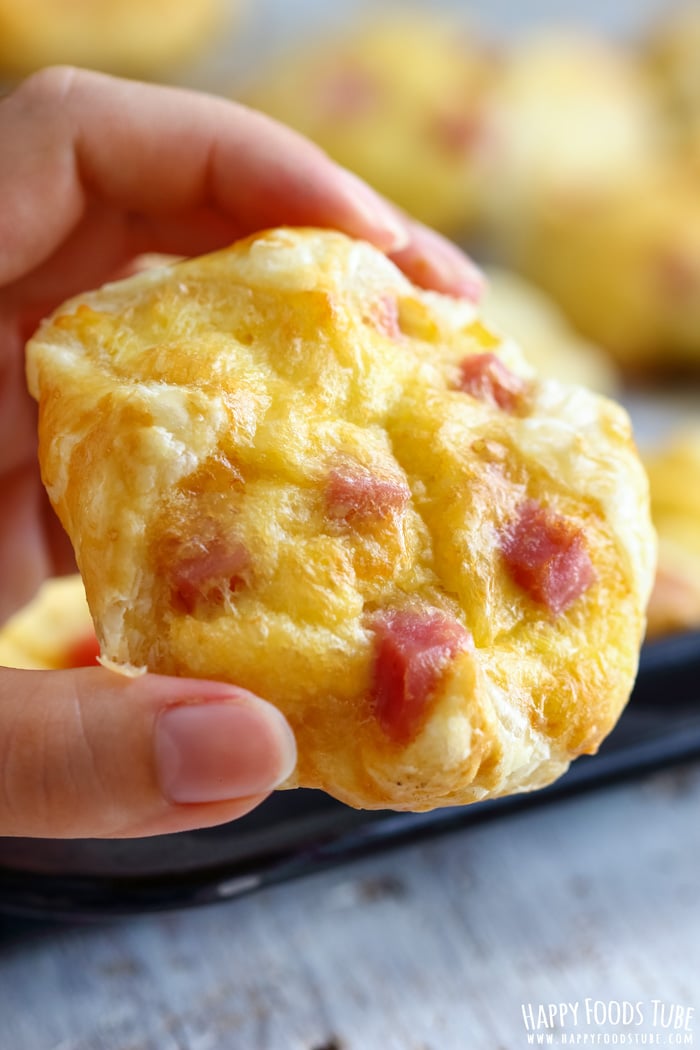 Ingredient substitutions:
Cheddar – you can use gouda, edam, even grated mozzarella. I prefer cheddar here.
Ham – I love making these homemade jambons with bacon/pancetta as well (no need to pre-cook the bacon, it will cook in the oven).
Egg – you can omit the egg. However, bear in mind that when you do, these ham and cheese jambon pastries won't be so full-looking.
Egg wash – I made these easy jambons with as well as without egg wash.
Want to see how to make Ham & Cheese Jambons? Watch the video!
Ham and Cheese Jambon Pastries
Ham and cheese jambon pastries are puff pastry pockets sold at deli counters all over Ireland. They are perfect for breakfast on the go or as a snack.
Ingredients
1

Pre-Rolled Puff Pastry Sheet

(10 ounces/275 grams)

1

cup

Diced Ham

(120 grams)

1½

cup

Grated Cheddar Cheese

(100 grams)

2

Medium Eggs
Instructions
Preheat the oven to 400°F/200°C.
Meanwhile:
In a large bowl beat the eggs. Save about a tablespoon of this for later (simply pour into a smaller bowl).

Now add diced ham and grated cheese in the large bowl and combine all 3 ingredients.

Cut the puff pastry into squares (3-3.5 inch/7.5-9 cm wide is ideal). Place a heaped teaspoon of the filing in the middle of each square (scoop the filling with one teaspoon and transfer onto the square sheet. Use the other teaspoon to slide it off onto the square.

Bring each corner towards the center so they are overlapping each other. Press the last one down stronger to form parcels (don't press down too much, you want them to open up during baking).

Brush with egg wash and bake for about 20 minutes or until done.

Best served warm.
Nutrition Facts
Ham and Cheese Jambon Pastries
Amount per Serving
% Daily Value*
* Percent Daily Values are based on a 2000 calorie diet.
** As an Amazon Associate I earn from qualifying purchases.
LEAVE A COMMENT
RELATED POSTS