Air fryer maple pecan hand pies are quick to make and delicious! Puff pastry makes these mini pecan pies extra flaky and buttery. Add them to your kid's lunch box or enjoy them as an afternoon snack!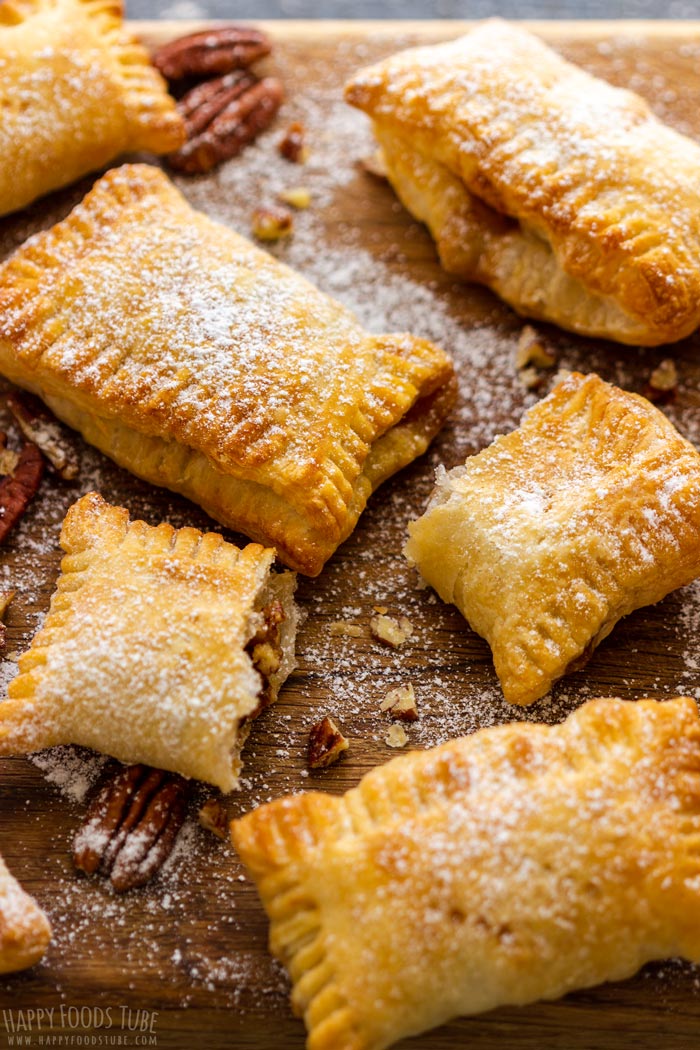 These air fryer hand pies are so easy to make. I love using puff pastry to make them because they are just a bit tastier with all that flaky crust.
For maple pecan pies you don't need many ingredients. Just puff pastry, maple syrup, pecan nuts, sugar and butter.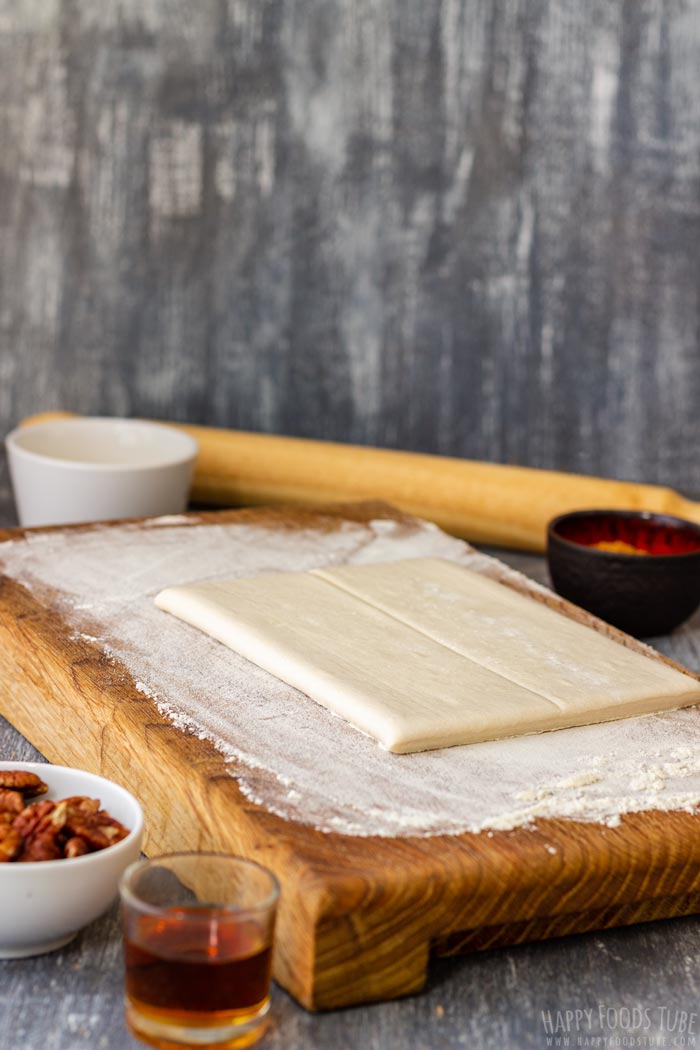 How to make maple pecan hand pies in air fryer
First, make the pecan filling. This is such an easy filling to make but tastes amazing. In a bowl, combine maple syrup, pecans and sugar. The mixture will be quite runny so we need to make it thicker by placing it in the freezer for about 10 minutes.
Meanwhile, unfold your pastry if you haven't done so yet and roll it out slightly and cut it into equal-sized pieces.
Put about a teaspoon or two onto each piece of pastry and spread it around slightly. Fold together and secure the edges with a fork by pressing down.
These maple pecan hand pies will have to be baked in 2 batches (I have a 5.8-quart/5.8-liter air fryer). They only need about 7 minutes.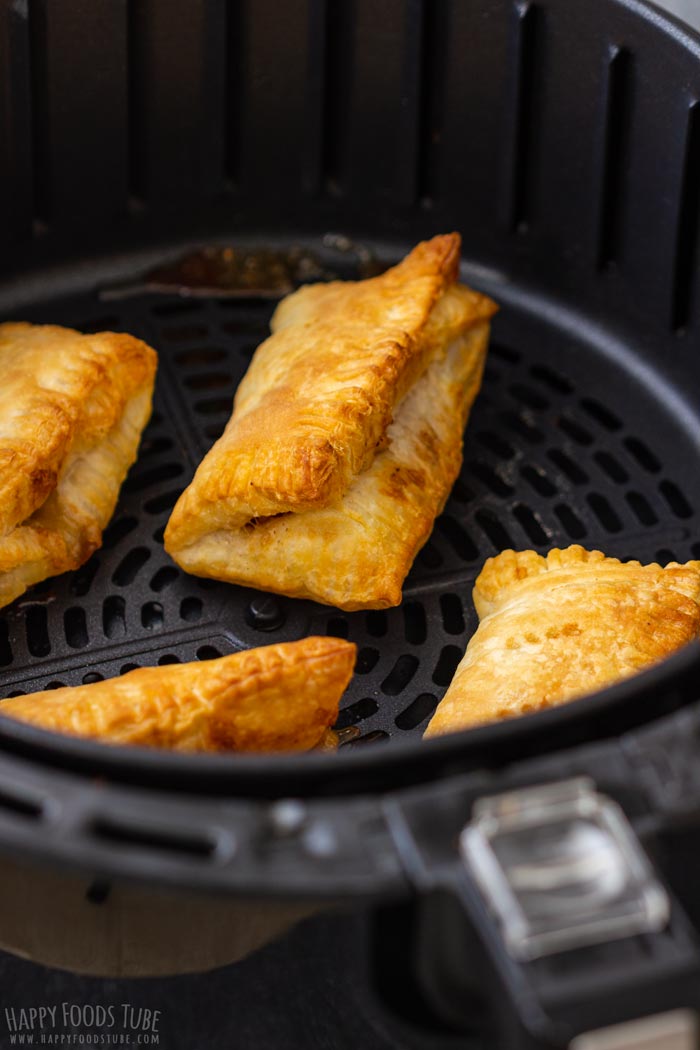 Tips for making air fryer maple pecan hand pies
Pecans – I finely chop pecans with a knife. If you want, you can use a food processor. If you do, just make sure not to process them too much. You want to feel some crunch when you bite into the hand pie.
If you don't have brown sugar on hand, you can still make these maple pecan hand pies. Just use white sugar instead.
Puff pastry – you can use either fresh or frozen (defrosted) pastry. Just note that when using the fresh one, you might need to reduce the cooking time slightly.
Why is my puff pastry not rising?
There are two most common reasons. First one is wrong temperature – either it was cooked on very low temperature and your pastries/pies/snacks … could not rise properly.
Second reason is that the wet filling you used was way too wet, so the pastry stayed soggy instead of puffing up. To avoid this, you should avoid using thin (liquid-y) fillings. That is also why I put the filling for these air fryer maple pecan hand pies in the freezer until it solidifies a bit.
Air fryer cooking tips
There are various brands of air fryers on the market. For this reason, the cooking times can vary slightly. Because air fryer is easy to operate, you can easily reduce or add time, if needed so if not sure, start with less time and add more only if it is needed.
Cooking spray helps the foods get the nice golden-brown look as well as add some crispiness. I did not use any when making these air fryer maple pecan hand pies as I felt they did not need it at all.
Pre-heating: Do you need to preheat air fryer? I recommend preheating it. My model does not have any special button for this, so I simply set it to my desired temperature and set time for 2 minutes. This seems to work. Your model can do the preheating just by pressing one button. It should be explained in your manual.
More puff pastry recipes:
Air Fryer Maple Pecan Hand Pies
Air fryer maple pecan hand pies are quick to make and delicious! Puff pastry makes these mini pecan pies extra flaky and buttery. Add them to your kid's lunch box or enjoy them as an afternoon snack!
Ingredients
1

Sheet

Puff Pastry

, thawed (see note 1)

4

tablespoons

brown Sugar

½

stick

Unsalted Butter

, melted (55 grams)

2

tablespoons

Maple Syrup

½

cup

Pecans

, finely chopped (55 grams)

powdered sugar

for Dusting (optional)
Instructions
First, prepare the filling by combining the butter, maple syrup and finely chopped pecans. Put this into the freezer for 10 minutes or until the butter has solidified a bit (does not have to be stone-hard, just not dripping).

Now, unfold the puff pastry and place it onto a floured worktop. Roll it out gently, don't press down too much. Cut it into equal-sized rectangles.

Spoon about 2 teaspoons of the filling onto the right side each pastry rectangle, leaving the edges free from the filling. Take the left side and fold it over the filling. With a fork, crimp the pastry edges to seal them. Pierce each pie with a fork.

Cook in 2 batches in a preheated air fryer at 375°F (190°C) for 7 minutes or until puffed and golden brown.

When cooled down, dust them with powdered sugar (optional).
Notes
It takes about 30 minutes to thaw the puff pastry. I recommend unfolding it while still a bit frozen as it is easier to handle and does not stick.
I got 8 pies out of this recipe (2×4 inches/6×10 cm). You can get less or more. This will depend on how much pastry you have as well as how large you make the hand pies.
Nutrition Facts
Air Fryer Maple Pecan Hand Pies
Amount per Serving
% Daily Value*
* Percent Daily Values are based on a 2000 calorie diet.
** As an Amazon Associate I earn from qualifying purchases.
LEAVE A COMMENT
RELATED POSTS