Learn how to air fry salmon the easy way! Honey glazed air fryer salmon fillets are ready on your table in 10 minutes so if you are looking for easy air fryer recipes or quick weeknight dinners, this is it!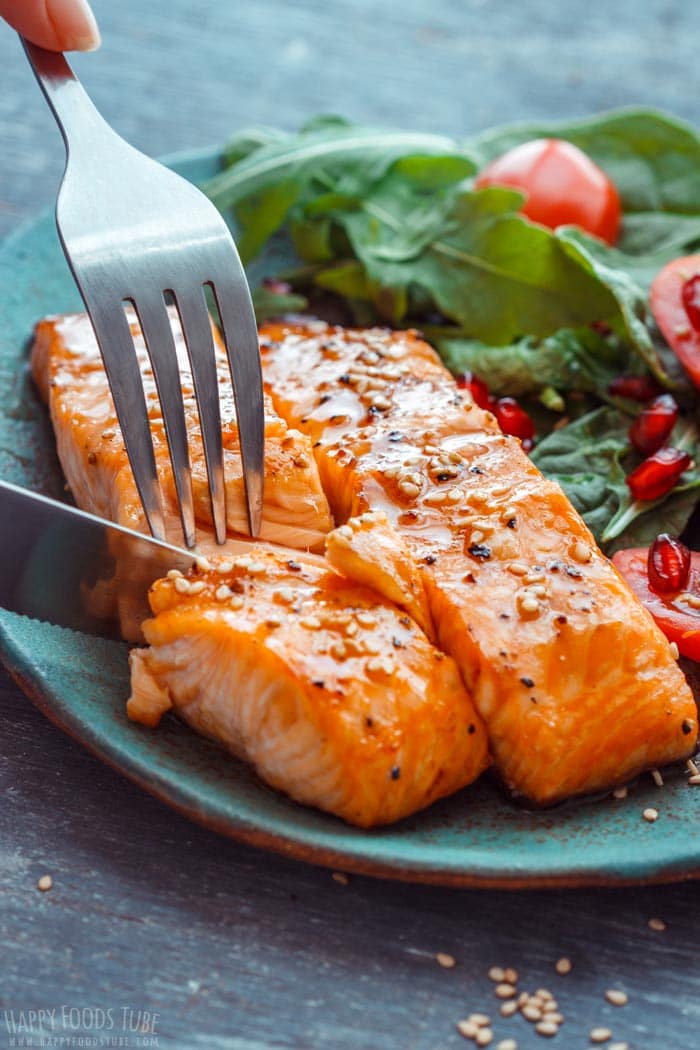 These honey glazed air fryer salmon only need 6 ingredients and all of them are easily available in your local store.
Chances are that you have all of them in your pantry right now (minus the salmon, that is).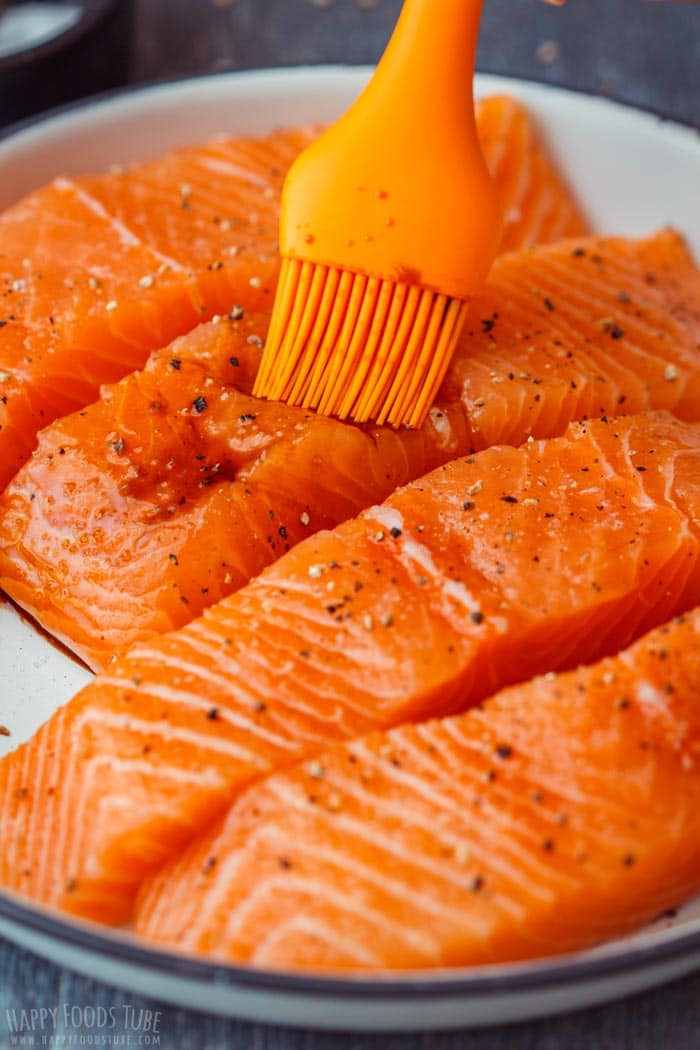 Cooking salmon in an air fryer is easy but if you have your doubts, here are some frequently asked questions answered:
Can fish be cooked in an air fryer?
Yes, you can. Breaded or not, salmon, cod, haddock … you can cook all kinds of fish in your air-fryer.
I must say that honey-glazed air fryer salmon is my favorite fish recipe to cook in an air fryer, for its easy and quick prep and simple ingredients.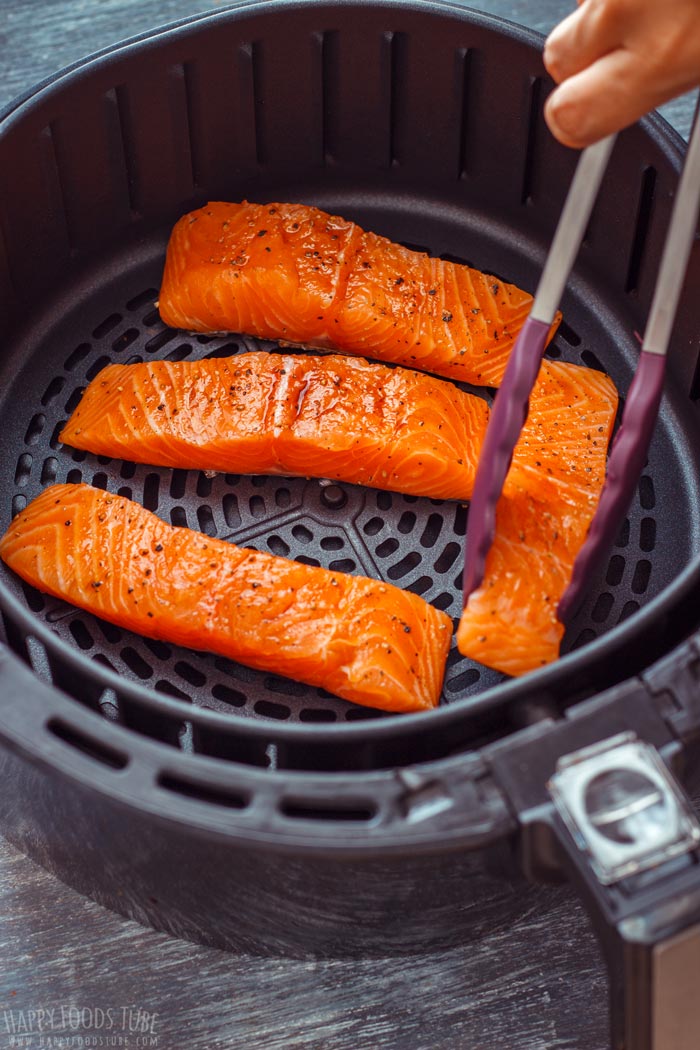 How long do I cook salmon in air fryer?
Air fryers are easy to use but like with many products, the cooking times may vary from brand to brand. For this reason, it is important to check the doneness of the fish. You can do it with a fork.
Perfectly cooked air fryer salmon fillets will easily fall apart. If not sure, use a thermometer (FDA recommends cooking salmon to 145°F (63°C).
I cooked these honey glazed air fryer salmon fillets for 8 minutes at 375°F (190°C). They were about 1.5 inch (4 cm) thick.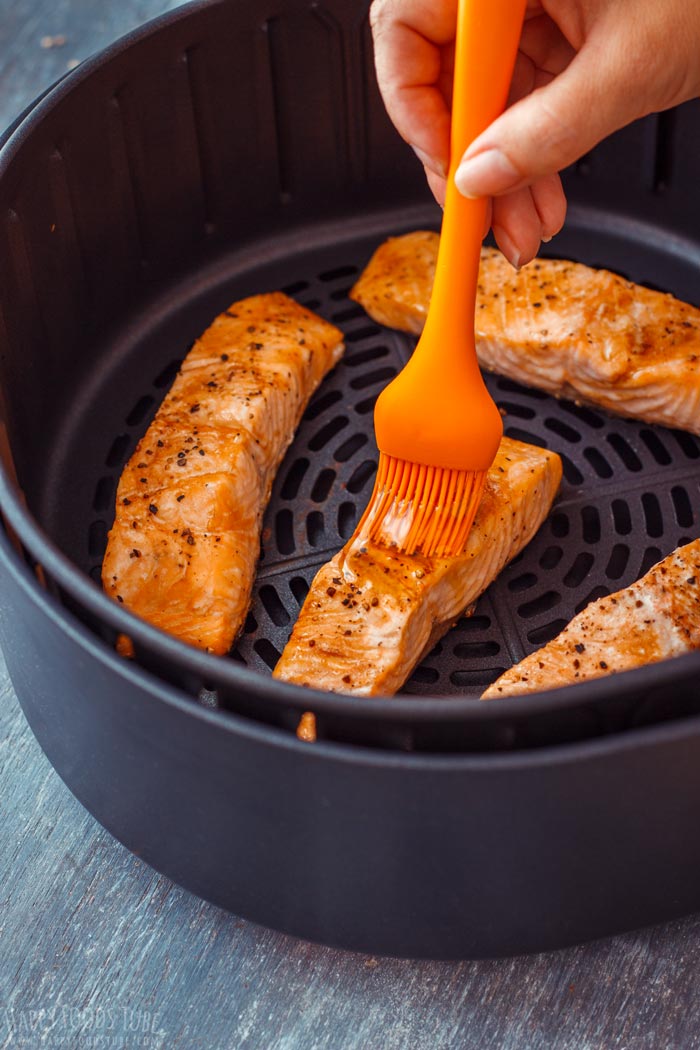 Tip: If not sure how to air fry salmon/how much time to set, don't worry. Check, whether the salmon fillets you are using are thicker or thinner that the ones I used. Thinner will need less time, thicker more time.
Now, if cooking them for the first time, I suggest checking them before the time is up as your air fryer may cook faster.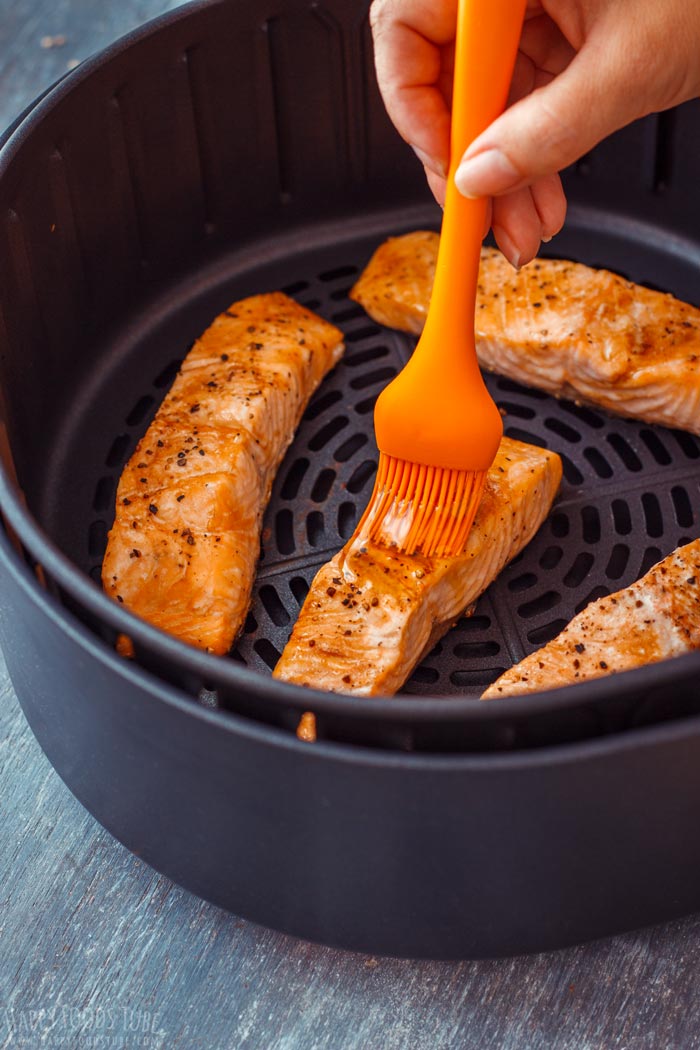 Ingredients & substitutions:
Because this recipe calls for simple ingredients, I don't recommend omitting any of them.
You can substitute white sesame seeds for the black ones, or use a low sodium soy sauce. As for the black pepper, use either freshly cracked pepper or ground pepper.
Please note that this is a simple recipe so it's important to season the salmon well. Now, that being said, take the amounts stated in this air fryer salmon recipe as a guide. You can add more or less salt, the same goes with the rest of the ingredients.
You will only need about a teaspoon of sesame seeds for 4 fillets and about 2 teaspoons of honey to glaze the fish. To make it sweeter you an either add more honey or drizzle some more over the fish right before serving.
Wild Alaskan salmon is the best salmon on the market. However, not everyone can afford or can buy this type. If you can't use any salmon that is available in your store, just make sure it has skin on.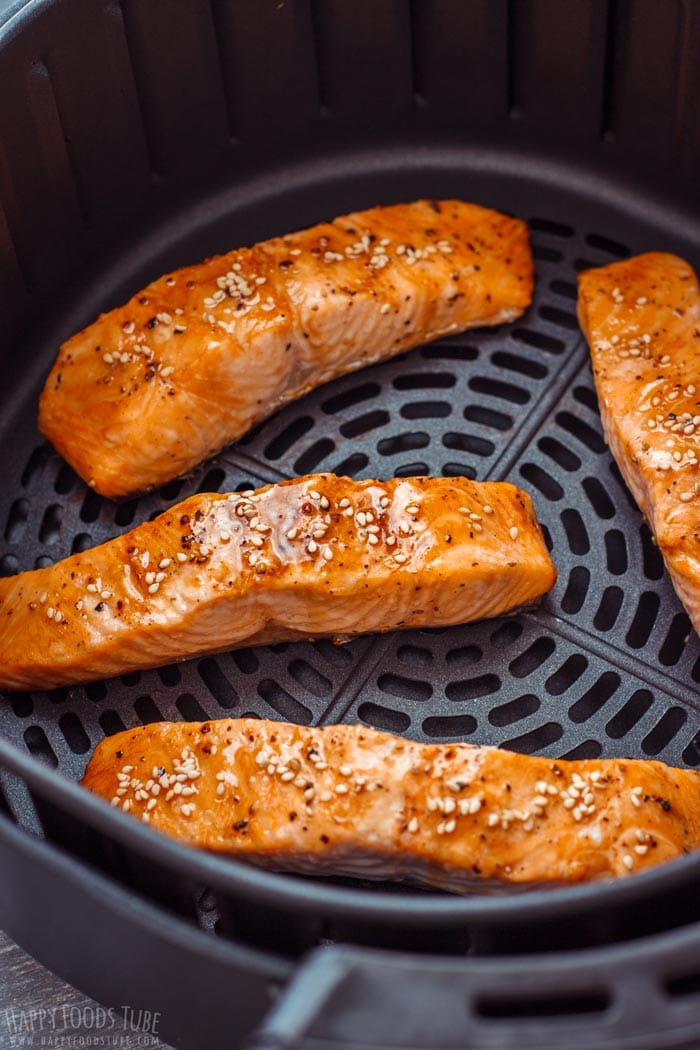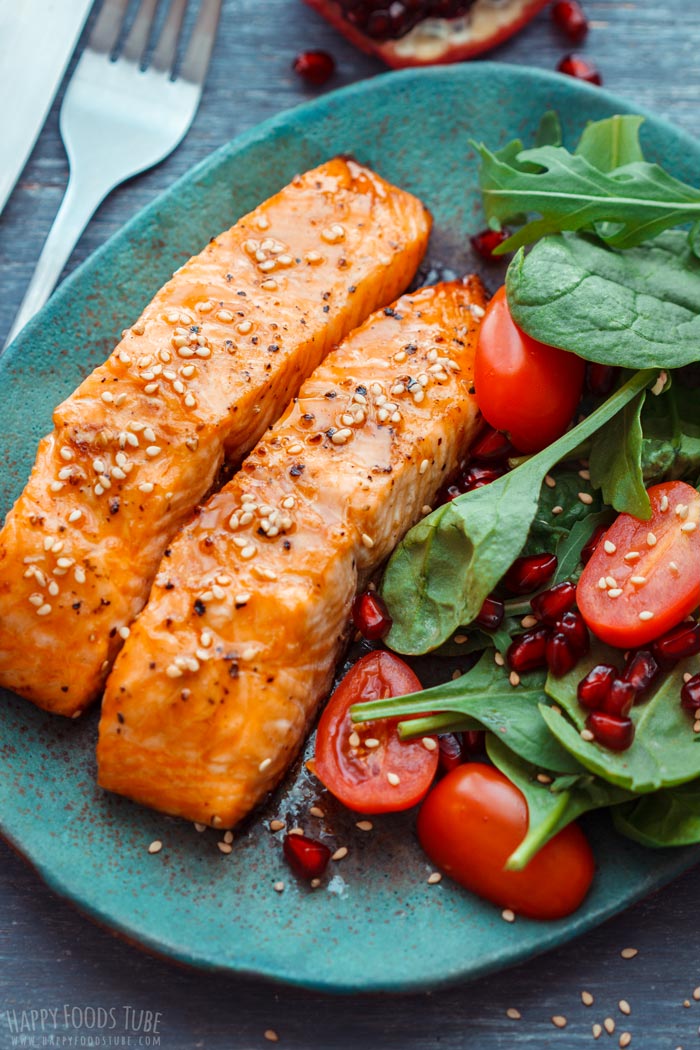 More air fryer recipes:
More salmon dinner recipes:
Honey Glazed Air Fryer Salmon
Learn how to air fry salmon the easy way! Honey glazed air fryer salmon fillets are ready on your table in 10 minutes so if you are looking for easy air fryer recipes or quick weeknight dinners, this is it!
Instructions
Preheat the air fryer (mine takes 2 minutes).

Meanwhile: Season each salmon fillet with salt and pepper. Brush the soy sauce into the fish.

Place the fillets into the air fryer basket (skin side down) and cook them at 375°F (190°C) for 8 minutes or until ready.

About a minute or two before the time is up, glaze each fillet with honey and sprinkle with sesame seeds. Put them back in and finish cooking.

Serve with a side of your choice.
Notes
I used 2 large fresh salmon fillets that weighed 1 pound in total. I cut each of them in half to get 4 portions. If you serve filling side dishes like potatoes and salad, one fish fillet per person should be plenty.
Salt – use as much/little as you like. If using normal soy sauce, you might need less salt. If using low sodium, add more salt.
Black pepper – season the fillets to your liking. I like to season them well with pepper. You can use either freshly cracked or ground pepper.
Soy sauce – use either regular one or low sodium. Check recipe note 2.
I used fresh salmon fillets. If possible, choose wild salmon over farmed.
Please note that the cooking time may vary. This will depend on the thickness of the fillets you use and also on the air-fryer brand. Always check the fish for doneness after the time is up. If not ready, pop it in for longer. FDA recommends cooking fish to 145°F (63°C), however, many people like it cooked to medium – 125°F (52°C). I prefer to be safe than sorry, so I follow the FDA recommendation.
Measuring: tsp = teaspoon, tbsp = tablespoon. Cooking: F = Fahrenheit, C = Celsius.
Nutrition Facts
Honey Glazed Air Fryer Salmon
Amount Per Serving
Calories 262
Calories from Fat 99
% Daily Value*
Fat 11g17%
Cholesterol 94mg31%
Sodium 158mg7%
Potassium 833mg24%
Carbohydrates 5g2%
Protein 34g68%
Vitamin A 68IU1%
Calcium 25mg3%
Iron 1mg6%
* Percent Daily Values are based on a 2000 calorie diet.
** Happy Foods Tube is a participant in the Amazon Services LLC Associates Program, an affiliate advertising program designed to provide a means for sites to earn advertising fees by advertising and links to Amazon.com.
LEAVE A COMMENT
RELATED POSTS