These puff pastry tuna empanadas are quick to make, baked in the oven – healthier than the fried ones. Great snack and party food!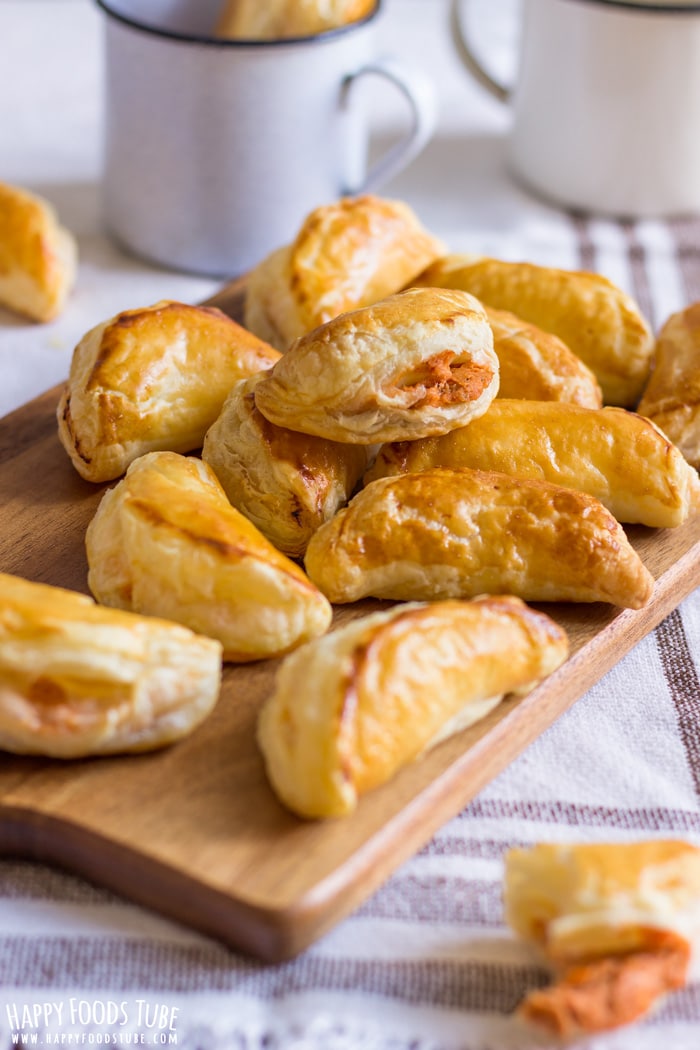 Tuna empanada a.ka. empanada de Atún (in Spanish) is my favorite quick snack. You can find them in every single grocery shop all over Spain. They come in 3 different sizes – small, medium and large.
When it comes to their fillings tuna empanadas are quite popular here alongside with spinach and cheese ones. However, the larger the grocery store the larger the selection of empanadas and I have seen some interesting fillings there: Empanadilla Argentina, Mexicana, Empanadilla de Pollo y Curry (chicken and curry) ….
I would normally buy empanadas when we are travelling as they are tasty, easy to eat (without making much of a mess) and keep you going for a while which is exactly what I need.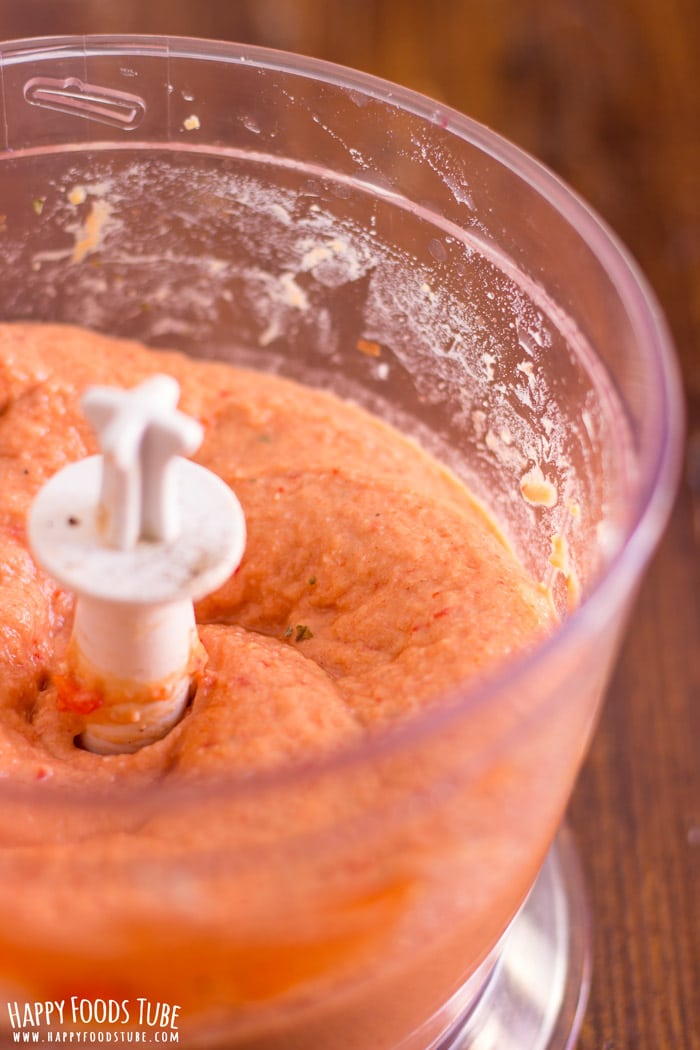 Now I created this easy empanada recipe a good while back simply because I wanted to make them myself. So I did!
Instead of the special empanada dough I used puff pastry. In some shops you can buy pre-rolled round shaped empanada sheets but I wanted to create a tuna empanada recipe that would be easy, quick and use simple ingredients that are available in shops.
Because I am using puff pastry to make these tuna empanadas I won't be frying them. This way you will get a healthier Spanish appetizer that still has lots of flavor but it's better for you.
Now they definitely are not the typical Spanish empanadas but if you are looking for a quick appetizer, snack, kid's lunch ideas, then I highly recommend making these.
We usually buy them when planning a trip or a day on the beach because I just need something to snack on.
Arabs, moors, Spanish named them empanadas – empanar means to wrap.
How to make baked empanadas with tuna filling?
Start off with blending all the ingredients (except for the puff pastry) in a food processor. It will literally take a few seconds for the ingredients to come together.
Then you take your pre-rolled puff pastry and cut circles out of it. Now it is up to you what size you wanna use. I used a 3-inch circle cutter. If you have a larger one, feel free to use that one.
I used about a teaspoon of filling for each empanada. You can add a bit more but adding too much will cause you trouble when sealing them. Make sure you seal the edges properly.
Use egg wash to achieve nice golden brown look on your tuna empanadas. Even though this is optional, I recommend it.
Don't forget to pierce each empanada several times. I used a tooth pick to do it. This will release the steam inside. They will puff but should not open. Some of them still might open so don't panic. They will still taste delicious!
The recipe is very easy. If you like quick snacks, you will like this. By the way you might also like these Bacon Pinwheels, Ham & Cheese Pockets or Waldorf Cheese Ball Bites! They are perfect for large gatherings!
But let's get back to tuna empanadas now!
Good to know when making puff pastry tuna empanadas:
You can use either round or rectangular pre-rolled puff pastry sheet.
Puff pastry will puff in the oven so they will lose their pretty sealed edges, so don't worry about the look. Just make sure each empanada is sealed well.
Fork is great for sealing the edges.
Puff pastry cut offs are great with leftover tuna empanada filling. I bake those as well and dip the puffs in the filling. Just bear in mind that it will take no more than 10 minutes to bake the cut offs.
This post first appeared on Tastes of Lizzy T blog where I am a contributor.
Puff Pastry Tuna Empanadas
These puff pastry tuna empanadas are quick to make, baked in the oven – healthier than the fried ones. Great snack and party food!
Ingredients
For the Filling:
2

Hard Boiled Eggs

, peeled

5

ounces

Canned Tuna

, drained

2

ounces

Marinated Peppers

1

teaspoon

Oregano

6

tablespoon

Ketchup

A Pinch of

Salt

& Black Pepper
For Empanadas:
20

ounces

Ready Rolled Puff Pastry Sheets

Egg Wash

(1 small egg, beaten – optional)
Instructions
Throw all ingredients in a food processor and pulse until smooth. Taste it and add more seasoning, if needed.

Using a 3 inch circle cutter cut as many circles out of the pastry as possible.

Place a teaspoon of the filling in the center of each circle. Fold in half and seal with your fingers by pressing the edges together. Place them on your work top and seal the edges.

Transfer empanadas onto a baking tray lined with baking paper. Brush each empanada with egg wash and pierce with a toothpick/skewer several times.

Bake in a preheated oven at 400°F/200°C for 15 minutes or until golden brown.

Enjoy warm or cold!
Notes
Don't put the cut offs together, knead and roll out with a rolling pin. This would destroy the layers so I suggest you just bake them as they are.
If you have some leftover filling, just dip them in it! If you don't want to use egg wash, you can omit this step.
Nutrition Facts
Puff Pastry Tuna Empanadas
Amount per Serving
% Daily Value*
* Percent Daily Values are based on a 2000 calorie diet.
** As an Amazon Associate I earn from qualifying purchases.
LEAVE A COMMENT
RELATED POSTS