A foolproof recipe for burnt basque cheesecake. This easy Spanish dessert is perfect for bakers of all levels. It's baked in the oven, but no water bath is needed!
It's a crustless cheesecake that only requires 6 ingredients – all of them easily available in stores and most of them you probably already have at home.
Making Basque cheesecake is simple and does not require the use of any special techniques. As long as you have a decent-size mixing bowl and electric mixer you are good to go!
This Spanish cheesecake is called Tarta de Queso de la Vina (or al horno) and originated in San Sebastian, Spain.
Its rustic look makes it the perfect project for beginner bakers as the looks don't matter here.
It is altogether with Spanish almond cake one of the easiest Spanish desserts to make.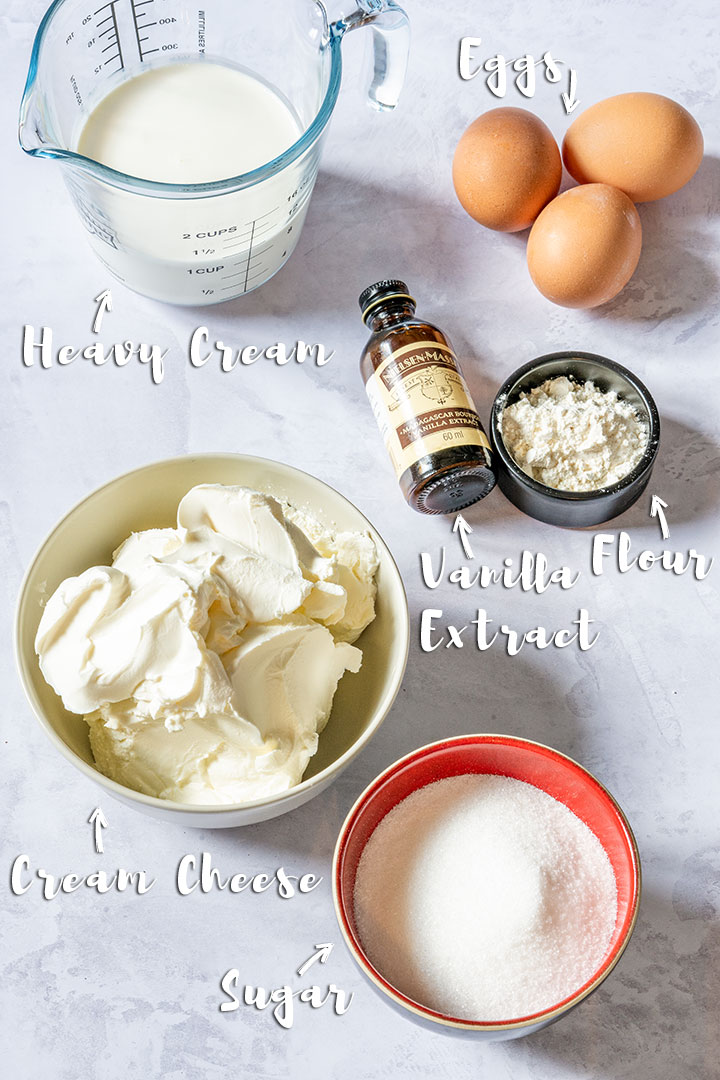 Useful tips for making Basque burnt cheesecake:
Using 2 layers of baking parchment is important. Because the batter is very liquid-y, the parchment paper acts as a protection from leaks as well as extra height and support to the cheesecake.
Color of the crust – it can be anywhere from dark brown to literally burnt black. If you don't want the dark burnt look, keep an eye on the baking, especially towards the end or cover it with aluminum foil 10-15 minutes before taking it out.
Texture – this simple cheesecake can be enjoyed slightly gooey in the middle or completely set. We like the second option and that is how I made it.
Flavor – light with a hint of vanilla, sweet but not too sweet.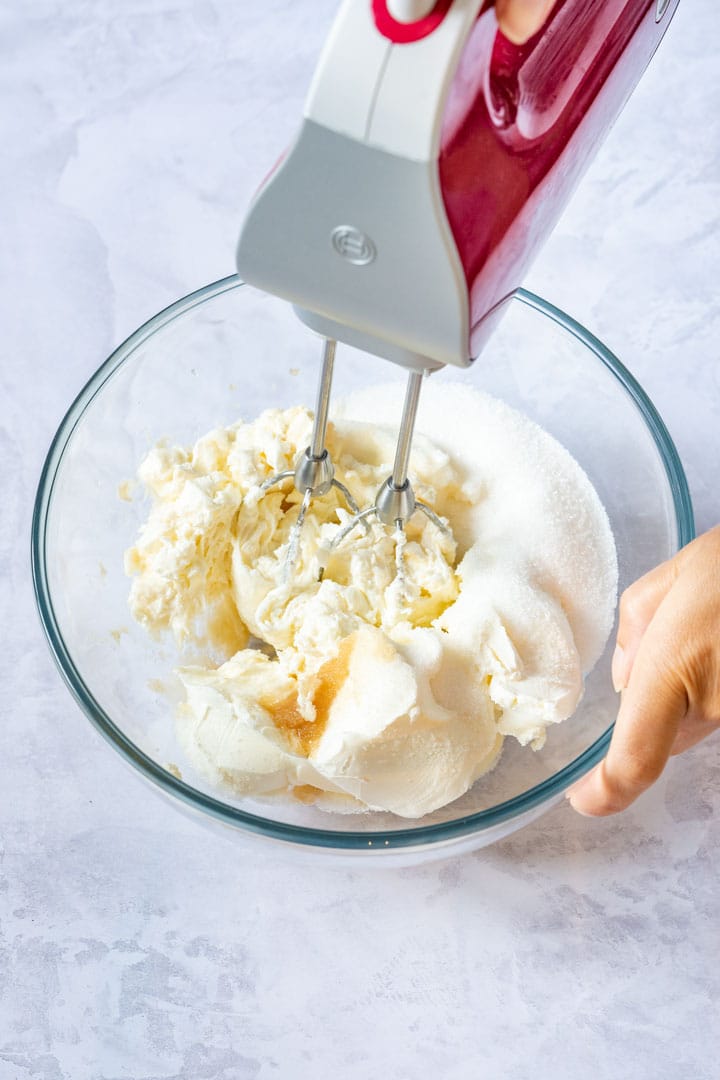 What pan should I use?
A springform pan that is 8 or 9-inch wide will work great. Keep in mind that the smaller the pan, the fuller it becomes which can lead to overspilling (not with the 9-inch) if it rises higher than your pan.
Also, baking time will probably be slightly longer for an 8-inch pan.
Room temperature or chilled?
Burnt Basque cheesecake can be enjoyed both ways and it entirely depends on one's preference. I like it while it is still slightly warm.
My take on this classic Spanish dessert:
Some recipes add a pinch of salt. I don't do this for a simple reason: cream cheese already contains sodium, so there is no need to add more.
This oven-baked cheesecake is rich so in order to reduce the calorie count I did reduce its quantity. Instead of having enormous slices packed with calories and fat, you can still enjoy it, but at a smaller "scale".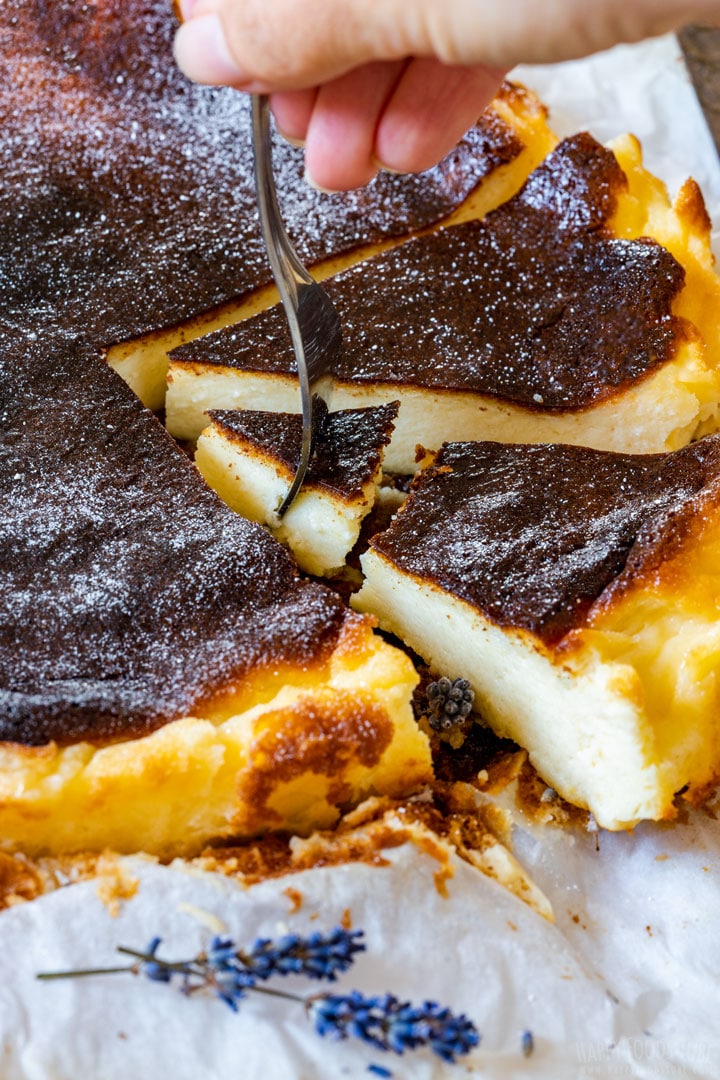 More cheesecake recipes for you to try. All of them are made without gelatin:
Burnt Basque Cheesecake
A foolproof recipe for burnt basque cheesecake. This easy Spanish dessert is perfect for bakers of all levels. It's baked in the oven, but no water bath is needed!
Instructions
Preheat oven to 400° Fahrenheit (200° Celsius).

Line a springform pan (see note 2) with 2 sheets of baking parchment, making sure they overlap and are about 2-inches (5-centimeters) higher than your springform pan. Any excess can be trimmed off.

In a medium mixing bowl, beat cream cheese, sugar and vanilla on low speed, about 1-2 minutes.

Increase the speed and add eggs, one at a time.

Slowly pour in heavy cream while beating. Finally, add sifted flour and beat until smooth.

Pour into the springform pan and bake on a low or middle rack in the oven for 40-50 minutes or until to your liking.

When ready, take it out and let it cool before removing the pan and the parchment paper (see note 4).
Notes
Cooking time will vary. This depends on the size of pan you use, your oven (its size, how well it performs) as well as position on the rack. I cooked this in a 9-inch pan on a lower rack. The top of your cheesecake must rise up and the top should look somewhere between dark brown to black-ish.
You can use either 8 or 9-inch (20 or 22-centimeter) springform pan. A larger pan will not work for this recipe as it would come out very flat.
Basque cheesecake can be made to one's preference: If you don't like the top burnt, cover it with aluminum foil. I suggest doing so about 30 minutes into cooking time. It will still be jiggly when you take it out and will set more once cooled down. However, if you like the middle to be rather soft, you can take it out earlier.
You can enjoy it at room temperature or chilled which makes it a great make-ahead dessert as it will last for 3-4 days when stored properly in the fridge.
For more detailed tips or if in doubt, please read the post above this recipe card.
Nutrition Facts
Burnt Basque Cheesecake
Amount per Serving
% Daily Value*
* Percent Daily Values are based on a 2000 calorie diet.
** As an Amazon Associate I earn from qualifying purchases.
LEAVE A COMMENT