This is a tasty burrata salad recipe with sweetcorn and roasted tomatoes. It's refreshing, nutritious and the burrata cheese makes it extra delicious. Perfect for special occasion!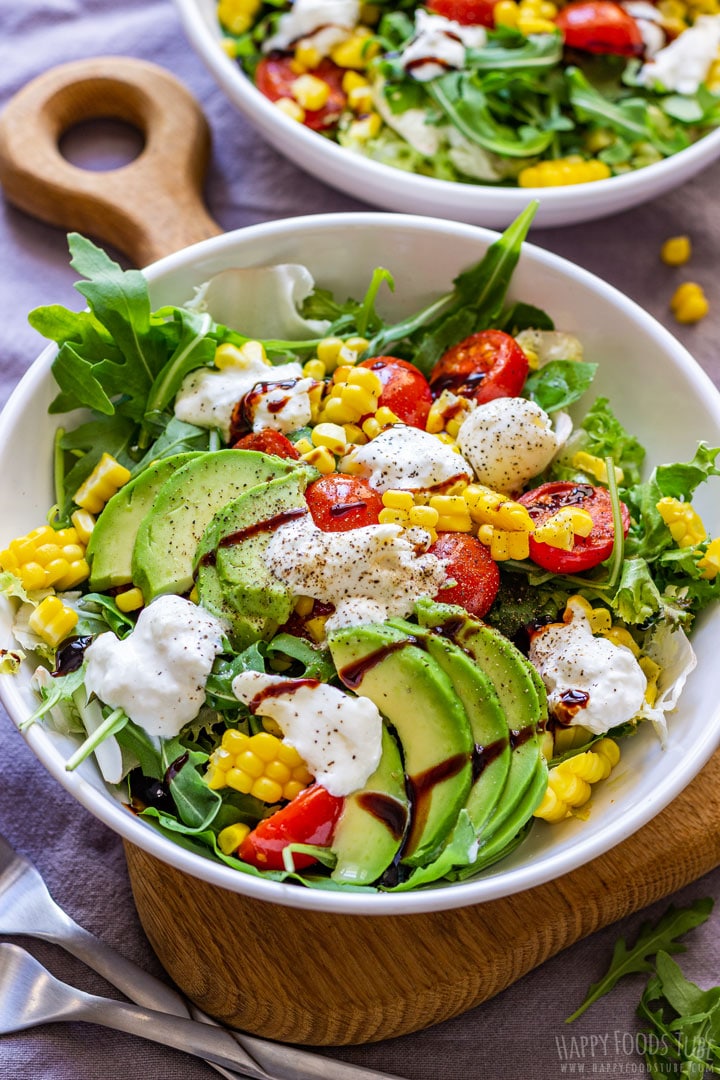 It is a simple salad recipe with a ton of flavor, so if you like to include more salads in your diet, this is a great option.
This salad with burrata is naturally vegetarian and gluten-free.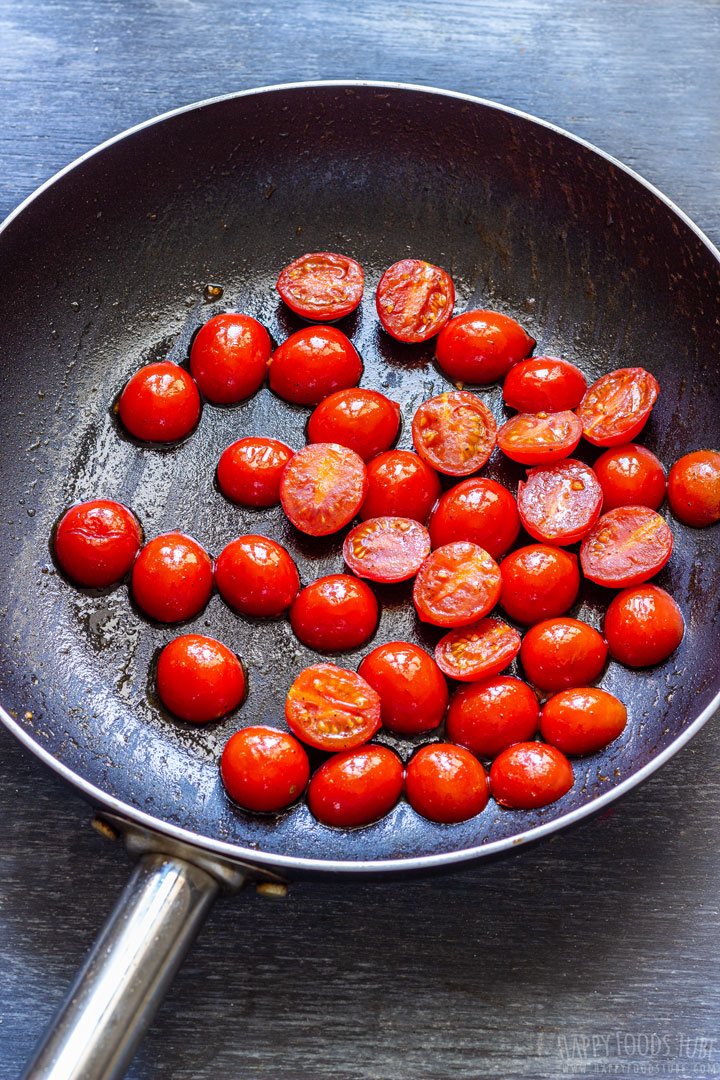 What is burrata?
It's an Italian cheese made with mozzarella and cream. (the inside is soft and liquid-y – that's the cream part, while the outside is firmer – that's the mozzarella).
What do you do with burrata?
You can use this southern-Italian cheese to make appetizers or salads like this burrata salad.
It's also delicious with prosciutto, tomatoes and toasted bread. What about making Burrata Pizza or pasta?
What to serve with burrata salad?
Burrata salad makes a tasty side, entree or main (whether it is light lunch or dinner).
Meat lovers can serve it with grilled meats – steak or pork chops and non-meat eaters can have some crostini, French baguette or a few slices of artisan bread on side.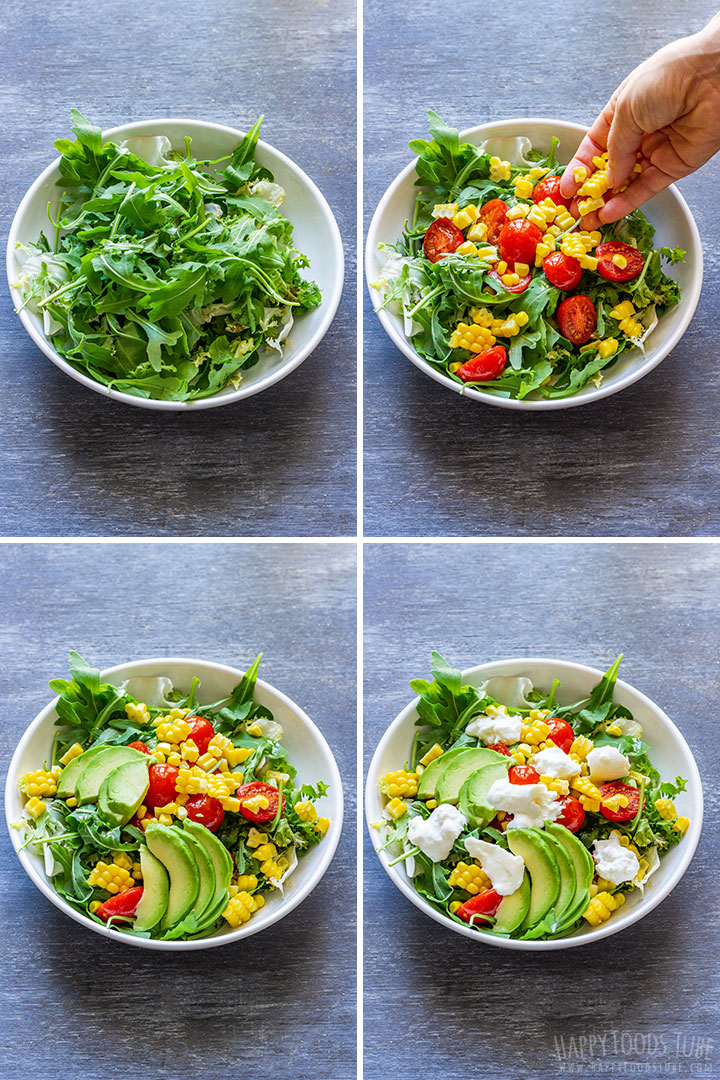 Substitutions:
Extra virgin olive oil can be substituted with regular olive oil. Do not use vegetable or sunflower oil.
If you don't like arugula, you can omit it.
I always use cherry tomatoes as they are extra sweet and I do recommend buying these. However, if you have some in your garden (of any kind), feel free to use those. Pan-roasting them takes only a few minutes but it's so worth it, so don't skip this step!
Corn on the cob – you can either boil it or grill it.
Balsamic reduction gives this burrata salad a nice kick. A little goes a long way – you don't want the salad to have an over-powering acidic taste. Now that being said, everyone likes something different so add as much/little as you like.
Burrata can be substituted with mozzarella. Again, use as much as you like.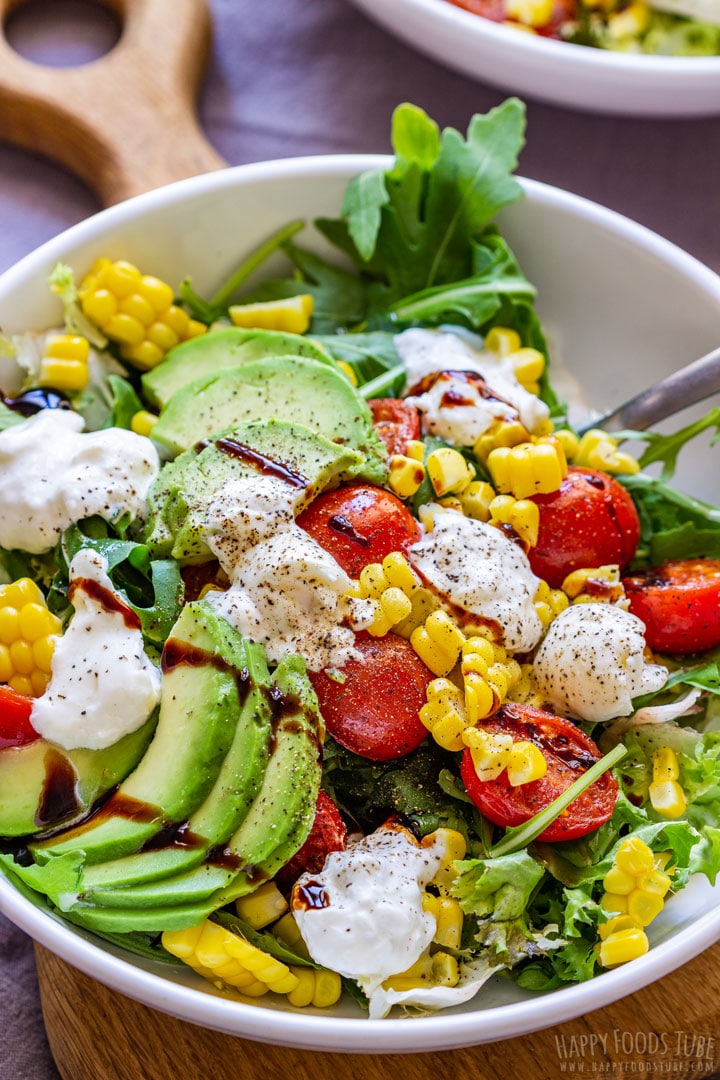 Useful tips:
Make sure to serve this burrata salad shortly after you made it for the best food experience.
Cherry tomatoes can be roasted in advance, if needed.
You can cook the corn ahead of time as well!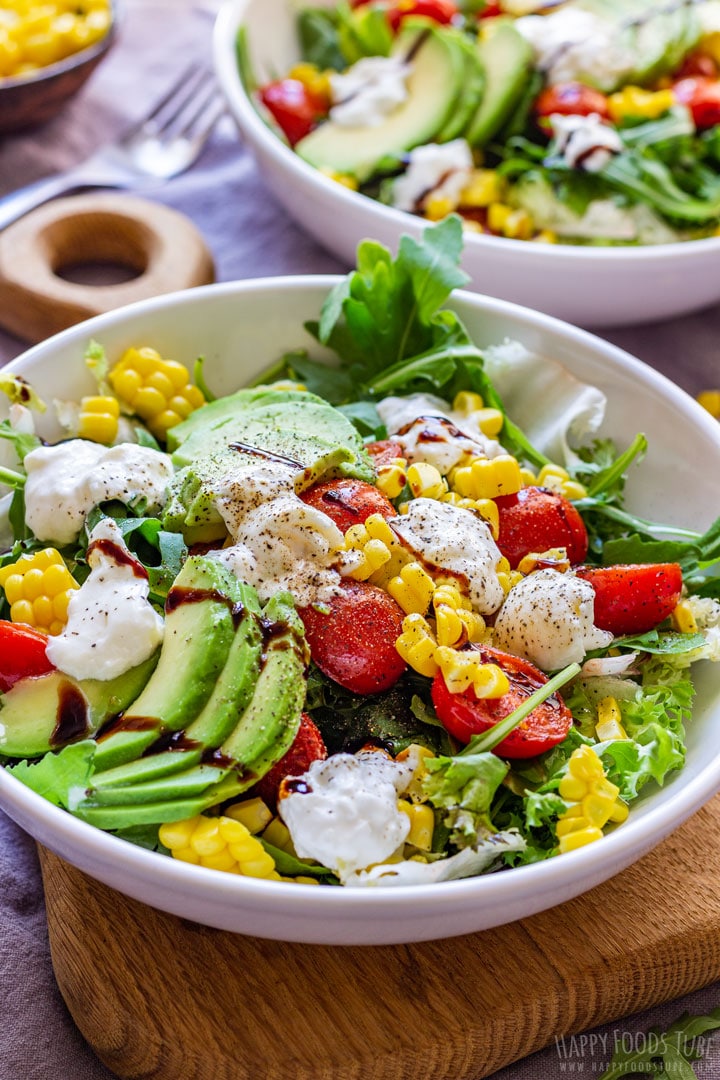 More salad recipes for you to try:
Burrata Salad
This is a tasty burrata salad recipe with sweetcorn and roasted tomatoes. It's refreshing, nutritious and the burrata cheese makes it extra delicious.
Servings:
5
Portions as a side (2 as lunch)
Ingredients
1

Corn on the Cob

, see note 1

2

cups

Cherry Tomatoes

, halved

3

tablespoons

Extra Virgin Olive Oil

Salt

, a pinch

Black Pepper

, a pinch

5

ounces

Mixed Leaf Lettuce

, see note 3

Arugula

, a generous handful (or more), see note 3

1

Avocado

, halved, peeled & thinly sliced

1

Burrata

, strained weight 4 ounces/120 grams

Balsamic Reduction
Instructions
Cook the corn using your favorite method (you can grill it as well) and let it cool. Then, with a knife, remove the kernels off the cob.

In a skillet/frying pan, pan-roast cherry tomatoes with 1 tablespoon of oil. They will take about 2-3 minutes, depending on how hot the pan is. Season them with salt and pepper to your taste. Set aside.

Get a large salad bowl (or serve it individually in bowls, if you like). Fill it with mixed leaves, top it with arugula. Sprinkle with salt (optional) and drizzle about 2 tablespoons of olive oil over. Add pan-roasted tomatoes, corn and avocado.

Tear burrata into small pieces and add them to the bowl. Finally, drizzle with balsamic vinegar.

Enjoy!
Notes
One large corn on the cob is plenty for this recipe, but if you like corn, feel free to cook two. You can also serve it on side and your diners can add more, if they like.
You can easily adjust the ingredient quantities to your liking. However, be careful with balsamic reduction – a little goes a long way.
Your mixed leaf salad may already contain arugula. If it does, you don't need to add more. Also, it can be omitted, if you don't like it.
You will find more burrata serving suggestions, substitutions and useful tips in the post above this recipe card.
Nutrition Facts
Burrata Salad
Amount per Serving
% Daily Value*
* Percent Daily Values are based on a 2000 calorie diet.
** As an Amazon Associate I earn from qualifying purchases.
LEAVE A COMMENT