This is a simple burrata pizza recipe with artichoke hearts and green olives. If you like, you can add more toppings or substitute with your favorite ones.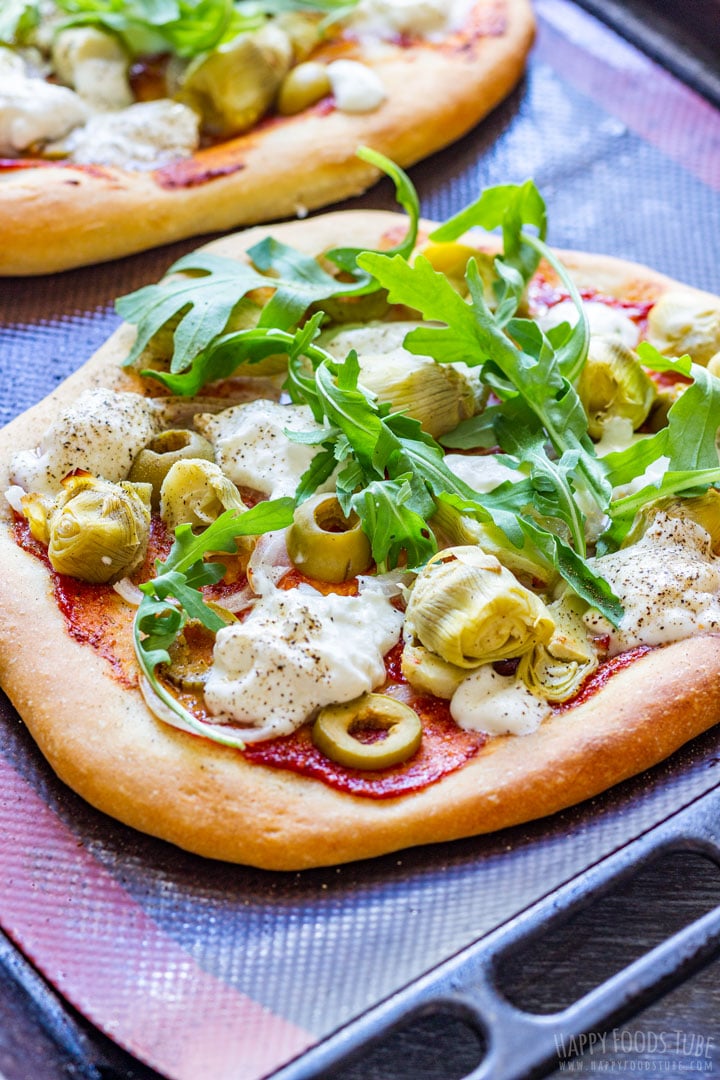 Here are some ideas for burrata pizza toppings: Fresh basil, cherry tomatoes, prosciutto, mozzarella, …
You don't need a pizza stone or pizza tray to make burrata pizza from scratch or any pizza really.
If using Homemade Pizza Dough to make this burrata pizza, you will need extra 5 minutes to prep it and 1 hour for proofing (this is a passive time which means you can do other things while waiting).
What is burrata?
Burrata is a cheese that originated in Apuglia (southern Italy).  It is made with mozzarella and cream. The center of the cheese is liquid-y (that's the cream part) and the outer layer is mozzarella.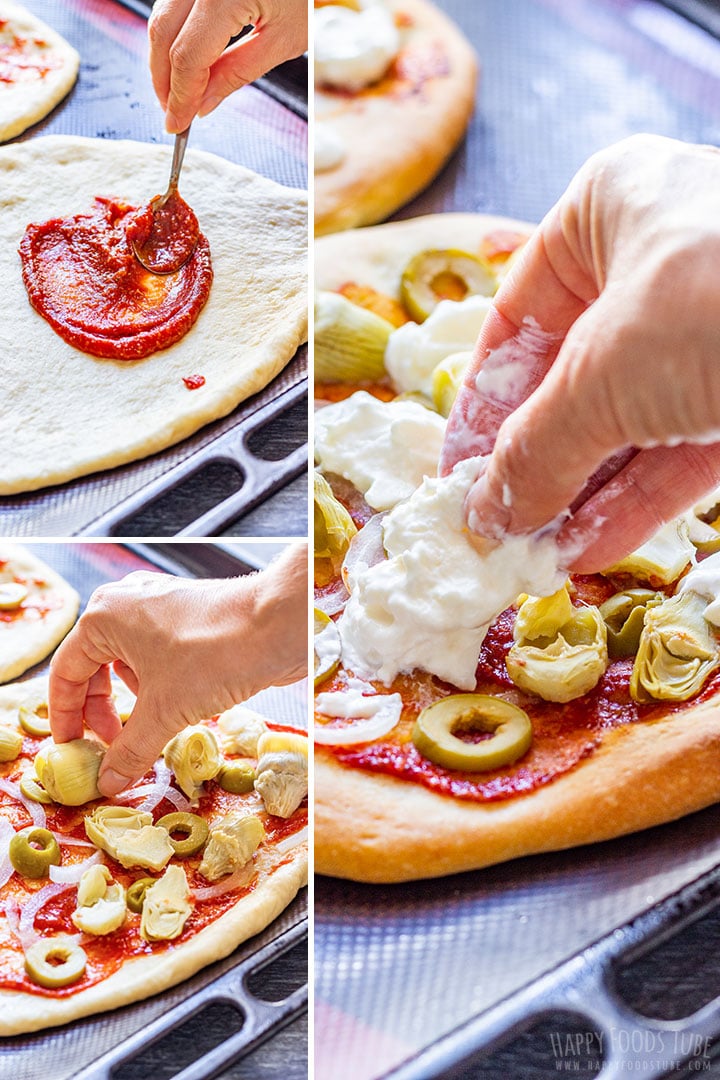 How to make burrata pizza?
For this recipe you will need a pizza dough of your choice. You can either use a store-bought or make it from scratch. I always make my own pizza dough recipe.
Once you rolled out the dough, place it onto a baking tray lined with baking parchment or silicone mat.
Now, you can start adding toppings: pizza sauce, marinated artichoke hearts, thinly sliced onion and green olives. I like to be generous with the toppings, but you can adjust the quantities to your liking.
Note: Burrata pizza is not baked with burrata. The cheese is added to the cooked pizza after it was taken out from the oven. At the same time or a few minute later, you can top it with fresh arugula leaves.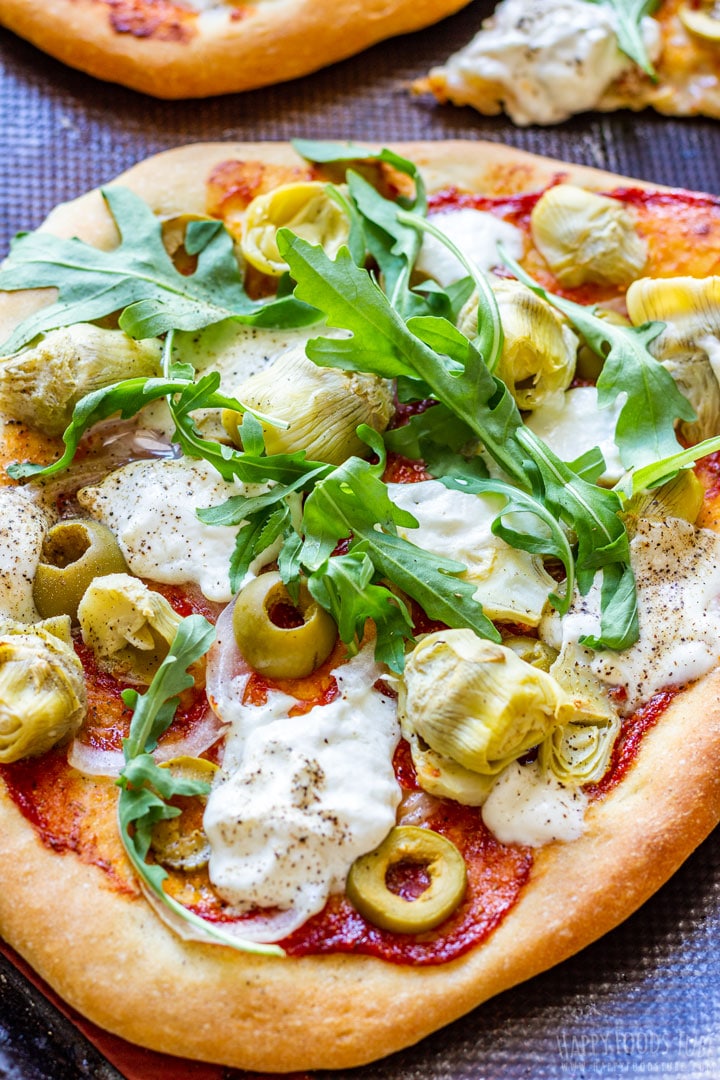 Pro tips:
Don't worry about the shape of your pizza. It does not have to be a perfectly round circle. In fact, it does not matter what shape it is at all.
Roll out thin as the pizza dough will rise in the oven.
If you have some leftover burrata, why not try Burrata Salad with pan-roasted tomatoes?
Sauce – my simple Homemade Pizza Sauce is a great option, but you can use anything you like when making this burrata pizza – marinara, pizza sauce or pesto.
Always remember that the cooking time will vary slightly. This will depend on your oven as well as the thickness of the pizza dough. The thinner the dough, the shorter the cooking time! Check the bottom – it should be nice golden brown.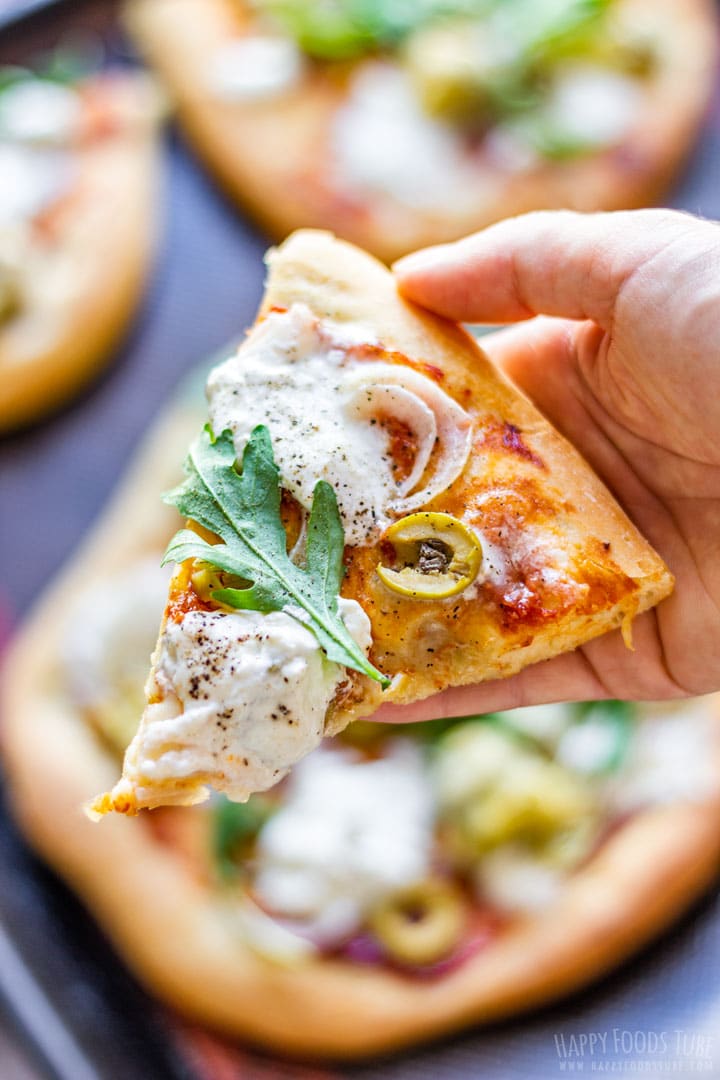 Do you like trying new pizza flavors? I have a few pizza ideas for you:
Burrata Pizza
This is a simple burrata pizza recipe with artichoke hearts and green olives. If you like, you can add more toppings or substitute with your favorite ones.
Ingredients
For 1 pizza
1

Pizza Dough

, see note 1

2

tablespoons

Pizza Sauce

(or to your liking), see note 2

½

Small

Onion

(or less), sliced

6

Green Olives

, sliced

1

cup

Marinated Artichoke Hearts

, liquid strained

A Handful of

Arugula

1

Burrata Cheese

(4 ounces/120 grams, net weight)

black pepper

, to taste
Instructions
Pre-heat oven to 450° Fahrenheit (220° Celsius).

Roll out pizza dough and transfer it carefully onto a baking tray/sheet lined with baking paper.

Spread pizza sauce over and top it with some onion, olives and artichokes.

Bake in a preheated oven at 450° Fahrenheit (220° Celsius) on middle rack for 12 minutes or until the bottom is golden brown.

Take the pizza out and top it with pieces of burrata right away so the cheese has time to melt a bit. Finally, top with arugula leaves and season with black pepper.

Enjoy!
Notes
You will need a 7-ounce (200 grams) pizza dough ball to make 1 pizza with a thin crust. You can use either a store-bought or homemade pizza dough. When rolled thin, you should be able to get at least a 10-inch pizza.
For the sauce – feel free to use marinara sauce, classic pizza sauce or make it from scratch. Pesto is also a great option! Depending on its thickness you might need a different quantity than stated in the recipe.
Cooking time may vary slightly. This will depend on your oven and the thickness of the crust. I recommend checking after 10 minutes to prevent it from drying out.
A homemade pizza dough recipe, pizza sauce as well as some more tips can be found in the post above this recipe card.
Nutrition Facts
Burrata Pizza
Amount per Serving
% Daily Value*
* Percent Daily Values are based on a 2000 calorie diet.
** As an Amazon Associate I earn from qualifying purchases.
LEAVE A COMMENT