An easy recipe for tasty traditional Greek salad. This side dish is ready in no time, it's healthy, refreshing and bursting with Mediterranean flavors. Perfect for summer!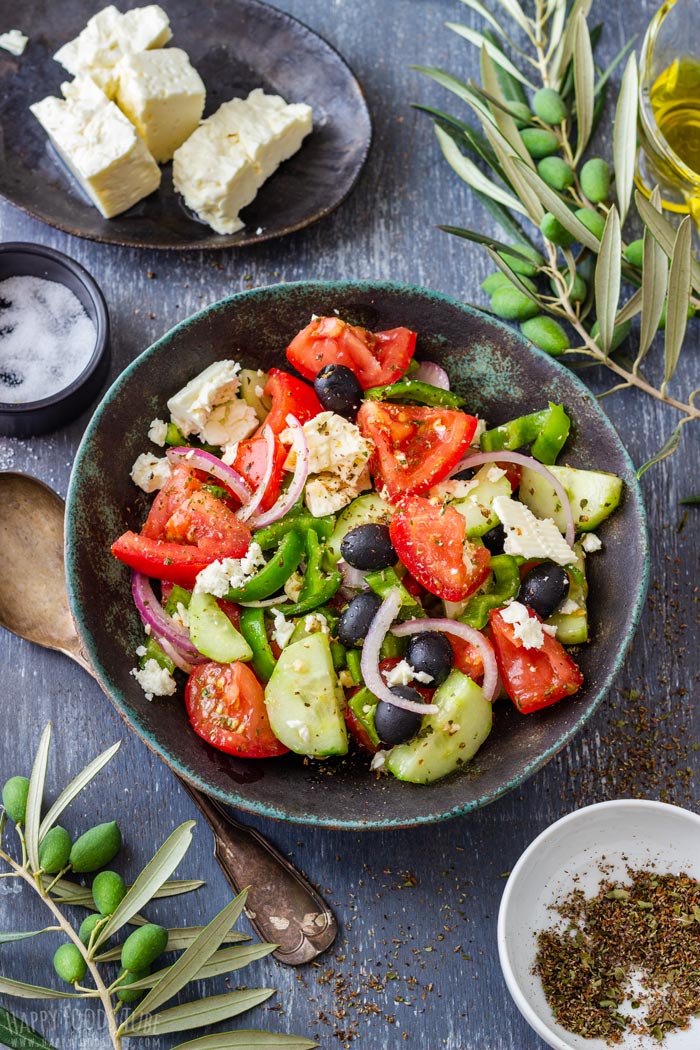 Greek salad is perfect for outdoor entertaining and goes well with all sorts of grilled meats (try serving it with Grilled Boneless Chicken Thighs or Honey Lemon Grilled Chicken) but it's also delicious on its own as a quick lunch.
How to make Greek salad
Get a bowl first. It's better to use larger bowl so that you can easily mix all the ingredients. Then you can transfer the salad into a smaller serving bowl, if you like.
Make sure to rinse all the veggies before you start cutting. Cut the tomatoes into quarters, remove the hard parts and cut each quarter into half.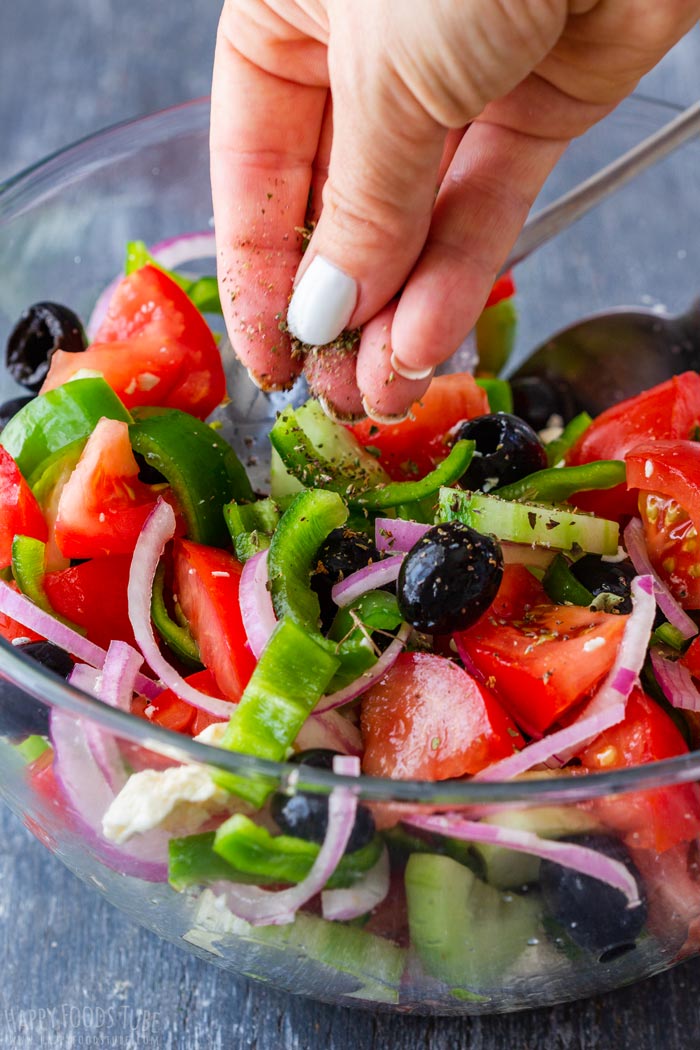 Olives – The traditional Greek salad uses kalamata olives. They are dark purple and apparently grow only in Greece. If you are lucky and your local store sells them, I recommend giving them a try. If not, then black olives are a great alternative.
Cucumber – you don't have to peel it, if you don't want to. However, sometimes the skin can be bitter so make sure you taste the cucumber first before you decide whether you peel the skin or not. Cut it into chunks.
Onion – The traditional Greek salad recipe is usually made with red onion. If you don't have one on hand or prefer yellow/white onion, you can use it too. I like slicing the onion thin so it's not overpowering.
Peppers – use any sweet green peppers you like!
Transfer all these veggies into the bowl and add crumbled Feta cheese.
By the way, you might find restaurants in Greece that will serve Greek salad with whole block of feta on top of the salad so that you can crumble it yourself.
Last thing to do is season the salad well, so it does not taste bland.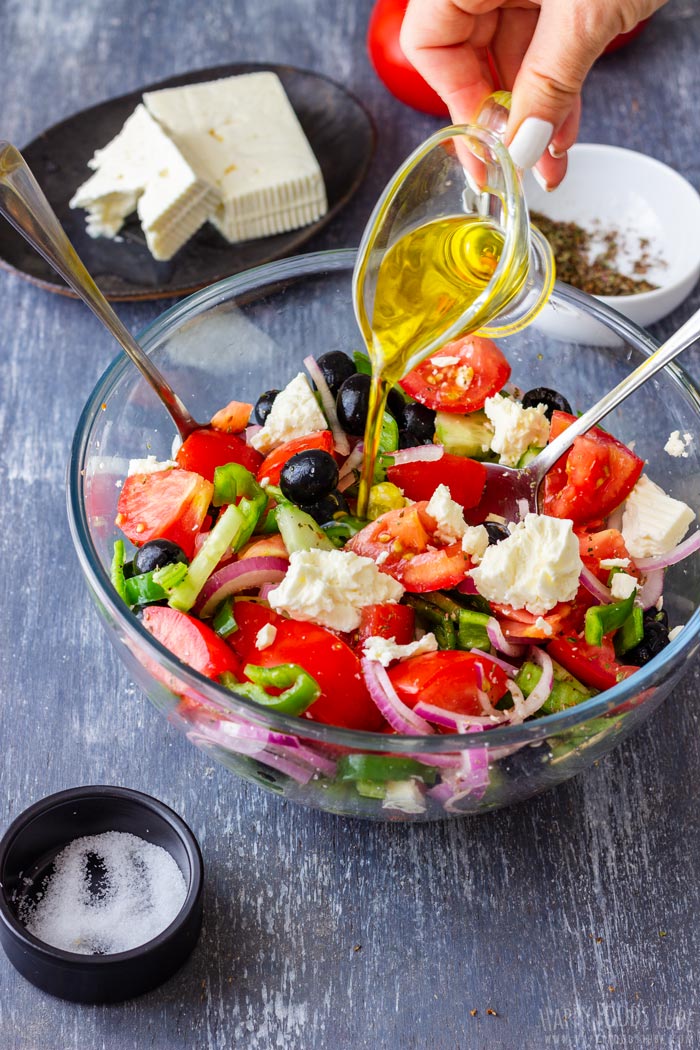 Can I make Greek salad the day before?
I personally would not recommend it. For me, Greek salad should taste as fresh as possible and you should be able to taste the freshness by biting into crunchy vegetables.
Storing the salad in the fridge overnight will just turn the veggies soft which I don't like. Now, while I normally eat any leftovers the following day, I would not serve it to my guests.
So if you want, you can make Greek salad a few hours ahead (I would not go over 2-3 hours though) and store it in the fridge in an air-tight container and finish it off just before serving (by adding feta cheese, olive oil and oregano).
What is Greek salad dressing made of?
The main ingredients in this dressing are olive oil and oregano. I keep my dressing simple and add only salt and black pepper to these two ingredients. Sometimes I also add a drizzle of lemon juice.
Now, there is no need to mix all these ingredients together first in a glass or jar. You can just add them to the salad and mix well. Let it sit for a while in the fridge and taste. If you feel that it needs more seasoning / olive oil / oregano, then add more. It's simple as that.
Are you looking for more summer salad ideas? What about these ones:
Traditional Greek Salad
An easy recipe for tasty traditional Greek salad. This side dish is ready in no time, it's healthy, refreshing and bursting with Mediterranean flavors. Perfect for summer!
Ingredients
3

Large

Tomatoes

, ripe (500g)

1

Large

English Cucumber

(340g)

2

Green Peppers

(140g)

1

Small

Red Onion

, peeled

½

cup

Pitted Olives

(70g)

3

ounces

Feta Cheese

(90g)

Salt

to taste, see note 8

black pepper

to taste

2

tbsp

extra virgin olive oil

1

tbsp

dried oregano
Instructions
Rinse the tomatoes, cucumber and peppers under running water.

Cut the tomatoes into quarters, remove any hard parts and cut each quarter in half. Cut the cucumber in half length-wise and cut each half into chunks. Remove the seeds and veins from peppers and slice them into smaller pieces. Thinly slice the onion into rings or half-rings. Throw all the veggies into a large bowl altogether with olives.

Crumble Feta cheese over and season everything with salt, pepper, olive oil and dried oregano. Mix everything well. Taste and add more seasoning, if needed.

Best served chilled!
Notes
I used long Italian peppers but you can use bell peppers instead.
Olives – for the authentic Greek salad you should use kalamata olives. If you can't find them, use black olives instead, like I did.
Tomatoes – the riper the tomatoes the tastier the salad.
Onion – 1 small onion will be plenty for this recipe.
Feta – you can add more or less, if you like.
You can serve this salad right away, but I recommend chilling it in the fridge for about 30-60 minutes before serving.
Cucumber – sometimes the cucumber skin tastes bitter. If this is the case, peel the skin off.
Seasoning – use as much seasoning as you like. You can also add more olive oil.
Ounces, grams & cups:
1 small onion = 4 ounces/120g.
2 peppers = 5 ounces/140g (about 1 cup chopped, packed).
3 tomatoes = 18 ounces/500g (about 3 cups, when chopped into chunks).
1 large cucumber = 12 ounces/340g (2 cups, when cut).
Nutrition Facts
Traditional Greek Salad
Amount per Serving
% Daily Value*
* Percent Daily Values are based on a 2000 calorie diet.
** As an Amazon Associate I earn from qualifying purchases.
LEAVE A COMMENT
RELATED POSTS