This is a recipe for Japanese gyoza dumplings. You will find here instructions for folding, freezing and cooking using 2 methods. Works with ground pork, beef, chicken or a combination of these!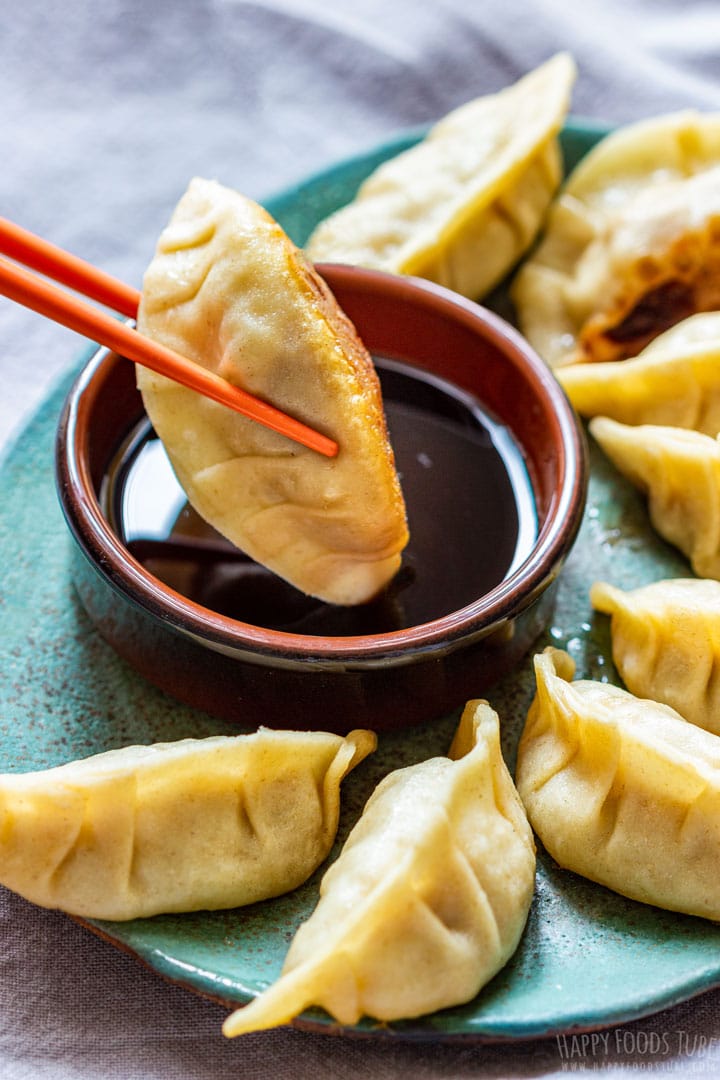 This gyoza recipe post includes a lot of useful information for first-time gyoza makers or anyone who is not 100% sure how to make gyoza.
I make gyoza wrappers from scratch, but you feel free to use the ready-made ones if you can find them in your local store. The dough recipe is not difficult, but kneading takes some elbow grease.
What is gyoza?
Gyoza are Japanese dumplings that are usually pan-fried and then steamed.
They are similar to Chinese potstickers as well as Eastern European dumplings (and there are a lot of them – with each country having their own version for dough and fillings vary from sweet to savory).
How to fold gyoza?
There are many ways you can make gyoza dumplings. I will show you the way I do it and what works best for me. You can check the photos or short video clip below for better understanding.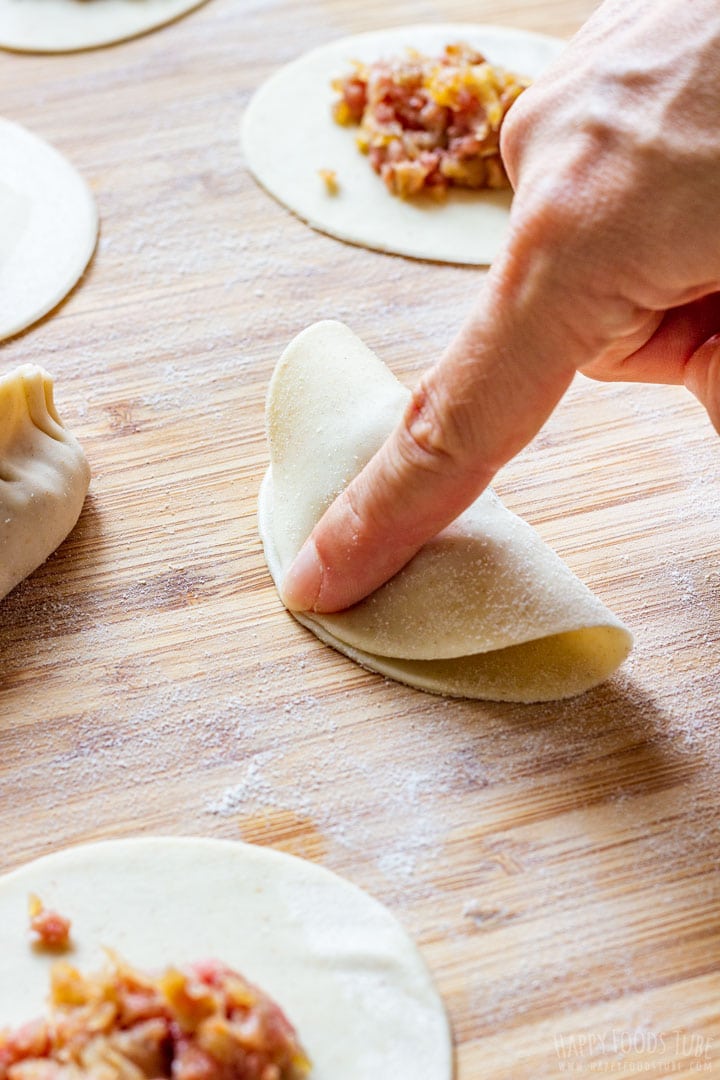 You can also just pinch the edges together without folding them nicely if that works better for you. Just make sure you seal them well.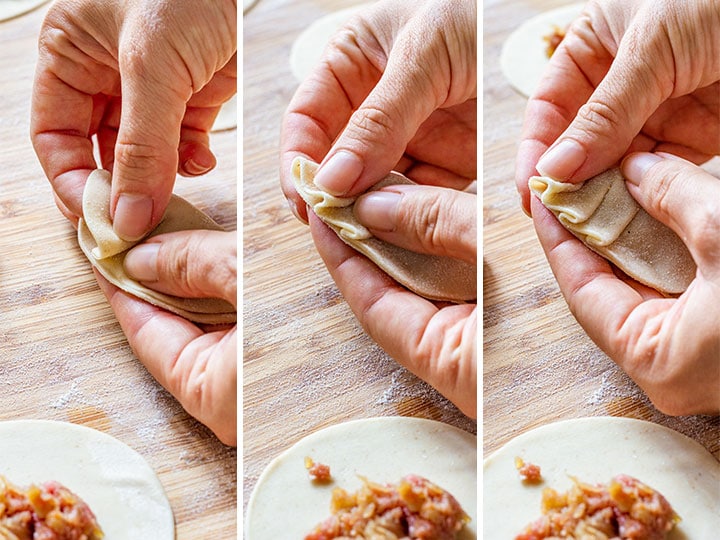 By the way, there is also a dumpling press that can be used for making gyoza as well as ravioli. So, if you know you will be making these Japanese dumplings often, you might want to check it out.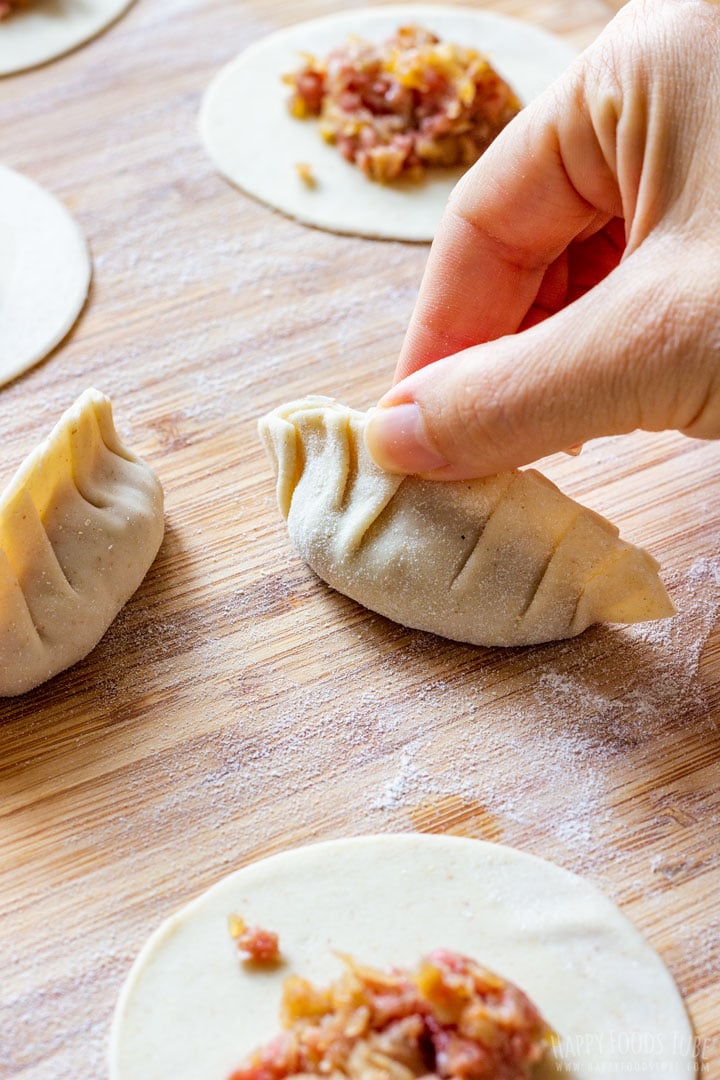 Homemade gyoza dumpling filling
I like to use what I have on hand, but my favorite flavor combo is ground meat (either pork, beef, or a combination) and white cabbage & onion.
I sometimes use broccoli instead of cabbage, which is also tasty.
Vegetarians or vegans can use veggies only!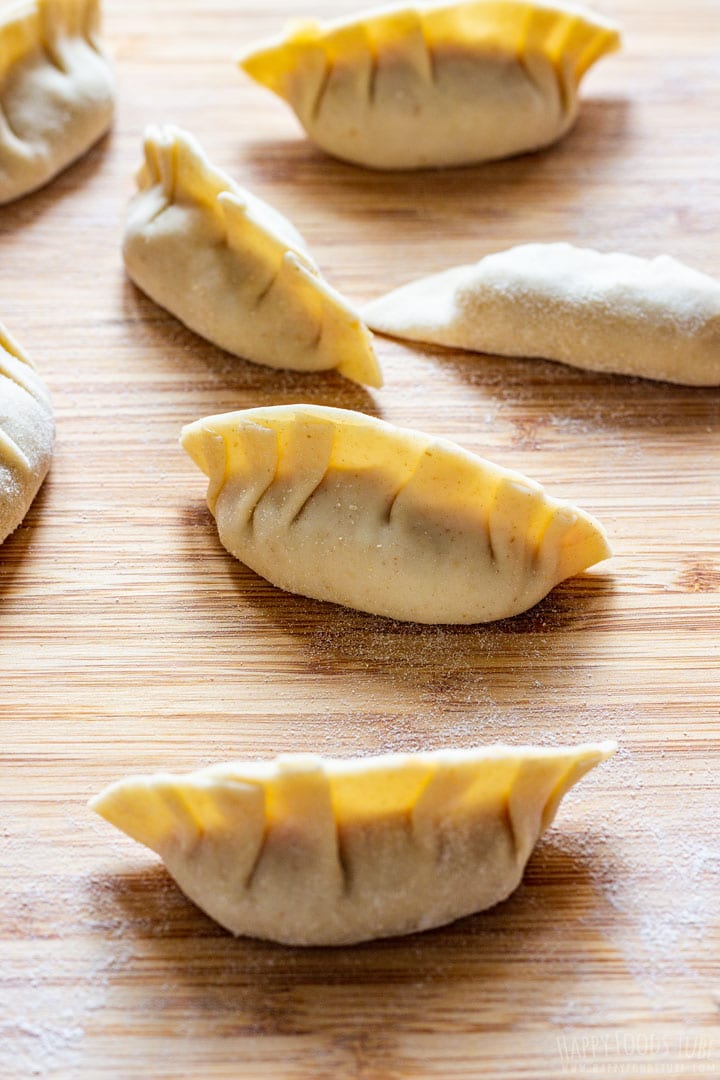 Can I make gyoza dumplings ahead?
Yes, you can. They freeze well and don't need any thawing before you cook them. Simply take them out and proceed right to the cooking process – either boiling, steaming or pan-frying & steaming.
How to freeze gyoza dumplings
Spread dumplings onto a tray (any kind you have on hand), making sure they are not touching each other. Transfer them into the freezer and flash freeze for 15-30 minutes or until hard to touch (they don't have to be completely frozen).
Then, put all of them in a Ziploc bag and keep them in the freezer until you are ready to use them.
It's the easiest way, especially because you can just take out as many of these Japanese gyoza as you like without having to wait for them to thaw.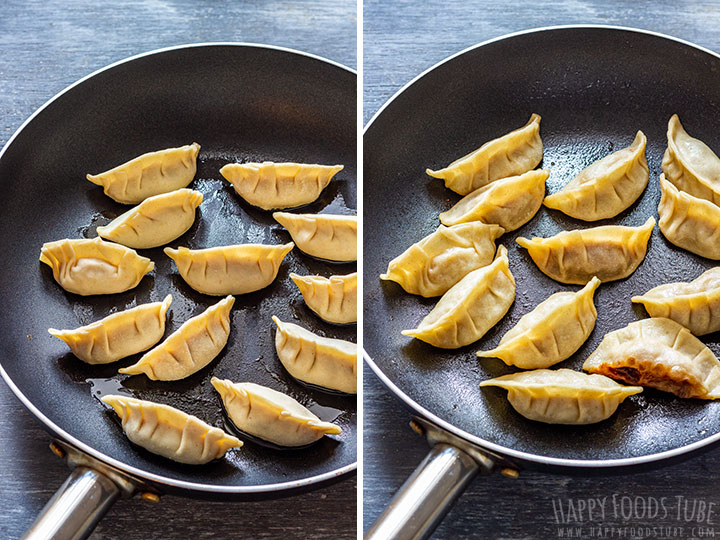 Cooking gyoza:
This gyoza recipe includes 2 simple ways of cooking and you can choose any way you like or works for you best.
Frying & steaming on a stove – this is my favorite way of preparing gyoza because they are both crispy and soft.
Boiling – a hassle-free way to cook gyoza. You can fry them afterwards as well if you like!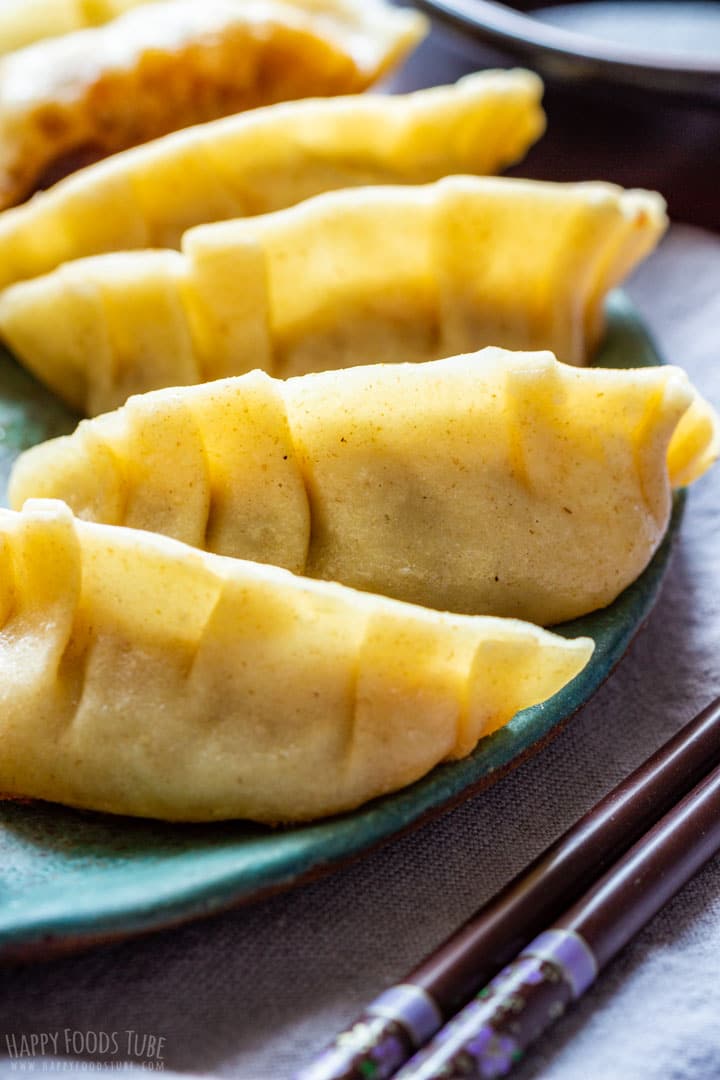 Can I refrigerate homemade gyoza dumplings before cooking?
I don't recommend doing so. The skins will soften and turn soggy in the fridge. They will stick to the tray they are on and tear when you try to lift them.
Now that being said, once I did refrigerate my Asian dumplings for 1 hour prior to cooking and they were fine.
Other time, I left them there for longer and they stuck to the tray they were on and I could not take them off without tearing them. The tray was lined with baking parchment, but it did not help.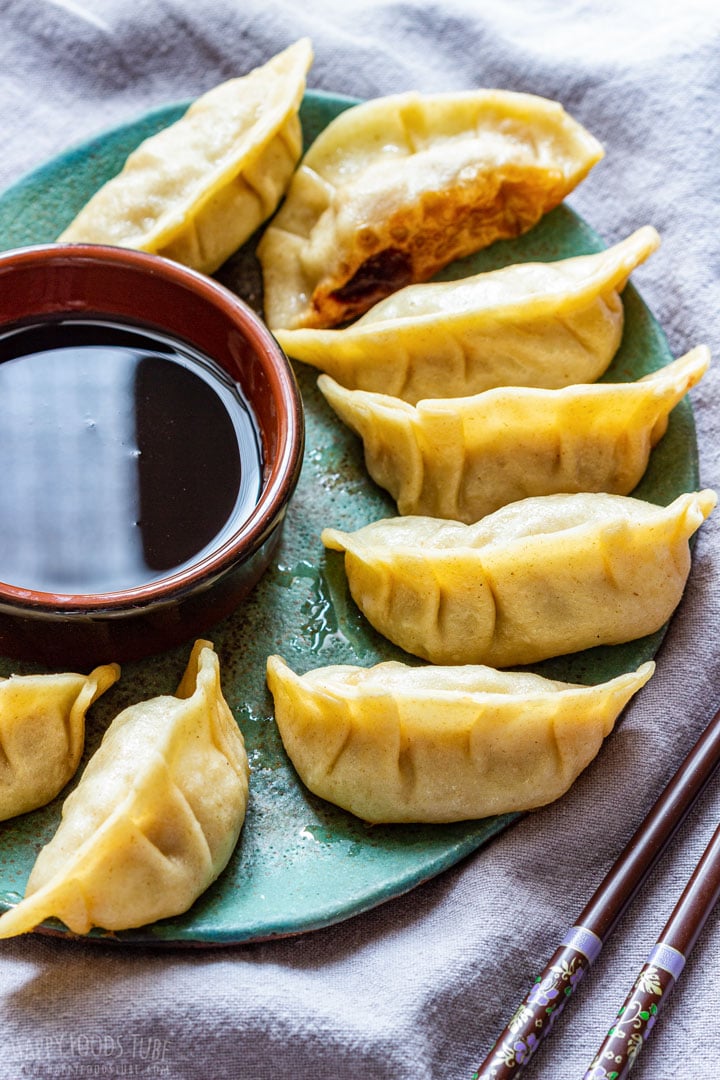 Serving suggestions:
These Japanese potstickers can be enjoyed with a simple soy sauce or you can make your own gyoza sauce by combining rice vinegar, sesame oil, pressed garlic and ginger with some red pepper flakes.
Tips for making the best gyoza dumplings
I like to pre-cook the cabbage and onions altogether with ginger and garlic. Then, I simply run the mixture through a food processor to get a finer texture so that no sharp cabbage pieces can pierce the gyoza wrappers. It may not be a traditional way of making Japanese gyoza, but it makes my life easier as the gyoza filling is more pliable.
Cooking dumplings is easy, and you can try several ways to see what works best for you. My favorite is either fry & steam on the stove or steam in a pressure cooker. No matter what way you cook them, you can always fry them afterwards as well! If you are not sure how to cook gyoza, I recommend frying and steaming them.
Watch how to fold gyoza!
If you would like to try more Japanese recipes, here are some delicious ideas for you:
Homemade sushi – easy peasy snack, dinner, party food that is so versatile – just add what you like and have fun rolling! You can make them vegan too by using rice paper instead of seaweed!
Ramen – a delicious and easy soup, perfect for fall and winter, or anytime you feel like it.
Gyoza Dumplings
This is a recipe for Japanese gyoza dumplings. You will find here instructions for folding, freezing and cooking using 2 methods. Works with ground pork, beef, chicken or a combination of these!
Ingredients
½

pound

white cabbage

(about ¼ of a medium-size cabbage)

3

garlic cloves

, pressed

1

thumb

fresh ginger

, grated

2

tablespoons

soy sauce

½

pound

ground beef

½

teaspoon

salt

⅛

teaspoon

black pepper

30

gyoza wrappers

, see note 1

sesame oil

, see note 2
Instructions
Shred cabbage. Transfer it into and sauté for 5 minutes. Add pressed garlic and grated ginger and sauté for about 2 minutes. Stir in soy sauce and sauté for a further 2-3 minutes. Turn off the heat and transfer the mixture into a bowl to cool down.

Meanwhile: season ground beef with salt and pepper and mix well (use a fork or your hands).

When the cabbage mixture is cooled down to room temperature, process it in a food processor to get a finer mixture. Add this to the meat and mix well.

Spread gyoza skins onto a lightly floured worktop. Put a small amount of meat mixture in the middle of each gyoza wrapper (about 1.5-2 teaspoons). Dip your finger in water and run it along half of the wrapper. Fold the dry half over and pinch in the middle. Take the dumpling in one hand and fold with another – making 3 folds to the right from the center and then to the left (check the photos and/or video for easy understanding). Repeat with the rest.

Cooking gyoza: Fry & steam: In a skillet/frying pan, heat oil. Place gyoza dumplings in and let them fry on medium-high for a minute or two or until their bottoms are nicely golden brown (or to your liking). When ready, pour in ½ cup of water (120 milliliters) and cover with a lid. Let them steam for about 6 minutes before checking them. If the water has evaporated but the skins don't look kind of translucent, add about 1/8 cup of water and let them in until the water has evaporated.

Boil: Bring a large pot of water to a boil and put gyoza in. Boil for about 4-5 minutes. Again, check for doneness – skins should be translucent, and filling cooked through. When ready, you can take them out and serve.
Notes
If you can't find wrappers, you can make them at home. I have a recipe on my blog.
If you don't have sesame oil, use olive oil instead.
When filling a 3.5-inch (9-centimeter) wide gyoza wrappers, you should get about 32 gyoza out of this recipe. If using larger wrappers, you will get less.
The post above this recipe card contains a comprehensive guide to making gyoza as well as a quick video clip on how to fold them.
Nutrition Facts
Gyoza Dumplings
Amount per Serving
% Daily Value*
* Percent Daily Values are based on a 2000 calorie diet.
** As an Amazon Associate I earn from qualifying purchases.
LEAVE A COMMENT