A delicious recipe for Thanksgiving turkey, stuffed with bacon and rubbed with herb butter to keep it moist and juicy. Useful tips and side dish ideas included!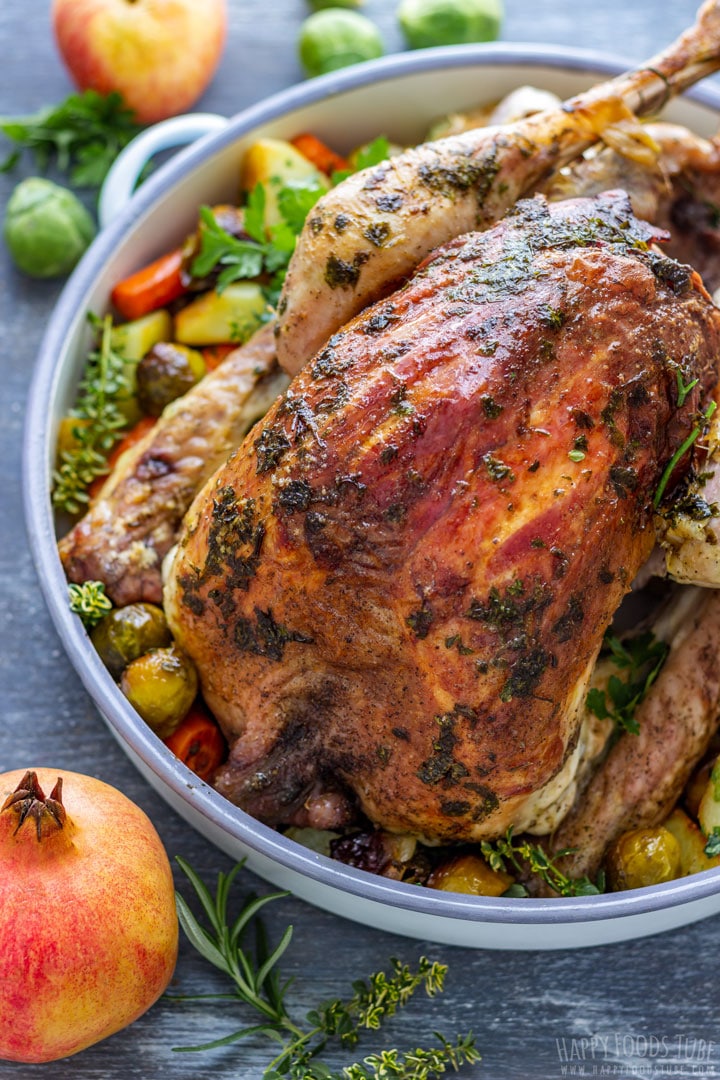 Roasting a turkey does not have to be complicated if you know a few things before you buy the bird. This post includes a lot of tips when it comes to buying, cooking, thawing a turkey as well as side dish ideas and leftover turkey recipes.
This Thanksgiving turkey recipe is perfect for a smaller crowd but can be easily adjusted to a larger bird if needed.
What size turkey to buy?
When choosing a turkey for Thanksgiving, it's important to remember a few things: First, the age of your family members. For example, kids eat less than adults so you can count with half what you would for an adult.
Another thing to remember is – leftovers. If you don't want any, then count with 1 pound per adult. If you want some, then perhaps increase to 1 and ¼ to 1.5 pounds per adult – again this can be different for everyone.
This 7-pound thanksgiving turkey should feed up to 6 people.
Again, keep in mind whether you want to have some meat left for the following day or not.
Fresh or frozen turkey?
It is entirely up to you. If you buy a frozen bird, you will need to thaw it which will take some time. For that reason, it's important to allocate enough time for it.
I use either fridge or cold water. Cold water is faster (several hours as opposed to thawing in the fridge, which can take several days), but you should be changing the water regularly.
The larger the bird the longer the thawing process.
Serving suggestions:
When it comes to side dishes – you can make all kinds of tasty dishes for your roasted turkey: Mashed potatoes, smashed potatoes (my favorite side), roasted vegetables, braised cabbage, potato salad, Brussels sprouts salad…
Stuffing has definitely a separate category. Either with meat or meatless (we have a stuffing recipe for vegans also, so if your friends or family members are vegans, you might like to give it a go).
Appetizers for Thanksgiving are a must because let's face it. Who could wait until the turkey is ready without having a few (or more) appetizers to snack on. Mini sandwiches, meatballs, cheese board, dips, or anything you like!
Tips for making the best roast turkey for Thanksgiving
If you have a space on the tray, why not use it and throw some vegetables around? It is entirely up to you what you use. I did use onions, carrots, and brussels sprouts. You can also stuff the turkey with them, but they will slow the cooking process – both of the turkey as well as the veggies. If you want to stuff the cavity, then I would recommend using veggies that cook faster.
Sliding bacon strips under the skin will keep turkey breasts from drying out quickly. I highly recommend doing so!
You don't have to fill the cavity with any vegetables, but please do stick a few herb sprigs inside. They will make your roasted turkey smell amazing. I used fresh rosemary and lemon thyme as these are my favorite herbs.
Use a disposable foil roasting pan for easy cleanup! Plus, you don't have to have an extra-large roasting pan just for making the turkey.
Oven bags are also a great way and they will definitely keep your thanksgiving turkey moist.
If you are not sure how to cook a Thanksgiving turkey, I highly recommend this guide – it has a ton of information for beginner cooks or anyone who has some more questions.
What to do with turkey leftovers
If you are looking for some leftover turkey recipes, you might like some of our favorites: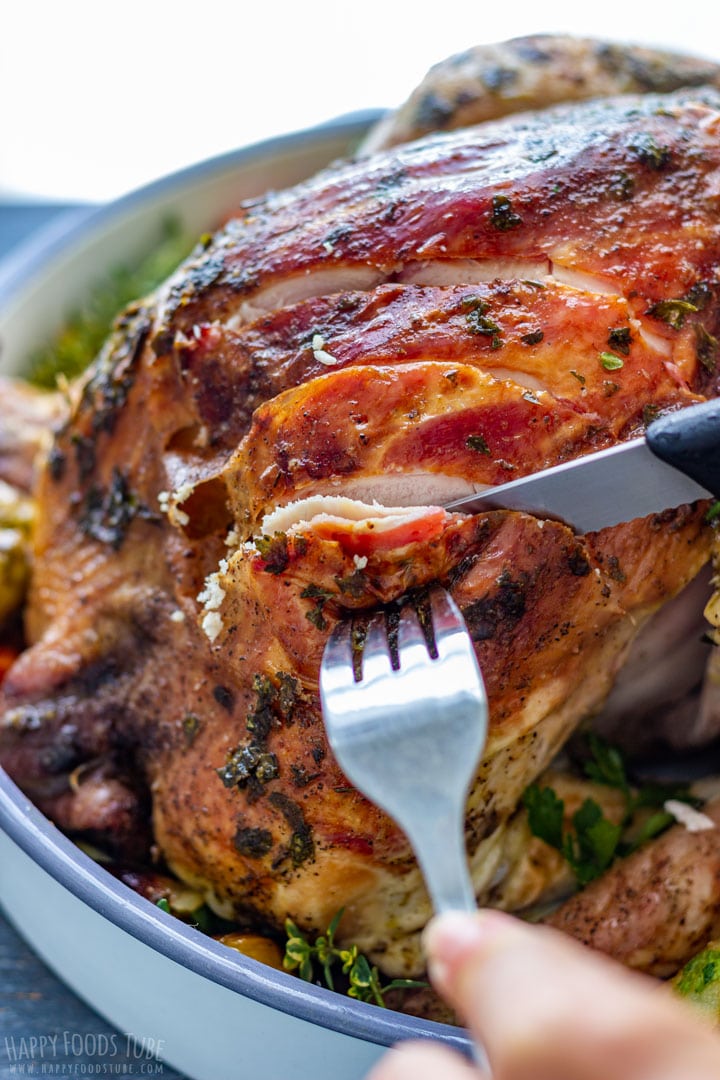 Thanksgiving Turkey
A delicious recipe for Thanksgiving turkey, stuffed with bacon and rubbed with herb butter to keep it moist and juicy. Useful tips and side dish ideas included!
Ingredients
7

pound

fresh turkey

(3.2 kilos)

1

teaspoon

black pepper

, or to your liking

1

tablespoon

salt

, or to your liking

4-5

slices of

bacon

fresh

rosemary sprigs

, see note 1

fresh

thyme sprigs
Herb butter:
½

stick

unsalted butter

, see note 2 (55 grams)

¼

teaspoon

salt

¼

cup

flat-leaf parsley

, fresh, finely chopped
Optional extras:
onions

, quartered

carrots

, cut into large chunks

brussels sprouts

extra virgin olive oil

, a drizzle

salt

, to taste

black pepper

, a generous pinch

garlic head

, top cut off
Instructions
1 hour before cooking, take the turkey out from the fridge and let it sit on your counter. Remove giblets from the cavity, if any. You can discard these or use them to make turkey stock.

Place the turkey in a roasting pan or disposable foil tray, breast side up. Season the turkey and its cavity with salt and pepper. Stuff it with herbs.

Lift the skin on the top of the turkey and slide your fingers under, slowly loosening the skin. When done, slide bacon strips under the turkey skin to keep breasts from drying out. Then, spread some of the herb butter in as well.

Use the rest of the herb butter to cover the surface of the turkey (use your hands or brush).

If using vegetables, mix them with seasoning and olive oil and spread them around the turkey.

Transfer the turkey to a preheated oven and roast at 350° Fahrenheit (175° Celsius) for about 2 hours and 15 minutes or until the internal temperature of the thickest part of the breast reaches 165° Fahrenheit (74° Celsius). Make sure the turkey sits in the center of your oven.

Let rest for 15 minutes before carving.

Enjoy!
Notes
Use as much/as little as you like. The more fresh herbs you use, the more flavorful your turkey will be. Please do not substitute with dried herbs.
You can use salted butter. If you do, you don't need to add salt.
If you want, you can spread veggies on the tray around the turkey. They should be cut into chunks, so they won't burn or overcook completely. You could also throw them in at a later stage if you chop them small. You could also fill the cavity with veggies, but you will need to cook the bird for longer.
Please use a food thermometer to check the turkey if not sure!
Cooking time may vary, depending on your oven and the size of your turkey.
If in doubt, or you need more information and tips for roasting thanksgiving turkey, please read the full post above this recipe card.
Nutrition Facts
Thanksgiving Turkey
Amount per Serving
% Daily Value*
* Percent Daily Values are based on a 2000 calorie diet.
** As an Amazon Associate I earn from qualifying purchases.
LEAVE A COMMENT