Homemade sushi for sushi lovers! Making it is pretty easy once you get the hang of it! Impress your guests by throwing a sushi party! A great fun could also be a "Make Your Own Sushi" Dinner, don't you think so?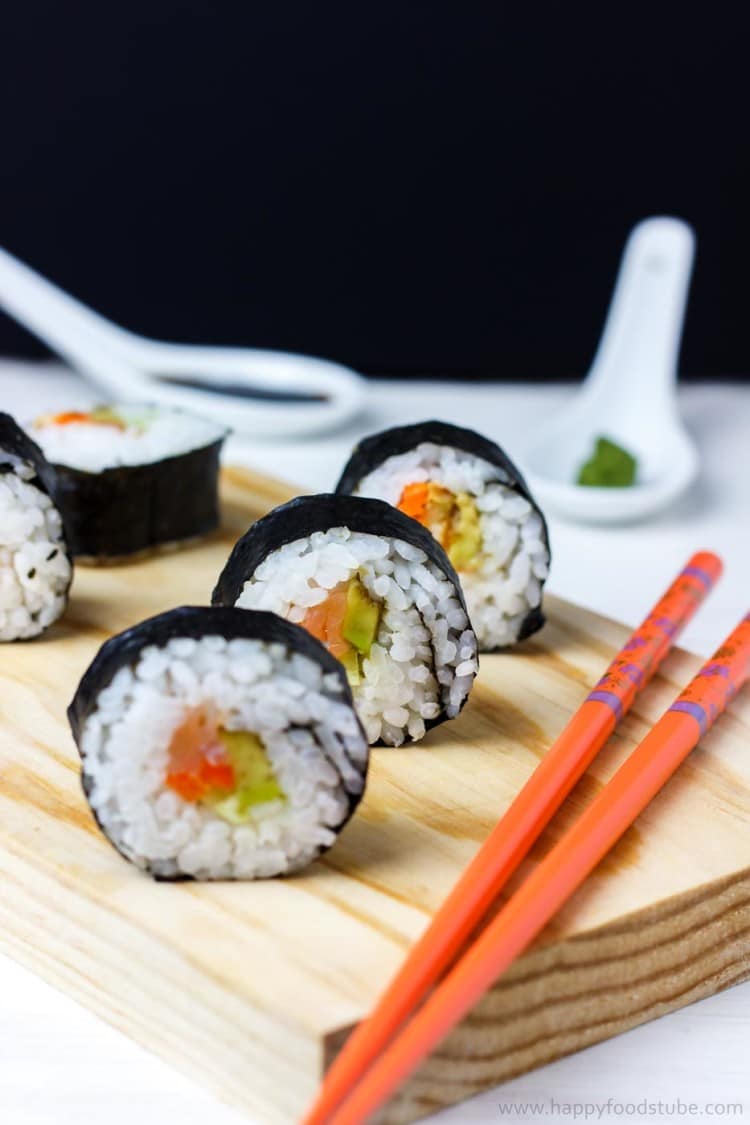 Sushi is basically a Japanese food preparation where cooked vinegared sushi rice is combined with raw seafood and vegetables, sometimes even tropical fruit. It can be made in several different ways and is served with soy sauce, wasabi and pickled ginger.
My sushi beginnings are not good. I had tried it about 4 different times in various restaurants and none of those times I would say to myself: Oh, yes, I want to eat more! So for me, it wasn't love at first sight or should I say first bite? But anyway, me not liking it had not put me off trying it over and over again.

Once, when visiting my sister in Amsterdam we ended up at this sushi restaurant at quite a late hour. It was an Eat As Much As You Can restaurant and there were four of us. Now, imagine me (not a sushi fan) eating as much as I could. Anyways, like I've mentioned it was already late so we only had 1 hour before the kitchen's closing time (thank God for that, I said to myself then). During this hour we could order anything and everything from the menu but we had to finish it before we would be served another round.
So yes, there I was sitting in this restaurant and trying to eat as much as possible (of sushi dishes and in an hour). We had a great laugh there especially because we had only a little time to eat as many Japanese dishes as possible and also wanted to get our money's worth out of it. And guess what? I still wasn't impressed by the whole sushi thing!
BUT then one day…in sunny Spain …I converted to sushi! Yes! And it was thanks to a supermarket sushi tasting! I loved everything about it! The combination of flavors with the soy sauce and wasabi and also pieces of dried fried onions.
And because I wanted to make it at home I bought the sushi rice, nori sheets, rice vinegar and the rest of the ingredients. It wasn't perfect the first time we had made it but we had fun making it and eating it! We've made it several times since and always enjoyed it!
I highly recommend making these at home – you'll have a lot of fun! Also if you get your hands on a good quality wasabi paste, then go ahead and buy it! It really does make the difference.
I sometimes use crispy fried onion flakes as one of the filling ingredients (I like them a lot) but this is usually used when the rice is on the outside (when rolling the roll inside-out) or at least that's what I've come across so far!
Related Post:
Homemade Vegetable Ramen with Quail Eggs
Print
Homemade Sushi
Homemade sushi for sushi lovers! Making it is pretty easy once you get the hang of it! Impress your guests by throwing a sushi party! A great fun could also be a "Make Your Own Sushi" Dinner, don't you think so?
Servings:
6
Rolls (17cm/7inch) | 36-48 pcs
Ingredients
2

cups

Sushi Rice

(400g/14.1oz)

150

g

Smoked Salmon

(5.3oz)

1

Ripe Avocado

1

Carrot

1

Small Cucumber

(optional)

Crispy Fried Onion Flakes

(optional)

Black Sesame Seeds

(optional)

Wasabi Paste
Instructions
Boil the rice following the packet instructions. Add only a little bit of salt (This is not necessary as soy sauce is salty enough – I usually omit this step).

Meanwhile wash, peel and cut the carrots into very thin slices. Wash the avocado. Cut in half and remove the pit. Slice it. Slice the salmon into thin strips. Slice the cucumber into thin slices (optional).

When the rice is ready (all the water should be absorbed by now), add rice vinegar (only a teaspoon or so), mix well and let it cool down.

Wrap your bamboo mat in a cling film. Place one nori sheet on the mat so that the rough side is facing you. Spread the rice over it covering evenly about 2/3 of the sheet (the rice free end should be further from you). At this point you can also sprinkle some black sesame seeds over the rice, if using.

Place a thin row of avocado, carrot, cucumber (if using) and salmon slices across the middle of the rice.

Lift the mat and roll it away from you (like if you were rolling a carpet). Make sure you cover the ingredients with the nori sheet the first time. Now gently squeeze the roll using your hands, lift the mat and push & roll the sheet away from you. Gently squeeze alongside the roll, making sure it holds its shape and repeat – roll and push until you get to the end. At last wet the rice-free nori sheet and roll for the last time.

Remove the mat, trim the edges and cut into equally thick pieces (you should get 6-8 sushi pieces out of one roll).

Serve with soy sauce and wasabi paste!
Happy Cooking with Happy Foods Tube!
Notes
Dampen your knife in warm water to cut nice neat pieces.
Nutrition Facts
Homemade Sushi
Amount Per Serving
Calories 316
Calories from Fat 54
% Daily Value*
Total Fat 6g 9%
Cholesterol 5mg 2%
Sodium 257mg 11%
Potassium 295mg 8%
Total Carbohydrates 54g 18%
Protein 9g 18%
* Percent Daily Values are based on a 2000 calorie diet.
** Happy Foods Tube is a participant in the Amazon Services LLC Associates Program, an affiliate advertising program designed to provide a means for sites to earn advertising fees by advertising and links to Amazon.com.
LEAVE A COMMENT
Browse more tasty Recipes or visit our
channel to see the videos.