Watch how to make this fondant handbag cake. It's simple & easy to make! It is a great birthday cake idea for all ladies who love handbags!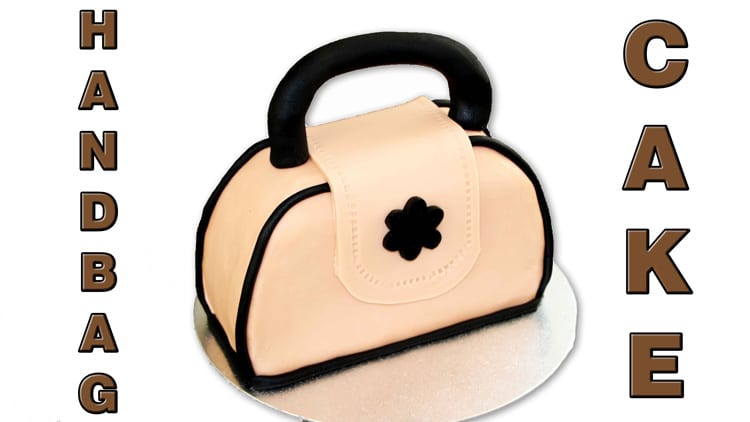 You can make it in any size you like. I suggest you cut the round cake into a handbag shape before you fill it. This way you won't have to waste any filling. If you fill the whole cake first and then cut the not wanted parts off, you will have a few nice slices for yourself as a treat.

What I used to make this fondant handbag cake:
Now let's talk tools for a second:
Guess what? A knife (or 2) is all you need to make this fondant cake! Yes, there are other tools used here but none of them are as important as the knife. And they all could be substituted for something else!
So the knife… It is indeed the most important tool to have in order to make this handbag cake. In this video I used a knife with serrated edge (a bread knife) and a small knife with plain edge. With the large knife I trimmed the cake off and shaped it so it looked like a handbag. With the smaller knife (with plain edge) I trimmed off the fondant. It is important that you use a plain edge knife to trim off the fondant.
Watch the video for this tutorial:
Substitutions:
Cake Smoother
Cake smoother is pretty handy for this project but it is not compulsory. You can use hands to smoothen the fondant.
Fondant Embosser (or the stitching look tool)
If you don't have one, don't run to the shop to get it unless you know you'll be using it often. Otherwise I don't see a point. Use a skewer or a sharp point tool instead. It will take you longer but it will do the trick and saves you money!
Flower Plunge Cutter
Use any cutter you have. This cutter is used to add the final touch to this handbag. Be creative and have a look at the cutter you have. You might want to use something else such as fondant heart, animals, anything really.
Toothpicks/Skewers
So if you are planning on attaching a handle to this fondant handbag cake then you will need either toothpicks or skewers. Alternatively you could also use cake pops sticks.
Paint Brush
Instead of a paint brush simply use your finger. Make sure you don't wet your finger too much. Less is more!
The Template
Make the template after you trimmed off your cake, filled it and shaped it. Simply place a sheet of paper over the cake to see how long the template needs to be. If you know the length, then cut one end into an oval shape.
Cake Board
You need to place your handbag cake on a board. Once you have placed the cake onto the board, you should not be moving it. You can cover the board with fondant as well. If you don't feel like buying the cake board, make your own using a cardboard wrapped in a baking paper.
Related Posts:
Fondant Cake Slice
How to make Fondant Baby Shoes
Acoustic Guitar Fondant Cake
Browse more Cake Decorating Tutorials or visit our
channel to see the videos.