Instant pot beef stroganoff is a tasty dish, perfect for weeknight dinners. Tender beef pieces, creamy mushroom sauce with a side of your choice. Perfection!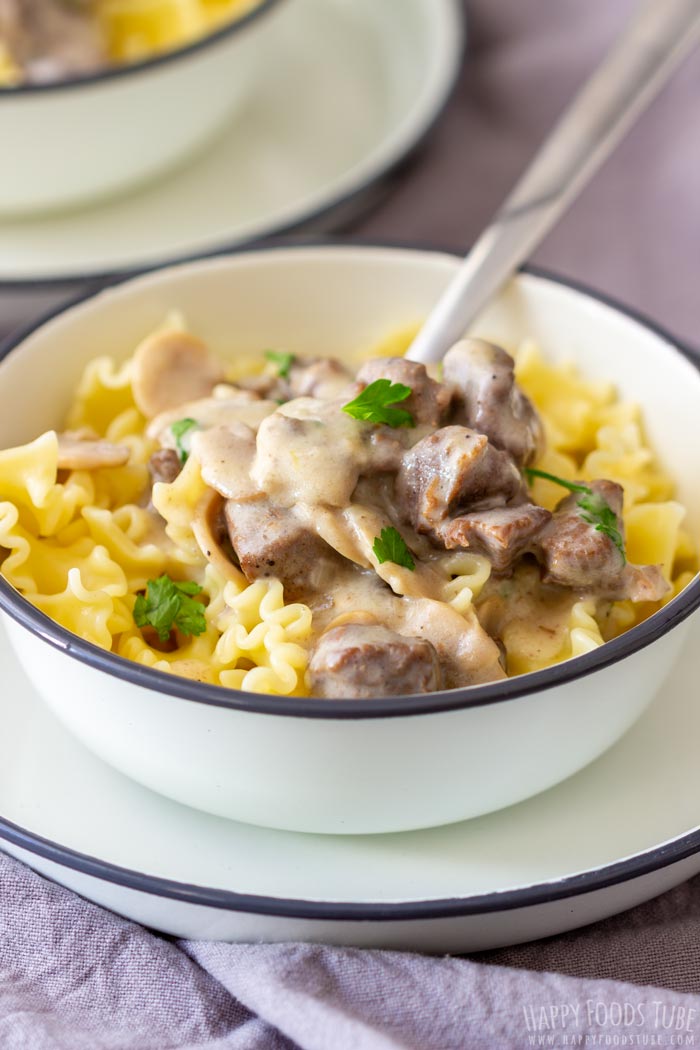 This pressure cooker beef stroganoff is one of the dishes that crowds love. It's tasty, easy to make and there are hardly any leftovers left (unless you make a ton of it, that is).
Another plus when making this Instant Pot beef stroganoff recipe is the ingredients. You only need 10 simple ingredients to make this meal!
Also, if you are looking for more Easy Instant Pot Recipes, I have some tasty ideas for you:
All these recipes are easy to make and taste amazing! Perfect options for chilly days.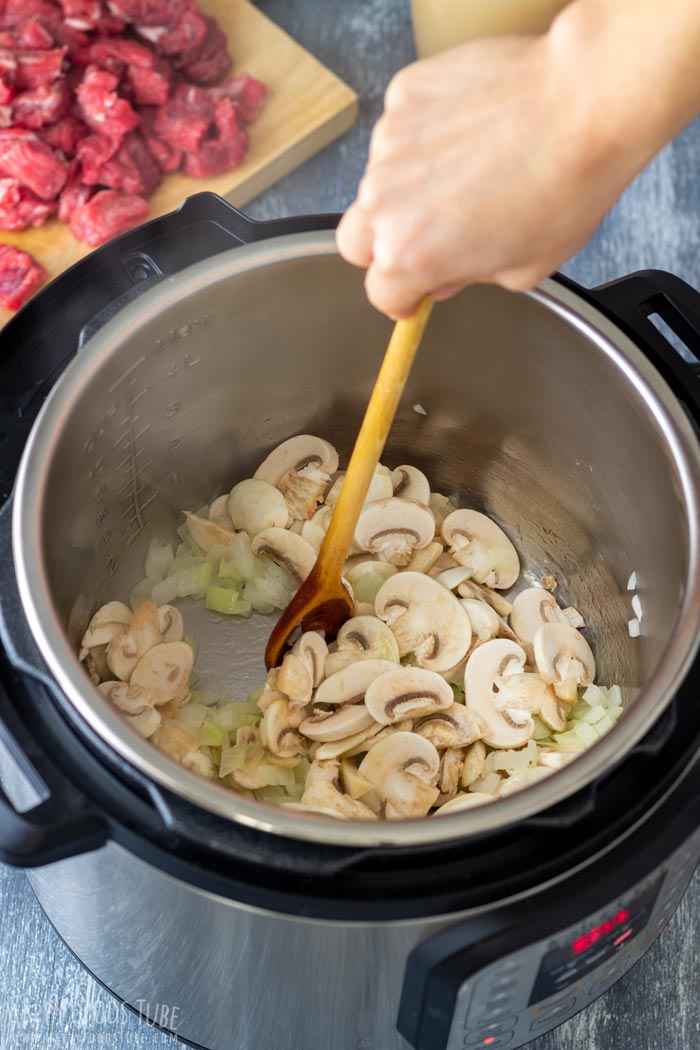 How to make Beef Stroganoff in Instant Pot
Turn on the sauté function on your Instant Pot. Melt about 2 tablespoons of butter and add finely onion and sliced mushroom. Sauté them for about 5 minutes, stirring occasionally.
When ready, take it out and add more butter and throw the meat pieces in. Seal the beef pieces quickly to lock all the juices inside. If there is way too much meat in the pot, the browning might turn into stewing and we don't want that. If not sure, do this step in 2 batches.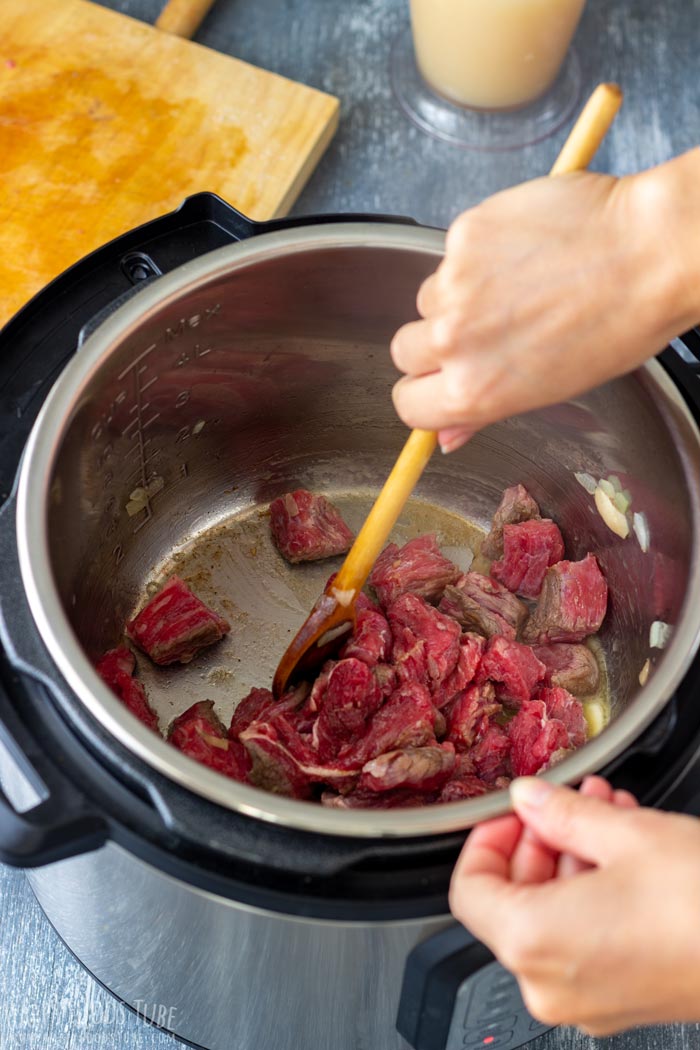 Also make sure to season the meat first with salt and pepper before you add it into the pot.
Then, put the onions and mushrooms back, add beef broth and stir.
Close the lid, lock it and turn the steam valve to SEALING. Cook it on high pressure for 15 minutes, then let it sit for 10 before manually releasing the pressure.
The last thing to do before you can enjoy this Instant Pot beef stroganoff is adding half and half. Yes, many recipes call for sour cream but I recommend you try it with half and half this time.
Press the sauté function again and pour half and half in. Bring to a boil. Taste and add more seasoning if needed. I did not add any as the broth was flavorful enough.
To thicken the sauce I used cornstarch. Now you might need more or less than the amount I have in the recipe. This will depend on your preference. To thin the sauce just add more broth or water.
Just remember, always bring it to a boil when adding either cornstarch or broth.
What to serve with Instant Pot beef stroganoff?
My favorite sides are pasta/noodles or rice. However, some people enjoy it with mashed or roasted potatoes (if you are one of them, you could try making Parmesan Roasted Potatoes. They are my favorite!)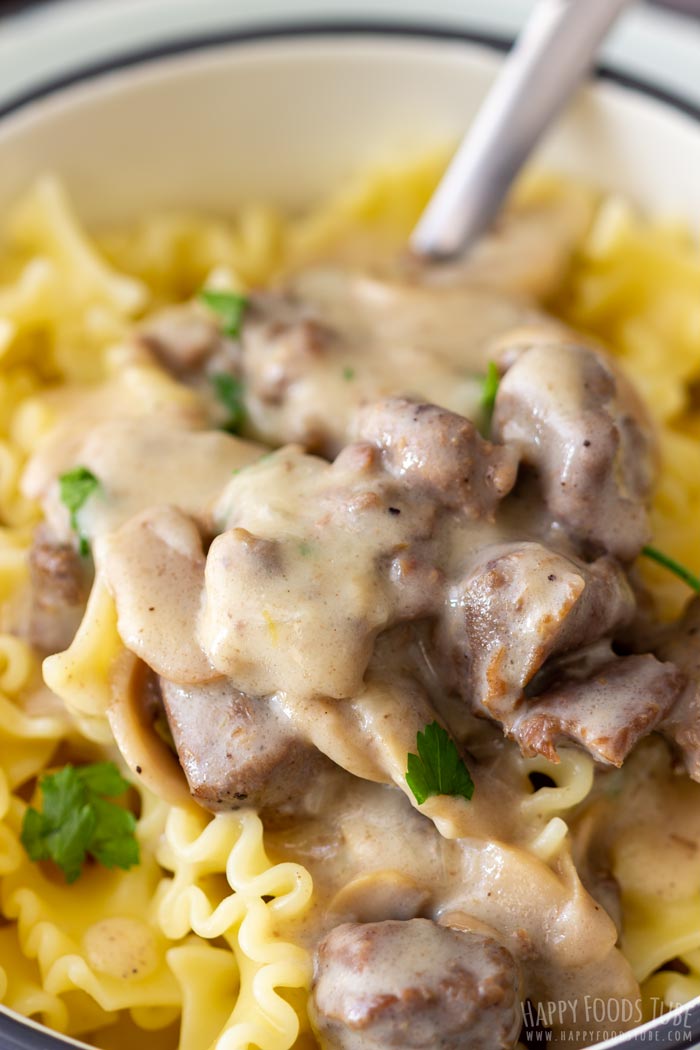 Tips for making Instant Pot beef stroganoff
I used white button mushrooms to make this dish. You can also use brown button mushrooms.
Butter can be easily substituted with olive oil or sunflower/vegetable oil. However, using butter makes the sauce richer and creamier.
My local supermarket sells diced stew meat which I used in this recipe. Because the cubes were larger than I liked, I simply cut each one of them in half. This also helps reduce the cooking time and I recommend you do it as well. If you don't want to do it, then maybe increase the active cooking time by 5 minutes.
You don't need to use beef broth to make Instant Pot beef stroganoff. f you don't have it on hand, use chicken stock (You can make homemade Instant Pot Chicken Stock) or vegetable stock instead. Stock cubes will also work. If you use those, don't forget to check the cube-to-water ratio first.
Always be careful when releasing pressure to avoid burning yourself. I like using oven mitts to do it.
I used 2 tablespoons of cornstarch to thicken this Instant Pot beef stroganoff. Now if you feel that you prefer it thicker, add more. If not sure add only half of the dissolved cornstarch liquid into the pot, stir and wait a few seconds. You will see whether or not the consistency is to your liking. If not, add the rest of the liquid in and stir.
Instant Pot Beef Stroganoff
Instant pot beef stroganoff is a tasty dish, perfect for weeknight dinners. Tender beef pieces, creamy mushroom sauce with a side of your choice. Perfection!
Ingredients
3

tablespoons

Unsalted Butter

(45 grams)

1

Medium

Onion

, finely chopped

8

ounces

Button Mushrooms

, sliced (225 grams), See note 3

1

pound

Beef Stew Meat

, cut into strips or small pieces (450 grams)

1

teaspoon

Salt

black pepper

to Taste

1

cup

Beef Broth

(250 ml)

½

cup

Half and Half

(125 ml), See note 5

2

tablespoons

Cornstarch

Fresh

Flat Leaf Parsley

, chopped (about ¼ cup)
Instructions
Turn on Instant Pot. Press SAUTE and add about 2 tablespoons of butter. Let it melt. Add chopped onion, sliced mushrooms and sauté for about 5 minutes.

Meanwhile, cut the meat into small pieces and season with salt and pepper. Set aside.

When the vegetables are done, transfer them into a bowl. Add the rest of the butter into the pot and throw the beef pieces in. Brown quickly. When ready, throw in the sautéed vegetables. Pour in beef broth and give everything a quick stir.

Close the lid and lock it into its position. Press MANUAL (pressure cooking – high) and adjust the time to 15 minutes.

When the cooking cycle is finished wait 10 minutes before releasing the pressure manually. Turn the SAUTE function on and pour in half and half. Mix and cook for a minute or 2.

In a bowl, dissolve 2 tablespoons of cornstarch in little water. Pour some of the stroganoff sauce in (to temper it) and only then pour this slowly into the instant pot, while stirring the stroganoff sauce constantly. Cook for a further 2 minutes before turning off the pot.

Stir in chopped parsley.

Enjoy!
Notes
This recipe was developed for a 6-quart/6-liter instant pot.
The overall time does not include time that the pot needs to come to pressure nor the time needed to release its pressure. Count with extra 15-17 minutes.
Butter is used to achieve richer taste. If you prefer oil, use it.
Instead of beef broth you can use chicken/vegetable broth or stock.
Half and half can be substituted with ½ cup of sour cream (115 grams) or light cream. Note that the higher amount of fat in cream, the richer sauce you get. Using cream with 18% fat content is perfect!
If you don't have fresh parsley on hand you can omit it or use dried parsley or dillweed instead.
For more tips and detailed explanation, I recommend reading the whole post.
Nutrition Facts
Instant Pot Beef Stroganoff
Amount per Serving
% Daily Value*
* Percent Daily Values are based on a 2000 calorie diet.
** As an Amazon Associate I earn from qualifying purchases.
LEAVE A COMMENT
RELATED POSTS