Rosemary parmesan roasted potatoes is a delicious side dish, crowd's favorite, potatoes are seasoned with rosemary and parmesan and baked in the oven to perfection.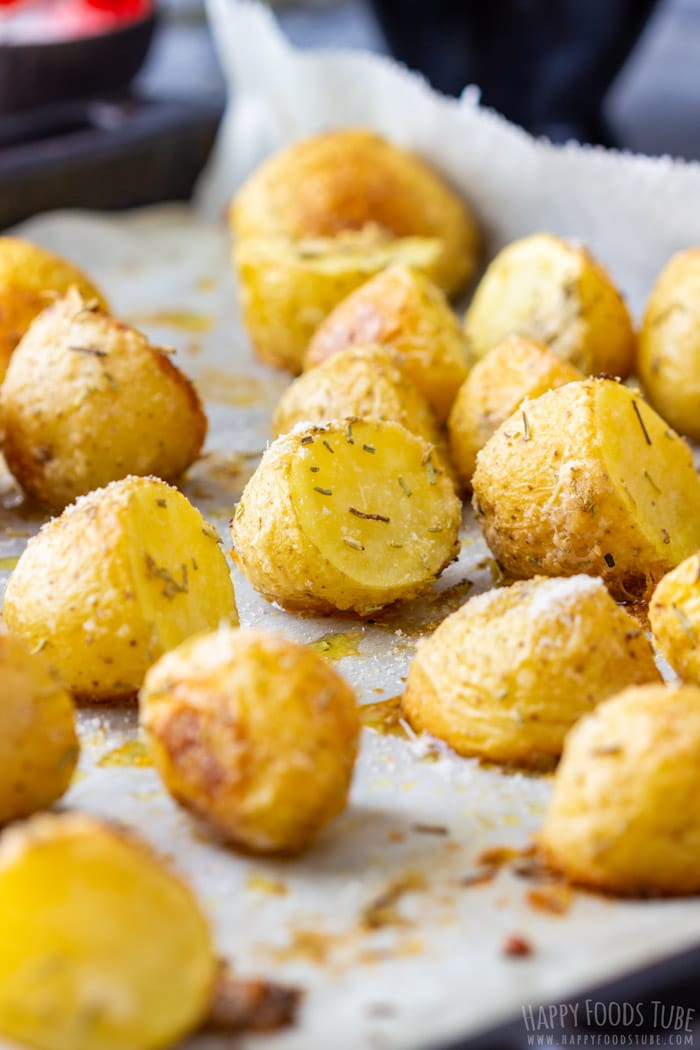 Why you will love rosemary parmesan roasted potatoes
5 Ingredients – these simple yet flavorful ingredients will turn ordinary potatoes into the perfect side dish.
Quick prep – we all love making delicious recipes but the important thing for many of us is the time. You will be surprise how little time is needed to make these rosemary parmesan roasted potatoes.
Easy recipe – anyone can do it! No special skills or tools are needed!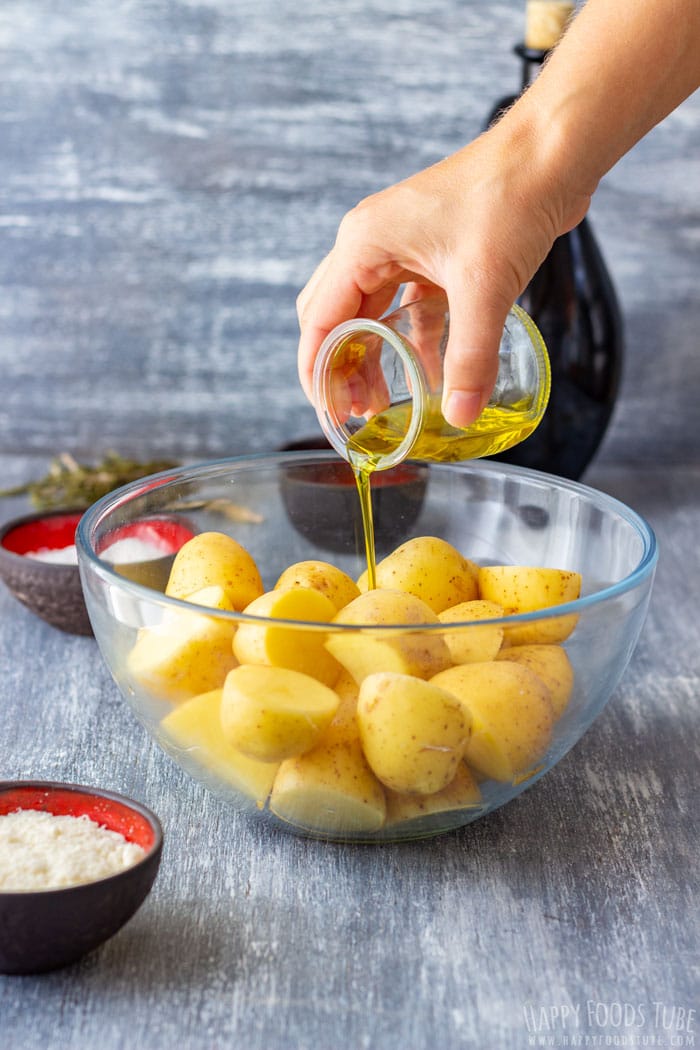 How to make parmesan roasted potatoes with rosemary
You won't be to peeling the potatoes so make sure you wash them thoroughly. If you bought potatoes that have already been washed I still recommend giving them a quick rinse.
Once they are washed, cut them in halves and place them into a bowl that is large enough to hold all of them and there is still space to toss them around. This is important as you want to make sure that the seasoning will distribute evenly and coat every single potato.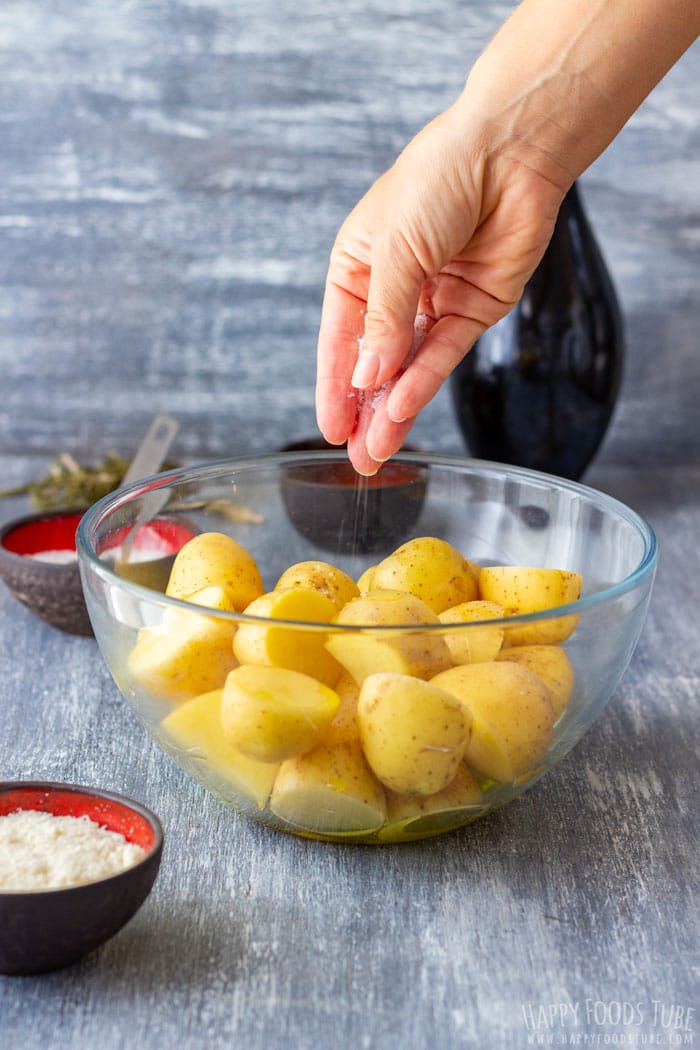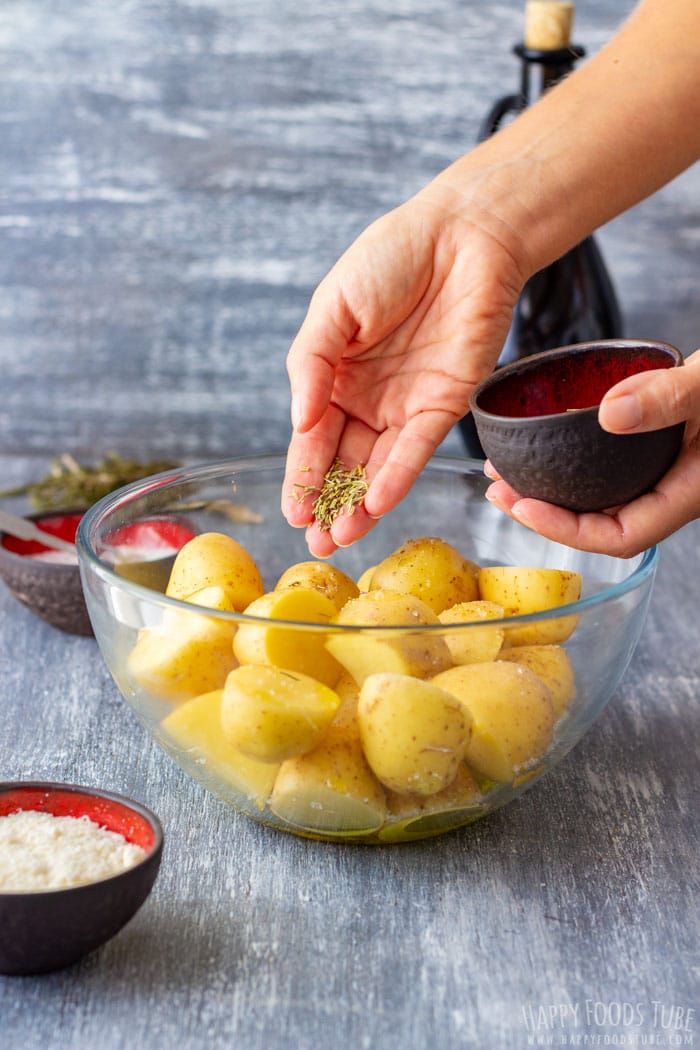 To season these parmesan roasted potatoes I only used olive oil, salt and rosemary. There is nothing else needed. Like I've already mentioned, you toss everything around well. Take your time. The longer you toss the better the coating.
At last, sprinkle them with parmesan and toss again. Transfer them onto a baking tray lined with baking parchment paper and bake until ready. Guys, the whole prep takes literally minutes.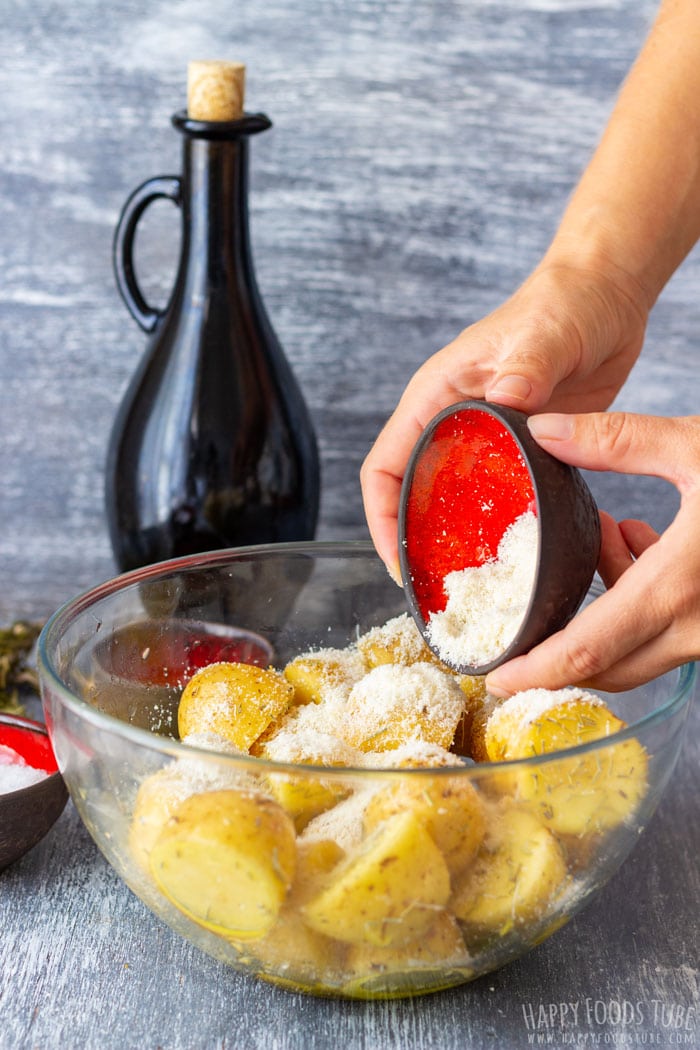 Baking the parmesan roasted potatoes
Make sure to preheat your oven first. The baking will take about 25 minutes, depending on the size of your baby potatoes and also on your oven.
They should be golden brown on the outside and soft on the inside. Check them for doneness by inserting a skewer/toothpick or a cake tester inside. If it goes easily in, they are done.
Just make sure to check the largest one or two. Just to be sure.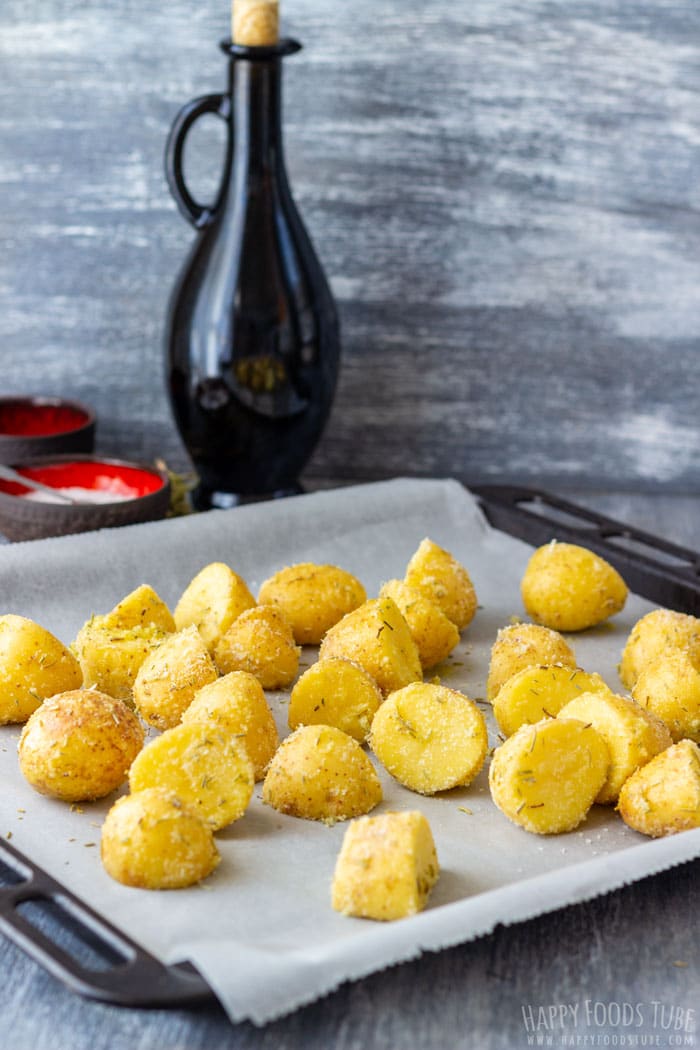 Other potato side dishes
Guys, this is an easy oven roasted potatoes recipe that tastes amazing. If you are looking for more similar recipes for the upcoming Holidays and family gatherings I have some more for you: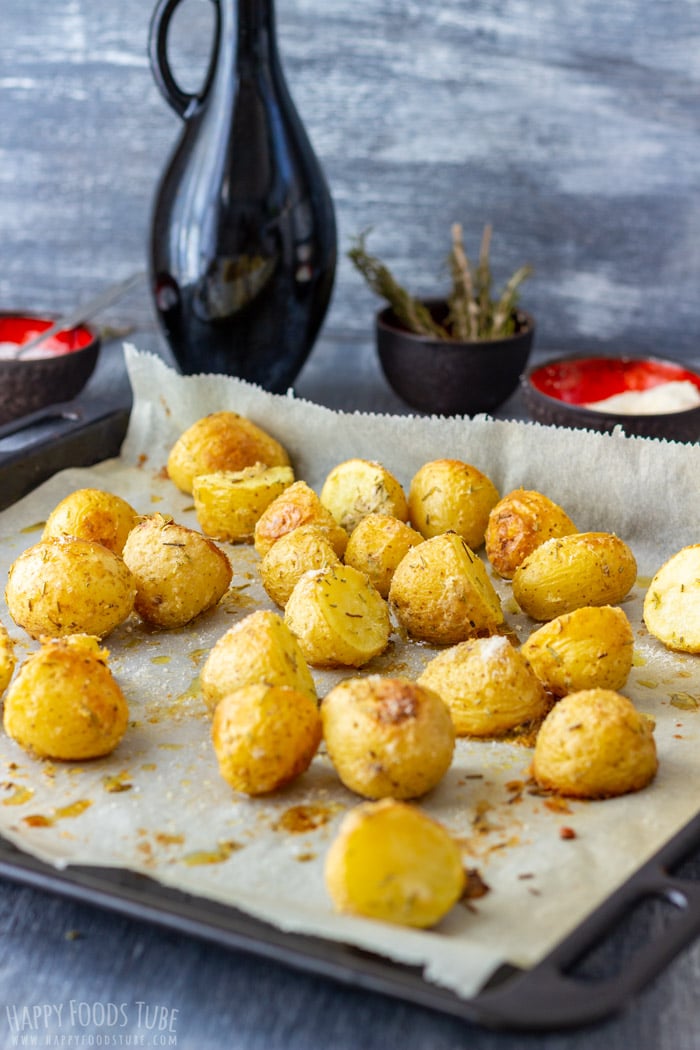 Useful tips and substitutions for parmesan roasted potatoes
When you are using only a few ingredients it is important to buy the good quality ones. Don't be tempted to use any regular finely grated cheese (or a powder). I've tried them (in attempt of saving some money) but learned quickly that those are not the way to go.
You can substitute Parmesan with Pecorino or Grana Padano but that is about it. You will only need a little so if you have any leftover why don't you use it to make Instant Pot Chicken Risotto or sprinkle the cheese over pasta drizzled with olive oil. It's a simple yet tasty dish. Parmesan Butter is also delicious!
The amount of salt can be adjusted to your liking. The cheese is also salty, so you might reduce it if needed.
To achieve crispy oven roasted potatoes simply leave them in the oven longer.
As a garnish you can sprinkle them with chopped fresh chives or flat-leaf parsley right before serving.
Rosemary Parmesan Roasted Potatoes
Rosemary parmesan roasted potatoes is a delicious side dish, crowd's favorite, potatoes are seasoned with rosemary and parmesan and baked in the oven to perfection.
Instructions
Preheat the oven to 400°F/200°C.

Wash the potatoes thoroughly. Cut them into halves and place into a large mixing bowl. Add olive oil, salt and rosemary. Toss the potatoes several times until you see they are evenly coated with seasoning. Now add the cheese. Toss again.

Transfer them onto a baking tray lined with baking parchment paper. Bake them at 400°F/200°C for 25 minutes or until they are cooked through and golden brown on the outside.

Best served warm!
Notes
Instead of extra virgin olive oil, regular olive oil can also be used. I don't recommend using vegetable or sunflower oil here.
If you are on a low sodium diet, you can decrease the amount of salt as parmesan is salty and will also flavor the potatoes.
Parmesan cheese, Pecorino or Grana Padano are the best options to achieve the best flavors. I used finely grated – almost powder like cheese. I think this one works better than the coarsely grated one. The amount of cheese can be increased or decreased to your liking.
This recipe can be easily halved or doubled.
Baking parchment paper can be omitted. I always use it though as I don't have to clean the tray every single time.
Nutrition Facts
Rosemary Parmesan Roasted Potatoes
Amount Per Serving
Calories 244
Calories from Fat 90
% Daily Value*
Fat 10g15%
Cholesterol 5mg2%
Carbohydrates 32g11%
Protein 6g12%
Vitamin A 80IU2%
Vitamin C 36.1mg44%
Calcium 104mg10%
Iron 1.7mg9%
* Percent Daily Values are based on a 2000 calorie diet.
** Happy Foods Tube is a participant in the Amazon Services LLC Associates Program, an affiliate advertising program designed to provide a means for sites to earn advertising fees by advertising and links to Amazon.com.
LEAVE A COMMENT
RELATED POSTS