A bowl of this Instant Pot Chicken Lentil Soup will keep you warm during cold winter days. This simple soup is perfect for your electric pressure cooker!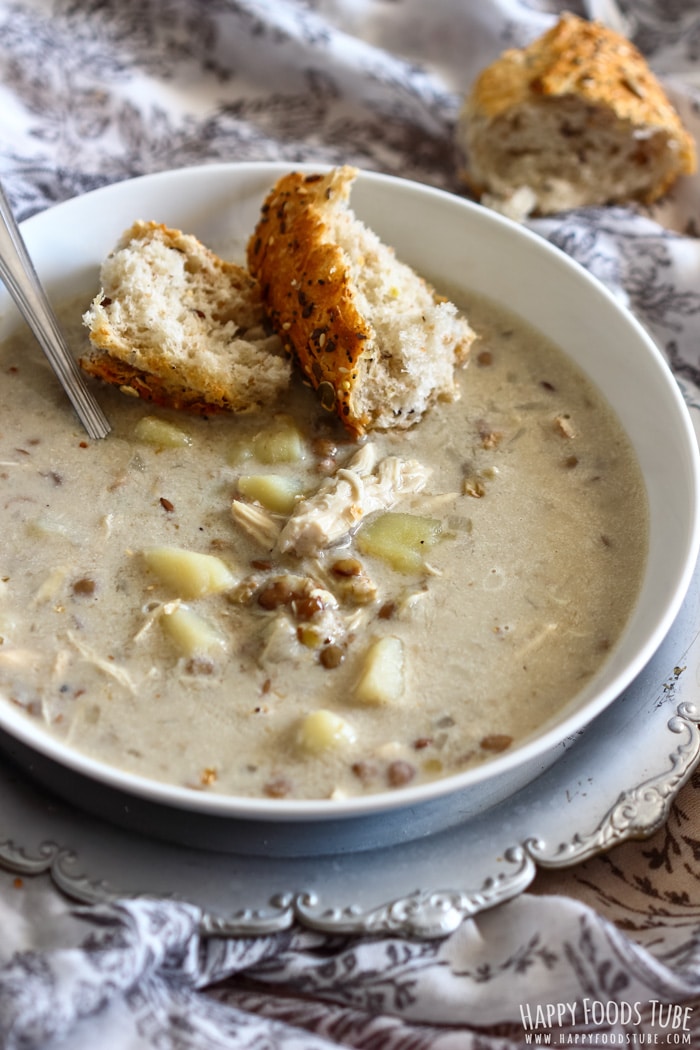 This Instant Pot Chicken Lentil Soup is a twist on the classic recipe. I came across this recipe in an old cookbook and figured it would work perfectly in a pressure cooker.
And let me tell you I was not disappointed. Actually, when I made this chicken lentil soup for the first time, it reminded me of a soup my mom would make us when we were kids. As far as I remember there was no chicken in it and she would also add a splash of vinegar to it.

Now when I made this Instant Pot chicken lentil soup for the first time I found it very thick so I increased the amount of liquid and also adjusted a few ingredients. This version is my most favorite when it comes to consistency but this can be changed to your liking.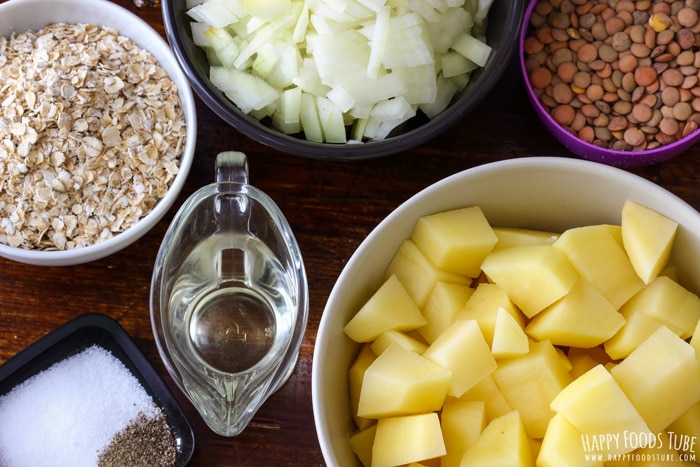 Are you looking for Instant Pot recipe inspiration? Check out these easy recipes: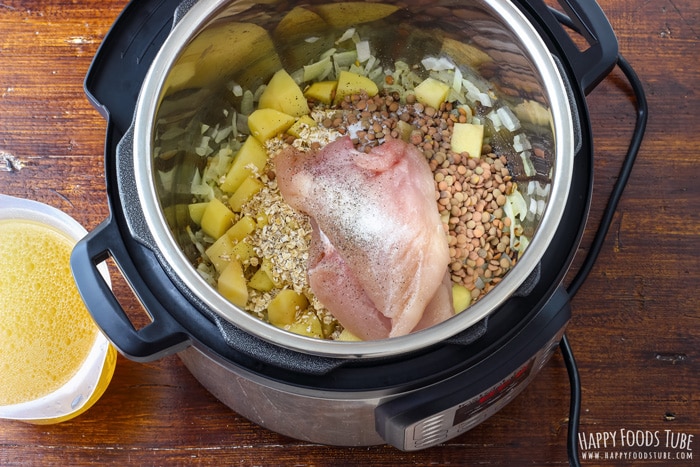 How to make chicken lentil soup in Instant Pot
First things first: Gather all the ingredients and plug in your pressure cooker. I like to turn on the sauté function right away and pour the oil in the inner pot. Then I move onto peeling and dicing the onion. It usually takes about the same time so I am not wasting any time.
The diced onion goes right away into the pot. To get the best flavor out of it you need to sauté it until translucent. Now the time can vary but I usually sauté the onion for about 5 minutes. Make sure you stir occasionally.
The next part is pretty straight-forward: add the rest of the ingredients apart from the half-and-half/light cream. When it comes to chicken breasts I like to butterfly the breasts so they cook evenly. Butterflying is just slicing them horizontally.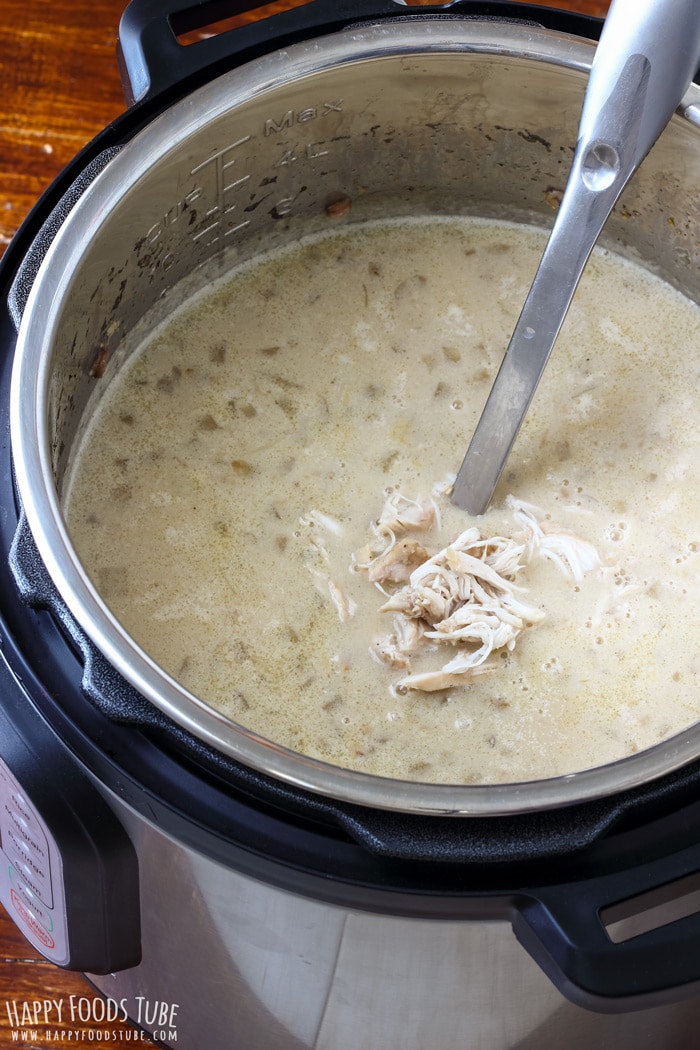 Now give everything a good stir and lock the lid in its position. Turn the vent to "sealing" position, press the "manual" button and adjust the timer to 10 minutes.
When the cooking cycle is finished, wait 10 minutes before releasing the pressure manually. Be careful as the steam is extremely hot. When the pin has dropped down, open the lid.
Remove the chicken and shred it.
Press the sauté button and pour in the half-and-half. Mix it until well combine and bring to a boil. Turn off, throw in the shredded chicken and you are ready to serve.
Good to know before making Instant Pot chicken lentil soup
Sunflower oil can be substituted with vegetable oil or olive oil.
I used 2/3 cup of uncooked lentils. If you prefer having more lentils in it increase to 1 cup. You can also increase the amount of potatoes from 2 large to 3 large.
Chicken stock can be substituted with chicken broth, vegetable broth. Have you tried making Instant Pot chicken stock?
Rotisserie chicken or any leftover chicken is also perfect for this recipe. Just shred it and add the pieces to the soup right at the end – just to heat them up. The amount of chicken added depends on your taste so feel free to use more or less.
You can also increase the amount of chicken breasts but I recommend to not go over 0.80 pound. I normally go for the largest chicken breasts I can find so one is enough for us (it's usually a bit over 0.5 pound/300 g).
If you decide to increase the amounts of all 3 ingredients (lentils, potatoes and chicken) note that your soup will turn way thicker.
When using shop-bought chicken stock check if it contains salt. If it does, I recommend reducing the amount of salt stated in this recipe and seasoning at the very end of the cooking process – only if it is needed.
If you are an Instant Pot owner and like to find some more inspiration, I have more Easy Instant Pot Recipes on the blog. So check them out!
Want to see how to make Instant Pot Chicken Lentil Soup? Watch the video!
FOLLOW HAPPY FOODS TUBE FOR ALL THE LATEST RECIPES AND UPDATES:
PINTEREST | FACEBOOK | INSTAGRAM
Instant Pot Chicken Lentil Soup
A bowl of this Instant Pot Chicken Lentil Soup will keep you warm during cold winter days. This simple soup is perfect for your electric pressure cooker!
Ingredients
2

tablespoons

Sunflower Oil

1

Medium

Onion

⅔

cup

Uncooked Lentils

(150 grams)

½

cup

Quick Oats

(50 grams)

2

Large

Potatoes

6

cups

Chicken Stock

(1.5 liter)

1½

teaspoon

Salt

A pinch of

Black Pepper

½

pound

Chicken Breast

, uncooked (250 grams)

1

cup

Half and Half

or 18% Cream (250 ml)
Instructions
Saute onion, meanwhile dice the potato. When the onion is translucent, throw in the potatoes, rinsed lentils, oats, salt and pepper and give it a good stir. At last add the chicken breast.

Lock the lid and turn the steam release to SEALING.

Press the MANUAL button and adjust the time to 10 minutes.

When the cycle is finished, wait 10 minutes before releasing the pressure (you can also wait until the pressure drops naturally).

Press the SAUTE button. Stir half and half (or 18% cream) and bring to a boil. Turn off and serve.
Notes
This recipe was made in a 6-quart/6-liter Instant Pot.
The cooking time stated in the recipe does not include the time needed for the pot to come to the pressure and time needed for it to drop its pressure (count with an extra 20-25 minutes).
Chicken – if you have some leftover cooked chicken, add this after you pour the half and half in.
Salt – the amount of salt needed can vary – this will depend on the level of saltiness your chicken stock has. So if not sure, add the salt at the very end after tasting the soup first.
The amount of lentils and potatoes can be slightly increased to make the soup thicker.
Nutrition Facts
Instant Pot Chicken Lentil Soup
Amount Per Serving
Calories 371
Calories from Fat 117
% Daily Value*
Fat 13g20%
Cholesterol 46mg15%
Sodium 994mg43%
Potassium 991mg28%
Carbohydrates 38g13%
Protein 23g46%
Vitamin A 155IU3%
Vitamin C 11.7mg14%
Calcium 92mg9%
Iron 4.9mg27%
* Percent Daily Values are based on a 2000 calorie diet.
** Happy Foods Tube is a participant in the Amazon Services LLC Associates Program, an affiliate advertising program designed to provide a means for sites to earn advertising fees by advertising and links to Amazon.com.
LEAVE A COMMENT
RELATED POSTS