Learn how to make instant pot fish stock from scratch. This is an easy fish stock recipe that anyone can do. You can use the broth in various seafood recipes or refrigerate or freeze it for later.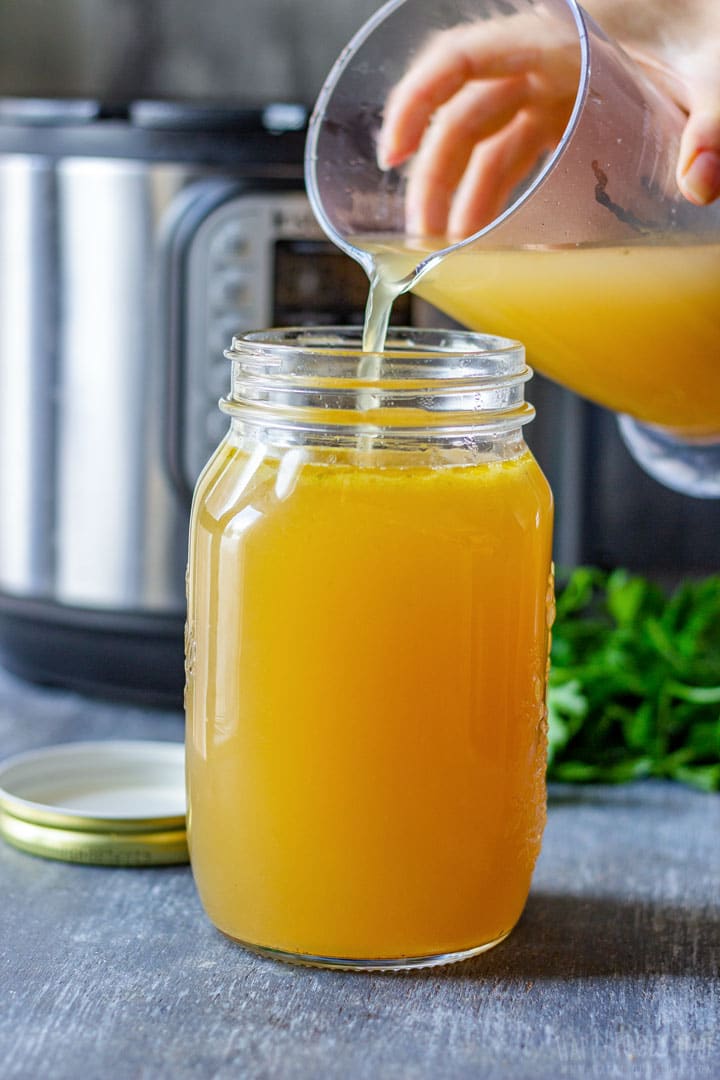 Making fish stock in an instant pot is easy, but if you don't have one, I have easy instructions on how to make a simple stovetop version in this post.
Also, note that the more fish you use, the stronger and more flavorful the broth will turn. If you prefer a less fishy taste, then use less fish and bones.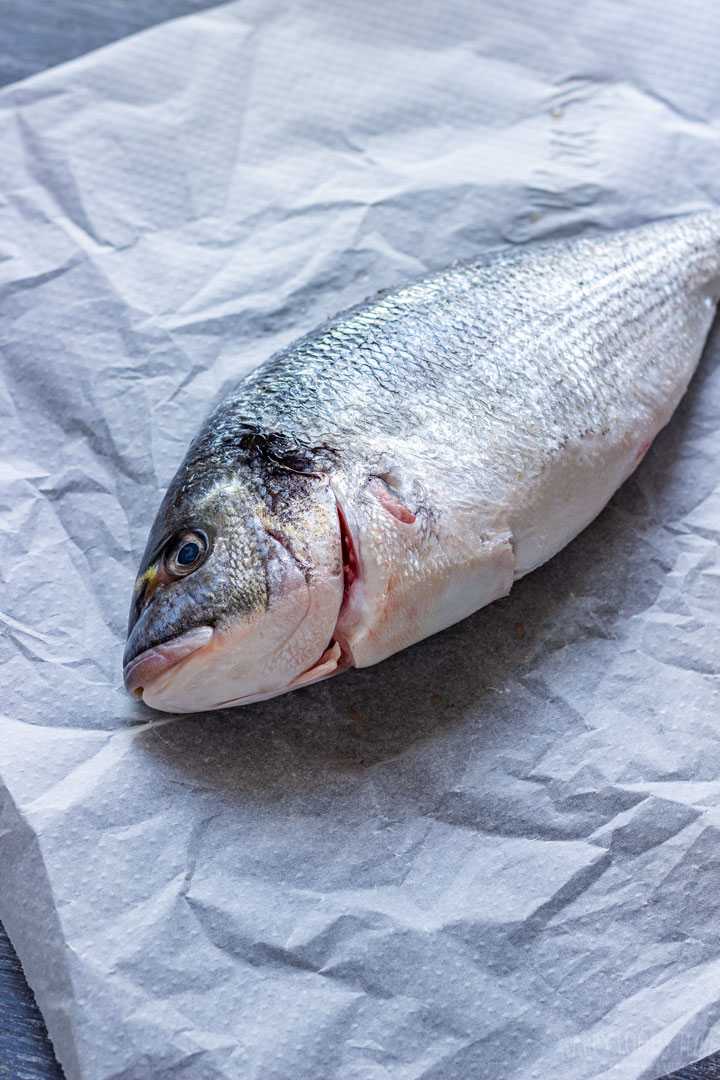 What is fish stock made of?
Making fish stock from scratch is pretty similar to making homemade chicken stock. A few vegetables, herbs, fish and water are all you need to make it.
I personally prefer making homemade fish stock with white fish (sea bass, sea bream, cod, etc…) and try avoiding tuna, mackerel or any fish that has dark meat inside.
You don't normally use a whole large fish to make homemade fish stock. Mainly, heads, bones and tails are used for they are not eaten otherwise, so using them to make fish stock is just perfect.
Here in Spain, fishmongers also sell tiny fish of all kinds (like you can see in the photos), that are used to make fish stock and I sometimes buy those, especially when I don't have enough fish heads.
If you like, you can also add a fish fillet as well. I don't recommend using a whole large fish as there are other ways how to enjoy it.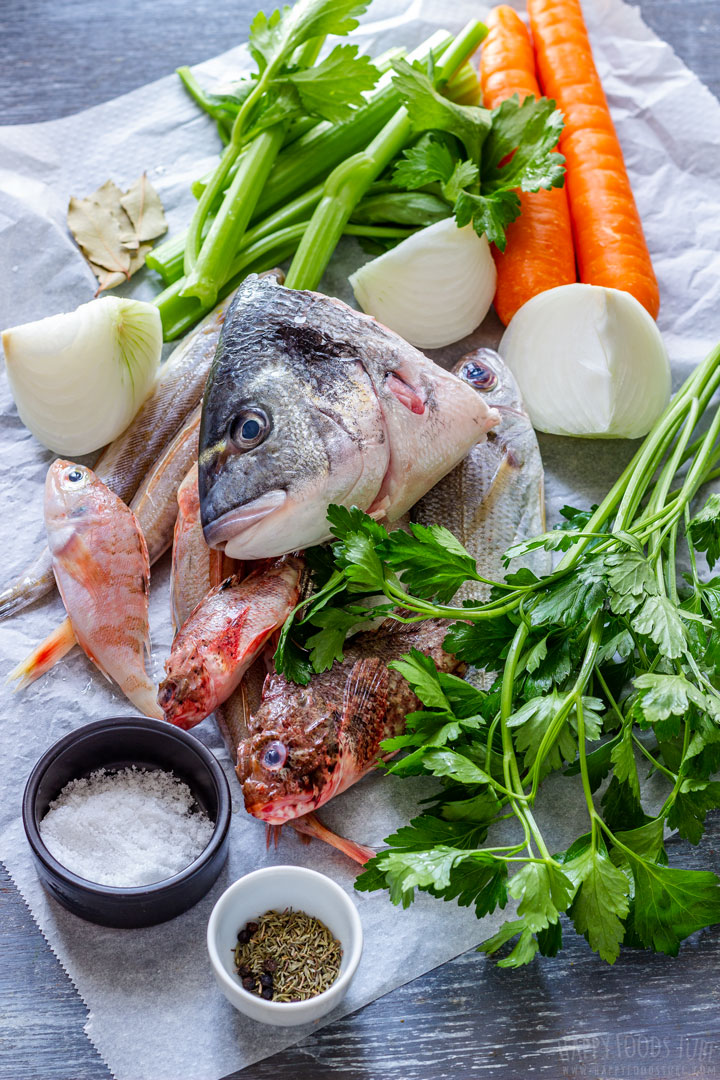 Where to use fish stock?
It will work in all kinds of fish recipes – from seafood paella, chowder, risotto to my favorite fish soup recipe for a creamy salmon soup.
Fish stock is the perfect recipe to use up any leftover fish heads or tails you might have on hand when you buy a whole fresh fish for grilling.
I like to freeze them and make the stock when I have enough fish pieces to get a rich fish flavor.
I don't have an instant pot. How to make fish stock on a stove top?
You can follow the same instructions, you will just be using a normal pot (a medium-sized one or large), instead of a pressure cooker.
Fish cooks fast, but the longer you cook it the better the stock. First, bring it to a boil and then simmer somewhere from 35-60 minutes. Fish should be falling apart at this stage and there is a high possibility, the fish broth will have bones in it.
For that reason, make sure to use a fine mesh strainer that will catch even the tiniest of bones. If you don't have one, you can use a regular strainer, but line it with a cheesecloth first.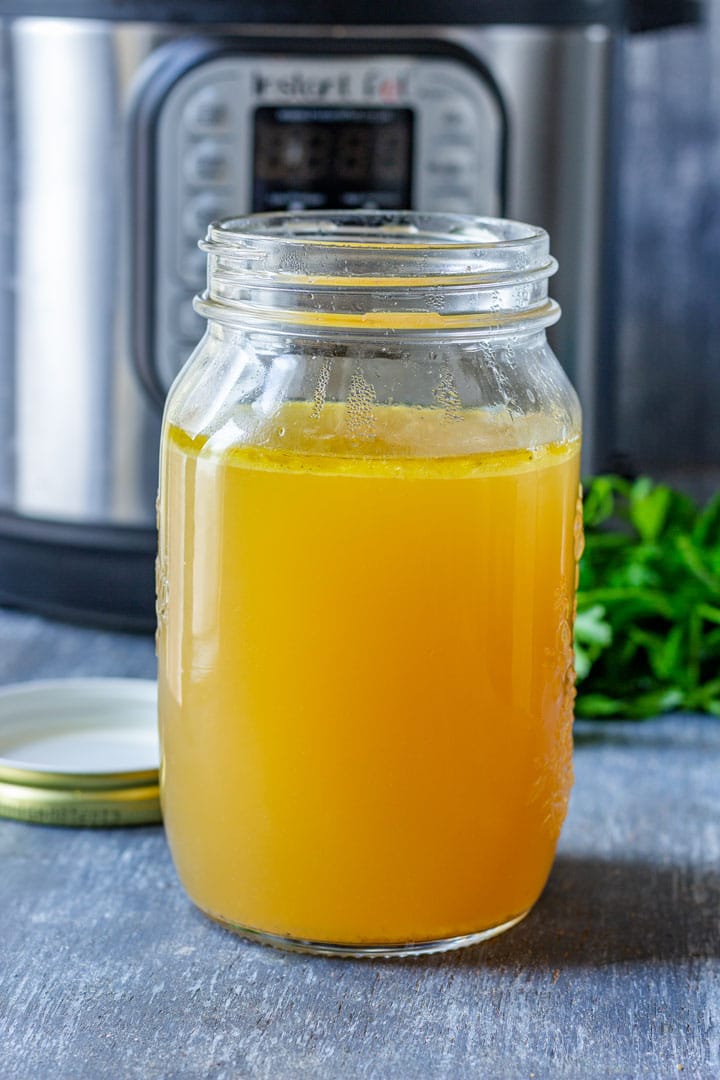 Other homemade fish stock recipes you can make in your pressure cooker:
Note: This is one of the pressure cooker recipes that might not save you a lot of time in comparison to the stove top fish broth, but it is perfect for those who prefer hassle-free cooking. Once you set the pot, you can go away and come back to a pot of homemade fish stock without having to wait to turn it off or stir.
Tip: Fish heads have still some flesh inside which you can use when making a fisherman's soup. Just make sure to remove all the bones.
Instant Pot Fish Stock
Learn how to make instant pot fish stock from scratch. This is an easy fish stock recipe that anyone can do. You can use the broth in various seafood recipes or refrigerate or freeze it for later.
Servings:
6
cups (1.5 liter)
Ingredients
2

tablespoons

olive oil

2

small

carrots

, cut into large chunks

1-2

celery ribs

, cut into large chunks

1

medium

onion

, quartered

5

whole

black peppercorns

fresh

flat-leaf parsley

(a few sprigs)

2

pounds

white fish heads

(900 grams), see note 1 & 2

1

teaspoon

dried thyme

, see note 3

2

tablespoon

salt

, see note 4

6

cups

water

(1.5 liter), see note 5
Instructions
Turn on instant pot and press SAUTE. When hot, pour in oil and add carrots and celery and onions. Sauté for about 2 minutes.

Add the rest of the ingredients and give everything a stir.

Cover with lid, lock it into its position and turn the steam release valve to SEALING. Press PRESSURE COOK (or MANUAL) and set timer to 20 minutes. When the time is up, wait for natural pressure release (wait until the pin drops down) before opening the pot.

Let it cool down, strain and pour into sterilized jars/containers and use in fish recipes (see note 6).
Notes
Fish – I prefer using white-meat fish for fish stock. Fish heads, bones or tails are great for fish stock, but also various small fish can be used. If you are not sure, ask your local fishmonger.
Make sure there is more fish than vegetables. You don't want to end up with a very light stock that tastes more like vegetable broth. You can use more fish bones/heads for a stronger broth.
Dried thyme can be substituted with fresh thyme or dried/fresh rosemary.
You will need enough water to cover the fish and other ingredients. Also, don't go over the maximum line.
You can make the fish stock completely salt-free if you like.
You can pour the chilled stock into a freezer-friendly container (make sure to leave enough space to expand). It will last up to 3 months. When storing in the fridge (air-tight container/jar), it should last up to 5 days. Sterilize the containers first to avoid bacteria from growing.
This recipe was developed for a 6-quart/6-liter instant pot.
The total cooking time does not include the time the pot needs to come to pressure (15 minutes) nor the time needed to release the pressure naturally (up to 60 minutes).
Nutrition Facts
Instant Pot Fish Stock
Amount per Serving
% Daily Value*
* Percent Daily Values are based on a 2000 calorie diet.
** As an Amazon Associate I earn from qualifying purchases.
LEAVE A COMMENT