Grilled whole fish with Italian bread salad is the perfect summer recipe. Juicy flesh is hidden under crispy skin and served on a bed of grilled vegetables & bread.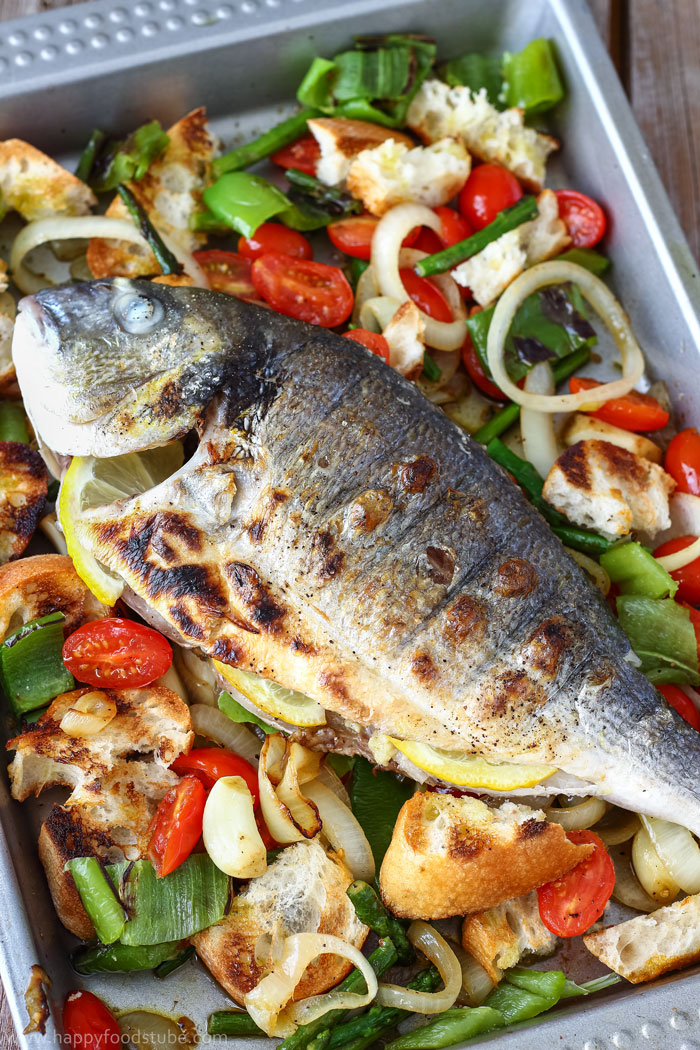 Grilling is definitely the best way to enjoy a whole fish. It's easy, quick and tasty. Plus if you pair it with this Italian bread salad you will lick your fingers.
I don't know about you but I love grilling fish on BBQ. The flavors! The juicy flesh! Guys, if you haven't tried grilled whole fish you are missing out! You know why? Because it tastes million times better than baked or pan-fried fish!
A whole fish is so easy to work with. Ask your fish monger to clean it for you before you bring it home. This should include gutting it, getting rid of fins and removing scales as well. Then it's all up to you to deliver a delicious whole grilled fish dinner.
Now if you are wondering why you should go for whole fish instead of fish fillets here is your answer:
The skin protects the flesh which means your dinner with turn out juicier hence tastier. Plus the skin gets nice crispy.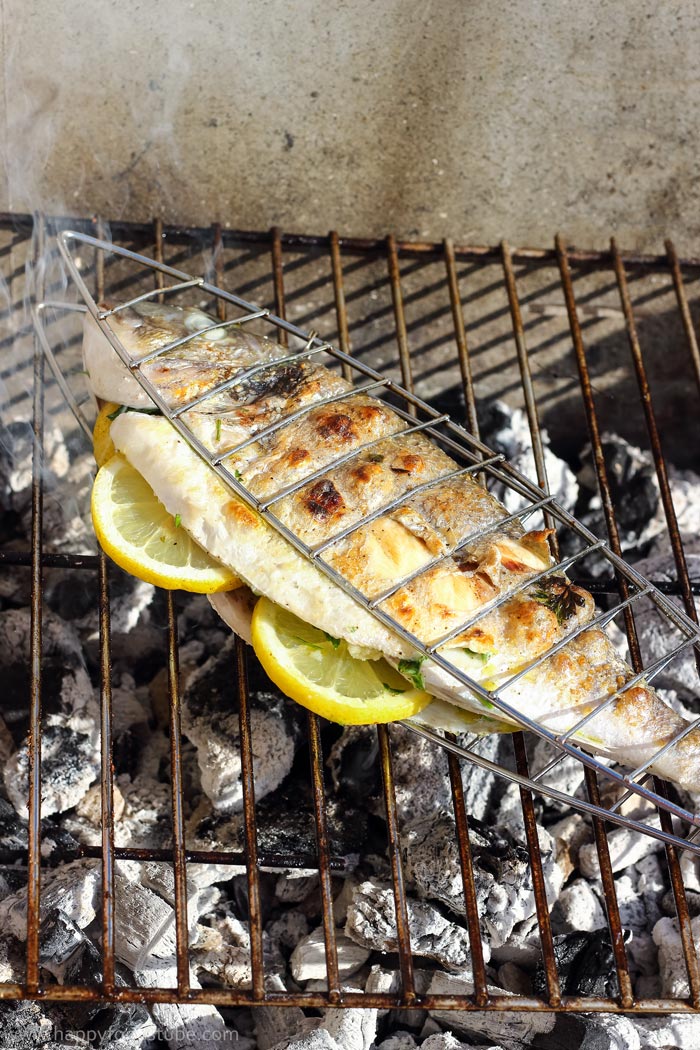 How to grill whole fish?
To grill a whole fish is extremely easy. My favorite fish to grill is sea bream (on the picture).
A medium fish (0.77 pounds/350 grams) only takes 8-10 minutes to grill (4-5 minutes per side). To make your life easy, use a fish grilling basket. It's a handy tool. It prevents the fish from sticking to the grate and keeps all the stuffing together. Well, almost all of it. However, you can still barbecue whole fish without the basket.
Just so you know the key to making a perfect grilled whole fish is not the basket. It's simply the ingredients and a charcoal hot enough to cook your dinner to perfection instead of drying it out.
Now because grilling fish only wouldn't satisfy my taste buds I like to make what I call an Italian bread Salad. It is similar to Panzanella salad that has bread as main ingredient in it. The bread in Panzanella salad should actually be soaked but I prefer grilling mine.
Grilled tomatoes, peppers asparagus (btw, if you are not sure what is the best asparagus to buy or how to trim the stems, this all about asparagus guide might help you), onion and garlic are combined with bread pieces, a drizzle of olive oil and seasoned with salt and pepper. It's a delicious side that goes so well with this grilled whole fish recipe.
If you are looking for different summer salad recipes, you might like these ones as well:
Tips for grilling a whole fish:
Oil the fish and grate first to prevent the skin from sticking.
Don't over-cook it! The flesh should be juicy, not dried out.
Use a baking sheet or pan for grilling the veggies: simply throw them in and place the sheet on the grate. It's extremely handy especially when you have small veggies.
Guys, it's a barbecue season so give this recipe a go and let me know what you think!
Grilled Whole Fish with Italian Bread Salad
Grilled whole fish with Italian bread salad is the perfect summer recipe. Juicy flesh is hidden under crispy skin and served on a bed of grilled vegetables & bread.
Ingredients
For the bread salad:
1½

cup

Cherry Tomatoes

½

Onion

, medium

1

Italian Pepper

, large

4

Garlic Cloves

Sourdough Bread

or French Baguette

8

Asparagus Stalks

, ends trimmed (optional)

3-4

tbsp

Extra Virgin Olive Oil
For the Grilled Fish:
2

Medium Whole Fish

, cleaned (about 0.77pound/350g each) – I recommend Sea Bream or Sea Bass

1

Lemon

Garlic Cloves

Salt and Pepper

to taste

2

tbsp

Extra Virgin Olive Oil
Instructions
The Salad:
Slice the bread and grill it to your liking. Once done, let it cool down, tear into bite size pieces and place in a bowl.

Cut the onion into rings, peel garlic and cut in halves (if you have large cloves). Cut the pepper, asparagus and slice tomatoes in halves. Throw all of these onto a baking sheet/pan/tray and drizzle with olive oil. Season with salt & pepper. Place it on your grill and cook to your liking. Tomatoes will be the first ones ready. If you don't like them mushy – add them to your baking sheet later.

Grilling the veggies will take about 5 minutes. Once done, take it off of the grill and stir in the bread pieces. Drizzle some extra olive oil over, if you like.
The Fish:
Open the cavity a bit more using a knife. This way you can season the fish better. Peel the garlic cloves and crush them using a garlic press. Now mix garlic with olive oil.

Season the skin and cavity with salt and pepper. Rub the whole fish inside and out with olive oil & garlic mixture. Insert a few slices of lemon inside the cavity.

Grill for 4-5 minutes per side or until cooked through. The flesh should be juicy and the skin crispy.

Serve on a bed of Italian bread salad.

Enjoy!
Nutrition Facts
Grilled Whole Fish with Italian Bread Salad
Amount per Serving
% Daily Value*
* Percent Daily Values are based on a 2000 calorie diet.
** As an Amazon Associate I earn from qualifying purchases.
LEAVE A COMMENT
RELATED POSTS