This instant pot barley risotto with mushrooms is creamy and rich in flavor and completely customizable to your taste. Thanks to an electric pressure cooker this risotto recipe has a hassle-free prep!
Even though this recipe for barley risotto might not save you much time when passive time is counted in the overall cooking time, it is without a doubt the simplest and easiest way to prepare this dish.
Plus, you can just close the lid and forget all about it until you hear the beep which tells you that the cooking cycle is finished. No stirring, no standing in front of the hot stove!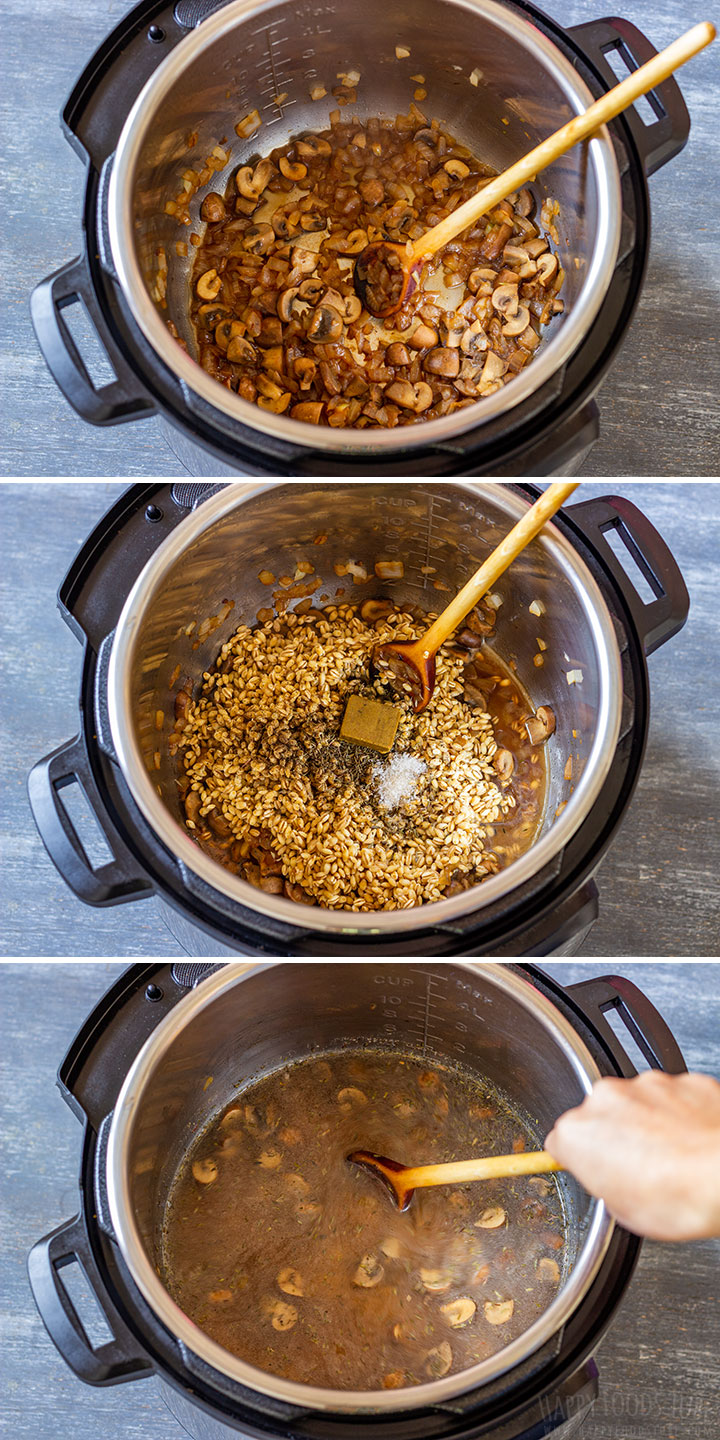 How to make barley risotto in instant pot
The most important part here is sauteing vegetables in little oil – first, you start with onion, and when translucent, add sliced mushrooms. Add soy sauce and stir well.
At this stage, you might also need to add a splash of water or stock, in case the mushrooms don't release enough juices and start sticking to the pot.
It's also important to stir towards the end of sauteing to prevent burning them. Next, you add all the liquids and seasoning (salt, pepper, and thyme) and you are done with the prep.
Cooking barley risotto under pressure will take 20 minutes. After, I like to wait 5 minutes before I release the pot's pressure manually.
When you remove the lid, give risotto a stir to see if there is any liquid left.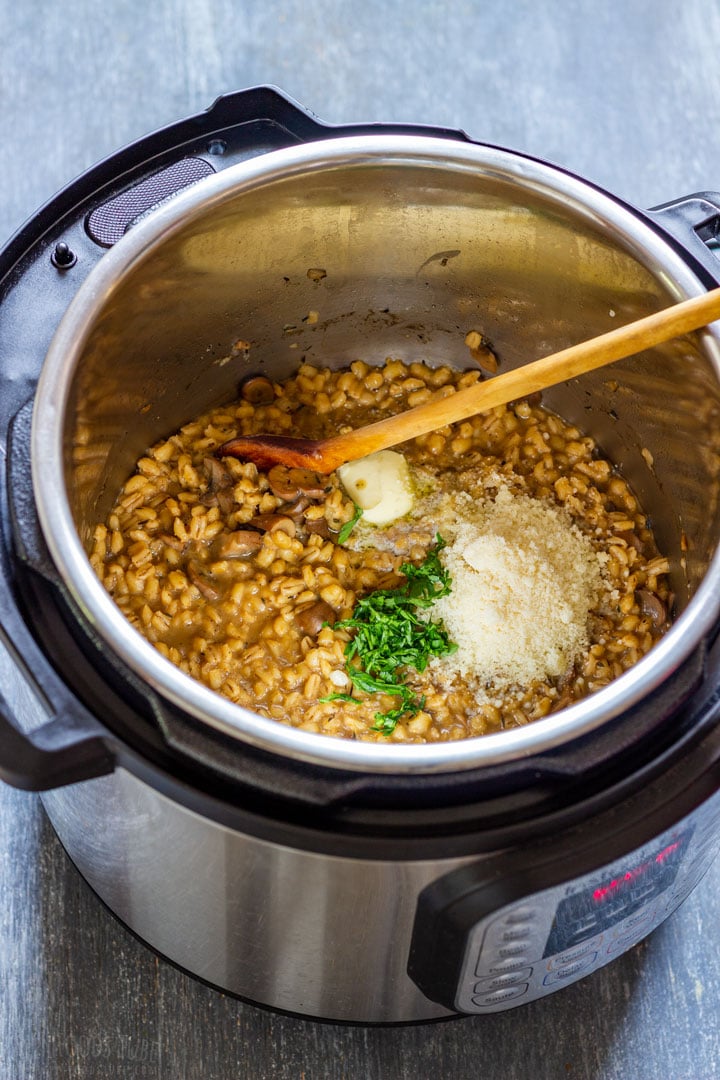 Important – Liquid to barley ratio
This recipe was developed for a 6-quart (6-liter) instant pot and tested several times so you can enjoy the best instant pot barley risotto.
Now that being said, you might end up with a more liquid-y barley risotto than you would like.
One of the reasons for the difference in the liquid is mushrooms. Some contain more moisture than others, but don't worry about this. I will show you how to fix this:
In this barley risotto recipe made in the instant pot, I am using a 3:1 ratio (liquid: pearl barley). After the meal is cooked and you open the lid, the risotto may still have some liquid visible when you stir it around.
If it does, press SAUTE and let it cook for 3 minutes, then stir for one more minute or until the liquid has evaporated (or to your liking).
Alternatively, you can add slightly less liquid the next time you make pearl barley risotto in a pressure cooker. I would go with 2.5 cups but not less than this.
If you like your risotto less crunchy, you could increase the pressure-cooking time slightly.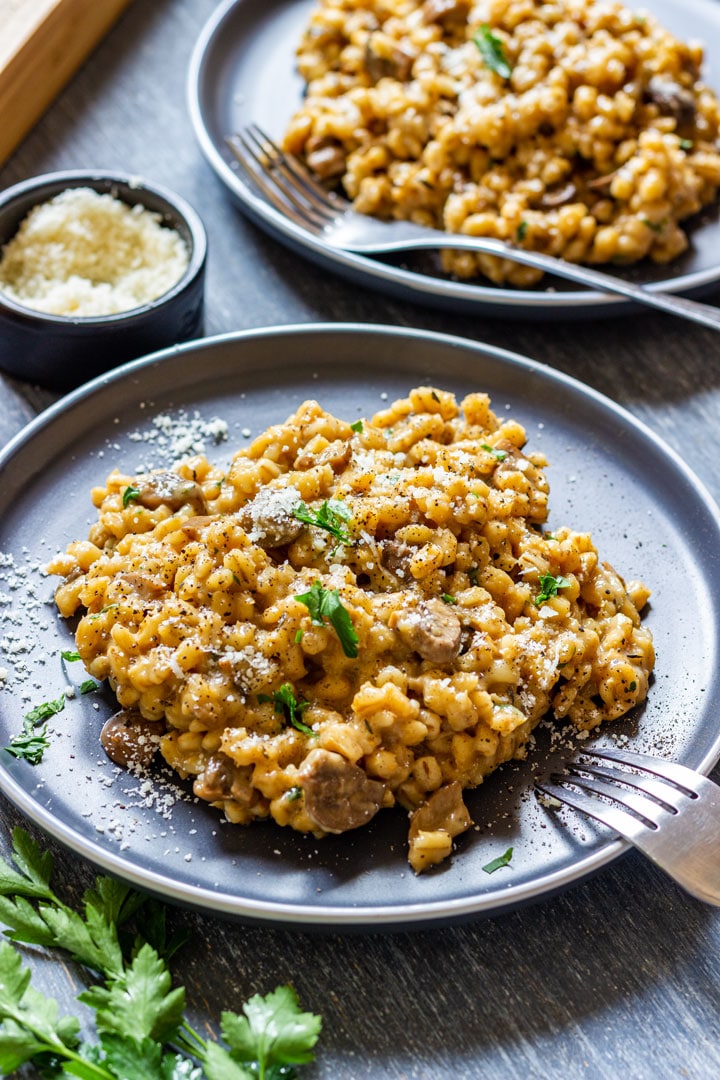 Can you make risotto in instant pot using rice?
Absolutely! You can not only make this mushroom barley risotto in a pressure cooker, but also the classic Italian risotto. It is so easy and hassle-free.
My favorite is chicken risotto and our readers also love this one. Vegetarians can enjoy instant pot mushroom risotto.
I also have a recipe for risotto Milanese made the classic way – by stirring on a stovetop if you would like to try that one.
Possible variations
Stir in fresh spinach at the very end of cooking.
Use finely chopped celery and saute this with onion.
Vegetable stock can be easily substituted with chicken stock/broth.
For an extra flavor, use garlic!
Add a splash of white wine and let it evaporate before you add stock and seasoning.
Use wild mushrooms instead of portobellos!
More barley recipes for you to try:
Instant Pot Barley Risotto
This instant pot barley risotto with mushrooms is creamy and rich in flavor and completely customizable to your taste. Thanks to an electric pressure cooker this risotto recipe has a hassle-free prep!
Servings:
4
portions (as a side)
Ingredients
1

tablespoon

olive oil

, see note 1

1

medium

onion

, finely minced (about ⅔-1 cup)

8-10

baby portobello mushrooms

, sliced (about 1 cup), see note 2

1

tablespoon

soy sauce

(regular)

1

cup

pearl barley

, uncooked, rinsed

2

cups

vegetable stock

1

cup

water

, see note 3

1

teaspoon

dried thyme

¼

teaspoon

salt

, or to taste

⅛

teaspoon

black pepper

, or a generous pinch

1

tablespoon

butter

, or to taste, (15 grams), optional

¼

cup

parmesan cheese

, finely grated, see note 4

1

tablespoon

fresh flat leaf parsley

, or to taste (finely chopped)
Instructions
Turn on instant pot and press SAUTE. Pour in olive oil and add minced onion. Saute for 3 minutes, stirring once or twice.

Add sliced mushrooms and saute for about 3 minutes, again stirring from time to time. Add soy sauce and stir.

Cancel SAUTE. Add barley, stock, water, thyme, salt and pepper and stir well. Cover with lid and lock it into its position. Turn steam release valve to SEALING and press PRESSURE COOK (or MANUAL) and adjust timer to 20 minutes. Make sure to pressure cook on high.

When the time is up, wait 5 minutes before releasing the pressure manually by turning the valve to VENTING (be careful – the steam is hot). When the pin drops, open the lid (see note 7) and stir in butter, parmesan and parsley.

Best enjoyed warm!
Notes
You can use either extra virgin or regular cooking olive oil. Sunflower oil, vegetable oil will also work.
Baby portobello mushrooms can be substituted with white button mushrooms, cremini mushrooms or wild mushrooms.
Instead of water, stock/broth can be used but if using a regular one, you will need to omit salt completely (and add only if it is needed).
Parmesan can be substituted with Grana Padano or Pecorino. When using pecorino, keep in mind that this cheese is pretty salty so omit the ¼ teaspoon of salt and season only at the very end if needed. Cheese can be omitted completely.
This recipe was developed for a 6-quart (6-liter) instant pot. When using a smaller or larger pot or a different brand, the times may vary.
Overall cooking time does not include the time the pot needs to come to pressure (about 10 minutes) as well as the time needed to release its pressure (5 minutes).
If you experience there is too much liquid, please check the Liquid to barley ratio explanation in the post. All you have to do is cook it a little longer on SAUTE function.
More tips, possible variations and other risotto recipes can be found in the post above this recipe card.
Nutrition Facts
Instant Pot Barley Risotto
Amount per Serving
% Daily Value*
* Percent Daily Values are based on a 2000 calorie diet.
** As an Amazon Associate I earn from qualifying purchases.
LEAVE A COMMENT