Leftover turkey carcass is perfect for making Instant Pot Turkey Stock. This easy stock recipe made in a pressure cooker can be used for soups, stews, rice or any recipe that calls for stock or broth.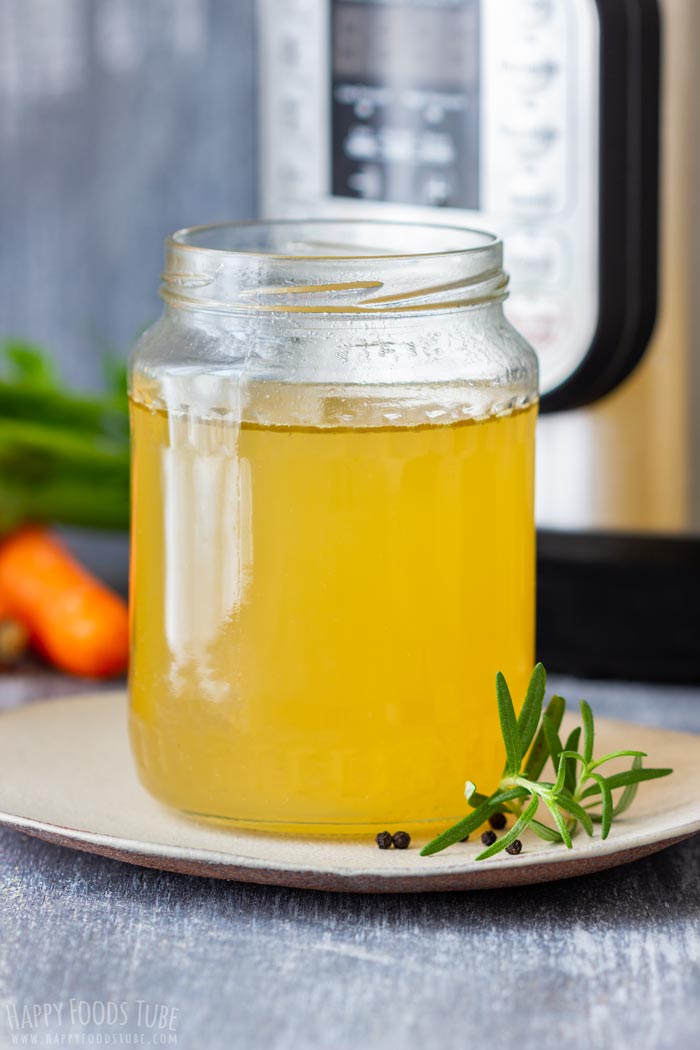 Guys, this is the perfect recipe for using up the carcass and bones from your Thanksgiving turkey. Here are the reasons why!
6 reasons to make Instant Pot Turkey Stock
Easy prep – just wash, peel and chop and you are done.
Simple recipe – anyone can do this. All you need is an electric pressure cooker. I love the Instant Pot brand as it is safe and so easy to use!
Dump-and-go recipe – just prep the all the ingredients and throw them in your pressure cooker.
Versatile – add more bones, maybe parsley or thyme ….
Freezer friendly – freeze for later use if you make more than you can use.
No preservatives or artificial coloring which makes it healthier and better for you!
Now just so you know, if you don't have a turkey carcass on hand but still want to make a homemade stock, try making Instant Pot Chicken Stock instead. My version only takes 40 minutes to make (see active cooking time) but you will still end up with nice gelatinous stock, if you use all the ingredients that are stated in the recipe.
How to make turkey stock in Instant Pot
Peel the onion and garlic cloves. Wash and peel the celery and carrots. Chop the veggies (apart from the garlic) into chunks.
Place them altogether with the carcass and the rest of the ingredients in the inner pot of instant pot and pour the water over. I like to give everything a mix before closing the lid and locking it into its position.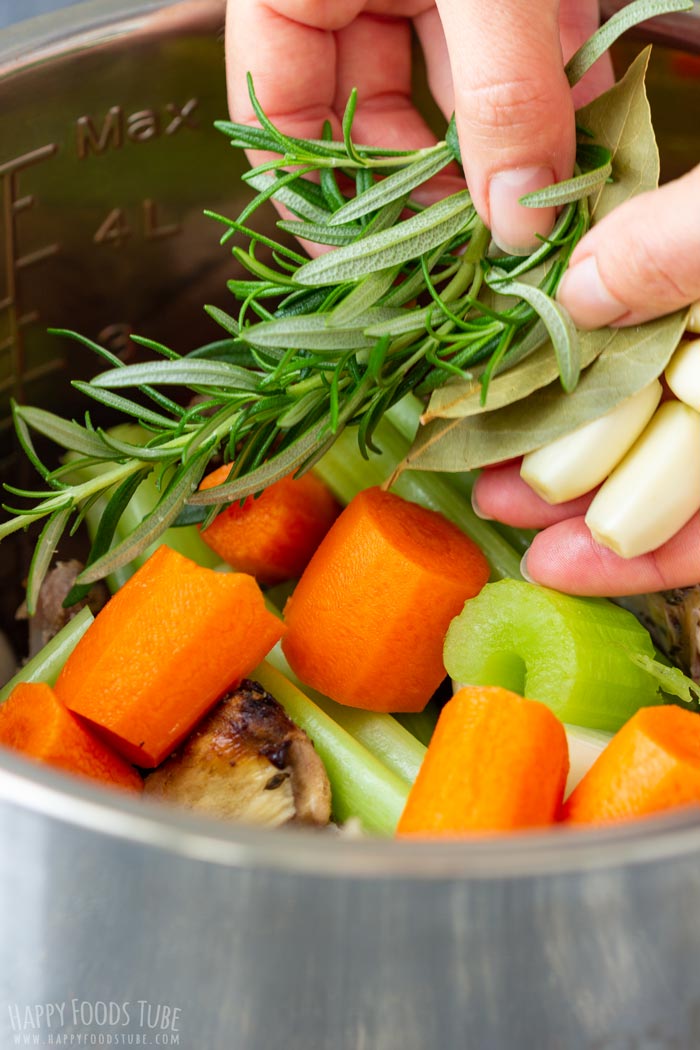 Instant pot turkey stock will need to be cooked under pressure for 90 minutes.
You don't need to babysit the pot so it does not really matter if it finishes its cooking cycle and you won't be around. You can just get back to it when you are ready. The pot will keep the stock warm for a few hours if you don't open it (in case you need it warm).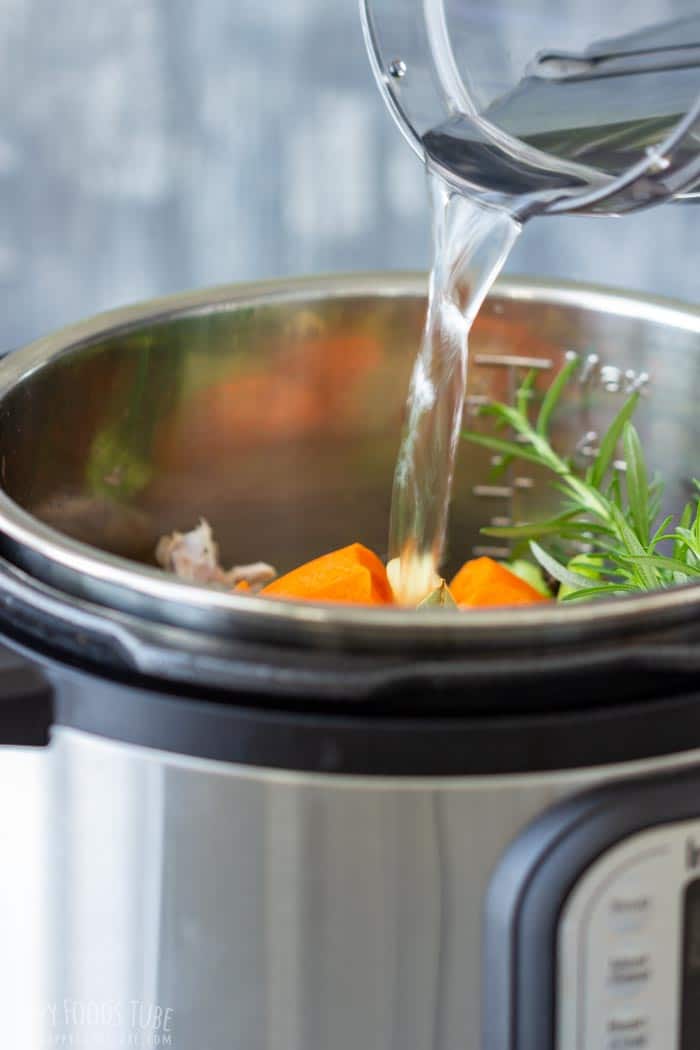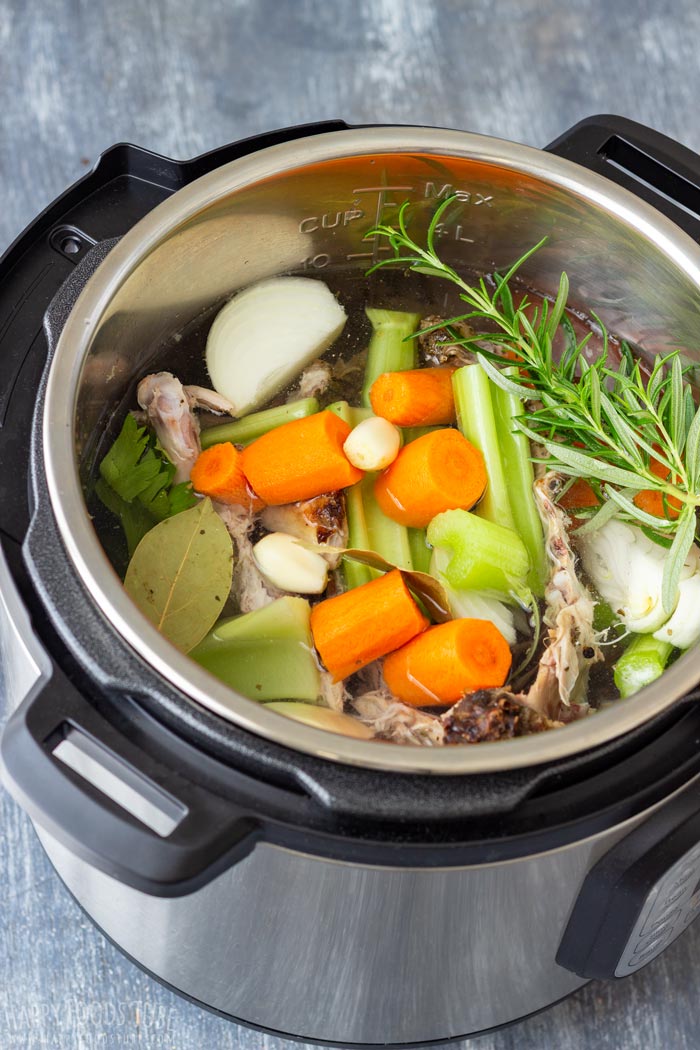 When your turkey stock is ready you can turn it right away into a Turkey Noodle Soup.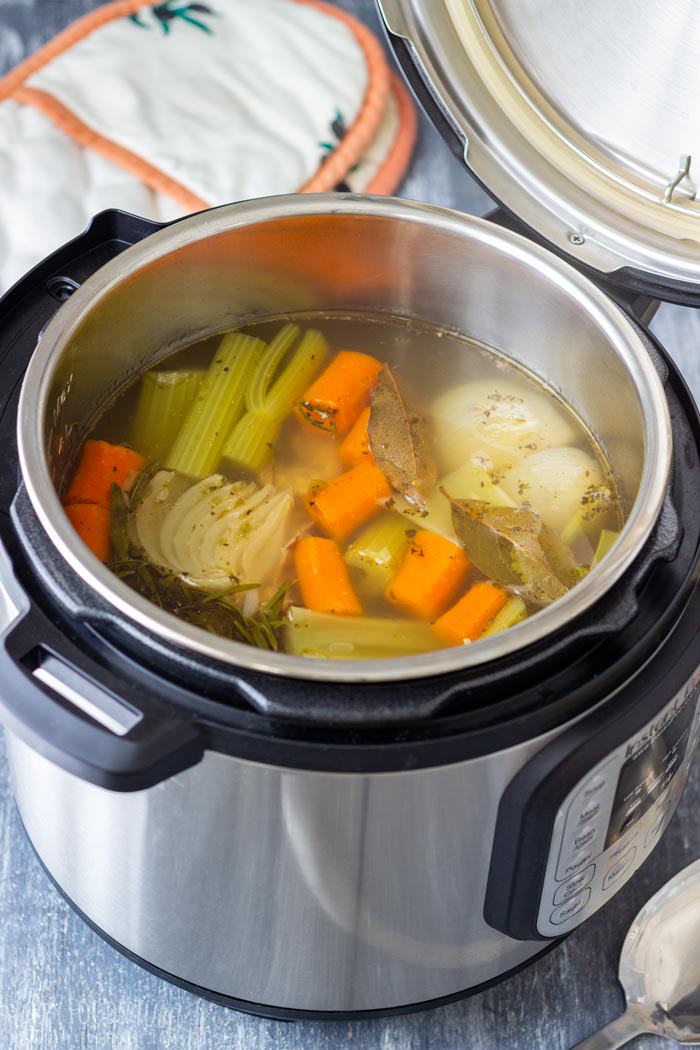 Tips for making Instant Pot turkey stock
Remove all the meat from the carcass and bones before using it to make the stock. Save the meat for lunch or dinner (what about making Turkey Cranberry Panini?)
This pressure cooker turkey stock will thicken once chilled.
Store it in the fridge (for up to 2-3 days) or freezer. When freezing, make sure to cool down the stock completely first. Use freezer-friendly containers or jars. Don't fill them completely. They will need some space to expand.
Rosemary can be substituted with thyme or fresh parsley.
I added little over 2 quarts (2 liters) of water. The water reached the 10 cup mark of the inner pot.
1-1.2 pound of turkey carcass is plenty for a 6-quart (6-liter) Instant Pot.
This could also be made in a slow cooker. I suggest cooking it on low for at least 12 hours.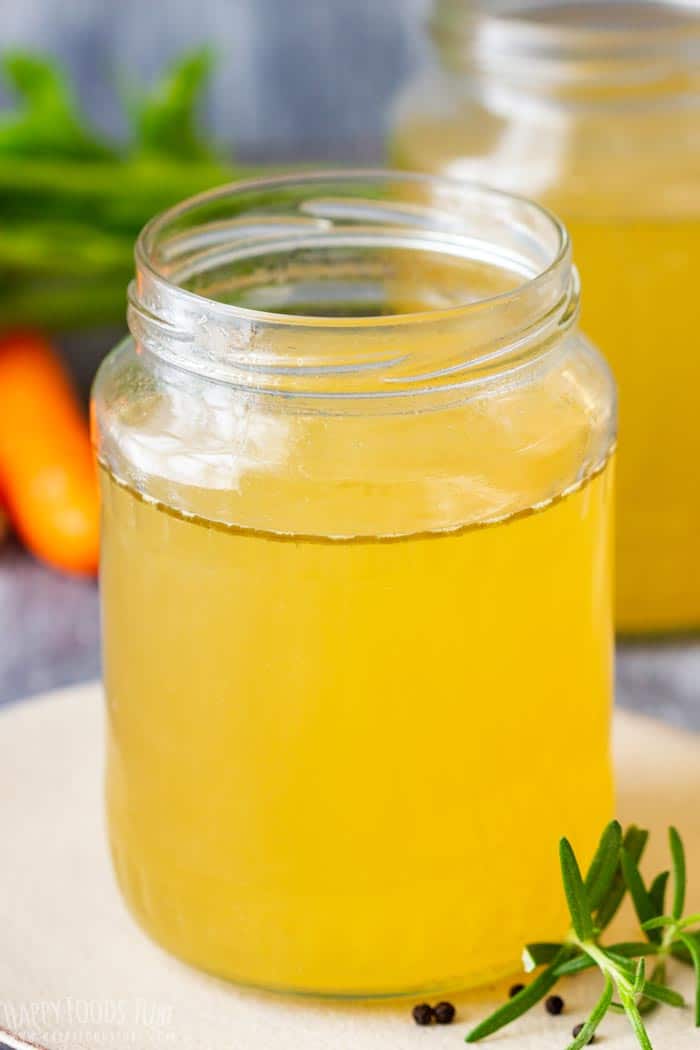 Good to know:
Stock or Broth?
Stock – uses bones and it's thicker and also richer in taste.
Broth – uses meaty parts (+ bones can be used as well).
There is more information about this topic here: What is the difference between stock and broth?
Guys, if you give this recipe a go, please do let me know how you liked it in the comment section below!
Instant Pot Turkey Stock
Leftover turkey carcass is perfect for making Instant Pot Turkey Stock. This easy stock recipe made in a pressure cooker can be used for soups, stews, rice or any recipe that calls for stock or broth.
Servings:
2
Quarts (2 Liters)
Ingredients
1.2

pound

Turkey Carcass

+ bones, meat removed (550 grams), See note 1

1

Medium

Onion

4

Garlic Cloves

2

Celery Ribs

3

Carrots

1

Fresh

Rosemary Sprig

, See note 2

6

Whole Peppercorns

1

Lemon Wedge

, juice only

2

quarts

Water

(2 liters)

2

tablespoons

Salt

, optional
Instructions
Place the carcass and bones into the instant pot.

Peel the onion and cut into quarters. Peel the garlic. Peel the celery and carrots and cut into chunks. Transfer all the veggies into the pot and add the rest of the ingredients apart from the salt. Give it a stir.

Lock the lid into its position and turn the steam vent to SEALING. Press MANUAL (pressure cooking on high) and adjust the time to 90 minutes.

Wait until the pressure is released naturally before opening the lid (recommended).

Optional: Add salt to your liking.
Notes
You should be able to get this amount of bones from a 9-pound turkey (4 kg).
Fresh Flat Leaf Parsley or thyme can be used instead of rosemary.
2 quarts = 8 cups of water.
I stirred into ready-made stock 2 tablespoons of salt. This is completely optional and you can omit this or use as much as you like.
This recipe was developed for a 6-quart (6-liter) instant pot.
The overall time does not include time needed for the pot to come to pressure. This may vary but count with extra 15 minutes. I recommend waiting until the pressure is released naturally as there is no reason why you should release it quickly.
This stock can be stored in the fridge (for 2-3 days) or freezer.
If you are not sure/if you are looking for tips and advice, please read the whole post that contains more detailed information.
Nutrition Facts
Instant Pot Turkey Stock
Amount Per Serving (1 cup)
Calories 72
Calories from Fat 18
% Daily Value*
Fat 2g3%
Cholesterol 6mg2%
Carbohydrates 7g2%
Protein 5g10%
Vitamin A 5IU0%
Vitamin C 0.4mg0%
Calcium 6mg1%
Iron 0.4mg2%
* Percent Daily Values are based on a 2000 calorie diet.
** As an Amazon Associate I earn from qualifying purchases.
LEAVE A COMMENT
RELATED POSTS