Instant pot Mexican rice and beans is a simple yet tasty recipe, perfect for meal prep. This fluffy red rice can be enjoyed as a main, side or lunch.
Below are included more recipes for an instant pot that use rice as the main ingredient as well as pro tips, answers to FAQs and meal-prep information.
What is Mexican rice?
Mexican rice is also known as arroz rojo Mexicano or Spanish rice (note that this name is only used in the US and it did not originate in Spain).
In traditional Mexican recipes, rice is sautéed in a skillet until golden brown. Then, some kind of liquid is added (water, broth, stock) as well as tomatoes – chopped or pureed and cooked until soft.
How to make Mexican rice and beans in the instant pot?
In a pressure cooker, saute onion with little oil. Add garlic and stir until fragrant. Add rice and saute until lightly browned. Season with salt, paprika, and cayenne pepper.
You want to stir everything well, then add pureed tomatoes and broth/stock. Give it one more stir and cover with lid.
Unlike my fried rice which is pressure-cooked for 3 minutes, now choose the RICE function. It will automatically choose the cooking time so you don't need to worry about this.
After the time is up, you can wait either 5 minutes or until the pressure drops itself before you open the lid. Long grain rice will come out extra fluffy. At this stage, stir in beans and olives and you are ready to serve (a complete recipe in the recipe card below this post).
Instant Pot Mexican Rice and Beans:
Frequently Asked Questions
What else can I add to Spanish rice and beans?
These tasty add-ons will elevate rice and beans even more: a dollop of sour cream on top, a sprinkle of cheese, avocado, lime or lemon wedges, chopped fresh cilantro or parsley,…
How many calories in Mexican rice and beans?
There are 272 calories per serving.
Can I use different beans?
Yes, you can. Use pinto or black beans with rice, instead of kidney beans.
Expert tips for making rice and beans:
I find that pressed garlic releases the most aroma and adds a ton of flavor to your dishes. For that reason, I always prefer pressing to mincing it with a knife. Instead of a garlic press, a fine cheese grater can be used. It works perfectly!
Broth or stock (of any kind) does wonders here. When using a regular one, you don't need to add much salt, if any (depending on your taste of course). With the low-sodium one, you will have to use more salt, unless you are on a low-sodium diet.
If you don't like olives, use canned sweetcorn instead. They would go in at the same stage as olives.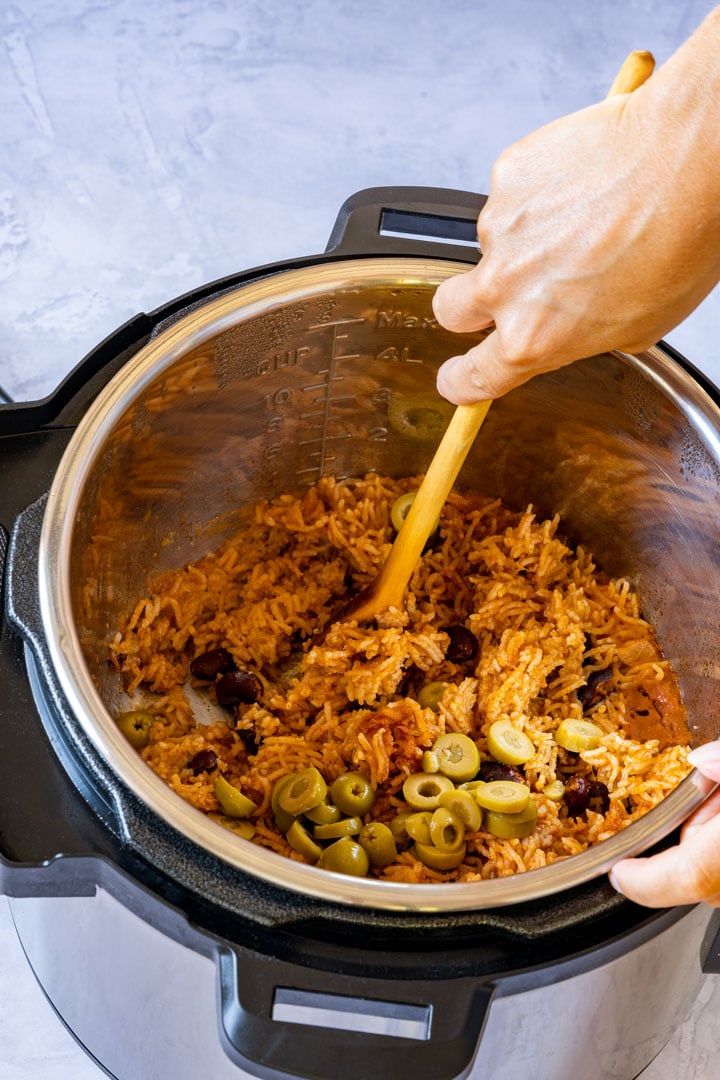 Meal prep, make-ahead & freezer instructions
Spanish rice is the perfect dish to make in advance. It keeps well in the fridge as well as freezer.
To reheat, simply pour a little olive oil in a skillet/frying pan and sauté any rice and beans leftovers until warm. Stir from time to time to quicken the heating process.
Rice and beans will keep in the fridge for up to 4-5 days when stored properly in an airtight container (always reheat only as much as you will eat).
To freeze it, divide it into several freezer-friendly Ziploc bags, spread the rice evenly around, as flat as possible – this will also speed up the thawing process. Lay flat on a tray or shelf in your freezer.
Label it with time, date and size (I like to package it into 2 or 4 portions and write it on the bag, so I know how much I have there).
When ready to serve, thaw first, then heat up. For best results, use stovetop with a little oil and/or splash of water.
Mexican rice can also be prepared for the freezer without the extras – beans or olives as these can be easily added at a later stage – when you decide to serve it. That way you will be able to prepare it in advance even when you don't have those ingredients on hand.
More instant pot recipes with rice:
Instant Pot Mexican Rice and Beans
Instant pot Mexican rice and beans is a simple yet tasty recipe, perfect for a meal-prep. This fluffy red rice can be enjoyed as a main, side or lunch.
Ingredients
2

tablespoons

olive oil

1

onion

, small (about ½ cup) finely minced

2

garlic cloves

pressed

1

cup

basmati rice

, rinsed (200 grams), see note 2

1

teaspoon

salt

1.5

teaspoon

paprika

¼

teaspoon

cayenne pepper

, or to taste, see note 3

½

cup

pureed tomatoes

(130 milliliters)

1.5

cups

vegetable broth

(360 milliliters), see note 4

½

cup

red beans

, cooked and drained (90 grams), see note 5

½

cup

green olives

, pitted, sliced, see note 6
Instructions
Turn on instant pot. Press SAUTE and pour in olive oil. Add onion and sauté for 2-3 minutes or until translucent, stirring from time to time.

Add rinsed rice and cook until slightly brown, stirring regularly.

Add paprika, cayenne pepper and salt. Stir well. Turn off the SAUTE function by pressing CANCEL. Pour in pureed tomatoes and vegetable broth and stir.

Cover the pot with a lid and lock it into its position. Turn the steam releasing valve to SEALING and press the RICE function (this program will automatically adjust the time so there is no need to do this).

When the time is up, wait either 5 minutes before releasing the pressure manually (by turning the steam releasing valve to VENTING) or wait until it the pin drops itself (about 15 minutes).

Stir in cooked beans and sliced olives, garnish with cilantro (optional) and serve.
Notes
Olive oil can be substituted with any other vegetable oil you have on hand.
Either basmati, jasmin, or classic white long-grain rice can be used.
I have been using cayenne pepper, but spicy paprika can also be used. Note that their heat levels may vary from brand to brand so keep this in mind and start with less when not sure.
Vegetable broth can be substituted with chicken stock/broth.
Add more if you like. Cooked pinto or black beans are great substitutes for kidney beans.
You can add plain or stuffed olives – anything you like. I used jalapeno-stuffed olives for the extra spicy kick.
The overall cooking time does not count the time the pot needs to come to pressure (about 5 minutes) nor the time needed to release the pressure (5-15 minutes, depending on what you choose).
I used dry measuring cups to measure the liquids.
Optional: black pepper, oregano, finely chopped cilantro, sweetcorn.
This recipe was developed for a 6-quart/6-liter instant pot.
Nutrition Facts
Instant Pot Mexican Rice and Beans
Amount per Serving
% Daily Value*
* Percent Daily Values are based on a 2000 calorie diet.
** As an Amazon Associate I earn from qualifying purchases.
LEAVE A COMMENT